The three day, punk, ska, two-tone, reggae, mod and northern soul music festival in Bishop's Stortford, England took place not only on the Queen's Jubilee weekend but also on a rather important punk anniversary.
What better way to celebrate a momentous anniversary and an era-defining reign than with a celebration in the sun?
No, I'm not talking about the Queen's Platinum Jubilee but Stiff Little Fingers on stage at Stone Valley Festival South.
As the sun set on three days of punk, ska, two-tone, reggae, mod and northern soul music, it was fitting that their headline performance marked 45 years almost to the day since they joined the punk revolution.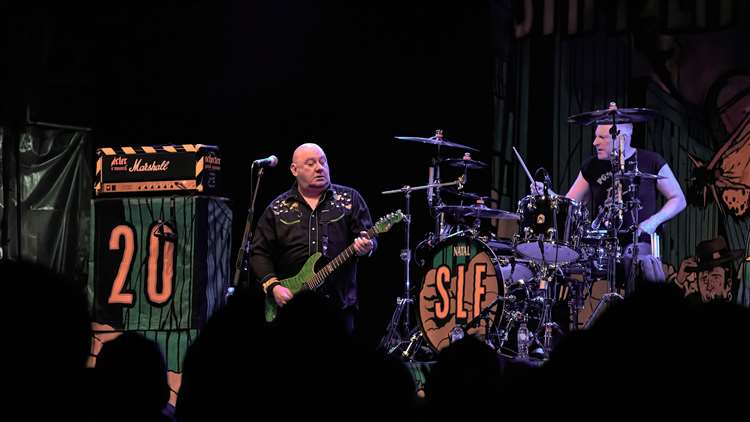 Bassist Ali McMordie reminded the crowd that as The Sex Pistols rocked the establishment with the release of God Save the Queen, the band formed in Belfast.
Enduring frontman Jake Burns, Henry Cluney, Brian Faloon and McMordie used their experiences of growing up in Northern Ireland during The Troubles to craft their first album, Inflammable Material – now rightly regarded as one of the greatest punk long-players of all time.
Over the past 45 years, there have been changes of personnel, but omnipresent singer Burns and the returning McMordie now play with Ian McMallun on guitar and Steve Grantley on drums.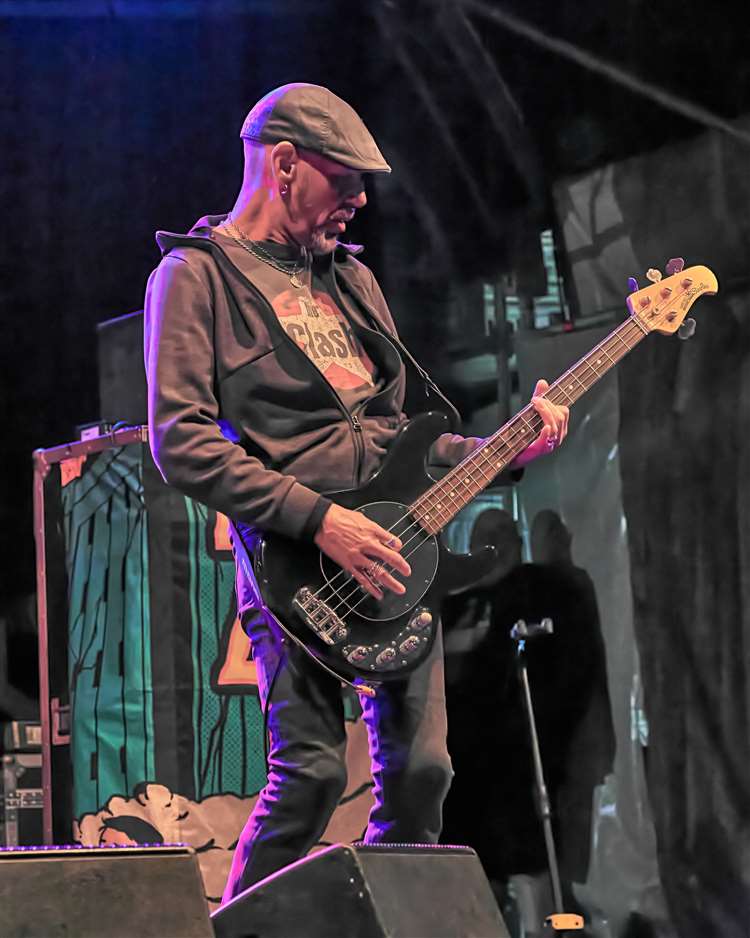 If you closed your eyes and just listened, the intervening decades disappeared. Burns' voice was unmistakable as they turned out a tight set featuring the pithy tunes that characterise SLF's back catalogue.
Anger, frustration, depression and defiance are their mood music and the crowd roared their appreciation as they rendered the hits.
Burns understands the challenge festivals like Stone Valley present. With an hour at most on stage, there's no room for obscure album tracks.
He has previously observed: "You have to strike a balance. The difficulty with a band like ourselves is to try not to make it sound like a cabaret band. Obviously, it'd be very easy to go, 'Hey, here's another old one you may remember.' A lot of the old songs the audience greets like old friends. I suppose it's the same as any band that's been around for any length of time. And yes, there are nights that we don't particularly want to play Alternative Ulster or Suspect Device because we've heard them 'til they're coming out our ears. But there's always the possibility that somebody out there has never seen the band before, never heard them."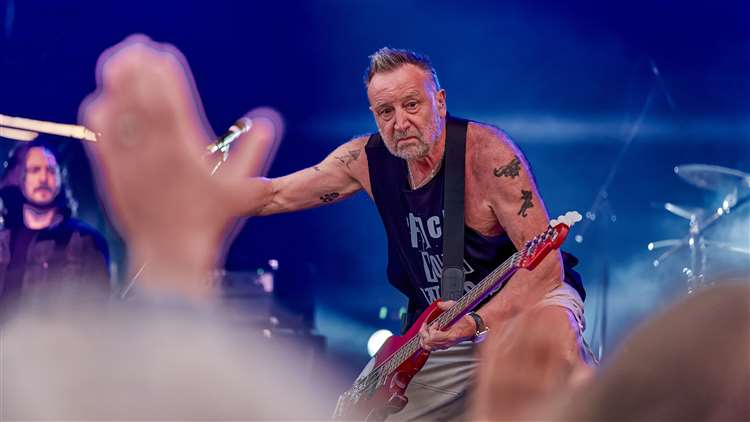 Another artist who understands that dynamic is legendary bassist Peter Hook. A week before the festival, I saw him perform a sublime, three-hour concert at the Bataclan in Paris, serving up a 30-minute introduction to New Order before diving deep into Joy Division's canon.
At Stone Valley, the crowd was hungry for hits and the taciturn Mancunian and his band, The Light, delivered a short set to savour.
If you're looking for national anthems, Love Will Tear Us Apart unites a crowd like no other.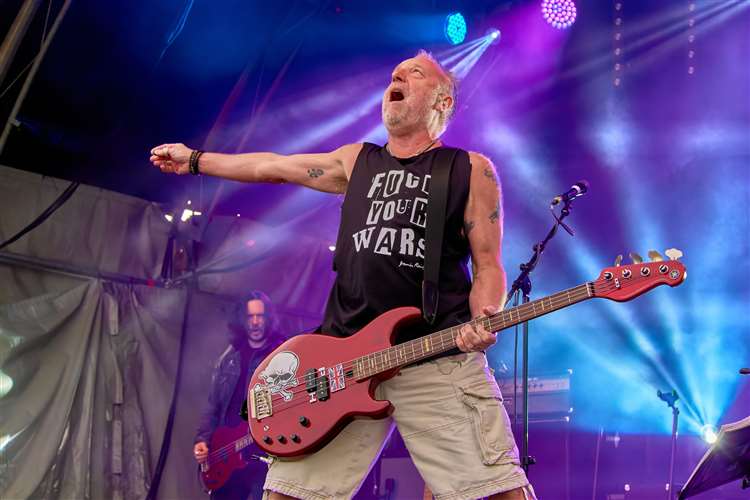 Hook has become a fixture at Stone Valley, delivering a quality of musicianship that dispels any suggestion that it's enough for bands to turn up and top up their pensions with a ropey performance. The crowd's appreciation of his craft was evident.
That standard was also comfortably exceeded by the Neville Staple Band, another festival mainstay. The Original Rudeboy revisited his work with The Specials with enthusiastic vocals from his wife Christine and slick performance from his backing band.
Rather more raucous, but no less enjoyable were Bad Manners. Douglas Trendle, better known as Buster Bloodvessel, has weathered the ravages of time better than most frontmen of his vintage and Walking in the Sunshine is a timeless track which summed up the bank holiday vibe.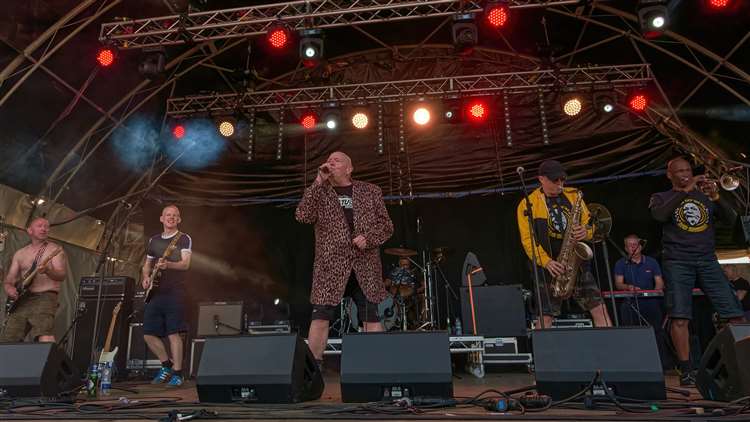 That reggae riff continued on Friday with The Dualers. Singer Tyber Cranstoun honed his skills as a busker and it shows. His vocal talents may have taken him and his eight-piece band to Wembley Stadium, but he remains able to connect with an audience as if he's still on the street.
The Dualers also enjoy almost universal appeal as the rush to the stage for the set showed. That's no mean feat at a festival that spans the generations and attracts die-hard fans who have followed bands like The Stranglers for almost 50 years as well as those just happy to sit in the sunshine with a beer and enjoy a musical trip back in time.
Some revellers marked the royal milestone with fancy dress and Union Jacks, always a staple of 60s' mod style, were even more in evidence than usual along with the ubiquitous and iconic British brands Fred Perry, Ben Sherman and Dr Martens.
Where else would you find punks, mods, skinheads, reggae fans and rudeboys in harmony? As a Platinum Jubilee celebration, it showcased the music that has defined the Queen's reign.
Once again the organisers delivered a well-organised, value-for-money, family and dog-friendly event that sums up what really is the best of British – disparate tribes singing and dancing together.
But don't just take my word for it. Bishop's Stortford residents Gunta and Adrian Andrews, both talented artists whose work is inspired by their love of punk and two-tone, attended the festival for the first time to see The Stranglers.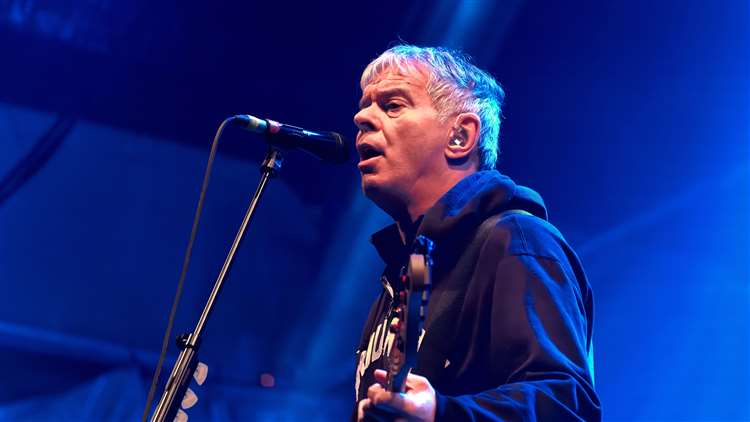 Adrian said: "Both Gunta and I were very impressed with our day at the Stone Valley Festival. The attraction of having major named acts playing in a field almost on the doorstep is an obvious draw but also attractive is the intimacy of the day.
"With one stage, this is no sprawling Glastonbury or the Isle of Wight. This is just as well for a man of a certain age who needs to use the facilities every 30 minutes when drinking beer (which I did)!
"I was particularly looking forward to Peter Hook & The Light as I have grown to increasingly appreciate Joy Division over the years. It was a nice pairing to have Peter Hook effectively supporting The Stranglers. The last time that happened was at the Rainbow back in April 1980 when Hugh was incarcerated in Pentonville prison.
"I thought Peter Hook, predominately playing Joy Division material, complemented The Stranglers very well. As for the latter, it is very difficult for me to say. I don't really like it when they play festival sets of greatest hits but I do appreciate that this is what is expected of them and this is what they need to deliver.
"Only one song from their new album Dark Matters made the cut – White Stallion – which at least demonstrated that the band have not been standing still. I am sure for the festival-goer with a working knowledge of the band it was great, but for me who always wants something a bit different, it was all rather pedestrian.
"We were right at the front and the sound was abysmal. Worst sound at a gig I've heard in years and years! Plus I thought that their performance lacked personality too – it was as though they were going through the motions. Big shame.
"Buzzcocks? No buzz anymore cock! Sadly without Pete Shelley, they're very ordinary and I know Steve Diggle wrote a lot of the songs etc, but he doesn't convince me as a front man and he sounds like Frank Sidebottom!
"So in summary, we had a GREAT time but the music could have been better. All these older bands should take a leaf out of ABBA's book and just become holograms of their 1978 form. Who wants to see an 80-year-old punk rocker? Not me! But weren't we lucky with the weather?"
---
More Punk Stories…