Canadian punk rockers The Flatliners are set to release their first album in five years and are trailing it with the single 'Performative Hours'.
The new song from the quartet, who this year celebrates 20 years as a band, is a ripping take on the dark side of the media – social or otherwise.
Singer and guitarist Chris Cresswell explained: "There's a desperation that's run rampant within us as people, and it's the need to be validated. As the world around us grows more mechanically able to connect, we as people will abuse that power to simply brag or complain, feverishly attempting to create a moment instead of just enjoying one.
"It feels as though we've found ourselves in an age of insincerity, with people putting in the hours for nothing more than upholding an image. Time now ticks in performative hours."
'Performative Hours' will be the lead track on 'New Ruin', The Flatliners' first album since 2017's 'Inviting Light' and is also a return for the band to Fat Wreck Chords, having first signed to the label in 2007.
Cresswell said: "Returning to Fat for the release of our new album 'New Ruin' is like the family reunion you actually want to attend; the reboot we can all get behind. It just feels like home to us."
'New Ruin' is out on 5 August and before that, they're on the road, with a short run of UK dates that begins Monday 30 May in Glasgow before appearances at the Slam Dunk Festival and then they're in the US, Canada and mainland Europe.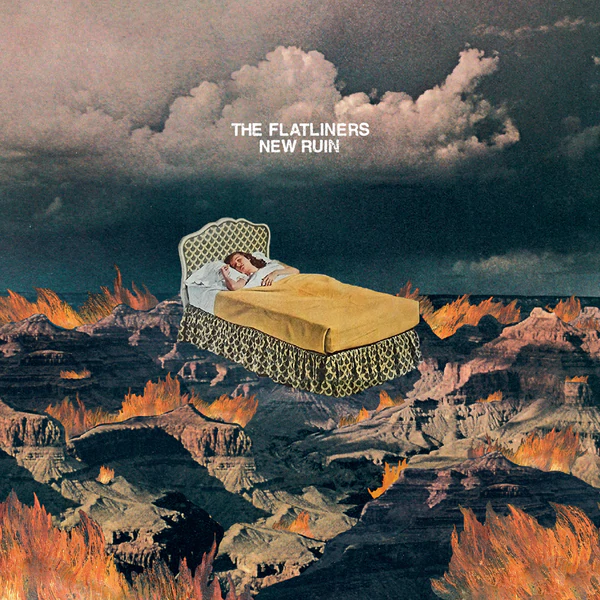 Tracklisting & Tour Dates

Tracklisting

1. Performative Hours

2. Rat King

3. Big Strum

4. Top Left Door

5. It'll Hurt

6. Oath

7. Recoil

8. Souvenir

9. Tunnel Vision

10. Heirloom

11. Under a Dying Sun

TOUR DATES

30 May 2022 in Glasgow, Scotland @ StereoBuy Tickets
31 May 2022 in Bristol, United Kingdom @ The ExchangeBuy Tickets
2 Jun 2022 in London, United Kingdom @ The DomeBuy Tickets
3 Jun 2022 in Leeds, United Kingdom @ Slam Dunk Festival – Temple NewsamBuy Tickets
4 Jun 2022 in Hatfield, United Kingdom @ Slam Dunk Festival – Hatfield ParkBuy Tickets
15 Jun 2022 in Buffalo, NY, US @ Mohawk PlaceBuy Tickets
16 Jun 2022 in Cleveland, OH, US @ Grog ShopBuy Tickets
17 Jun 2022 in Detroit, MI, US @ SanctuaryBuy Tickets
18 Jun 2022 in Chicago, IL, US @ Chop ShopBuy Tickets
27 Jul 2022 in Madrid, Spain @ Sala But w/ Lagwagon, Mad CaddiesBuy Tickets
28 Jul 2022 in Gijón, Spain @ Tsunami Xixón 2022Buy Tickets
29 Jul 2022 in Barcelona, Spain @ Razzmatazz w/ Lagwagon, Mad CaddiesBuy Tickets
31 Jul 2022 in Albi, France @ Xtreme Fest 2022Buy Tickets
1 Aug 2022 in Fribourg, Switzerland @ Le Nouveau MondeBuy Tickets
2 Aug 2022 in Paris, France @ Punk Rock Summer 5Buy Tickets
4 Aug 2022 in Cologne, Germany @ MTC ClubBuy Tickets
5 Aug 2022 in Duffel, Belgium @ Brakrock 2022Buy Tickets
6 Aug 2022 in Amsterdam, Netherlands @ Q-FactoryBuy Tickets
7 Aug 2022 in Hamburg, Germany @ KnustBuy Tickets
8 Aug 2022 in Tolmin, Slovenia @ Punk Rock Holiday 2022
9 Aug 2022 in Munich, Germany @ StromBuy Tickets
11 Aug 2022 in Igea Marina, Italy @ Bay Fest 2022Buy Tickets
12 Aug 2022 in Limburg, Germany @ Tells Bells Festival 2022Buy Tickets
13 Aug 2022 in Berlin, Germany @ SO36Buy Tickets
8 Sep 2022 in Vancouver, BC, Canada @ Rickshaw TheatreBuy Tickets
10 Sep 2022 in Edmonton, AB, Canada @ Super Friendly FestBuy Tickets
11 Sep 2022 in Calgary, AB, Canada @ CommonwealthBuy Tickets
28 Oct 2022 in Gainesville, FL, US @ FEST 2022 – OCT. 28th-30thBuy Tickets
5 Nov 2022 in Silverado, CA, US @ Punk In The Park 2022Buy Tickets
16 Nov 2022 in Washington, D.C., US @ SongbyrdBuy Tickets
17 Nov 2022 in Philadelphia, PA, US @ First Unitarian ChurchBuy Tickets
18 Nov 2022 in Brooklyn, NY, US @ Brooklyn MadeBuy Tickets
19 Nov 2022 in Boston, MA, US @ SoniaBuy Tickets
---
Follow The Flatliners On Their Socials
---
Need more punk in your life?
I'm a punk rock aficionado, martial arts pupil and fair-to-middling student of the Bengali language. I'm also a journalist, writer and editor, specialising in medicine and technology.
Click on Dom's photo for more of his articles