Canadian rising Gen Z pop-punk releases her debut EP.
Spending the last year cultivating a unique blend of punk and hyper pop, 17-year-old star Sophie Powers has released her highly anticipated debut EP Red in Revenge, available today via Set Records. Brimming with the spellbinding energy of her unique "hyper-punk" hybrid and unique artistic vision, the EP follows Sophie's adolescent exploits; from ending relationships and friendships to finding your confidence and dealing with the challenges of growing up.
"After turning 16, I quickly realized the world was not the place I was told it would be," she shares. "It's not easy to make your dreams come true – it's not even easy to dream – which made me angry. Red In Revenge represents the angry, depressive and anxious state I was in while realizing this, as well as the state I was in while struggling to find confidence and place in society as a teenage girl, pursuing my dream, living alone in another country, far from home/the norm."
The seven-song collection includes stellar collaborations including 1 Thing with Kellin Quinn, which continued Sophie's on-going conversation surrounding youth mental health; rock anthem Greed, featuring fast-rising alternative singer/rapper DE'WAYNE; and Clearview which features tour mate NOAHFINNCE. Her recent single U Love It featuring rapper $atori Zoom laminated her unique hyper-punk genre. In addition to fan favourite Life Goes On!!, Sophie has released two brand new tracks, See Me!! and focus single Break Up On The Weekend.
"The song's title summarizes my experience during the ending of a boring relationship," Sophie shares about her new single. "In the song, I explain how they were a good person, but just never wanted to do anything other than the two of us. I'm a very outgoing person and even though they say "opposites attract", being in a relationship with someone more introverted than I was, was super hard. It's a very real thing feeling stuck and gathering the courage to move on from something/ someone that is dragging you down. Breakup On The Weekend has a deep story behind its simple title and relatability, and for that reason, I'm proud of myself for writing it."
At just 17 years old, Sophie Powers is a bold voice beyond her years. She understands the unique pressures of modern girlhood and uses her experience to write unfiltered, devil-may-care anthems about the ups and downs of being yourself. One minute she's confident and cool, with the sneering attitude of a punk rock frontwoman, and the next she's vulnerable and raw, channelling the loneliness of contemporary life in a stirring ballad.
Sophie Powers will be touring the US with NOAHFINNCE in 2022. Tickets are on sale now at  www.sophiepowers.com.
Fans can stream Red In Revenge now.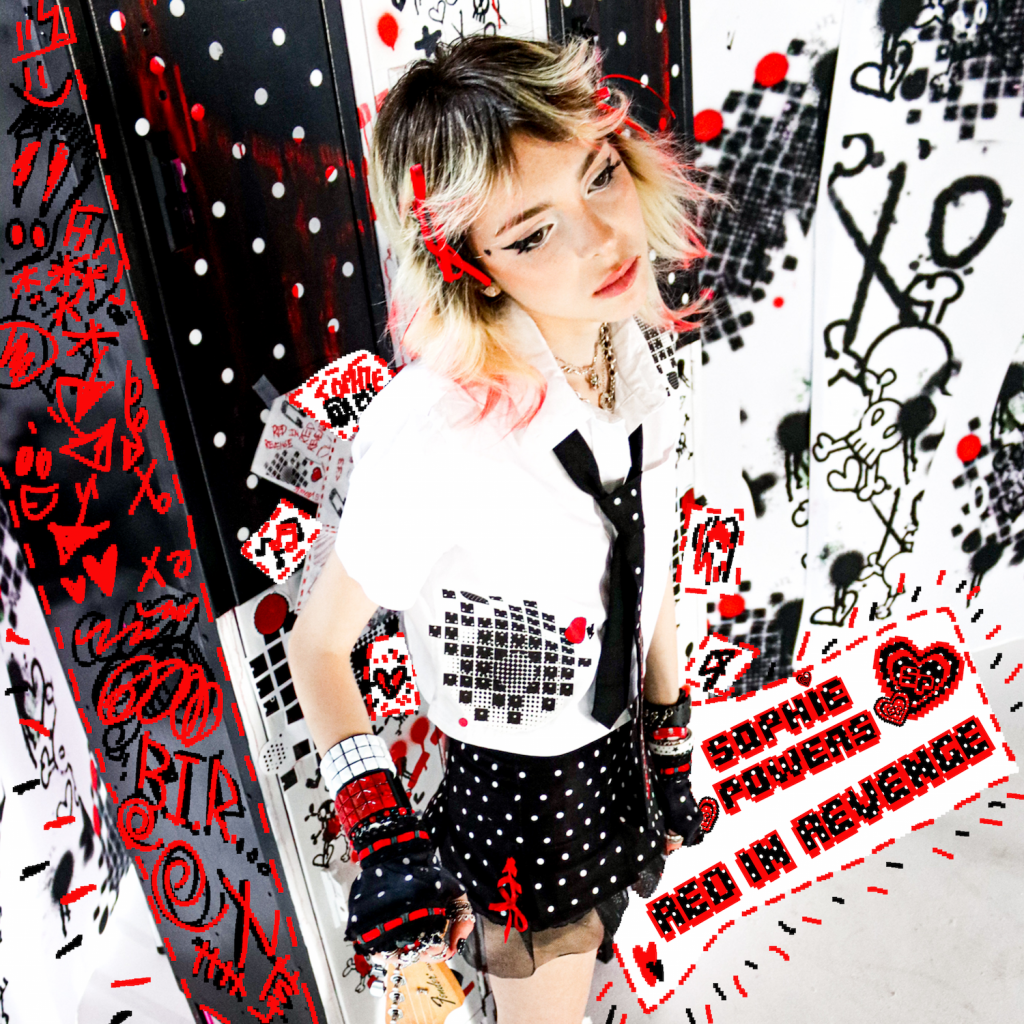 ---
Follow Sophie Powers on socials for more…
---
Check out more of the latest from Punktuation
Punktuation Magazine For All Your Daily Punk News, Features, Interviews, Lifestyle and more!