Punktuation's Roger Kasper has packed his bags and has headed off to the UK's largest Punk Festival, Rebellion!
Day 0
I've been monitoring the build-up to the world's largest punk festival on Facebook. The excitement is growing. People are sharing their tips for how to get through the four-day marathon. There's only one thing for it – get a haircut!
Handily, living next door to a hairdresser, I only have to surmount the garden fence before I'm in the chair and asking politely for a mohawk!
I've got permission from the long-suffering Great Lady (TGL) as it's a special occasion. Crimper Louise mixes some pink and violet colours and I'm ready to rock.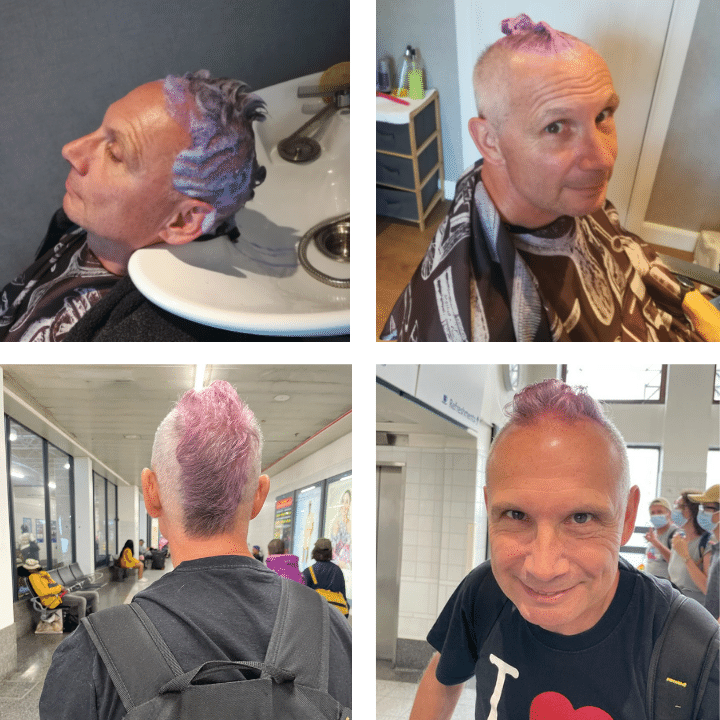 It's a big surprise to my Rebellion partner-in-crime Steve when I meet him on the train to London, and he sees my new look for the first time. It's easy to get a seat on a busy commuter train when you're sporting a colourful mohawk, and a 'I Love Beer And Punk' t-shirt.
Armed with the world's largest packed lunch for the journey, courtesy of TGL, we're heading for the 11 am National Express from Victoria Station, which leaves on time and is calling first at Birmingham, where we meet Terry and Shelley.
It's hard not to meet Terry. He's swearing a Never Mind the Bollocks t-shirt. To keep the colourful theme, I'm green with envy. It's a beauty. They've been on the road from Dover since 5am. We're hardcore, us punks!
A passer-by in Brum has spotted my t-shirt and given me the thumbs up. I comment on his too – it's a Commonwealth Games branded tee.
"Cost my £22 and a keyring was £11," he moans. Taste of things to come at Blackpool I fear, when I do get to hit the merch tables.
We then get talking about all sorts of things, including drag artists, gay bars and other trips to Blackpool. All in the space of a few minutes.
It's now off to Manchester (the airport and city centre) and we spot the former site of the Hacienda, distinguished by a plaque. Pass Leigh on the motorway and wish we could turn off and see the Pete Shelley mural.
But the driver's got Blackpool in his sights and so have we – the Tower has just popped over the horizon. The excitement is palpable.
The Rebellion chat on Facebook has been about how some hotel owners are cancelling bookings at the last minute and leaving punk punters stranded.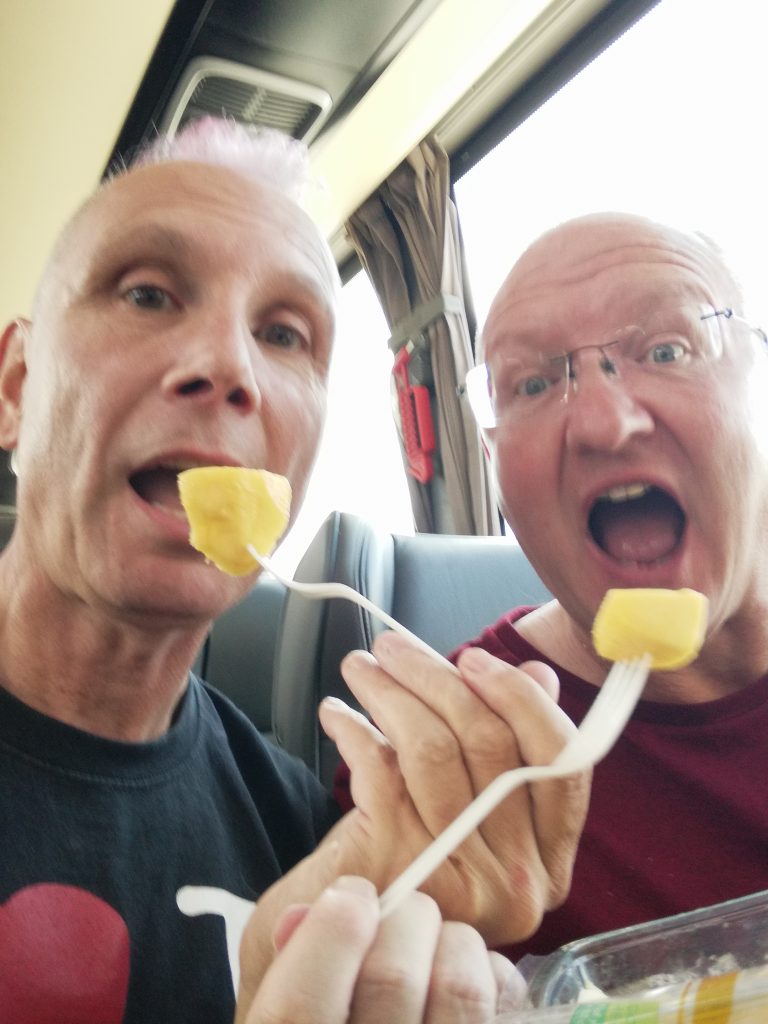 We're running late as we have to check in by 8pm. It's 7.30pm and Alan Bradley's tram is stuck on red and needs to get a move on. Give it the beans, driver!
Hotel owner Franco is on the line and reassuring us that he's waiting around for us. Phew.
We get the full royal treatment on arrival and are shown to our room where he proudly shows off its new shower. Breakfast is at 9am, but no black pudding.
A quick freshen up and it's into town to soak up the pre-festival atmosphere. A bloke spies my shirt and shouts at me from across the road: "I love beer. I love beer.' It's not going to be dull the next few days.
And the fun in Topping Street starts right away as the punks have taken it over.
There are small gigs going on, drinkers milling outside, and lots of admiring glances at t-shirts, outfits and hairdos.
Steve is drawn to a bloke wearing a Macc Ladds t-shirt, as he's just discovered their Blackpool song. Check it out. The lyrics are questionable but the spirit is there.
Macc Lads George and his 'short-suffering' Bev (they've only been married a couple of years) are locals and give us a rundown on the fun ahead and we plan to bump into them over the next few days.  And as we're about to leave after being nicely refreshed by the beer at the Cask And Tap, we get talking to some Ramones t-shirt wearers, including Dawn. They tell us about how they were at the Lesser Free Trade Hall debut Manchester gig of the Sex Pistols, famously attended by only 40 people.
Stay tuned, hopefully, for more on this...
---
Get Some Punk In Ya. Follow Rebellion
---
More of the latest in punk right here
I'm Roger Kasper, 55. A punk since October 77 when the Stranglers rocked Top of the Pops with No More Heroes. Journalist since 1983 with stints on national newspapers and magazines and editor of local papers. I'm Gravesend born and dragged up I keep poultry, garden, run and generally make a nuisance of myself!