A hypersonic step towards bringing US punk rock to the masses.
Seattle's Museum of Pop Culture counts as one of its core values 'light bulb moments', something that punk rock has more than its fair share.
Such moments could regularly be seen on UK television in the late 70s, with The Damned, Buzzcocks, The Undertones, The Ruts and many more appearing on Top of the Pops. But in the US, national exposure was limited and as the 80s dawned and punk mutated into hardcore, it went underground and was shunned by the mainstream.
All that would change a decade later with a band Seattle would claim as its own. That particular story is explored in the Museum of Pop Culture's 'Nirvana: Taking Punk to the Masses' exhibition, which boasts the world's most extensive collection of memorabilia about Kurt Cobain's trio.
One part of the exhibition is devoted to a selection of bassist Krist Novoselic's personal record collection (pictured below), those albums that profoundly influenced both him and Nirvana's sound. The 21 LPs picked for display include 'Led Zeppelin', 'My War', 'Born Again' and 'Meat Puppets II', providing a good illustration of the band's mix of punk rock and hard rock/heavy metal.
Also found among them is Novoselic's own copy of 'Metal Circus', the Hüsker Dü mini album that was released 40 years ago this month, the exact date lost in the mists of time. It was the first copper-bottomed classic from the Twin Cities three-piece of guitarist Bob Mould, drummer Grant Hart and bassist Greg Norton, and began an extraordinary run of both quality and quantity for the band.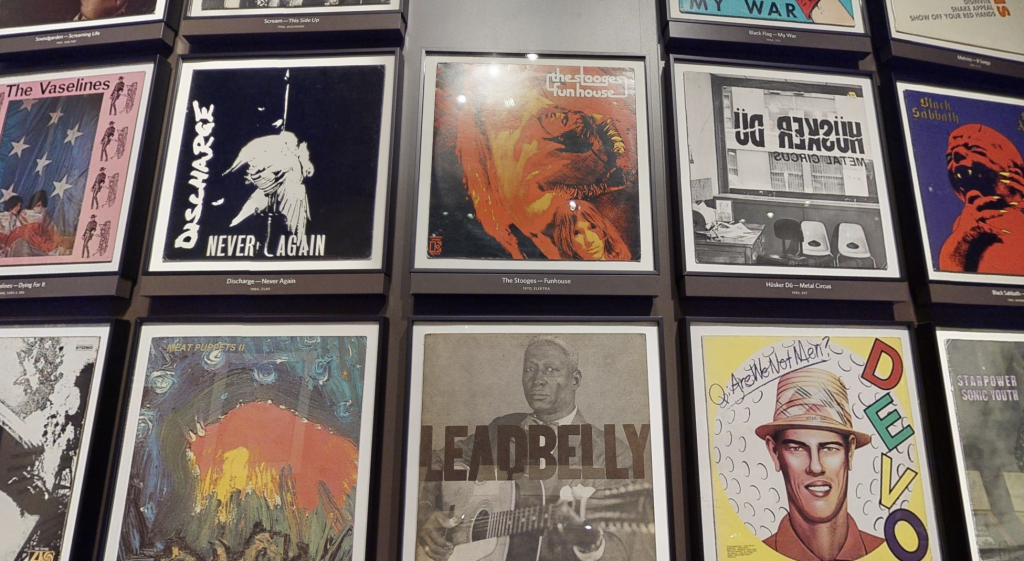 Formed in 1979 in Saint Paul, Minnesota, Hüsker Dü quickly developed a sound that covered punk rock and angular post-punk before going all-in with some of the fastest, raging hardcore ever heard. They toured relentlessly, gaining fans and supporters from Canada to California and continued to evolve their sound. After carefully cultivating their contacts in the scene, they signed to Greg Ginn's influential SST Records in the Autumn of 1982.
As 1983 dawned it marked a turning point for the band.
Already prolific, over the next four years main songwriters Mould and Hart further amped up their output as Hüsker Dü put out five more albums – two of them doubles. That they'd already recorded two albums put their work rate on par with, or above, many of their heroes from the sixties.
Having already delivered a straightforward cover of Donovan's 'Sunshine Superman' on their first studio album 'Everything Falls Apart', released nine months earlier than 'Metal Circus', melodious sounds of the sixties were an emerging part of the band's sound. They would also result in a wider sonic palette than many of their contemporaries, one that caused some chaffing against hardcore's restrictions, even as they embraced the genre.
This push and pull would be particularly evident to listeners on 1984's 'Zen Arcade', as the classic double album melded hardcore, punk rock, noise, folk and psychedelia influences to catapult them onto the national stage in the US and generate recognition far beyond their own shores.
But before 'Zen Arcade' there was the trail of rage and melody that's 'Metal Circus'. Over just seven tracks and 19 minutes the band built on the more tuneful flashes of Buzzcocks-influenced punk that could be found in the 1982 single 'In a Free Land' and the title track from 'Everything Falls Apart'.
The opening track on 'Metal Circus', 'Real World' (featured above in a skate video by Jason 'My Name is Earl' Lee), signals something is now very different from the band that recorded 'Everything Falls Apart' just six months earlier. Sonically that's transmitted through a new power in the band's sound, notably with Mould's guitar, which takes on a sheet metal tone thanks to his newly acquired Eventide Harmonizer effects pedal.
The songs themselves also become more consistent and outreaching their prior releases as they start to stretch beyond hardcore's confines.
Lyrically, the first half of 'Metal Circus' has a point to prove. The album's opening three songs define the band in the negative. Between them, 'Real World', 'Deadly Skies' and 'It's Not Funny Anymore' deal with what they're not, how they don't think or what they don't want to be. The underlaying theme is that of a band dead set on charting its own course, as they played what they wanted to play, and needing no-one's permission to do so.
From the album's opening line, the band's set against punk orthodoxy. "People talk about anarchy / And taking up a fight / Well I'm afraid of things like that/ I lock my doors at night" as Mould sings. While "I like to protest, but I'm not sure what it's for / I guess I've got no control over the threat of a nuclear war" from 'Deadly Skies' puts a new spin on hardcore's anti-nuclear preoccupation, a theme Hüsker Dü had themselves explored with earlier tracks like 'Push the Button' and 'Nuclear Nightmare'. Meanwhile, there's a plain 'do what you want to do' message throughout 'It's Not Funny Anymore', albeit one with a lighter musical tone (see below video).
Already concerned about being pigeonholed, the band that had previously included not one but two 30-second hardcore screeds on their previous album now wanted it known that they were not a hardcore band. Though in truth Hüsker Dü wouldn't stop recording hardcore songs until 1985's 'New Day Rising' and the shorter, faster, harder side of their song writing would remain part of their live repertoire right until their last concert in December 1987.
Out of all the tracks collected on 'Metal Circus', 'Deadly Skies', with its sarcastic takedown of the futility of protest, has the most hardcore sound, albeit a melodic hardcore one. It also showcases an anguished howl from Mould that would later be put to even more thrilling use on their seminal cover of 'Eight Miles High' by The Byrds.
However, it could have been quite a different sounding album. When Hüsker Dü toured out to California to record for the second time at Redondo Beach's Total Access studio with SST Records' in-house producer Spot they actually cut 12 tracks. Of those not included on 'Metal Circus', 'Standing By the Sea' would later turn up in a more fully realised form on 'Zen Arcade' and 'Won't Change' a year later on 1985 compilation 'A Diamond Hidden in the Mouth of a Corpse'. But it's the remaining three tracks that reveal a band still revelling in hardcore. Not officially put out until they became part of 2017's 'Extra Circus' single; 'Heavy Handed', 'You Think I'm Scared' and 'Is Today the Day' are all sub-one-minute blasts of aggression that are firmly in the hardcore camp.
Deciding on the final tracklist for 'Metal Circus', Hüsker Dü instead cannily chose to only include songs like the existential crisis of 'Lifeline' and 'First of the Last Calls', a hidden gem about unsuccessfully battling alcohol.
There was also 'Out on a Limb' (see above video), whose unhinged vocal and guitar part showed it to be more enamoured with the slower songs on Black Flag's 'Damaged' than with anything on 'Another Music in a Different Kitchen' by the Buzzcocks. And then there was 'Diane'.
The catchy song tells the story of the rape and murder of a young waitress Hart knew from Saint Paul. Its blend of melodic and menace is still chilling, even as Hart's vocal become increasingly plaintive and elegiac. Musically, it just sucks all the air from the room as it begins with Hart's ominous tom-tom heavy pattern, adds Norton's circular, chordal bass riff over which then come Mould's chiming guitar harmonics. Hart took a lot of flak for writing an anti-rape song that, like Nirvana's 'Polly', was sung from the point of view of the rapist, but it's stood the test of time.
It was also a song that influenced Dinosaur Jr bassist Lou Barlow. Seeing Hüsker Dü live he noticed how Norton's use of bass chords, particularly on 'Diane', would cut through the extreme volume of Mould's guitar. Having to contend with similar extremes from J Mascis' playing he would start making use of the same approach.
Elsewhere in the American indie underground, 'Metal Circus' would be Flaming Lips singer Wayne Coyne's first Hüsker Dü album, treasuring his copy much like Nirvana's Novoselic. Other fans of the mini album included R.E.M. guitarist Peter Buck, who could be seen in the pages of Creem magazine wearing a 'Metal Circus' t-shirt.
As well as a making an impression sonically on the hardcore, punk rock and indie community, 'Metal Circus' also stood out visually.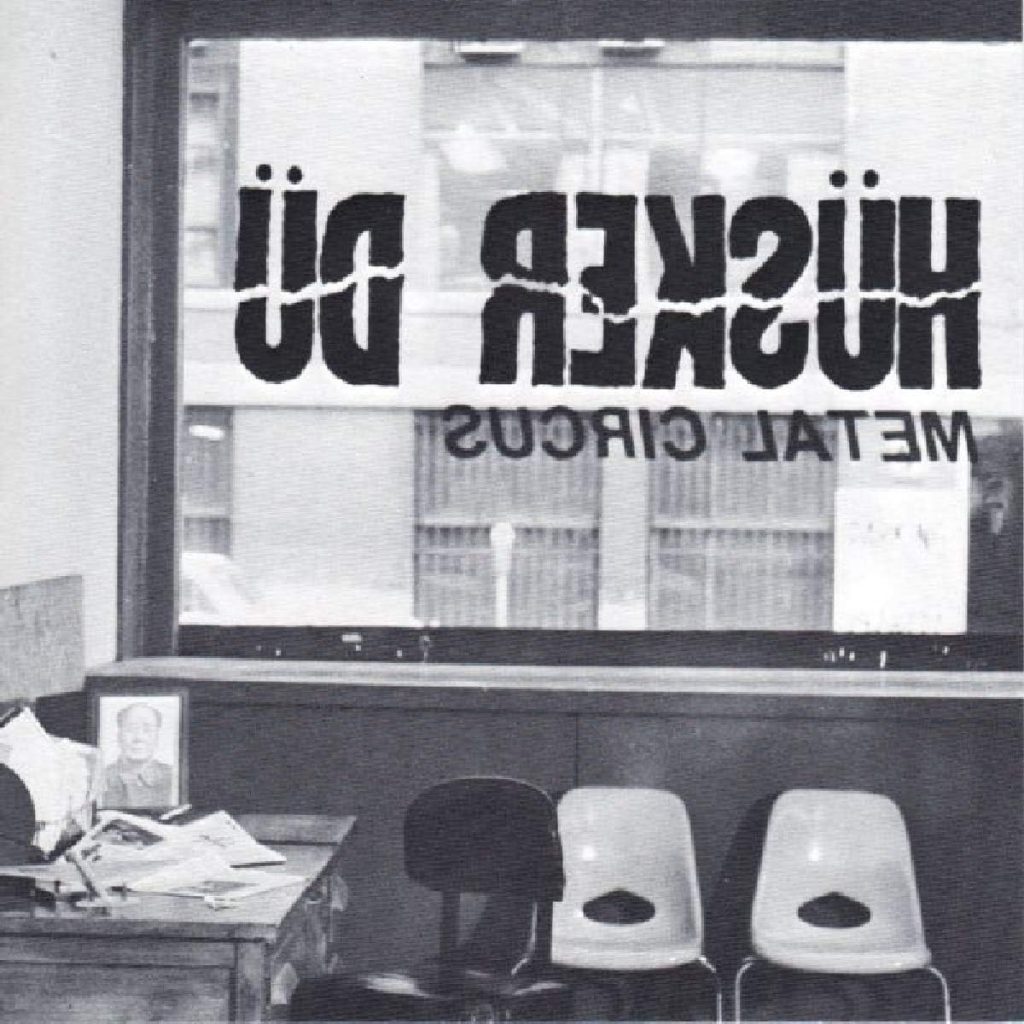 The album, whose back cover featured the legend "hypersonic stereo", was designed by Hart in the Fake Name Graphx guise he used when working on Hüsker Dü's artwork. For 'Metal Circus' he pulled out all the stops.
Setting up in a borrowed office space, he painted the band's distinctive logo with the fissure running through it on its window glass and arranged a series of props inside that reference previous Hüsker Dü releases. These included tiny details like the model airplane on the desk, whose tail number, NAR007, corresponds to the New Alliance Records catalogue number for 'Land Speed Record'.
The thought and effort that went into both the artwork and music contained within 'Metal Circus' ensured it stood out in a year that also saw the release of key hardcore albums like 'Rock for Light' by Bad Brains, Circle Jerks' 'Golden Shower of Hits' and Minor Threat's 'Out of Step'. But by the time 'Metal Circus' was released, Hüsker Dü were already moving on.
Just as 'Everything Falls Apart' was released when 'Metal Circus' was being recorded, the mini album hit record store shelves in October 1983, the same month the band recorded 'Zen Arcade'. That double album would bring the band mainstream national attention as they pushed creative and genre boundaries even further, but the roots of that leap lay in 'Metal Circus' and its hypersonic step towards bringing US punk rock to the masses.
Real World
Deadly Skies
It's Not Funny Anymore
First of the Last Calls
Lifeline
Diane
Out on a Limb
Follow Hüsker Dü on Their Socials
Need more Punk In Your Life?
New Releases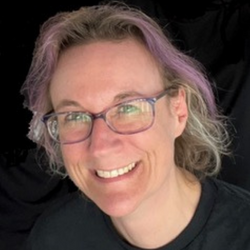 Those loveable Punk funsters The Sensible Gray Cells return with a suitably seasonal single, complete with a crazy video shot at the beach last summer.. <br
Read More »
I'm a punk rock aficionado, martial arts pupil and fair-to-middling student of the Bengali language. I'm also a journalist, writer and editor, specialising in medicine and technology.
Click on Dom's photo for more of his articles