The film of Harlow punks Newtown Neurotics unfeigned story premiered last night - Punktuation's Ruth Rae reports:
What do you remember about the early Thatcher years in the UK? For Newtown Neurotics, a struggle to get their music recorded and heard was made worse by her economic policies, which led to the release of their incendiary single 'Kick Out The Tories'. Joining forces with Punk poet and musician Attila the Stockbroker and musician and songwriter Billy Bragg, the band stood by their town, stood by the Miners in their fight against political and cultural vandalism and stood by their belief that the Tories needed to be stopped. 
At long last, their full story;
Kick Out – The Newtown Neurotics Documentary
was brought to the screen at London's
The 100 Club
last night
after a delay caused by the 2020 pandemic. Originally conceived in 2018, this first full showing of
Luke Baker
's film, followed by a Q&A with the film maker and the band hosted by
Steve Lamacq
, was followed by a very special live performance from the
Newtown Neurotics
and guests!
The film was crowdfunded by fans and supporters, thanked by Director and Editor Luke Baker in a statement released earlier this week; "It's been a privilege to be allowed into Newtown Neurotics circle and trusted to bring their story to life, a task only made possible by the generosity and enthusiasm of those who contributed to the crowd fund".
Giving a historical account of the band, from singer and guitarist Steve Drewitt's move to Harlow Newtown as a young child, to the present day band and their new album, the film features a treasure trove of archive footage, interspersed with interviews. Appearing in the documentary are many famous faces, including Billy Bragg, Phill Jupitus, Attila the Stockbroker, Steve Lamacq, John Robb, Janine Booth, Richard Holgarth and Leigh Heggarty.
Inspired by seeing the Ramones playing at The Rainbow in London, Steve persuaded fellow music enthusiast Colin Dredd to take up bass guitar and join him to create a new band. Very much a DIY project, they recruited Tiggy  Barber on drums and went out to play at every local venue that would have them!
Resorting to creating their own record label, Tiggy's dad bankrolled the pressing of their first single 'Hypocrite', the legendary John Peel liked it and played it on his late night Radio 1 show, and the band began to get more attention in the press!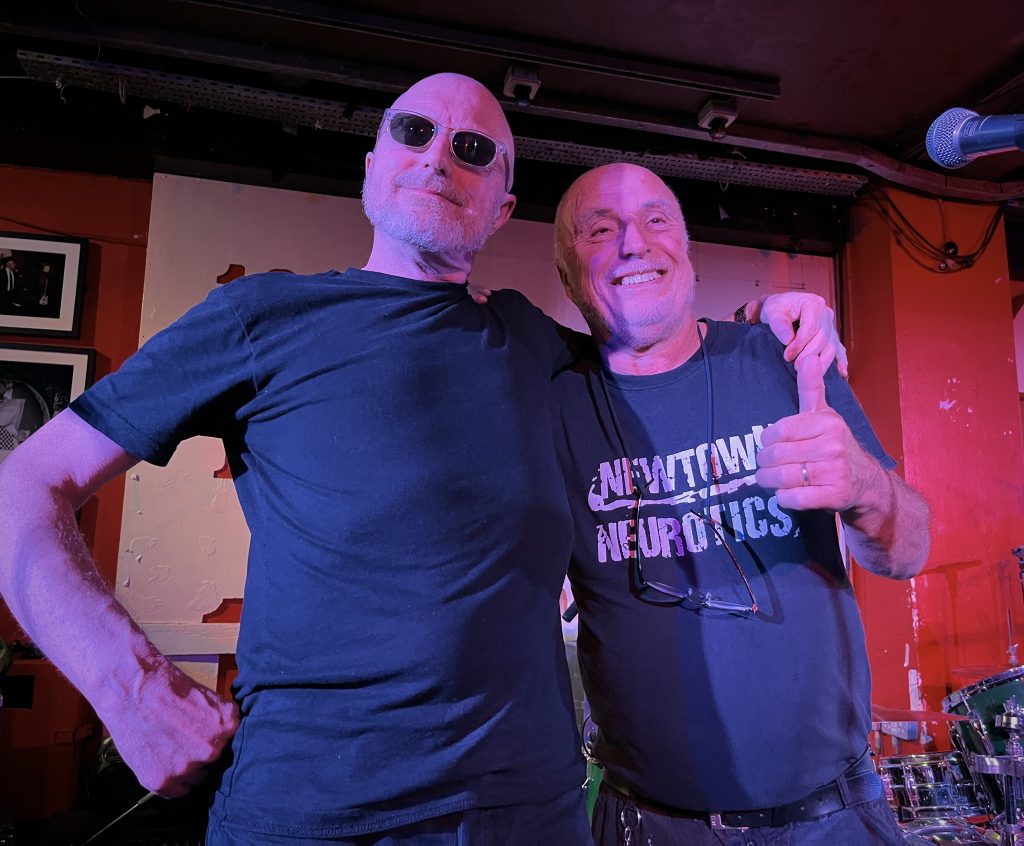 The essential role played by Attila the Stockbroker in the Neurotics' journey is a source of pride to both – Attila encouraging Steve to have the confidence to write about how he really felt about the way things were going, to be unafraid to be political, and to take the message out there despite threats of (and actual!) violence towards the band.
The strong sense of camaraderie, feeling that everyone was standing together against the right wing National Front and their racist and divisive hatred, against the rhetoric of the politicians and press keeping the working classes down using similar fear-inducing tactics, and their conviction that it is worth continuing the fight for a better society comes across clearly. Steve remains vocal about all of this during present times, as sadly it seems we have gone back to where we were in the late 1970s..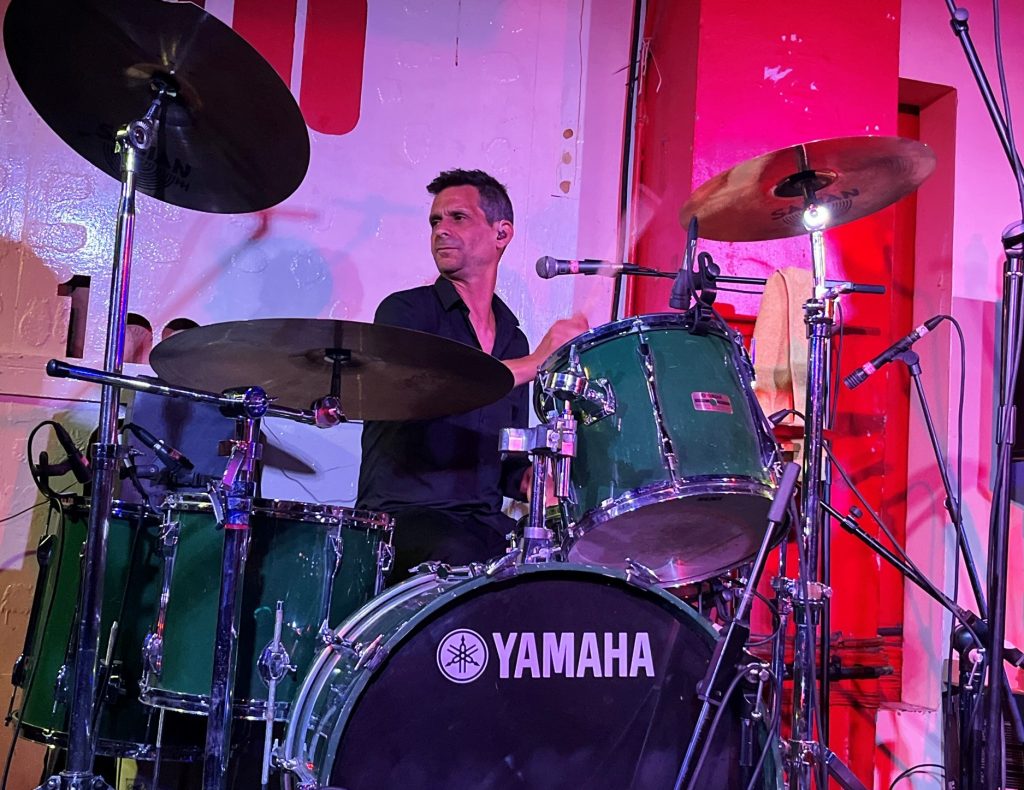 New drummer Simon Lomond was still at school when he took up his place following Tiggy's departure to the New Romantic band he was also playing in. Being a fast learner, young Simon soon had the songs mastered, and accompanied the band on their travels to play in East Germany – many fascinating stories are revealed from this time!
Sadly Colin became unwell, but rather than pull out of a scheduled tour, the band drafted in Mac McDonald to play bass for the remaining shows, before calling it quits in 1988. Steve continued to play occasionally, and a chance performance at The Square in Harlow led to the formation of an energised Neurotics with the much younger Dave Walsh on drums and Adam Smith on bass.
Following the untimely death of Colin Dredd in 2015, which hit the remaining Neurotics hard, Simon re-joined the band resolving to continue the fight, stating; "Now is more important for a resurgence of rebellion than ever". The current line-up of Steve, Simon and Adam play to large and enthusiatic crowds as well as writing and releasing new music. Steve Drewett proclaims towards the end of the film; "People want authenticity. They're fed up with being lied to. They're fed up with lying politicians". The Newtown Neurotics are still here and they still have plenty to say!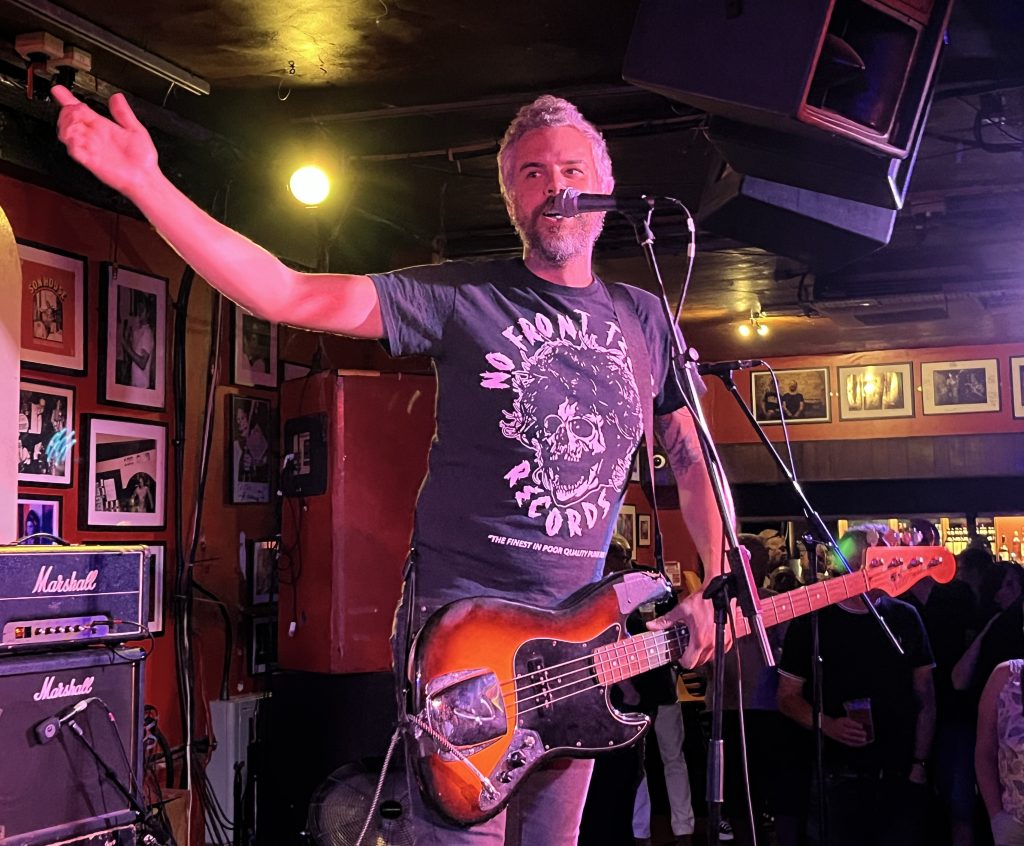 Cheers and applause rang loudly throughout the packed room as the film concluded, all attendees in agreement that this documentary is very good indeed! It's a genuine, heartfelt story of a band pulling together through the best and worst of times, never losing their values, and producing great music along the way!
The brief Q&A session led by Steve Lamacq had Director Luke Baker explain how the production came about, and how he managed to obtain so much excellent archive material. We also heard from an at times emotional Steve, as he described how the violence against the common working person wasn't reported, and how he won't ever allow himself to be defeated, no matter how difficult it gets to carry on.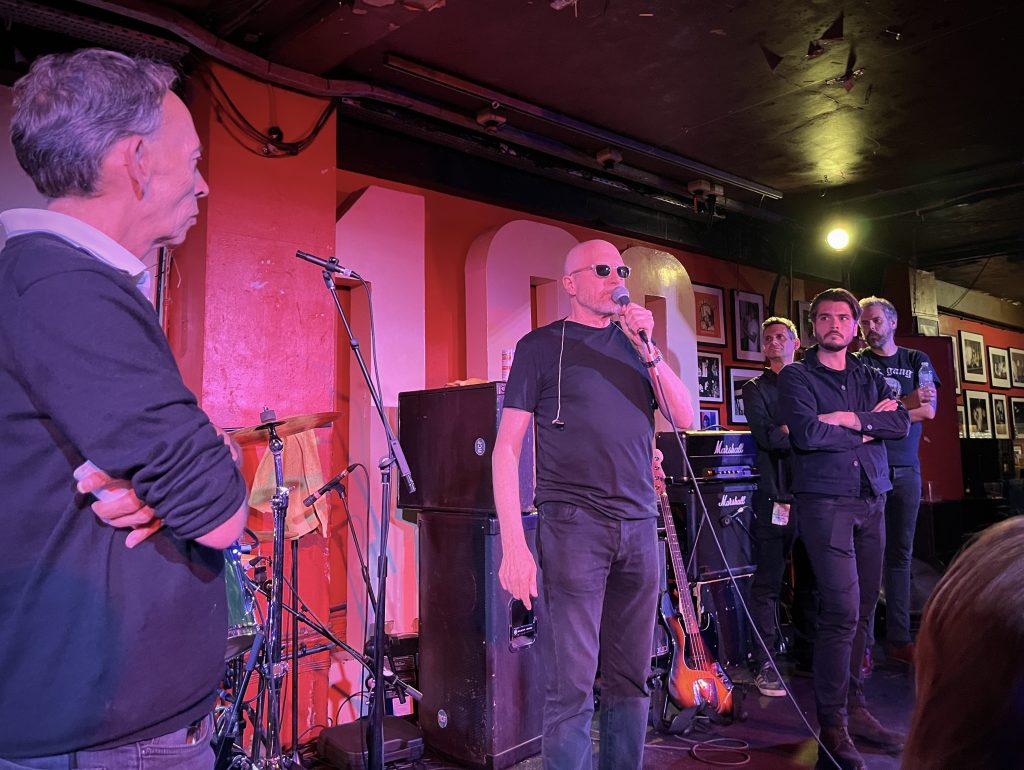 As a finale, the ardent crowd were treated to a nine song set by Newtown Neurotics, spanning their career from first single to latest album, concluding with a rousing 'Kick Out the Tories' in which we all joined!
Guesting on stage were Pook and Eddie on trombone and saxophone, with Leigh Heggarty on guitar stage left. The 100 Club hosted the event professionally, everyone had a fantastic evening, and the band and director were ecstatic at the positive reception to the documentary. You can see the film next week at the locations listed below – don't miss the opportunity!
For more information on Newtown Neurotics, read Punktuation's INTERVIEW with the band last year, following the release of their excellent new album 'Cognitive Dissidents'.
Where to see Kick Out! this September/October
————————
SEPTEMBER 2023 (** WITH Q&A)
FRIDAY 8TH
FILM FACTORY, LEIGH
FIRST SITE, COLCHESTER
MONDAY 11TH
LIGHT CINEMA, ADDLESTONE
LIGHT CINEMA, BANBURY
LIGHT CINEMA, BOLTON
LIGHT CINEMA, BRADFORD
LIGHT CINEMA, CAMBRIDGE
LIGHT CINEMA, NEW BRIGHTON
LIGHT CINEMA, REDHILL
LIGHT CINEMA, SITTINGBOURNE
LIGHT CINEMA, STOCKPORT
LIGHT CINEMA, THETFORD
LIGHT CINEMA, WALSALL
LIGHT CINEMA, WISBECH
TUESDAY 12TH
LIGHT CINEMA, SHEFFIELD**
WEDNESDAY 13TH
QUAD, DERBY**
PUNKFILMFEST, BERLIN GERMANY
TUESDAY 24TH
SUB ROOMS, STROUD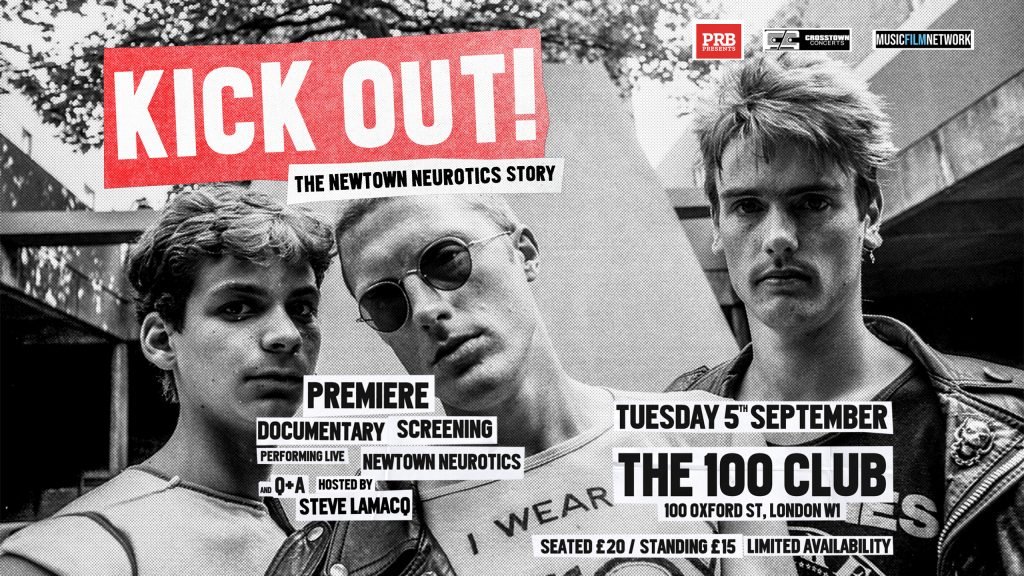 Follow Newtown Neurotics on Their Socials
Need more Punk In Your Life?
New Releases
Grammy-nominated pop punk legends Sum 41 make a boisterous return with 'Landmines', their newest single and first release on Rise Records.
Read More »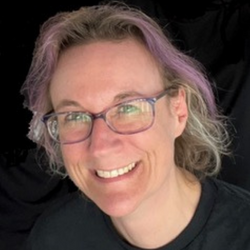 'Usually found jumping around down the front at gigs, I also relish taking photos and videos, singing, speaking with fellow music fans, and asking musicians the questions nobody else does  Writing about my favourite bands and connecting with people who love music too keeps me more-or-less sane  I've worked for over 25 years at a video production company, mainly filming live music events, therefore I have an additional backstage perspective!'