It's the end of an era as punk legends NOFX bid farewell to UK fans with their last ever live date on our shores. Alex G was there to bear witness!
So, after 40 years in the game, NOFX are going to be the first of the Big Four of Californian punk rock (that's themselves, Green Day, The Offspring and Rancid) to call it quits. They're going to be missed, but they're planning on going out in style; by doing a final tour of 40 cities, and playing 40 songs per night.
Tonight, it's Hatfield's turn, for their last-ever UK show, and they'll be playing 1993's 'White Trash, Two Heebs And A Bean' and 1997's 'So Long And Thanks For All The Shoes' in their entirety. The sun is out, the booze is flowing, and to say the level of anticipation is through the roof would be an understatement.
The Meffs are a guitarist/vocalist and drummer duo from nearby Essex, and they make one hell of a noise. The likes of 'Wasted On Women' and 'Stand Up' are fuelled by righteous indignation, and a cover of The Prodigy's 'Breathe' is a smart, inclusive move.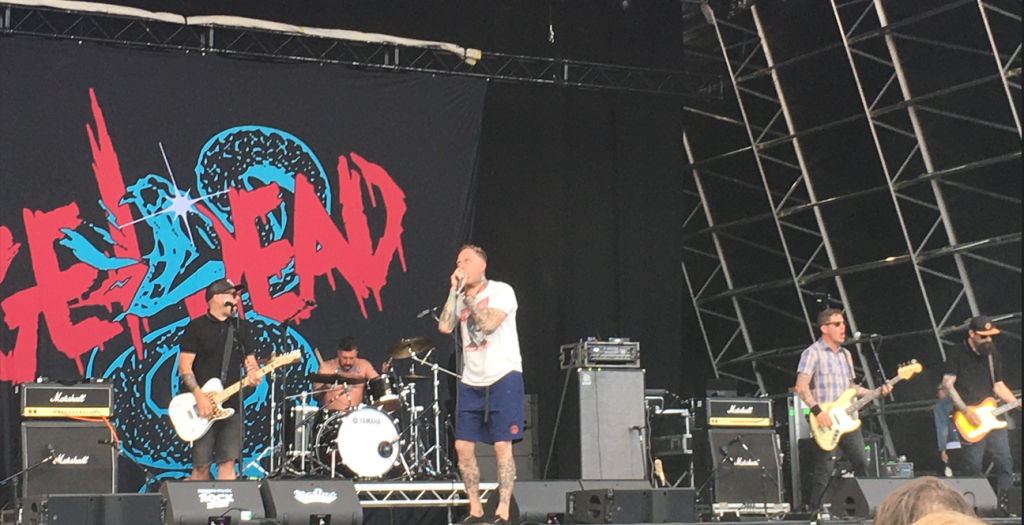 Get Dead are arguably the band most likely to follow in NOFX's footsteps in terms of turning in simultaneously sloppy and tight sets. Vocalist Sam King stumbles around the stage like he's had a few too many, but he doesn't miss a note throughout.
Among the highlights are the ska-tinged 'Disruption' and the folky 'Pepper Spray', and it only takes a couple of songs before the first pit of the day kicks off. It's rare for a band to be greeted so fondly this early, but they deserve it. Superb stuff.
"I didn't come all the way from Canada to be stared at!" That's Comeback Kid's vocalist Andrew Neufeld, shortly before his band unleash a particularly vitriolic 'Do Yourself A Favour'.
Arguably the heaviest band on the bill today, as well as the band most annoyed by the presence of a barrier, they bounce around the stage like some kind of hardcore WWE tag-team. Those breakdowns sure feel good when they hit this hard, and the closing 'Wake The Dead' (with Neufeld perched atop said barrier) is no less enjoyable for being predictable.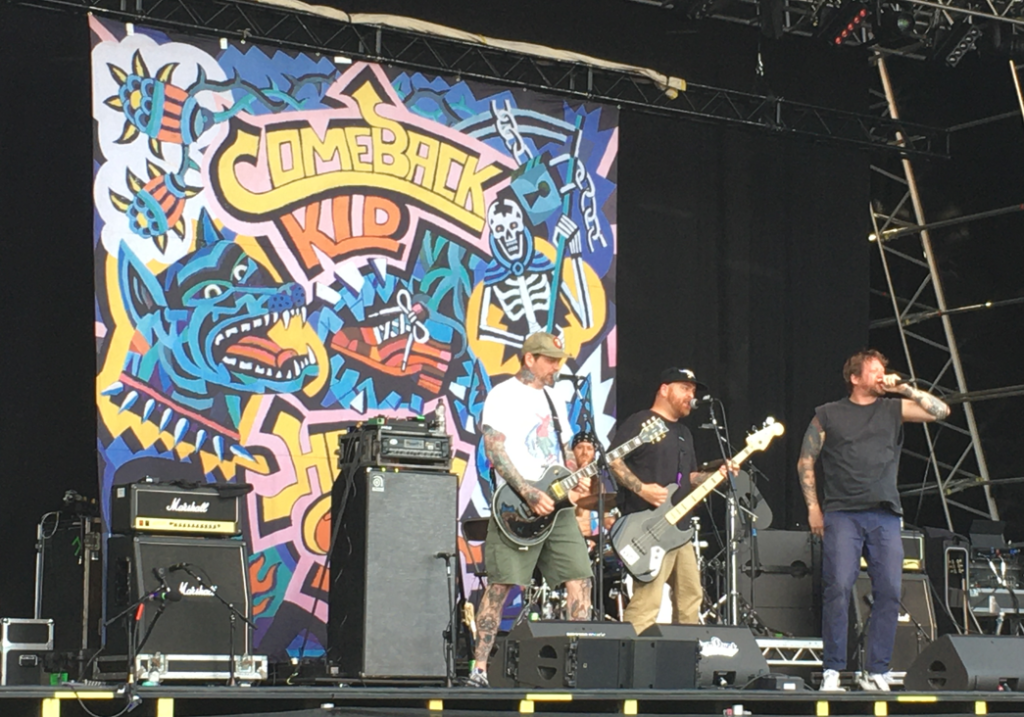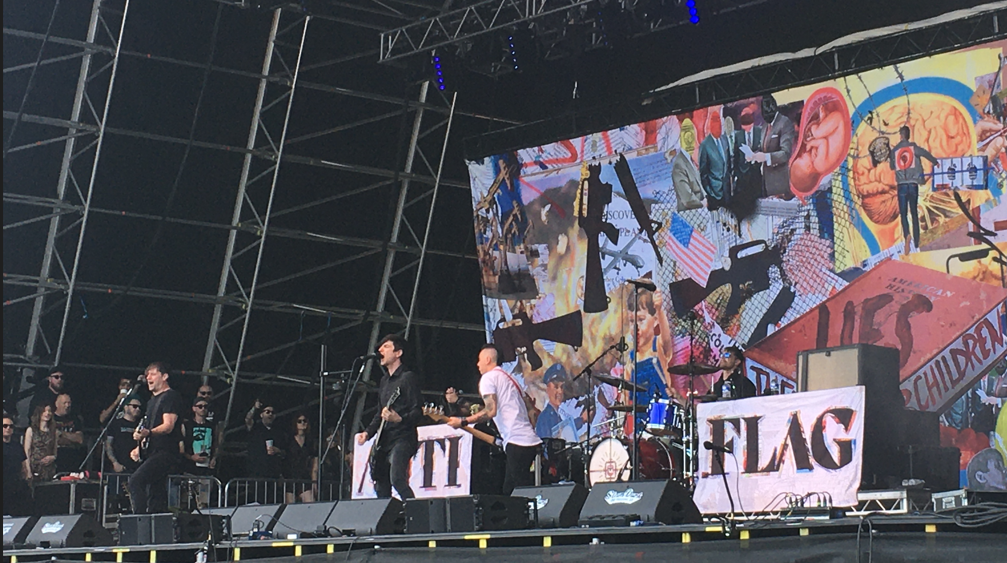 With his floppy fringe and black shirt/trousers combo, Anti-Flag vocalist/guitarist Justin Sane looks more like a member of Interpol, but it's soon evident that his band hasn't mellowed at all since they last graced Hatfield (for 2021's Slam Dunk Festival).
This is pure, passionate, straight-up punk rock, played by people who sound like they'd explode if they didn't have music as an outlet. As usual, it's the penultimate 'Die For Your Government' that truly unites the crowd, but there are no weak links here today. 
Lagwagon vocalist Joey Cape's voice is shot, and he knows it. He struggles on gamely, as do his band, but there's a sense that many folks in the crowd are holding back their energy for the headliners, and thus much of their set passes by in solid but unremarkable fashion. It takes a breakneck-speed rendition of Van Morrison's 'Brown Eyed Girl' to at least briefly take back our attention from the bars/merch stands/etc.

So what kind of NOFX are we going to get tonight? After all, the quality of their shows has depended largely on what kind of mood Fat Mike is in, and how much time they spend/waste [delete according to opinion] on largely nonsensical between-song rambling. It only takes a raucous rendition of 'Dinosaurs Will Die' to instantly sweep away all our doubts. Beer dregs go flying. Bodies go flying. The band sound fantastic, and we're strapped in for one hell of an evening. 
The aforementioned rambling is kept on a relatively tight leash tonight, in favour of slamming relentlessly through classic after classic; in particular, an early salvo of 'Bob', 'Linoleum' and 'It's My Job To Keep Punk Rock Elite' gives us a collective musical orgasm. We're all having fun, we're all looking out for each other, and we're all stoked to be going nuts to NOFX one last time.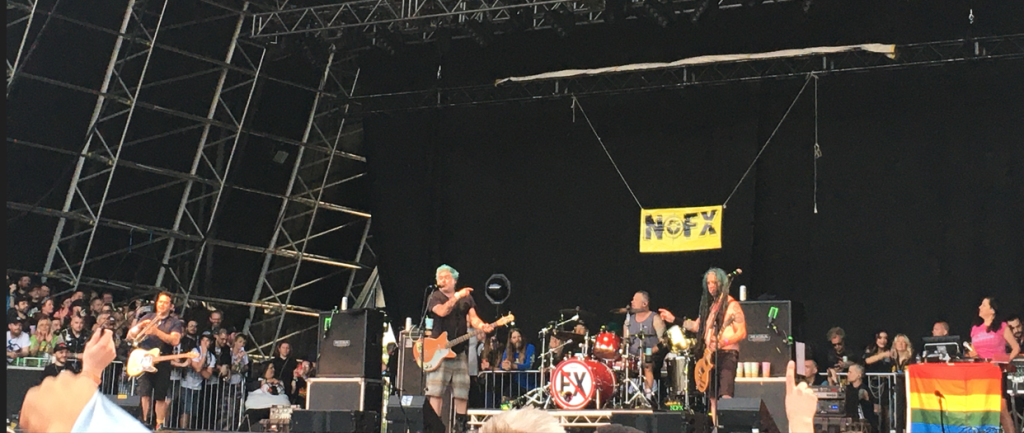 If there's one weak point, it's that energy levels dip slightly after the halfway 'pee break' as they work through the records' more obscure songs, but a joyous 'The Brews' and 'Champs Elysees' (the former featuring a guest appearance from Snuff's guitarist) prompt probably the loudest sing-alongs of the day.
It all ends with 'Theme From A NOFX Album' and guitarist Eric Melvin happily plays his accordion as the rest of the band wave goodbye and thank us for sticking with them for so long.
All that's left is to reflect on 40 years of a band who always stayed independent, true to themselves, and only ever did things their way. 
So long, NOFX, and thanks for all the tunes. You acted like you didn't care, but we all knew that deep down, you did. You are loved, and you will be missed.
Follow NOFX on Their Socials
Need more Punk In Your Life?
New Releases
Grammy-nominated pop punk legends Sum 41 make a boisterous return with 'Landmines', their newest single and first release on Rise Records.
Read More »