UK '77 Punks Menace celebrated original drummer turned frontman Noel's birthday with a lively party at London's 100 Club - Ruth Rae joined in with the fun!
The Punk family gathered at the iconic Oxford Street venue in central London on Saturday 6th October for a glorious celebratory gig. Noel Martin of Menace is rightfully one of the scene's most beloved musicians, and we were all looking forward to an evening of music and merriment on the day Noel turned 69 (He really doesn't look it)!
With four bands on the bill for an amazing £5 (if you got an extra early ticket!) plus a DJ between sets, the evening was set to be a memorable one for all.
Getting the party started were South London's Red Anger, who delivered a cracking set of songs from their first album plus their newly released second album. Good natured banter between vocalist Jamie and bassist Glenn "We're not married.. well, not to each other!" plus Jamie's usual off-stage prowling through the crowd made for a lively opener! Those new to Red Anger were impressed – as they should be.
After a quick changeover, (to the choice Punk and Ska selections of DJ Andy Riff), East Anglian band Jack The Lad took to the stage with their own blend of Oi and Street Punk. The 4 lads make a big noise and soon had the crowd jumping to their guitar driven rock! Vocalist Glen engaged well with the audience, and made it obvious how much the band were enjoying playing the 100 Club.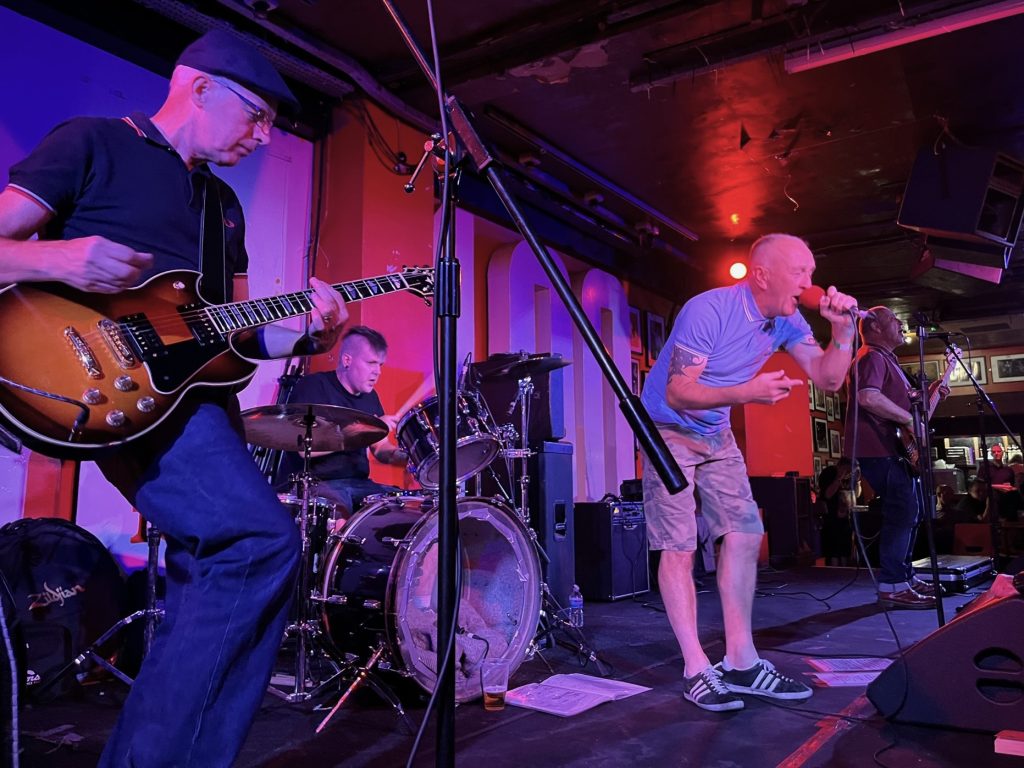 Another set of tunes from DJ Andy, then it was London's 16 Guns turn to entertain the crowd. After a quick tweak of the guitar amp to get the volume right, frontman Tom Halpin led his crew through a blistering barrage of 2nd wave Punk tunes. Joined by guitarist Paul's son Gary, and friend John Marshall briefly for backing vocals, while drummer Matt chose to whack the skins with his wristband attached to his forehead.. the party atmosphere prevailed!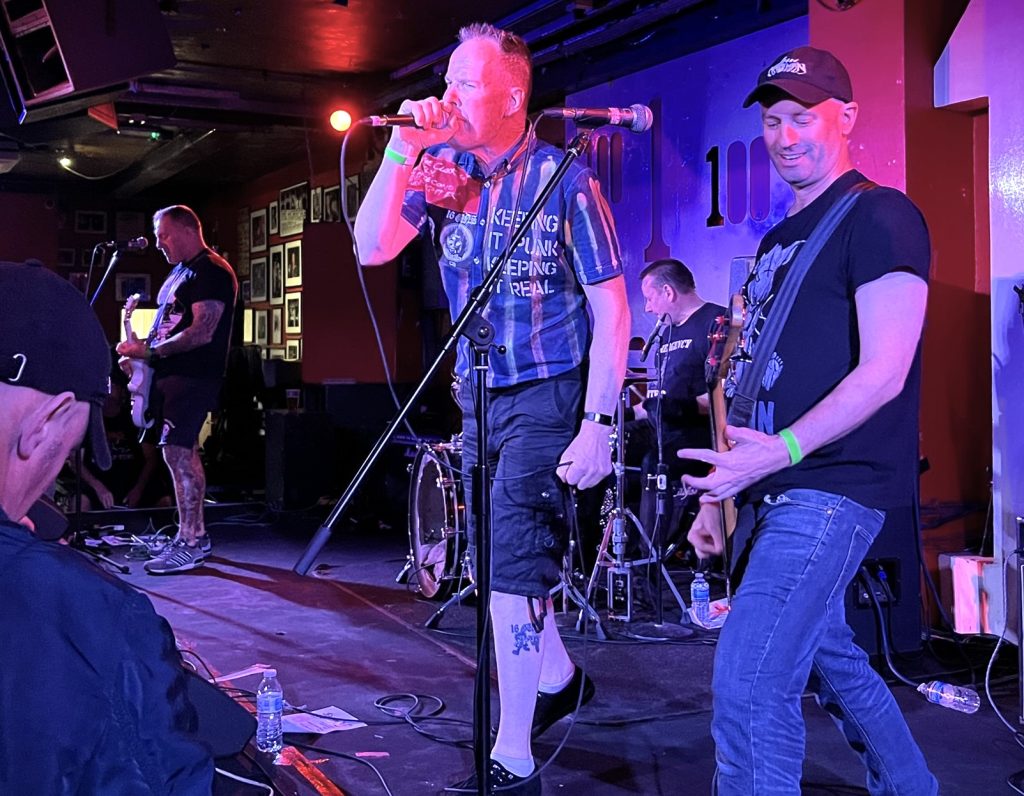 Headling were of course the one and only Menace, with birthday boy Noel at the helm. Regular band members Dave Jenkins on bass, Peter Bradshaw on guitar and Simon Edwards on drums form a tight unit, and are true to the original Menace sound. 
An exciting selection of favourite songs ensued, with a brief interval to sing 'Happy Birthday' to Noel, led by the eternally cheerful Simon. A man who is prepared for anything, Noel produced a proper whiskey glass from which to imbibe his birthday drinks, topped up by his many friends throughout the evening!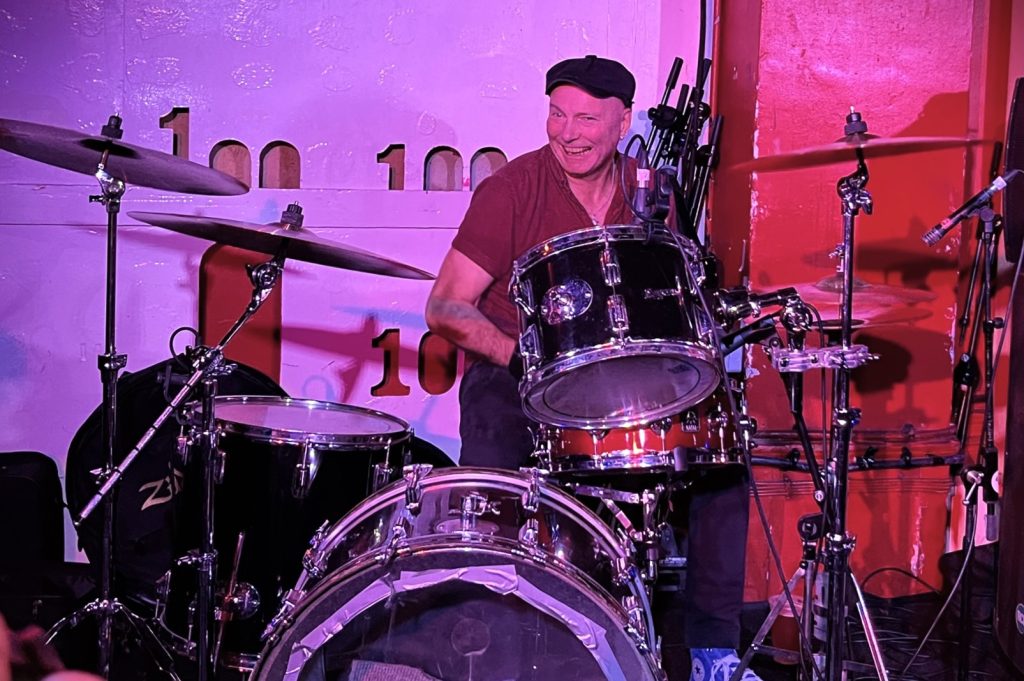 Ace bass man Dave stepped up to sing lead vocals on 'I Need Nothing' while Noel played rhythm guitar – I caught the moment on video:
Peter managed to break a guitar string around one third of the way into the set – but fortunately Leigh Heggarty from Ruts DC was in the audience, and he swiftly volunteered to re-string Pete's ailing instrument while Pete borrowed Noel's guitar in the interim! By the end of the night Pete had also managed to break a second guitar string – he was certainly going for it!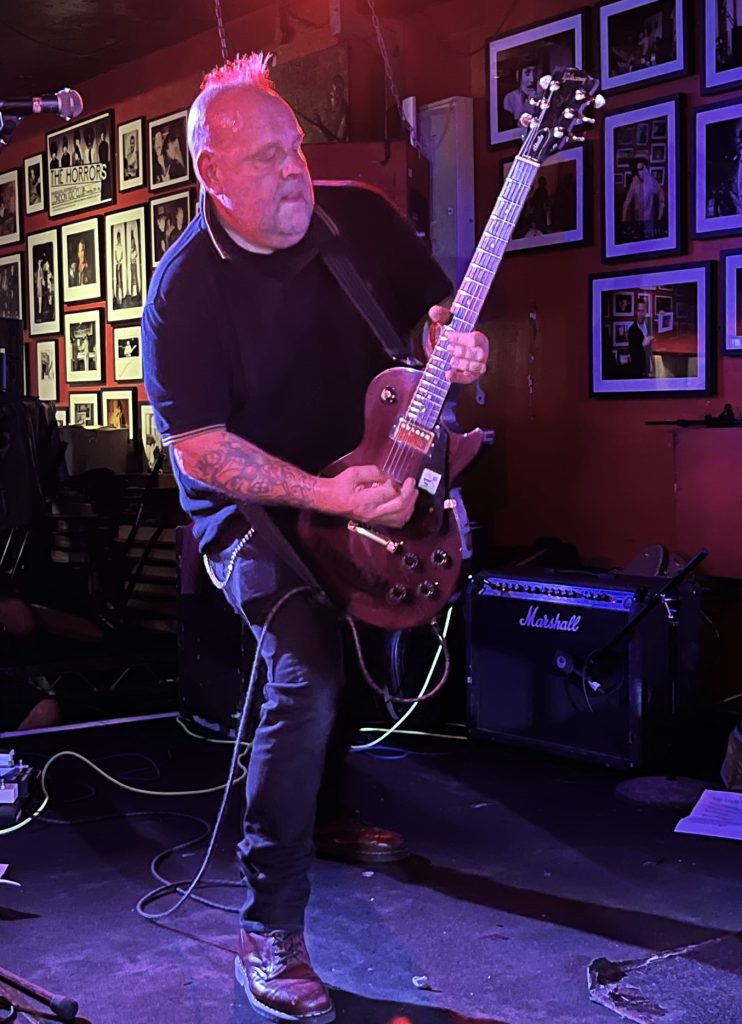 The fun continued as the band stormed through their set, the Punk family dancing and singing along – Menace are a band who see no distinction between themselves and the audience, we are all genuinely considered part of the performance, and everyone is welcome.
Noel is openly vociferous about his socialism, and being a man of integrity,  he lives it too – prices are kept low for show tickets and merch, and if you're struggling he'll help if he can. It's no surprise 'Uncle' Noel commands so much love and respect from the Menace fan base!
Given the opportunity to join Menace on stage, guitarist-about-town Leigh Heggarty took it, of course, borrowing Noel's guitar for the last few numbers. 'So Fuck You' with added guitar accompanied by exuberant vocal support from the audience was a real highlight!
The traditional stage invasion was always going to happen – I'd already enthusiastically mentioned to Noel that we'd try to break the stage with the number of people getting up there with the band – I was one of them, of course! There's nothing quite like joining in with your friends on your favourite singalong Punk songs, supporting the scene, sharing the energy.
Ending on a high, sweaty hugs were exchanged on and off stage, and everyone was buzzing from a Punktastic evening!
The great news is that Noel will be having an even bigger celebration for his 70th Birthday next year, part 1 in London and part 2 in Guildford – keep an eye on the Menace socials for announcements.. There is also a new Menace album on the horizon – excellent! – Punktuation will bring you all the news and details.
All that's left to say is a Very Happy Birthday Noel!
Main Photo Credit: NIGEL C WILLIAMSON
Follow Menace on Their Socials
Need more Punk In Your Life?
New Releases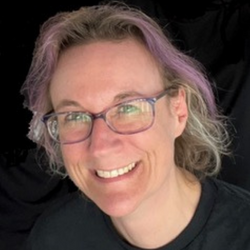 Those loveable Punk funsters The Sensible Gray Cells return with a suitably seasonal single, complete with a crazy video shot at the beach last summer.. <br
Read More »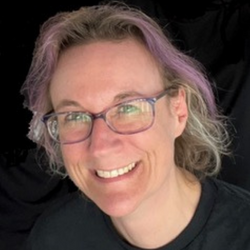 'Usually found jumping around down the front at gigs, I also relish taking photos and videos, singing, speaking with fellow music fans, and asking musicians the questions nobody else does  Writing about my favourite bands and connecting with people who love music too keeps me more-or-less sane  I've worked for over 25 years at a video production company, mainly filming live music events, therefore I have an additional backstage perspective!'