Orange County punk legends The Adolescents released their 11th album this year. We had a quick catch up with frontman Tony Reflex about the recording process and 40+ years of punk rock!
California's The Adolescents are stalwarts of the punk scene, having been around since the late 70s and with 11 studio albums now under their belts.
Their 11th album- 'Caesar Salad Days' was released in July, and sees the band re-recording rare tracks that span a big time period- from the 80s through to just before the pandemic. 
And 11 albums in, the recording process for 'Caesar Salad Days' was not their usual set up as Tony explains…
"Usually we go to a central place and record over a period of weeks. Often these studios are in industrial or commercial buildings. The studios are great, of course, but outside the studios it is generally uninteresting and stagnant. Generally they are just a place to smoke outside, or cool off.
Recording 'Caesar Salad Days' was different. For a start, it was in the middle of the pandemic. We hadn't had many opportunities to work together. It was a nice reunion where we could reconnect with one another and with our music.
We recorded at Scott Reeder's studio- Sanctuary- which is located on Scott's ranch. It was a nice retreat, and in between periods of recording we could wander around on the ranch and interact with goats and horses and stuff. It was great."
This new release celebrates 44 years of the band who are as passionate and fired up as ever before. Many of the 15 tracks in this new collection may be familiar to fans who have seen the band live or are familiar with some of their deep cuts.
Many of the songs played live were not necessarily available on easy to obtain recordings, so this new album rights that wrong and opens up these songs to a whole new group of fans.
And of course, The Adolescents will still be gaining new fans as well as keeping their current fans happy. But looking back on the formation of the band and those early years, how does Tony remember it?
"The Adolescents were formed by Steve Soto and myself one night at a small cafe in Santa Ana, California, in 1979. It was the beginning of a beautiful friendship.  
It was a whirlwind. Everything happened very quickly [in the early days of the band].
Our first club show was opening for The Germs and the Middle Class at the Fleetwood club in Redondo Beach. After that we opened for Black Flag, and we opened for them again later on down the line. That was about it. By 1981 we were a headlining band."
And the name Tony Reflex? Where did that come from?
"In the late 1970's I had a pen pal who suggested it. I thought it was a great name. It described me well."
When did you feel that the Adolescents had made it?
"When I first heard 'I Hate Children' from our 1980 demo on the radio. It was played on the Rodney on the Roq show. Rodney was a radio DJ on KROQ in Pasadena, CA. We later had a song – 'Amoeba' – on a Rodney compilation album. That first time I heard us on the radio I thought we hit the big time."
Now all these years on, The Adolescents are still one of the most beloved punk bands of all time. And they still draw the crowds- the band completed a US West Coast tour in July and more live dates are announced on their social media regularly.
The release of 'Caesar Salad Days' is a particularly poignant milestone for 2 reasons- it is the second album released without longtime member Steve Soto who very tragically passed in June 2018. The last album to feature Steve on bass was 'Cropduster'- Brad Logan joined on bass for the 2020 album 'Russian Spider Dump'.
Also, this release was also financed by Tony Reflex selling some of his possessions on auction sites in order to fund the recording. A real labour of love!
And now the new album is out in the wild, what lies in the future for you, Tony?
"I retired from my day job so my time is freed up. I mostly write, read, and watch movies. I imagine we will start touring after recording our next album."
And with some time to kick back and listen to music, what's on your playlist?
"Most of the punk rock music I listen to is from the seventies and eighties, from NY I love the Ramones, UK I love the Buzzcocks, and from Los Angeles I am most fond of the Weirdos and the Germs."
'Caesar Salad Days' is out now on all major streaming services. You can purchase the album HERE.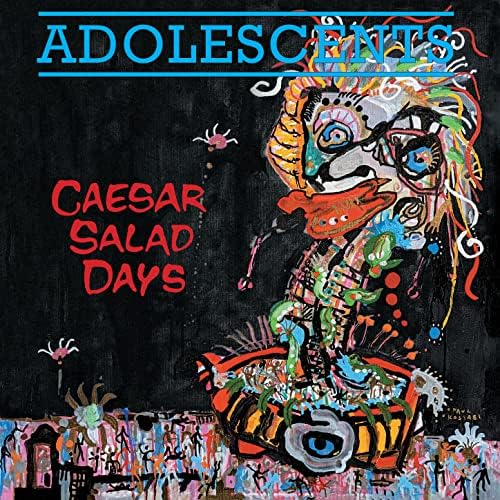 Operation FTW
OC Confidential
Riot on the Beach
5150 or Fight
Brats in Battalions
Do the Eddie
Just Because
Lost on Hwy 39
Queen of Denial
Lockdown America
Escape From Planet Fuck
Forever Summer 
Big Rock Shock
Serf City USA
Pointless Teenage Anthem
Follow The Adolescents on Their Socials
Need more Punk In Your Life?
New Releases
Grammy-nominated pop punk legends Sum 41 make a boisterous return with 'Landmines', their newest single and first release on Rise Records.
Read More »