Simon Lyons' book is a funny and poignant tale of childhood, adulthood, friendship, sex, drugs and of course, rock and roll!
The Last Weekend in Wonderland is the new book by author Simon Lyons and it will have you laughing, crying, flipping through your record collection and reminiscing about your favourite gigs, all in equal measure!
The book is ultimately the story of two friends- Sid and Jimmy- who meet as young boys and maintain a friendship across time, geography and the pull of life events, with music being a key glue that keeps them together. They've shared many of life's milestones but as life is inclined to do, it has pulled them in different directions and they have had to figure some shit out on their own.
The story of their bond is told through a series of key bands, gigs, albums, and songs that have provided the soundtrack to their shenanigans. Their first rock and roll outing as teenagers to the infamous 'Weeley' Rock Festival involves a complex series of parental deceptions and budget management to get them there to see their beloved Mott the Hoople.
Unfortunately, things do not go to plan and the events of that weekend cast a shadow on the lives of our two friends but also prove to be a defining coming-of-age moment both good and bad. The book follows Sid through to adulthood- love affairs, jobs, kids, troublesome tenants, financial catastrophes, murderous impulses and ultimately reconciliations. But also…a LOT of gigs!
In fact, according to Lyons' own calculations, 'The Last Weekend in Wonderland' features 88 bands and artists (from The Damned to Coldplay), 28 songs, 22 albums and countless live gigs. For all you punks out there, our Sid and Jimmy are resolute about the impact witnessing the beginning of the UK punk scene had on them both, their minds blown by the likes of The Clash and The Jam.
Using music as landmarks for the events in our life is a concept I'm sure all music lovers are familiar with, but what this book demonstrates so well is that is not just about providing a passive soundtrack to our lives. The bands we love, the albums we listen to, the gigs we pogo around, the songs we hear all become an active part of our life's activities, motivations and inspirations and become inextricably bound up in our physical and emotional memories.
Anyone from the same era as the two protagonists will no doubt find plenty of parallels in their own experiences and will read about seeing The Stranglers or hearing King Crimson and will identify strongly with the significance it has for Sid and Jimmy.
But the beauty of the book is even if you are from another time with different tastes, the themes are inherently relatable. It may not be a gig at The Roxy that you and your friend reminisce about, but maybe the time you went to the Hacienda to see Primal Scream or Manic Street Preachers at King Tuts Wah Wah Hut. Hell, even if you went to see Spice Girls at Wembley, it doesn't matter the type of music, only what it meant to you. And if you have ever had a disastrous experience in a festival field and ended up sleeping amongst your own piss (and who hasn't?) then you will DEFINITELY empathise with these two hapless mates.
There is a serious side to the book in the form of an ongoing health issue for Jimmy, one that reminds both him and best mate Sid that although life events can rob us of abilities and opportunities to do things in the future, it cannot erase the memories we have built in the past. In a last ditch attempt to have a full on festival experience at Glastonbury, Sid does not let the fact he cannot actually obtain tickets to said festival stop him giving Jimmy a weekend of music, drugs and bodily functions that he will never forget.
'The Last Weekend in Wonderland' is a great read for all music lovers to remind you that as long as you have the music, you will always have a friend.  Get your copy now!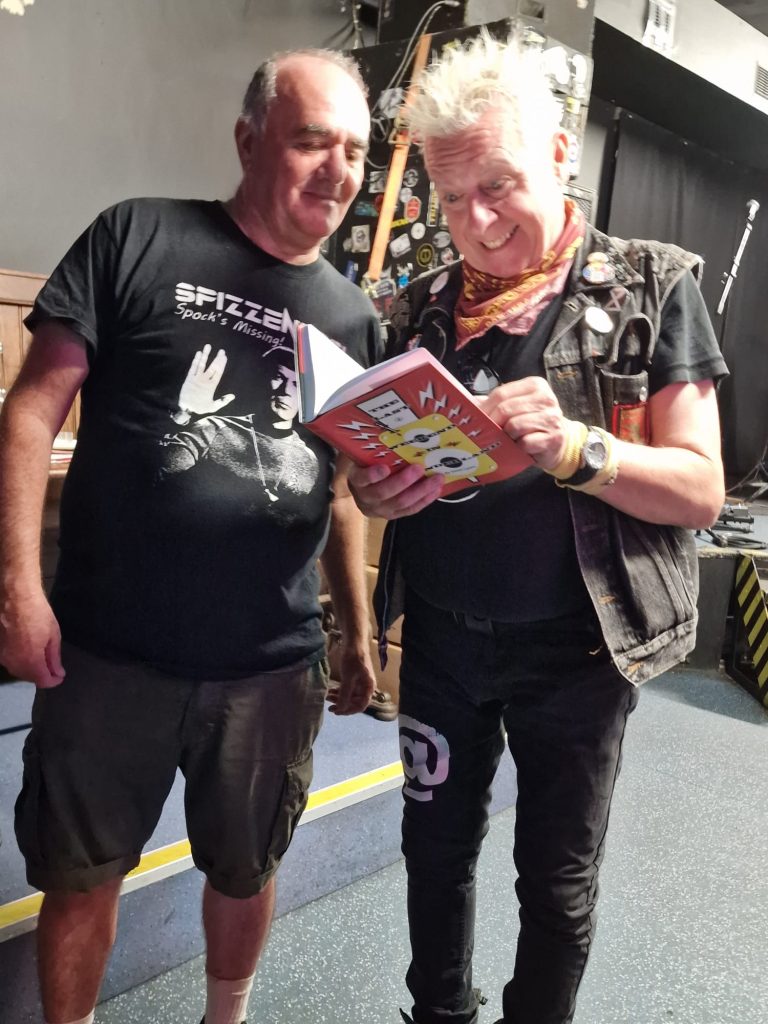 Follow Simon Lyons on his Socials
Need more Punk In Your Life?
New Releases
Grammy-nominated pop punk legends Sum 41 make a boisterous return with 'Landmines', their newest single and first release on Rise Records.
Read More »