They're a hot ticket, were featured in NME's 100 essential new artists set to conquer 2023, are loved by Steve Lamacq on BBC Radio 6, AND... have been known to get airplay on Radio 1.
If that has piqued your interest in Cardiff's Panic Shack, here's your cut-out-and-keep guide.
Only you can't cut it out…but you can keep it!
It's midnight on the first night of Rebellion, a four-day punkfest in sunny Blackpool, in England's steaming north-west.
It's the hottest summer in living memory and Bar Stool Preachers have just rocked the Casbah Club to a storming 3,000 crowd.
Time to take a breather at the RIS (Rebellion Introducing Stage) to check out some up-and-coming bands.
With half-an-hour before their showtime, I spot Panic Shack loitering at their merch table flogging a pink splatter vinyl currently fetching £60 on the 'Bay (more of this later).
I take a piccie or two and have a chat with lead singer Sarah Harvey.
After tonight they will go from unknown-to-me to my new-favourite-band. I love 'em and hopefully you will too after reading this and giving them a listen!
Where are Panic Shack from?
They're based in Cardiff and they all know each other from school and work. They formed in 2018.
Who are they?
Singer Sarah Harvey, guitarists Meg Fretwell and Romi Lawrence, bassist Emily Smith and drummer David Bassey.
What did NME say about them?
"This Welsh punk band are a joyful revelation: they share the supersized personality of their '70s punk forebears – The Slits, The Raincoats – but their sound is so animated and colourful that they bring to mind a group of pals running riot in a vast games arcade. Their rousing gang vocals invite anyone who feels the same frustration about the state of current affairs to join them in putting the world to rights – and share a proper belly-laugh or two while you're at it."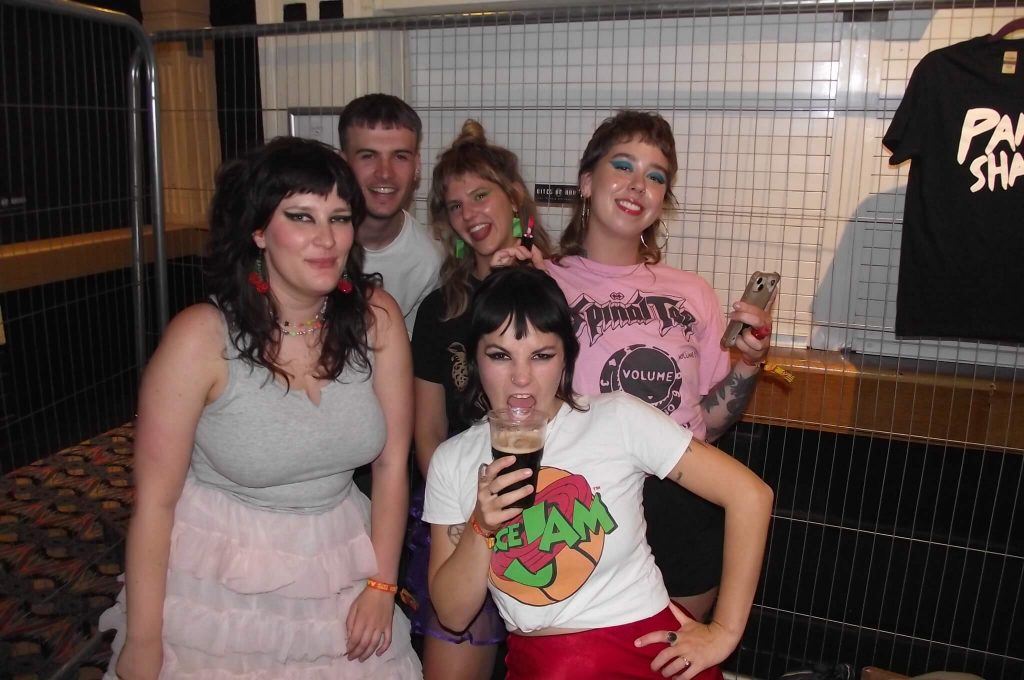 Can I catch them live?
Hell yeah. They start their first headline tour on 8 February in Liverpool, then play Manchester, London, Brighton, Glasgow – er Tunbridge Wells and St Albans – and loads of other places, including a matinee and evening show in hometown Cardiff on 18 February (sold out).
What's their vibe?
A long bass intro opens the set, the songs are explosive, funny and politically charged. Watch out for the dance moves and other quirky moments. In short, they're fun, entertaining, catchy and you won't be able to get enough of them.
What is The Ick?
"'The Ick' is about that feeling you get when you're dating someone and they do something that really turns you off," the band explain.
"No matter how insignificant or trivial, you would rather run into oncoming traffic, whilst burning alive, than to spend a second longer in their company."
It's also a cracking track on their 'Baby Shack' EP – a green-splattered vinyl (re-released after the pink version SRO'd – Sold Right Out) which is currently landing on people's doormats! You can also stream the album here or download it for a fiver.
What other songs should I check out?
How about Meal Deal, their tune about, erm, getting a meal deal at the supermarket (sandwich, packet of crisps and choccy) with the undercurrent of a nod to the crisis times we currently live in?
Or Mannequin Man – be careful, you won't get this tune out of your head. It's about the time the band met a, er, Mannequin Man. In London tahn. Nuff said.
If you want to see the band live then you can get all the ticket information HERE.
Here's another video for good luck:
Rebellion photo credit: Roger Kasper
Follow Panic Shack on Their Socials
Need more Punk In Your Life?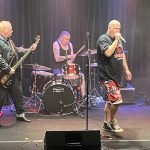 New Releases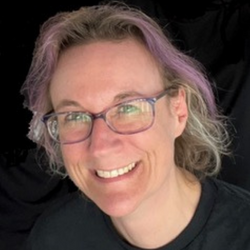 Red Anger 's second album 'Revolution Numb' is as a natural progression from their first. A call for freedom and change, with powerful delivery of
Read More »
I'm Roger Kasper, 55. A punk since October 77 when the Stranglers rocked Top of the Pops with No More Heroes. Journalist since 1983 with stints on national newspapers and magazines and editor of local papers. I'm Gravesend born and dragged up I keep poultry, garden, run and generally make a nuisance of myself!