After three years of cancellations and uncertainty, the biggest rock n roll bash of the year was finally able to take place and Punktuation was there for every raucous minute!
They say never to start a story with observations on the weather, but it was on a drizzly Thursday night that eager crowds descended on the O2 Shepherd's Bush Empire for 5+ hours of music, dancing, awards, speeches, laughs, camaraderie and a teeny bit of chaos!
The Vive Le Rockers were the band that got the crowd warmed up, playing around the awards segments and keeping the roof on the verge of blowing off. A pretty impressive house band by any standards, their lineup included Paul-Ronney Angel alongside fellow members of Urban Voodoo Machine, Ruts DC and Jim Jones All Stars.
Their sets played host to a variety of musical guests to take on vocal duties. Kim and Jackie  from Girlschool were up for a few numbers and got the crowd shouting as they belted out 'Emergency' and 'Please Don't Touch'. Their performance crackled with in-yer-face, combative swagger and the crowd loved every minute.
Each performance kept up the rawk attitude, with a particular shout out to Millie Manders (of Millie Manders and the Shut Up) who gave a snarling rendition of 'God Save the Queen', dedicated to John Lydon's wife Nora Forster who it was announced earlier that day had sadly passed away. Hearing the crowd (which was increasing by the minute as more people filed in) chanting "no future, no future" was a great reminder that this song has lost none of its edge.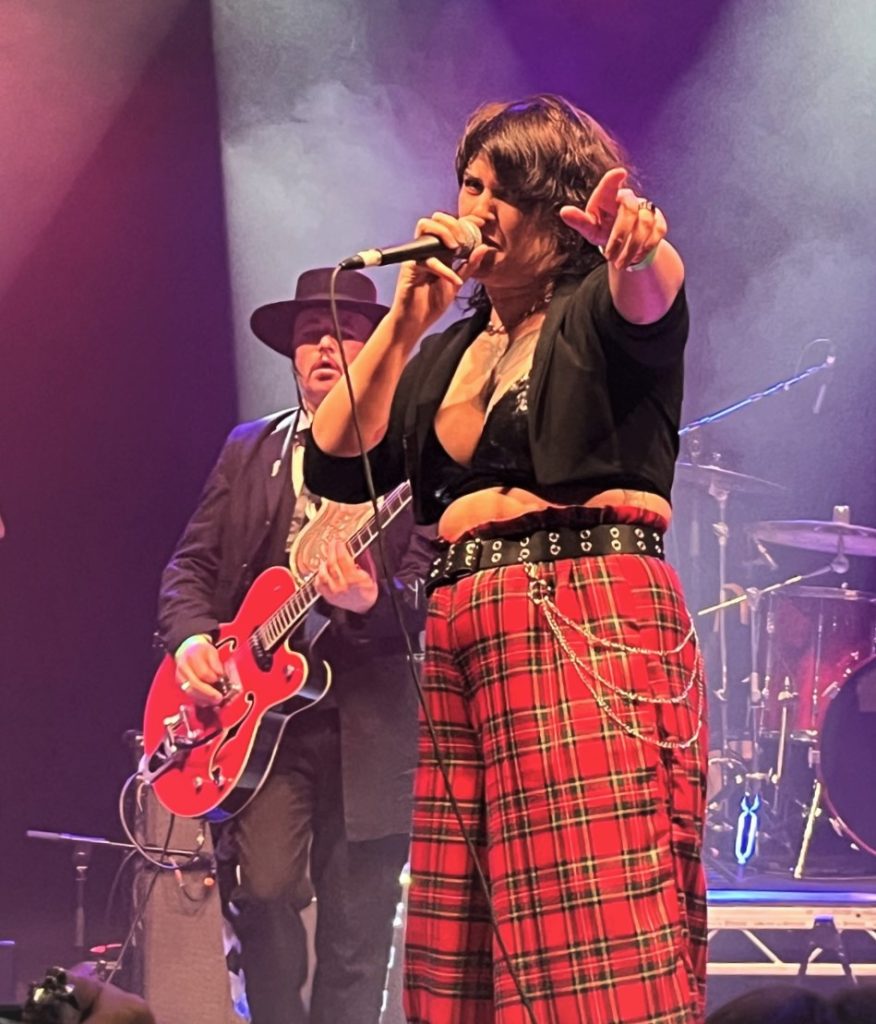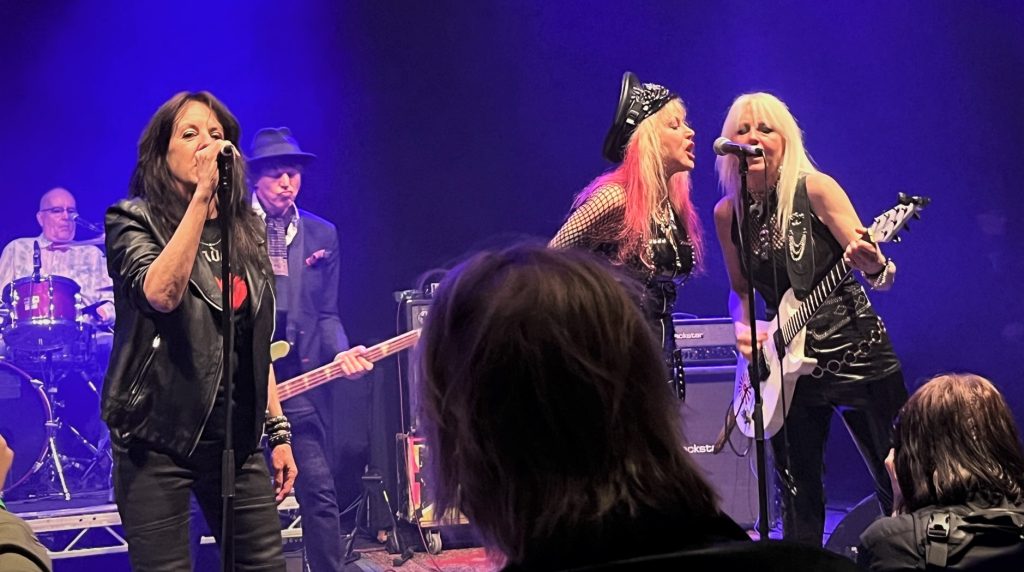 For their second set, the Vive Le Rockers were joined by Jim Jones (Jim Jones Revue) for some more dirty rock n roll numbers like 'I Put A Spell On You' and 'High School Confidential'. Jennie Bellestar and Elizabeth Westwood (Bad Barbee) also completed the lineup as did Beki Bondage who gave an incredible performance of 'Lucille'.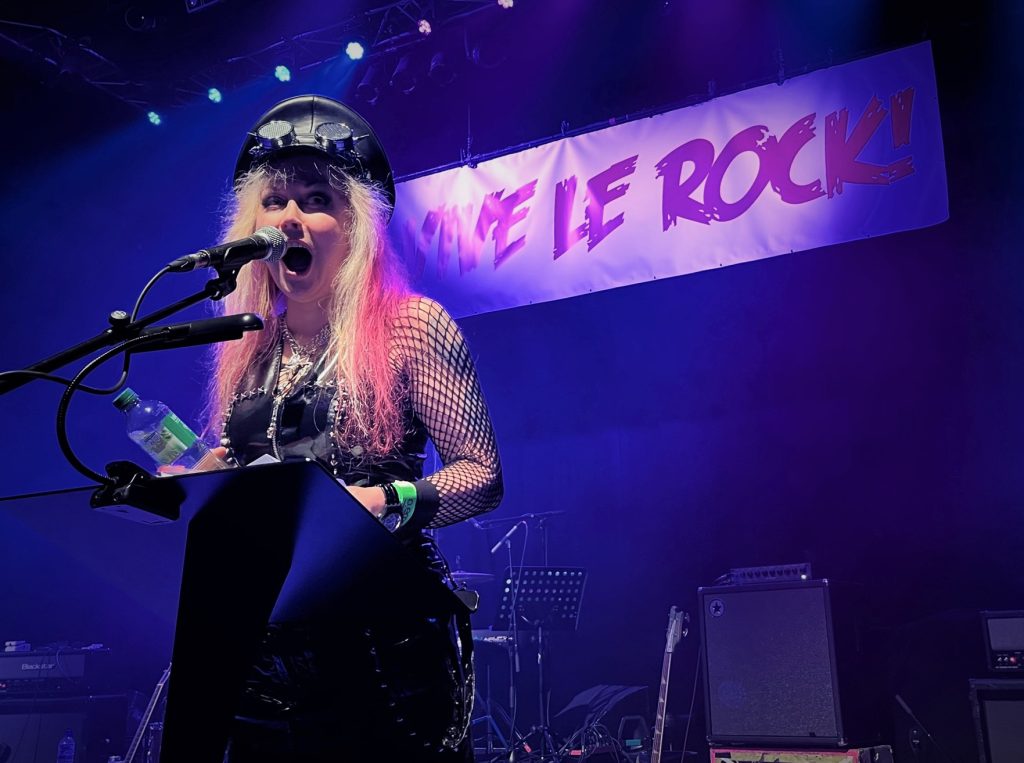 And the context for why we were all there (other than a party obviously) was the actual awards themselves. Compered by Beki, she managed to keep hold of the reins despite some minor wobbles at the beginning (missing gongs, missing presenters, missing winners….most of which were all eventually found and the wheels were kept on) and did a valiant job keeping the audience on track and commanding the show.
Not all winners were there to collect (Interrupters won 'Best Album' and Amyl and the Sniffers 'Best Live Act' and neither were present) but of those who were there to grab their gongs such as Norman Watt Roy (Services to Music) and Neville Staple (Roots Award) there was widespread warmth and appreciation from those in the crowd.
The New Blood award went to Bob Vylan– an act that Vive Le Rock have been big supporters of- and during their acceptance speech they talked about supporting new acts, commenting that punk seems to have perhaps lost its way over the years and that they were here to help bring it back. Amongst the celebratory tone in the room,  it was pertinent to be reminded that if you want a music scene or genre to thrive, you have to invest in new music and give musicians the support they need in what is becoming a much more challenging environment for new acts.  
There was also a poignant and powerful speech by Rhoda Dakar who was on stage to give tribute to the late Terry Hall who received the Icon Award. Hall sadly passed away in December, and Dakar gave a heartfelt tribute to her friend and peer and reflected on the impact Hall made on the music industry as a whole, but also on the lives of those who worked with him.
She also made an emphatic point that Hall was a big supporter of women in music and challenged the other musicians in the room to do better and make more effort to support women in bands by putting them on the line up of gigs and festivals, just like Hall had endeavoured to do throughout his career. Between Dakar and Vylan's speeches there's certainly a lot for everyone to think about in terms of what we want the alternative music scene to look like in 5 years time and how we can all contribute to getting it there.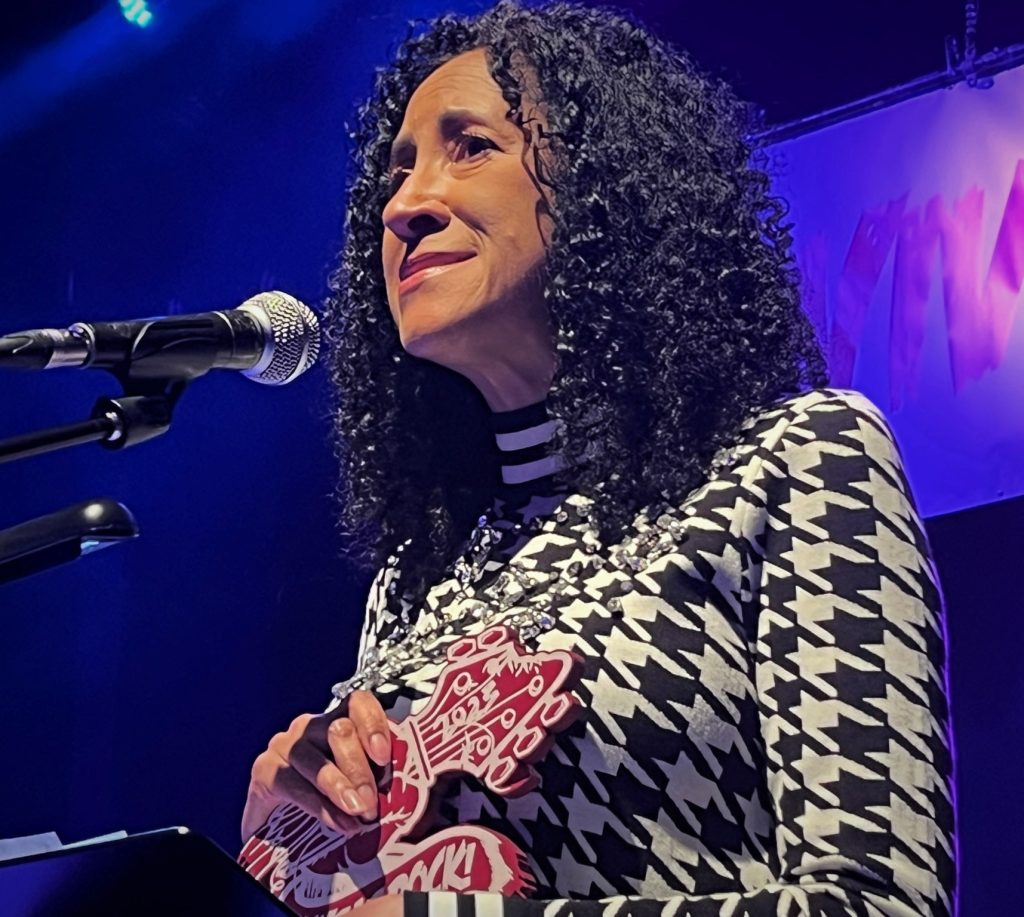 The night was heading towards a climax with the last three big live sets- Cockney Rejects (winners of the Lifetime Achievement Award on the night); Neville Staple and Lords of the New Church.
Cockney Rejects had a pretty short set of just three songs, but the energy and gusto put into that was enough to do a thorough job of getting the crowd up to energy level: turbo. Frontman Jeff Geggus showed more oomph in that set, bouncing around the stage shadowboxing, than you could get out of me with 10 espressos and a jab with a cattle prod. A set comprised of 'Paper Tiger', 'Unforgiven' and 'Bad Man' was over too soon but did the job of getting the crowd (even bigger by this point) proper riled up. This is the band's final touring year and their performance was a reminder of what a loss that will be.
And speaking of energy and riling up and all that, the crowd could not have been more enthusiastic for 2 Tone Rudeboy King Neville Staple. From the first track- 'Do The Dog'- through the rest of the crowd favourites like 'Monkey Man', 'Ghost Town', and 'Message to You Rudy', the reception was rapturous, every word of every song sung back to the stage- it was an incredibly vibrant and uplifting set full of 2 Tone bangers.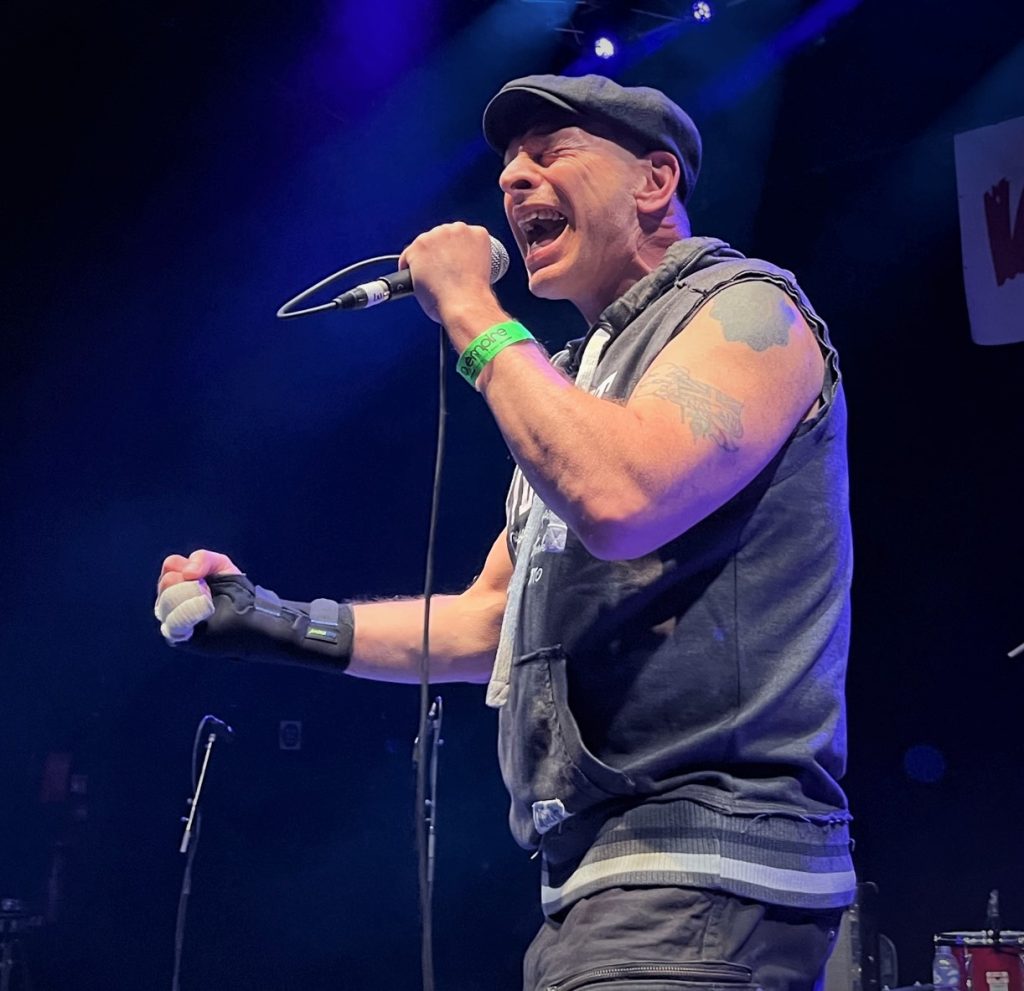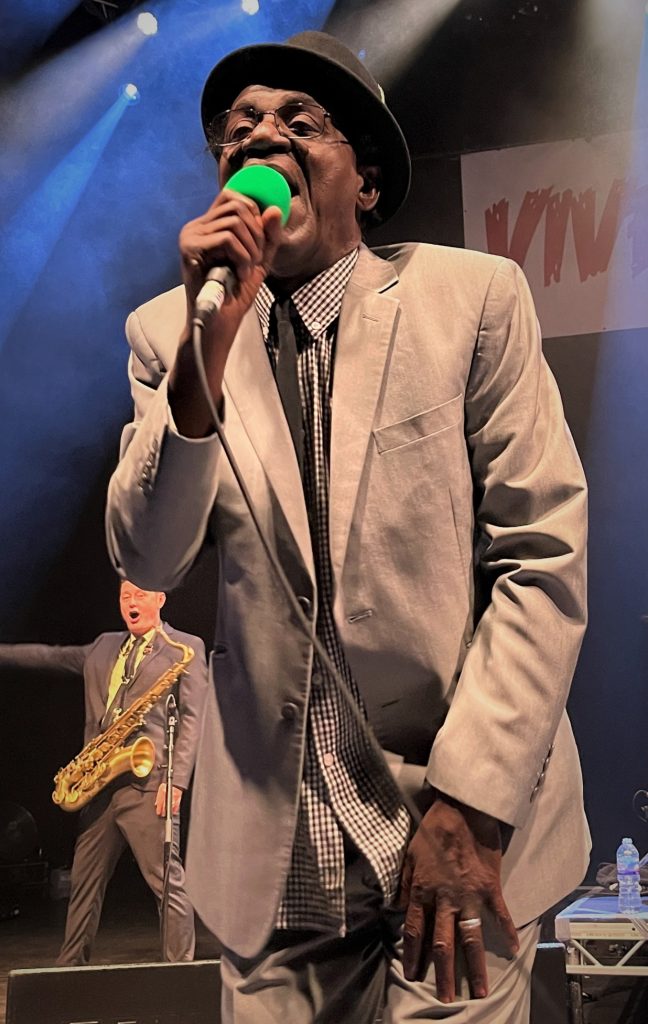 And then the night culminated with the main event- the set from supergroup (are we still using that term? Too late now) Lords of the New Church.
Comprised of Brian James (The Damned), Dave Treganna (Sham 69) and Terry Chimes (The Clash) with Hanoi Rocks  frontman Michael Monroe performing vocals in place of Stiv Bators, this was one hell of a way to close a show. To say that the  excitement in the crowd was palpable would be an understatement. Throughout the night you could hear people's anticipation growing- from the queue outside the venue to get in, to the scrums at the bar, a lot of snatched pieces of conversation from this eavesdropper demonstrated that people were REALLY looking forward to this set. And it did not disappoint.
Performing tracks like 'Livin on Livin' and 'Russian Roulette', the whole venue was united in reverence and when Rat Scabies joined the group onstage for a rendition of 'New Rose'…..well, it was punk rock heaven.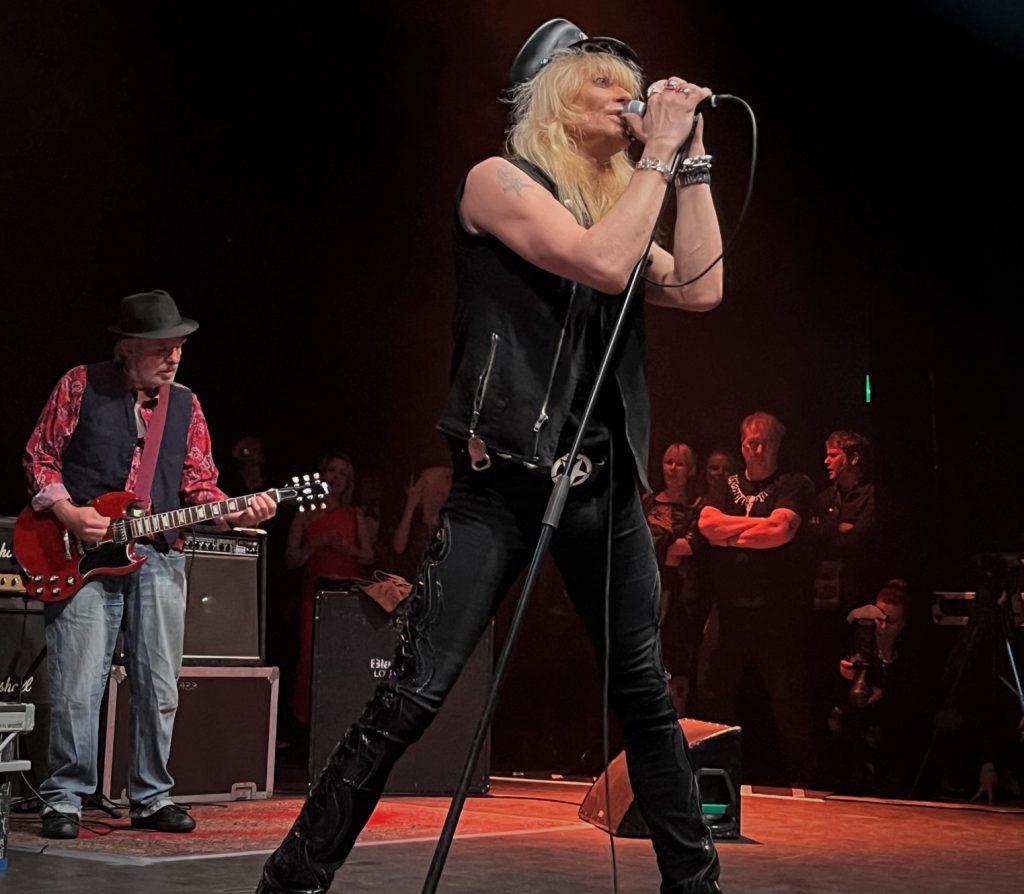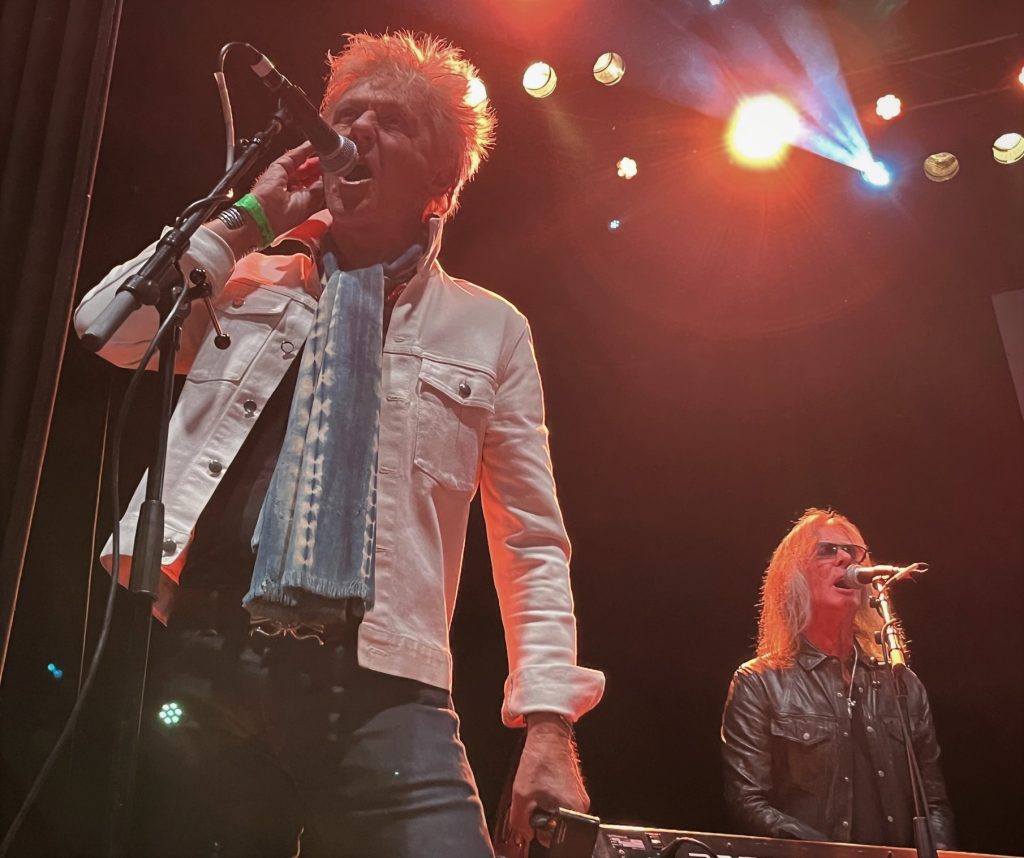 But all good things must come to an end and as the afterparty wound down, revellers made their weary ways back to their beds, content they have been witness to one hell of a party.
**Full list of winners below**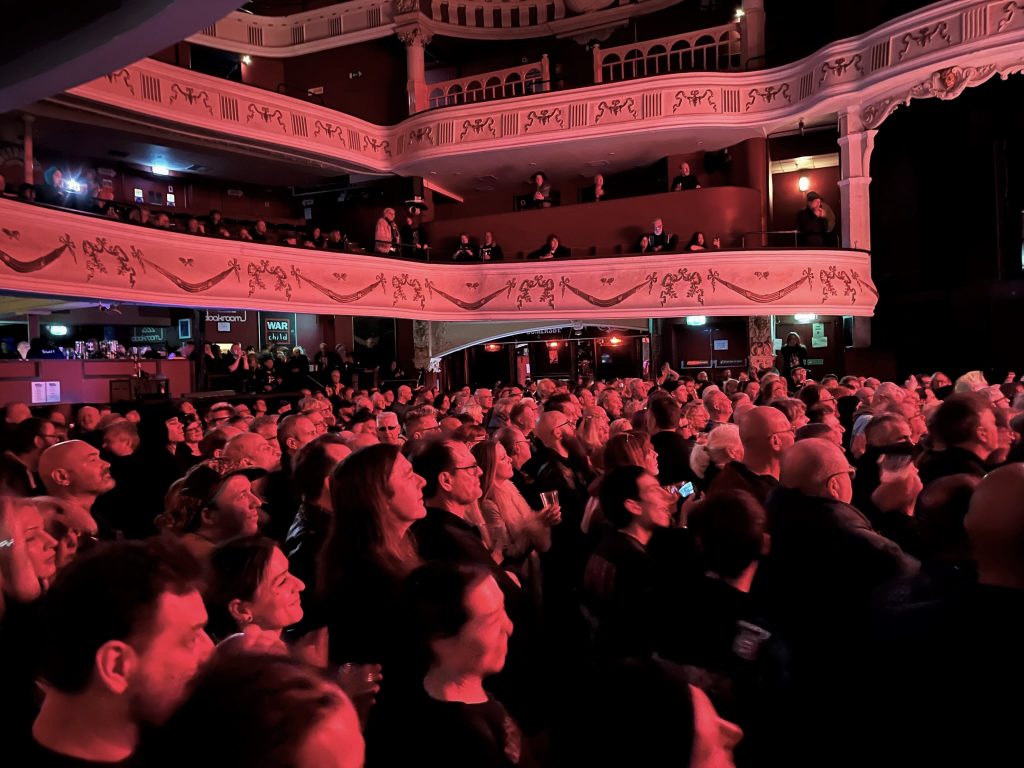 Best Festival: Rebellion Frestival and R-Fest
Best Live Act: Amyl and the Sniffers
Roots Award: Neville Staple
Reissue of the Year: UK Subs and Edsel Records
New Blood: Bob Vylan
Album of the Year: Interrupters- In the Wild
Pioneer Award: Brain James
Services to Music: Norman Watt-Roy
Icon Award: Terry Hall
Lifetime Achievement: Cockney Rejects
Follow Vive Le Rock on Their Socials
Need more Punk In Your Life?
New Releases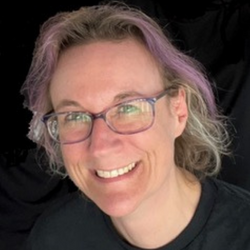 Those loveable Punk funsters The Sensible Gray Cells return with a suitably seasonal single, complete with a crazy video shot at the beach last summer.. <br
Read More »