Right at the apex of pop punk, Indiana's The Ataris released their 6 song EP on growing up, finding love and uh...Claire Danes.
San Dimas High School Football still rules!
In the 1989 comedy, 'Bill & Ted's Excellent Adventure', two Wyld Stallyns (failing high school students and aspiring rock musicians) use a time-travelling phonebooth to round up historical figures who can help them pass a presentation, thereby saving the fate of the world.
Before their triumphant presentation, however, we witness a less engaging one from another student – a football player – who defers to a crowd-pleasing cheer:
"San Dimas High School Football Rules!"
Nine years later, The Ataris put out their sole release on Fat Wreck Chords: 'Look Forward to Failure'. That EP, which opens with a song named after that cheer, is now 25 years old.
'San Dimas High School Football Rules' kicks off with a bass drum and snare, before a now-memorable riff rings out. Within 15 seconds, Kris Roe is singing about a dream in which he and a girl "went to Disneyland / Went on all the rides / Didn't have to wait in line".
One of my favourite things about the Ataris is the young innocence of their lyrics; troubled hearts as opposed to toilet humour: "I just want you to know I have a major crush on you". Roe's imagery of 80s teen films is always effective, always heart-warming, and always bring a smile to my face. The takeaway, though, has to be his imploring a girl to "Just dump your boyfriend and go out with me/ I swear I'd treat you like a queen".
Growing up- and the changes we experience during those turbulent teenage years- is a big theme of The Ataris circa 1998. 'Not a Worry in the World' opens with drums and dour riff, before asking: "Do you remember all the things that we did? / And what it's like to be a kid?", before Roe admits that he "…never thought those times would last forever/But now they're gone/I'm pretty sure we grew up way too fast". 
The second verse gets more personal, addressing a friend with whom touch has been lost, inspiring a screaming couplet refusing to "say goodbye". With Roe's knack for nostalgia, his songs of lost youth can hit harder than those of unrequited love.
Aside from being an Ataris song of the same name, 'My So-Called Life' was also a US teen drama that ran for a single season between 1994 and 1995. It starred a young Clare Danes in the lead and according to the internet, Roe had – to quote 'San Dimas' – a "major crush" on Danes. Musically, it has a classic pop punk sound with a "Da na na" chorus to boot.
Things take a darker turn when the narrator hijacks a plane in order to write her "name across the sky" and ends up in jail. The song consequently closes with Roe singing: "I'll see you in another twenty years".
The fourth track, 'My Hotel Year', was inspired by Douglas Coupland's short story collection 'Life After God', which furthermore contains a story of the same name. A longer, electrified version of a song that would appear on Blue Skies, Broken Hearts…Next 12 Exits the following year, it's a strong piece, ending with a few seconds of piano, whose lyrics make me want to read the Coupland story.
'Between You and Me' comes in loud with cymbals and lead guitar – forming the chorus backdrop – before quietening down for its verses. In fact, it actually ends on a quieter note. This contrast brought to mind early Get Up Kids, such as 'Coming Clean'. Thematically, it talks to a girl the narrator "can't have": "But every time you hear this song/ You'll konw you've made a mark/ On my heart and on my mind".
At 1:59, the final track, 'That Special Girl' is the shortest of the six, in which Roe lists all of the qualities he's looking for in a partner, imploring: "If you're that special girl / Won't you let me know?" There's light humour in the lyrics: "I need a girl who likes to stay out late/ We'd share a cocktail, wouldn't it be great?"
But they're not without that bittersweetness so beloved of pop punk: any "stupid love song" he wrote and sung "all across the world" "wouldn't mean a thing" without said "special girl". It's a fast song with a rhythm that's catchy in its delivery. Listen out for blink-182's Mark Hoppus. 'That Special Girl' is a cracking song and a cracking closer.
Publicly, 1998's 'Look Forward to Failure' is a calling card between their debut album 'Anywhere but Here' (1997) and 'Blue Skies, Broken Hearts… Next 12 Exits' (1999). It was, however, recorded after 'Blue Skies' and before 'End is Forever' (2001), but released some six months before the former – making it the first studio release to feature a full band.
The six songs on 'Look Forward to Failure' make for a brilliant bunch that any Ataris fan would enjoy. And if there's any pop punk-proclivity'd listeners who don't know of them, this half-dozen just might snag the band some new fans.
'Look Forward to Failure' was released in November 1998 on Fat Wreck Chords.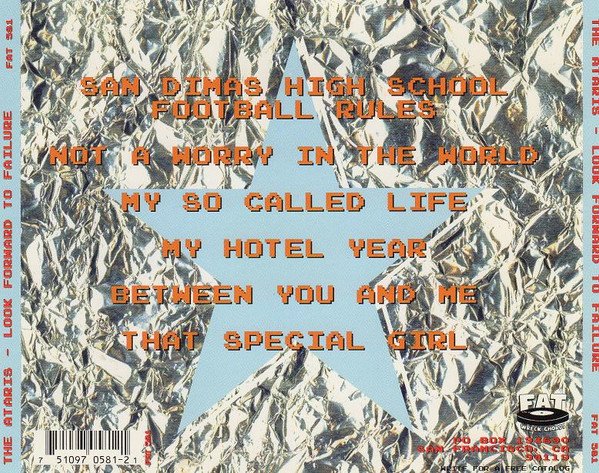 San Dimas High School Football Rules
Not A Worry in the World
My So-Called Life
My Hotel Year
Between You and Me
That Special Girl
Follow The Ataris on Their Socials
Need more Punk In Your Life?
New Releases
Grammy-nominated pop punk legends Sum 41 make a boisterous return with 'Landmines', their newest single and first release on Rise Records.
Read More »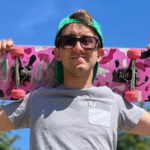 Now comfortably in my 30s, there are a couple passions which I've never left behind: writing and music. If I had to sum up my musical tastes in a single sentence, said sentence would probably say: Punk fan in love with ska, jazz and ska jazz. I love writing about the things I love and do so with happy enthusiasm. I'll pick up any instrument I set my eyes on and will go on endlessly about my favourite bands.