Guitarist Tom Verlaine, who rose to fame in the 1970s New York punk scene as the frontman of rock band Television, has died at the age of 73 "after a brief illness".
Tom Verlaine, who rose to fame in the 1970s New York punk scene as the frontman of rock band Television, has died at the age of 73. In the early '70s, Television scored three UK Top 40 hit singles and were acclaimed for their albums 'Marquee Moon' and 'Adventure'.
Jesse Paris Smith, the 36-year-old daughter of legendary singer-songwriter Patti, posted a moving tribute to Verlaine on her Instagram page. She did not specify a cause, saying that he died "after a brief illness".
Verlaine was considered one of the more skilled musicians to emerge from the early days of the New York punk movement that centred on the CBGB club in New York's Bowery, where Television's contemporaries included Blondie, The Ramones and Talking Heads.
Verlaine was born Thomas Miller in New Jersey. He moved to New York City to pursue music and changed his name to Tom Verlaine.
His first band was Neon Boys, which became a fixture on New York's CBGB club scene. In 1975 they were joined by Richard Lloyd and Billy Ficca, forming Television—named after a line from Dylan Thomas' poem "Do Not Go Gentle Into That Good Night".
They released four albums between 1977 and 1980 before splitting up due to creative differences.
After Television split, Verlaine released a number of solo albums, with his song 'Kingdom Come' inspiring a rare cover version by David Bowie on his 'Scary Monsters' album.
Television reformed in 1992, releasing a self-titled third album, and were sporadically active in later years.
Among those paying tribute was Blondies Chris Stein who posted on Twitter "I met Tom Verlaine when he just arrived in NYC I guess '72. He had long hair and came to my apartment with an acoustic guitar and played some songs he'd written. Both Tom and Richard Hell have told me that I auditioned for the Neon Boys but I don't remember."
Red Hot Chilli Peppers', Flea said, "I've listened to Marquee Moon 1000 times. And I mean LISTENED, sitting still, lights down low taking it all in. awe and wonder every time. Will listen 1000 more. Tom Verlaine is one of the greatest rock musicians ever. He effected the way John and I play immeasurably. Fly on Tom."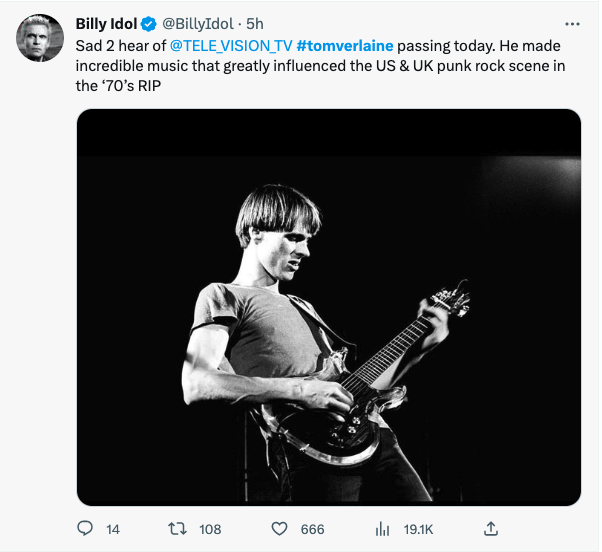 "Sad 2 hear of @TELE_VISION_TV #tomverlaine passing today. He made incredible music that greatly influenced the US & UK punk rock scene in the '70's RIP." Tweeted Billy Idol.
Billy's longtime songwriting partner, guitarist Steve Stevens commented on Idol's post "What the hell is going on with 2023? It's still only January. I remember buying the Little Johnny Jewel single on Ork records. Might have been 75'."
Need more Punk In Your Life?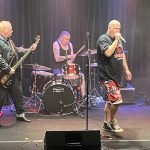 New Releases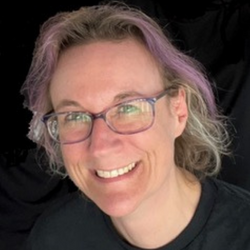 Red Anger 's second album 'Revolution Numb' is as a natural progression from their first. A call for freedom and change, with powerful delivery of
Read More »
Punktuation Magazine For All Your Daily Punk News, Features, Interviews, Lifestyle and more!