---
The location: Stockholm, Sweden
The line-up: Rikard (vocals), Patrik (vocals), Göran (drums), Martin (guitar), Erik (synth).
The sound: Punk Rock
The comparison: Minor Threat, Circle Jerks, The Buzzcocks
Punktuation's Song Pick: Battlefuck
---
Battletruck was born in Stockholm, Sweden in 2018 with the sole purpose of being a touring band in Germany. An experience they'd all had with previous bands. Once you've experienced punk shows in Germany, it's hard to not want to go back.
As soon as the band had a goal, their debut EP, First Blood, was quickly recorded and with promising reviews coming out of Germany, the band felt the time had come to get a tour rolling.
With Rikard Johansson on lead vocals and drums, the band found they couldn't pass up the opportunity when they met current drummer Göran, giving Rikard more time to focus on vocals. The combination paid off immediately and Battletruck MK2 was born in 2019.
When Battletruck were finally ready to tour Germany, COVID-19 struck. However, not even a global pandemic can keep a determined punk band down. So instead of touring the band set their talents elsewhere and Battletruck MK2 recorded ten-track album, Nihilistic Vision.
Swedish punk has just been injected with a big dose of power. Battletruck have a sound all of their own, so if you are looking for something raw and energetic have a listen now. You won't be disappointed.
---
More Battletruck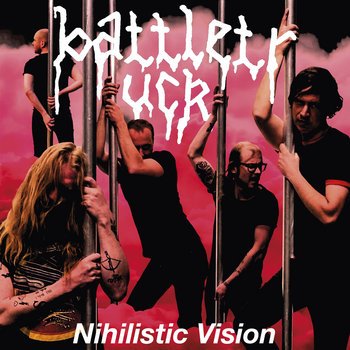 Everyone should have a soundtrack playing loudly in the background of their life. I was born moshing to my own beat and have never swayed from my love of music. Spreading my passion through the written word is my soul's purpose. My punk heart beats loudly with the rhythm of my rock soul. I plan to continue to mosh like no one gives a shit.
Click on Tracey's photo for more of her articles!