Prepare to have your mind Institutionalised, Australia. Suicidal Tendencies have added dates to their sold-out 'Still Cyco Punk After All These Years' 40th Anniversary tour
Hailing from the sun-soaked streets of Venice, California, ST was the brainchild of the unstoppable force known as Mike Muir, younger brother of original Z-Boy and Dogtown Skateboard founder Jim Muir. Picture this: it's the early '80s, and Muir takes the essence of skating, surfing, and the Dogtown scene and infuses it with a new style of hardcore that forever changed the punk and metal landscape. Suicidal Tendencies hit the stage with a uniqueness that ignited a wild frenzy among crowds. Flipped up hats, hand-drawn shirts, and bandanas became their signature and was instantly recognisable and defiant. They caused such a shitstorm that they were even banned from tearing up stages in their own backyard of L.A!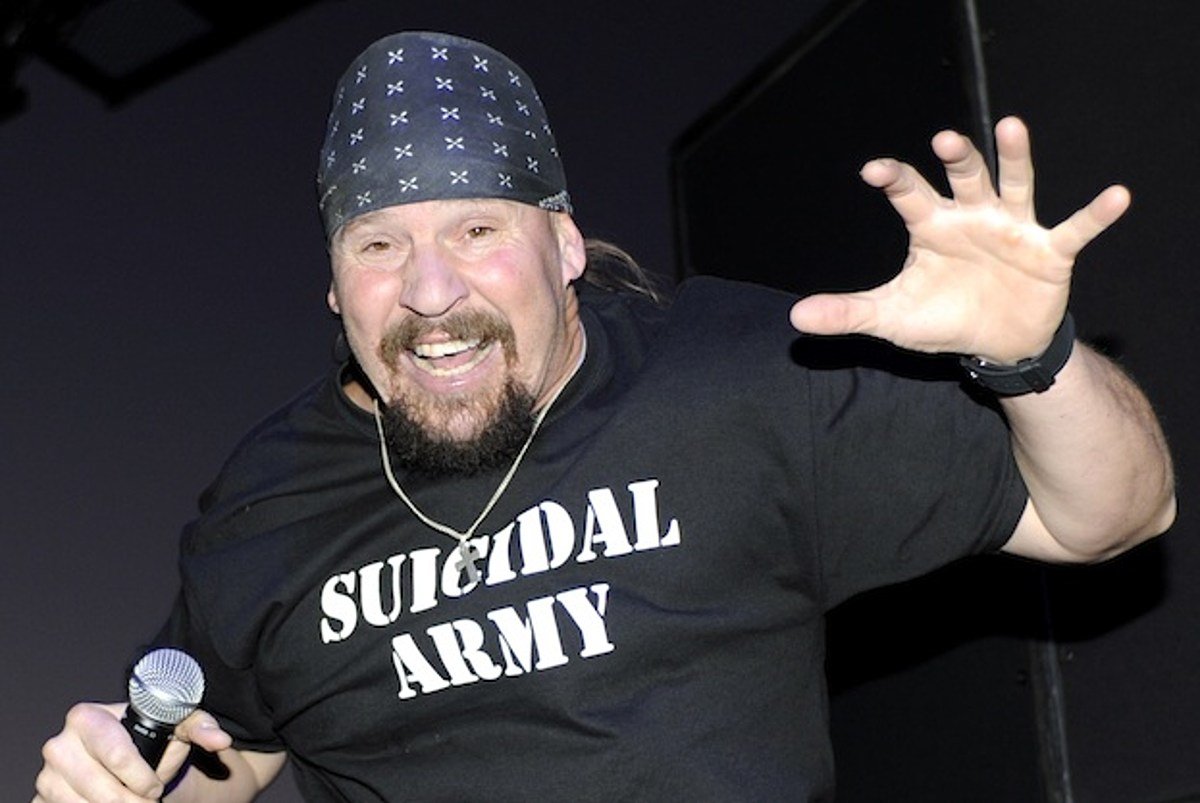 But did that stop ST? Absolutely not, and they went on to take the world by storm. Blending punk, metal, and hardcore into something else: Skate-Punk-Thrash. They shattered musical boundaries and left a trail of awe-inspiring chaos in their wake. With their aggressive sound and unapologetic attitude, they became favourites among the extreme sports community, pumping adrenaline into the veins of every skateboarder, surfer, and thrill-seeker out there.
The rest is history.
Suicidal Tendencies has evolved like a raging beast over the past four decades. With multiple Gold records and Grammy nominations under their belt, they have left an indelible mark on heavy music the world over. Their legacy has even earned them a prestigious spot in the Skateboard Hall of Fame, forever cementing their impact on both music and culture. And let's not forget the incredible talent that has graced their ranks over the years, with the likes of Robert Trujillo, Thundercat, Josh Freese, and Brooks Wackerman contributing their exceptional skills to the Suicidal family.
Now, in celebration of their self-titled debut album's 40th anniversary, Suicidal Tendencies are returning to Australia with a vengeance! 
It comes as no surprise that Australians are still Cyco for Suicidal Tendencies with the initial run of shows selling out in record time! Brisbane, Sydney, Melbourne – all gone, with very limited tickets remaining for the Froth And Fury Festival in Adelaide.
Due to that demand, there has been three new shows added!
Melbourne's Corner Hotel show on Tuesday, November 14 will see ST play their '83 Debut in full, once again.The two extra shows added in Queensland though, are something extra special… Friday, November 10 at the Coolangatta Hotel and again on Sunday, November 12 at Kings Beach Tavern on the Sunshine Coast, fans will experience an exclusive thrash set, curated for those who know what's up.
Prepare to be blown away as Mike Muir leads the charge, joined by the powerhouse lineup of Ben Weinman (from the legendary Dillinger Escape Plan), Dean Pleasants, Tye Trujillo (son of the one and only Robert Trujillo), and Greyson Nekrutman. 
They're revved up and armed with the same explosive energy and unrelenting aggression that made them an unstoppable force back in '83. Brace yourselves because Suicidal Tendencies is coming for you, and if you miss out, You'll Be Sorry.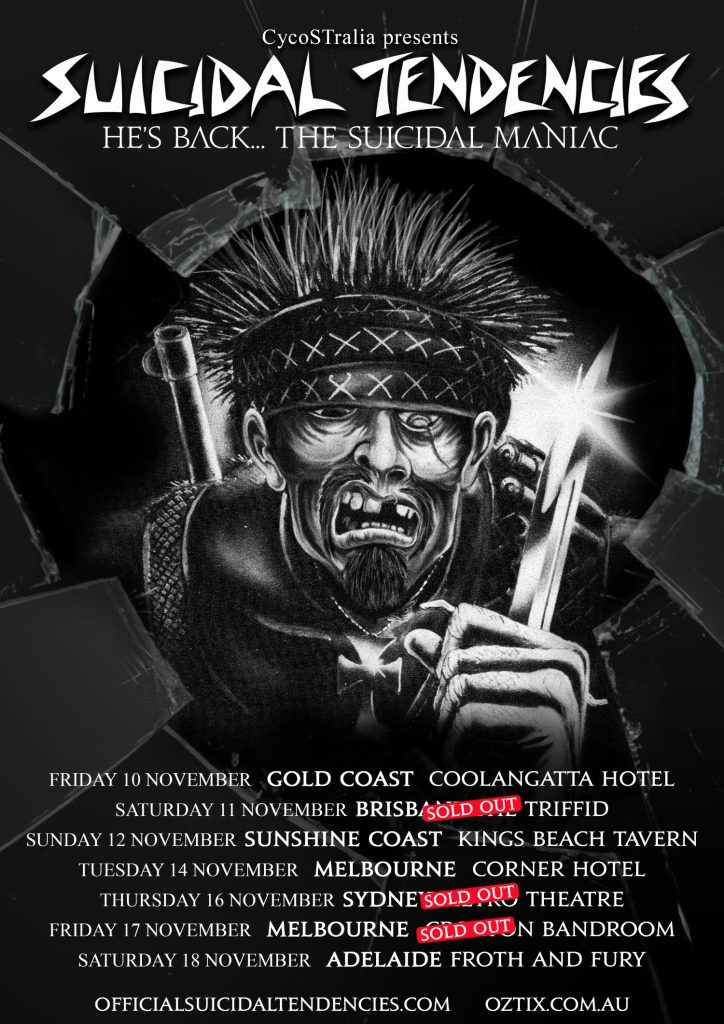 Friday, November 10: Coolangatta Hotel, Gold Coast 
Saturday, November 11: The Triffid, Brisbane SOLD OUT
Sunday, November 12: King's Beach Tavern, Sunshine Coast 
Tuesday, November 14: Corner Hotel, Melbourne 
Thursday, November 16: The Metro Theatre, Sydney SOLD OUT
Friday, November 17: Croxton Bandroom, Melbourne SOLD OUT
Saturday, November 18: Froth and Fury Festival, Adelaide LIMITED TIX AVAIL
Follow Suicidal Tendancies on Their Socials
Need more Punk In Your Life?
New Releases
Grammy-nominated pop punk legends Sum 41 make a boisterous return with 'Landmines', their newest single and first release on Rise Records.
Read More »
Punktuation Magazine For All Your Daily Punk News, Features, Interviews, Lifestyle and more!