It's been amazing so far, but here we are on the final day of the UK's biggest Punk festival!
Rebellion 2023 was effing amazing,  but what did our intrepid reporters, Molly Tie and Ruth Rae get up to on day four? Let's dive in to their final report from Blackpool!
Day Four - Molly Tie's Report
On the fourth and final day of the year's most epic punk rock weekender, the sunshine was back for our last hurrah. And what a final day it was! There was a huge buzz and despite the exhaustion and cumulative hangovers, people were determined to pack in as much as they could and make the most of the last day.
I headed to the RIS in Arena to check out Yorkshire band
The Swindells
. The band formed in Leeds in 2008 and made their political leanings quite clear from the outset: "Any Tory voters here?" they asked "This next one's for you. It's called '
Tory Bastards'.
" The band are pure punk rock- all raw guitars, rollicking drums and not suffering fools gladly. They wrapped up the set with a rousing rendition of '
Yorkshire Til I Die'
that had the whole room joining in. Are you allowed to sing that if you're from Portsmouth? Oh well, I think we all wanted to be honorary Yorkshire men and women in that moment and be part of The Swindells gang.
The band have just released an album- 'Fear is the Gun'- go and check it out and wish you were from Leeds.
Yur Mum packed out the Pavilion, and they were one of my priorities to see this weekend, having heard exciting things about how good the band are live. Formed in the UK by Brazilians Anelise Kunz and Fabio Couto, the duo have been making quite the name for themselves with their raw and heavy punk dirge that is frequently peppered with more exotic and experimental musicianship.
The quality of noise made with just two people is immensely satisfying- Kunz's exposed grungy vocal prowess ably supported by Couto's drumming. Single 'Say Say' was in yer face screeching punk heaven and their new single 'New Beginnings' is out on 10th August, another absolute banger. There were some great crowd-pleasing turns, such as their simultaneous drumming when Kunz grabbed a pair of sticks and the headbanging lego crowd projected on the screen- this is a smart band that knows how to put on a good show and has thought about all aspects.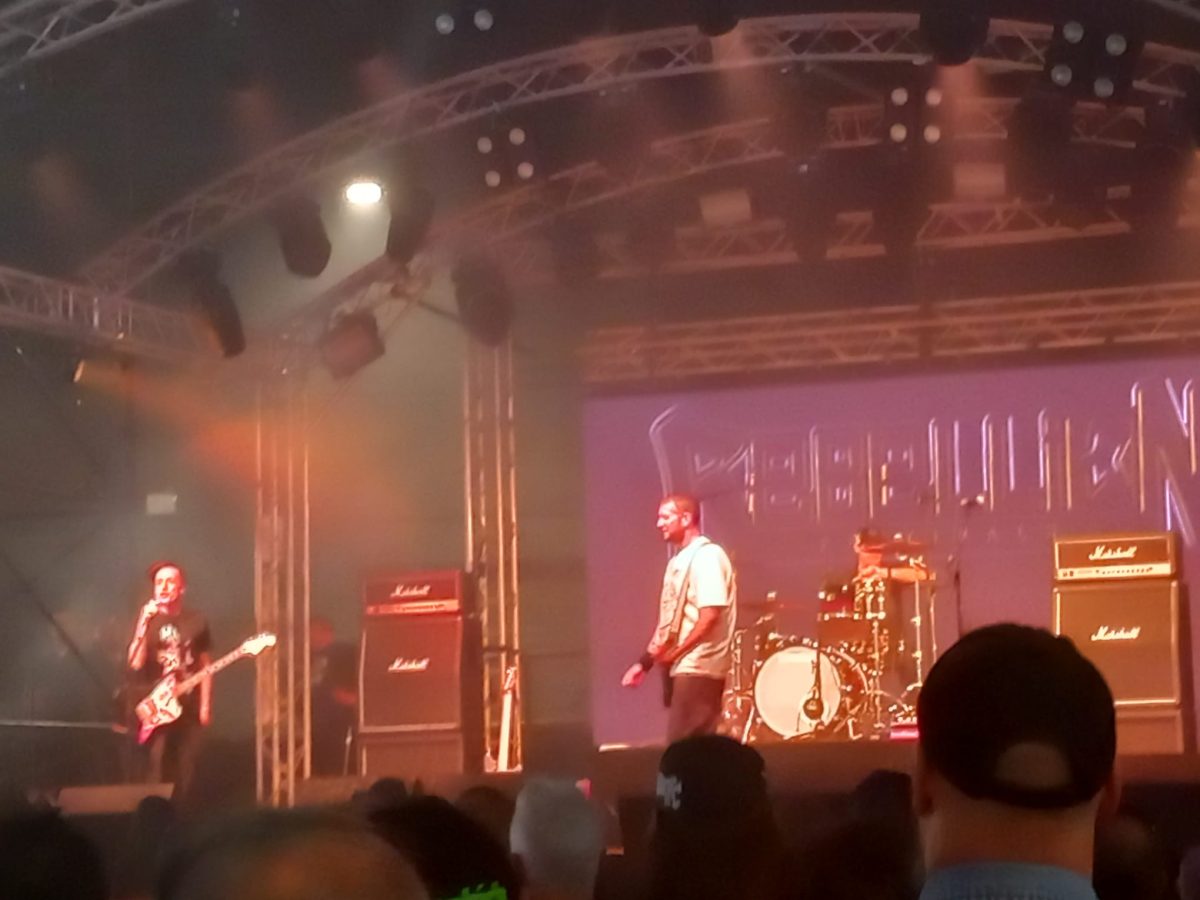 In Club Casbah, thrash punks – come- stand up comics Pizza Tramp are another band that know exactly what they're doing with a crowd. The Welsh band are known for their sense of humour, their hardcore barrage and super quick songs and their inter-song banter with the crowd.
In fact, their first words to the packed-out room was "All you punks are cunts" and so it began. If you've been to a Pizza Tramp gig before you know that hearing the context behind each song is part of the entertainment and we were given a glimpse into their current pet peeves as they played a series of 15-second songs about things they think are shit which included: Foo Fighters, Metallica, Sex Pistols, predictive text and the M6.
Their patter sometimes belies the fact the band think seriously about political issues (their disgust at Suella Braverman was not sugar coated) but it's never preachy. The crowd were also unexpectedly given a snippet of two non-Pizza Tramp songs- 'Nothing Compares 2 U' by the late Sinead O'Connor and a bit of the theme tune to '90s kids show Round The Twist. Which is a banger.
The Empress Ballroom saw a pretty sizeable crowd for
The Restarts.
Only the day before their powerhouse set, the band announced via their Facebook page that they will be taking an extended break as of Sept 2023 due to band member Robin, along with seven other individuals, being required to attend court due to his activism with Palestine Action.
Perhaps with that knowledge, we can really appreciate what turned out not just be a tight and blasting set musically, but also one that was infused with radical political messaging around the Palestinian struggle ('Uprising'), the wealth gap ('The One Percent') and the Basque fight against the Spanish state ('Independentzia'). It was punk through and through- a combination of punk and politics, a la The Clash and the room was taking it all in.
There was less politics and much more goofy fun in Club Casbah for California ska punks
Voodoo Glow Skulls.
It is crazy to think the band have been going since the late 80s (!) but they seemed just as hectic and riotous as they have ever been. Vocalist Efrem Schultz threw himself around in his poncho and mask as the crowd veered between skanking and full on circle pit.
If they do have a political agenda, it is simply to 'Make America Skank Again' (I can't speak to their success with this campaign in the US but they certainly made Blackpool skank again) and their brass section- Eric Skazzini on sax and Jose Pazsoldan on trombone- have surely got the hardest working lungs in punk. It was incredible fun with super charged VGS anthems like 'Land of Misfit Toys', 'The Karen Song' and 'Shoot the Moon'.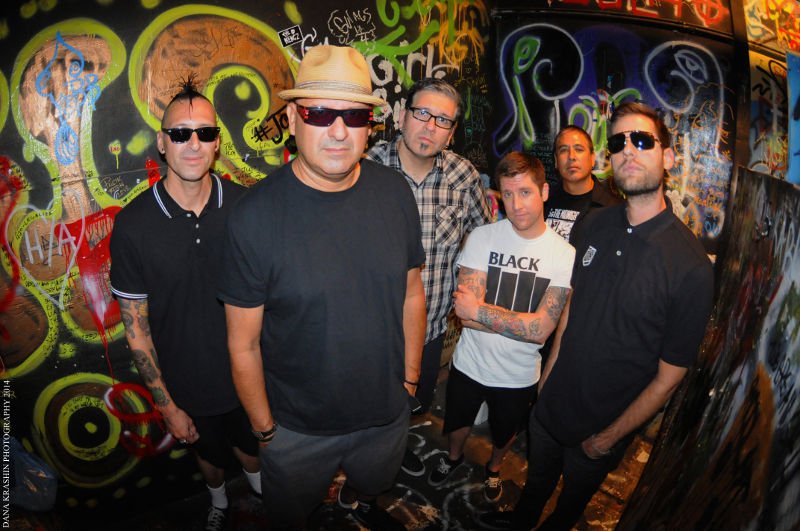 The big Sunday night act that had a lot of buzz and anticipation building throughout the day was London-based punk/hip hop duo Bob Vylan. The Empress Ballroom was packed and the pair came onto the stage under a backdrop that read 'Bob Vylan is killing punk rock'. If your idea of punk is bold, challenging, hard hitting music that gives a searingly honesty account of atrocities and injustices committed by arms of the state in the full watch of a complacent public….then Bob Vylan are the most punk act around.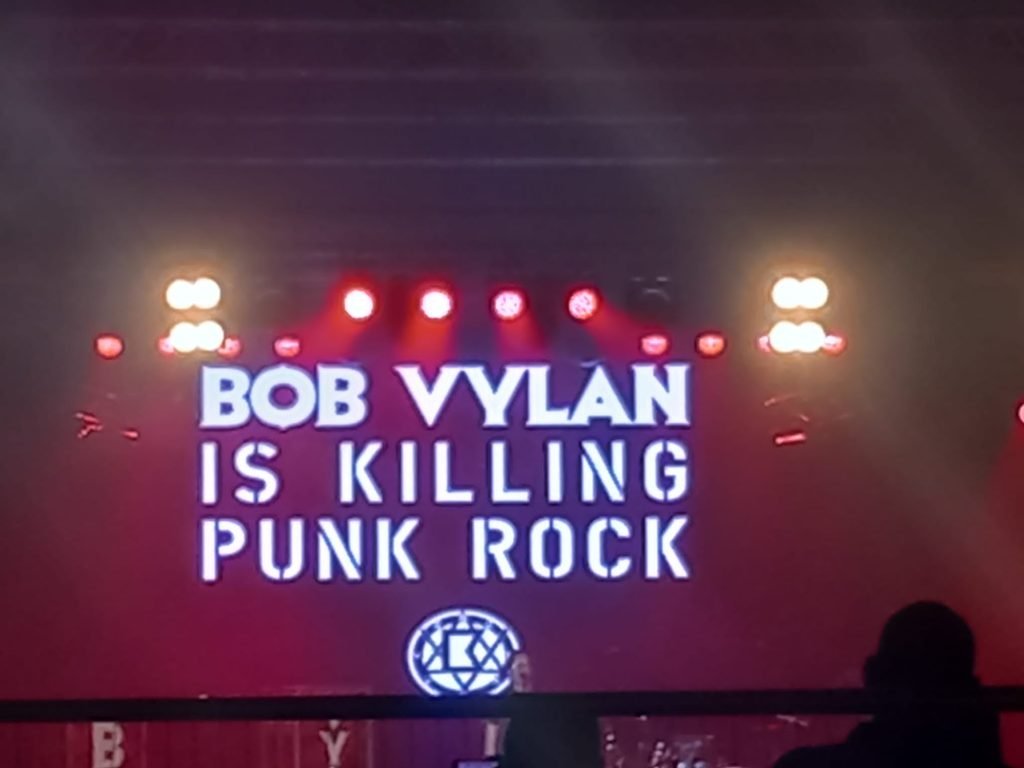 As frontman Bob pointed out a few times- the band feel very strongly about many things and the speech and context given from the stage is an important part of understanding what they are doing and why.
Tracks like 'I Heard You Want Your Country Back' and 'Chat Shit Get Banged' had the whole crowd enthralled and if you needed an act to give you your punk rock epiphany and remind you why you need to stay angry, then Bob Vylan delivers. 'Pretty Songs' is a powerful (and possibly uncomfortable for some) reminder that non-violence is a privilege that not everyone can indulge and the reverence given to non-violent protest movements suits the oppressive state.
Pushing the narrative that there is nobility in a more peaceful resistance is to guarantee its limited impact. The combative approach on stage (pointing out that some punks do start to lean to the right of the political spectrum when they age) gave way to a quite tender moment between the band and two young fans- James and Cillian, 10 and nine, respectively. They were given their own song dedication and a declaration from frontman Bob that they can do anything they put their mind to. We all got to watch a formative experience for those two lads that should remind us all of the power of the punk message.
And finally, I wrapped up my Rebellion experience with the incomparable Irish avant-garde punk
Meryl Streek
. Another intensely political set from an astute and uncompromising artist, the RIS in Arena room may not have the most nuanced sound capabilities but this added to a viscerally immersive experience with a truly unique act.
If you hadn't been aware of Meryl Streek before venturing in that room then you would definitely leave with an insatiable desire to find out everything you can about what you have just seen and for that you'll need to get a copy of his incredible debut album '796' (
READ MY REVIEW HERE
). But for those of us who have been following this artist, it was a powerful experience to hear tracks such as '
Death to the Landlord'
performed in such an intimate way, with Streek pacing up and down the stage like a caged animal (he definitely smashed his 10,000 steps in that performance) and at one point dragging the microphone stand into the crowd.
Part performance art, part poetry, part punk, part political diatribe….with supporting vocals from Molly Vulpyne, it was an intense finish for me.
The power of punk is real and the new generation of punk performers who are taking the passion and frayed nerves of the punk ethos and connecting it to the here and now, are the ones that are gonna keep this genre alive. And fucking hell, we need punk now more than ever.
Day Four- Ruth Rae's Report
The sun was back out in Blackpool for the final day at Rebellion, and I had a spring in my step as I headed in to see one of my favourite bands, On The Huh playing the aircraft hanger stage (AKA Club Casbah). The early hour and consequent lack of bodies made the sound too echoing, although those of us who know the songs were singing along anyway! Lead vocalist Sloss doesn't stay still for a second, and neither do their catchy Punk anthems on subjects such as running faster than the old coppers, and dealing with bullshitting mates. Several footballs were thrown into the crowd to accompany 'Put Your Boots Away'. Manic and magical!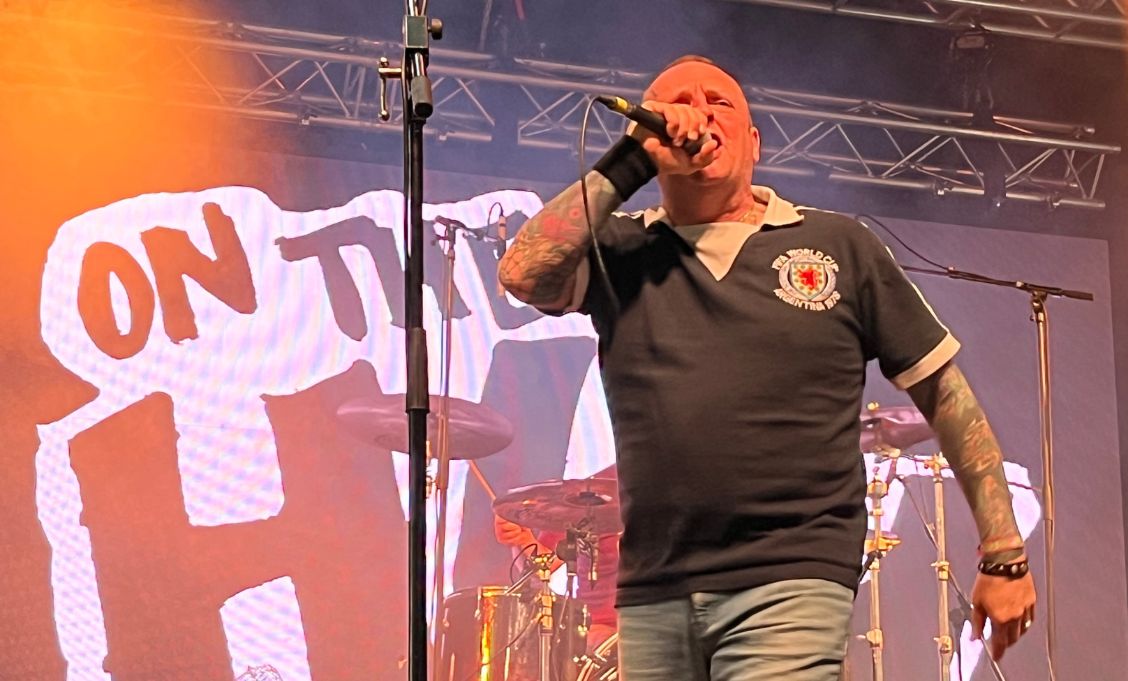 Next, something I've been looking forward to for a long time – Ruts DC's acoustic set in the Opera House (the only other band to play acoustically on this larger stage were Bar Stool Preachers). Bassman Segs Jennings once again paid tribute to BSP, although he did note that Ruts DC were playing on all acoustic instruments, unlike the Preachers! This was just a bit of friendly banter, the two bands have a lot of respect for each other and got on very well, according to Segs (who I spoke to beforehand).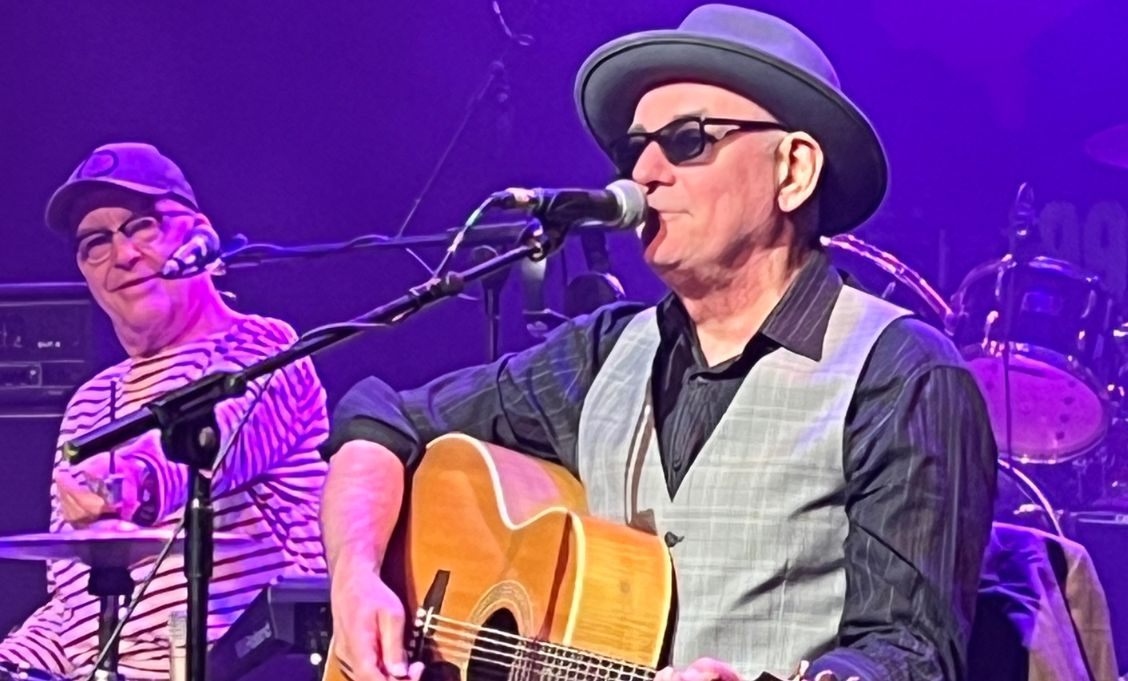 Drummer Dave Ruffy had worked a lot with Sinead O'Connor, and he's still very upset over her recent death, so he paid fitting tribute to her as the band played 'Kill the Pain' in her memory. A song from Ruts DC's latest studio album 'Counterculture?' which I thought would work very well in this format is 'Too Much', and much to my delight, the song was played! It worked perfectly and I was thrilled to hear it – hopefully the band caught my wide grin! A rocking, rousing acoustic set as Ruts DC showed how it's done.
TV Smith has been absolutely on fire at this festival, and the huge crowd in the Empress for his Adverts set with band The Bored Teenagers stoked the flames even higher! Their playing was spot on, Tim the vigorous frontman, and the audience sang along to all the classics. Absolutely brilliant!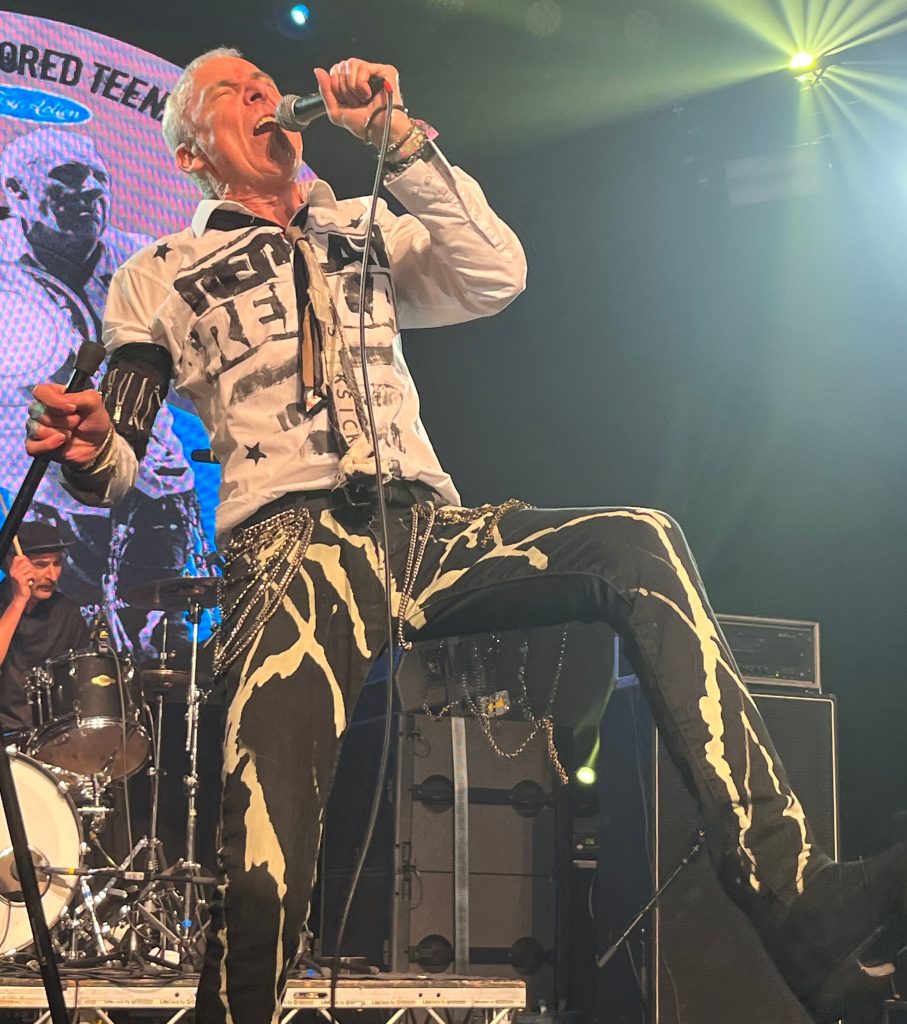 The Wasps are an original late 70s Punk band who have re-formed, playing old and new songs. The highlight of this afternoon's performance was 'Can't Wait 'Til '78'. Their more recent material is more melodic, and they are now touring again after a hiatus, so you'll have a chance to catch them.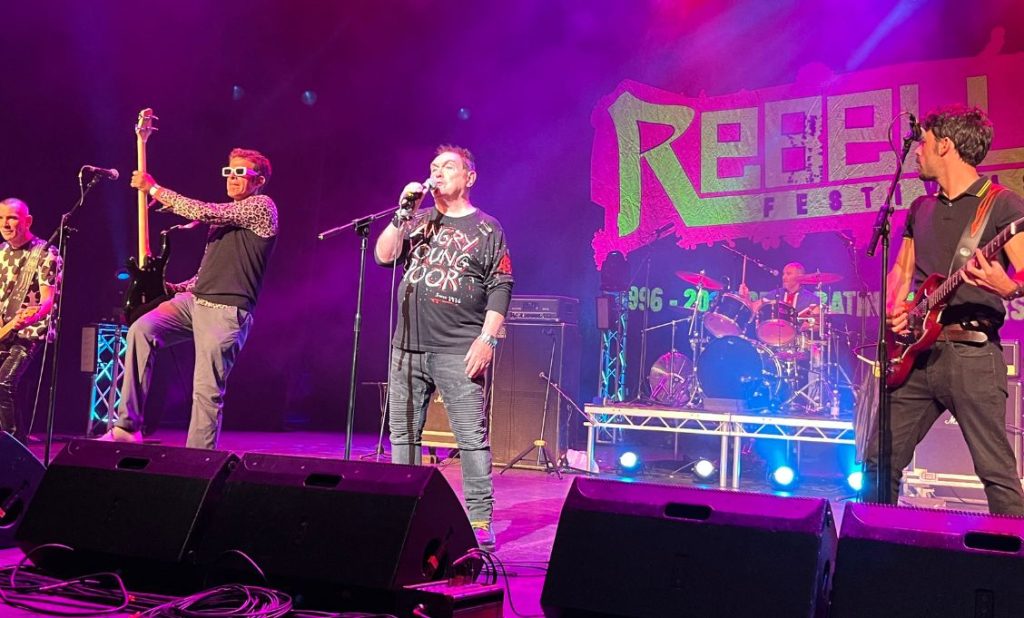 Conflict were ripping it up over in the aircraft hanger, which was now full of sweaty, bare-chested blokes living up to the band's name in the mosh pit.. The South London Anarcho-Punks put on a rousing show which definitely got the blood pumping, but fortunately there was no repeat of the punch-up with security, which saw them banned from Rebellion after their 2012 appearance! Having female vocalist Fi Friel in the band now may have mellowed them a little.. possibly..
By complete contrast, the excellent Jess Silk played a heartwarming acoustic set upstairs in the Spanish Hall. Young Jess writes songs based upon her sharp observations of the world, possessing both the lyrical abilities of Attila The Stockbroker and the melodies of Billy Bragg, with songs against racism, exploitation and poverty delivered in her powerful, emotion-filled voice. A beautiful moment occurred during her final song of the set 'If Home Is Where The Heart Is', when many of the audience (including Attila!) joined together in a line, arms around each other's shoulders, to sing along. It truly felt like a Punk Family reunion.
Off to the Introducing stage, where Slow Faction had gathered most of my familiar London crowd for one of the best sets I'd heard this weekend. They describe their aim as to make the music they want to hear; politically-charged songs with big hooks and choruses, reminiscent of the 1st wave of British Punk. I would say they have more than succeeded, and their anti-fascist message came across strongly. Another band you won't regret seeing, far superior to several I'd seen on larger stages!
Closing the Empress ballroom were the legendary Steel Pulse, a band who stood strong against the violence and racism of the 1970s with their messages of peace and unity. Early supporters of the Rock Against Racism organization and featuring in its first music festival in early 1978, they chose to tour with sympathetic elements of the Punk movement, including The Stranglers and XTC. Now I LOVE reggae music, and seeing Steel Pulse was a huge highlight for me at this year's festival, as were Misty In Roots last year.
Bass player Amlak Tafari stole the show, jumping into the crowd and leading a conga line behind him while playing, and allowing a young lad to strum his bass while he played the notes on the frets! I was very impressed with all of the musicians on the stage – they played and sang with rhythm, heart and soul and a LOT of energy – I enjoy their recordings, but seeing them live was a whole dimension better – my entire person was smiling!
On at the same time in the aircraft hanger, I popped in briefly to catch a bit of The Dickies set. The Los Angeles 1977 Punks were concluding their European tour at Rebellion, and they were in fine form, attracting as large a crowd as was in the Empress. Tiredness was beginning to bite heavily for me after 4 long days and late nights seeing bands, then getting up to write and process photos in the mornings, so I decided to call it a day and waved goodbye to the Winter Gardens. Rebellion 2023 – you were immense! Great music and great mates, I totally enjoyed myself, and I would recommend this global Punk gathering to everyone!
Need more Punk In Your Life?
New Releases
Grammy-nominated pop punk legends Sum 41 make a boisterous return with 'Landmines', their newest single and first release on Rise Records.
Read More »