Punktuation's Molly Tie and Ruth Rae are rockin' and rollin' into Day three of Rebellion. The music festival that keeps the punk spirit alive!
The punk spirit continues to reverberate through the air around Blackpool as punk music lovers from across the globe gather for another thrilling day at the Rebellion Punk Music Festival. It's day three of  Punktuation's punk pilgrimage, and  Molly Tie and Ruth Rae are back and ready for more Rebellion Festival mayhem. Join Molly and Ruth as they immerse themselves in the vibrant atmosphere of day three at Rebellion Festival 2023.
REBELLION DAY THREE - Molly Tie's Report
I stepped out of my B&B at lunchtime on the third day of Rebellion, and it was- to coin a phrase- pissing it down. But even the discovery of a rogue hole in my trainers (and the increasing risk of developing trench foot as rain water engulfed my socks) was not enough to 'dampen' the spirit (see what I did there) of myself or the other throngs of punks who made Rebellion day three the busiest day yet.
"In South Korea, we are weirdos. But here, you are all weirdos too". So said the frontwoman of South Korean band
Rumkicks
to huge enthusiastic agreement from the crowd. It was an unexpectedly emotional set with the band clearly overcome with love and gratitude for the crowd on what was their second appearance at Rebellion.
The story behind songs like
'Fuck You'
expose the perils of being young women in music (even in a scene like punk) and tracks like 'Punk Rocker' showcase their genuine love for a music that has embraced them. It was a bouncing, chanting, classic punk show with a reciprocal warmth from the crowd to the stage. A fitting end to the band's run of European shows.
Over in Club Casbah, the Republic of Wigan's very own The Insane brought the afternoon into sharp focus with a full on set of bangers including 'Berlin Wall', 'Politics' and 'Bad Brains'. The band reformed for Rebellion 2022 (they were originally formed in 1979) and it's a good thing they did as the 2023 crowd were loving every minute! The years have not dampened the gusto with which they perform and the room was rammed full of fans who were singing along to every word but they would definitely have made some new fans in that set as well!
All the way from LA, The Generators are back from a hiatus announced in 2019 and have spent the last year back in action and boy are they back! It was a confident, tight and blasting set from a band that have lost none of their edge since forming in 1997. Songs like 'Roll Out the Red Carpet' and 'Down in the City' are familiar tracks from a band that turn socio-political observations on their home city into three-minute oi punk anthems.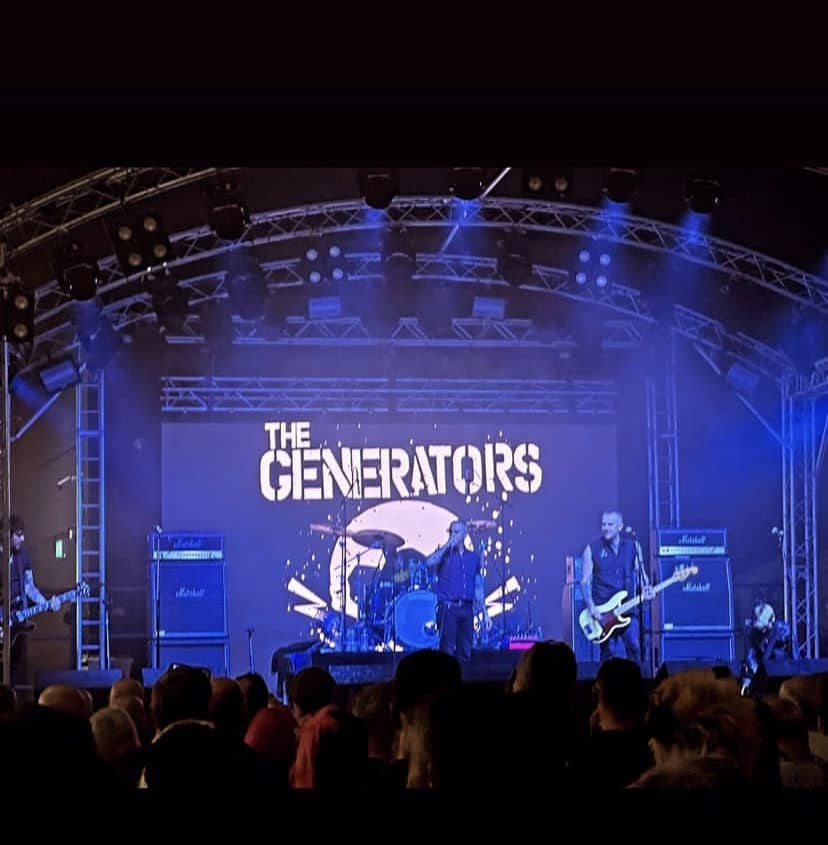 The RIS in Arena was fast making a name for itself as the place where a lot of the heavier bands were playing, the room's acoustics being a boon to bands who want power and punch over all else.
So it was the perfect place to see hardcore band
Knuckleheadz
incredibly visceral performance that attracted an ever-growing horde of fans who wanted to watch the spectacle. I wondered why there were lots of people in matching jackets all congregating in the centre of the floor waiting for the LA group to play their loud and fast brand of punk. Within the first note, it became apparent as a hectic circle pit immediately opened up, and a swirling tornado of mohawks opened up like a leather-clad vortex, and thus half an hour of some of the most hectic, primal moments of the festival was underway.
I had my own Kris Kamara moment (if you know, you know)- took my eyes off the stage for one minute, mesmerised by the pit action, and when I looked back, the singer's head was dripping blood. Unfazed, when he did actually notice he simply smeared it down his cheeks like war paint. Relaxing, chill set it was NOT. And it was bloody brilliant.
Chicago skate punk icons Pegboy drew a pretty sizeable crowd into Club Casbah, fans elated the band are back in action. Vocalist Larry Damore was at pains to give a great physical show and spent most of it down on the floor with the crowd leaving a flurry of stage techs to keep the wires slack and the sound unimpacted. It was a fun, bouyant set from a band that can work the crowd and deliver favourites such as their classic 'Superstar' and a brilliant cover of Mission to Burma's 'That's When I Reach For My Revolver'. Joyous.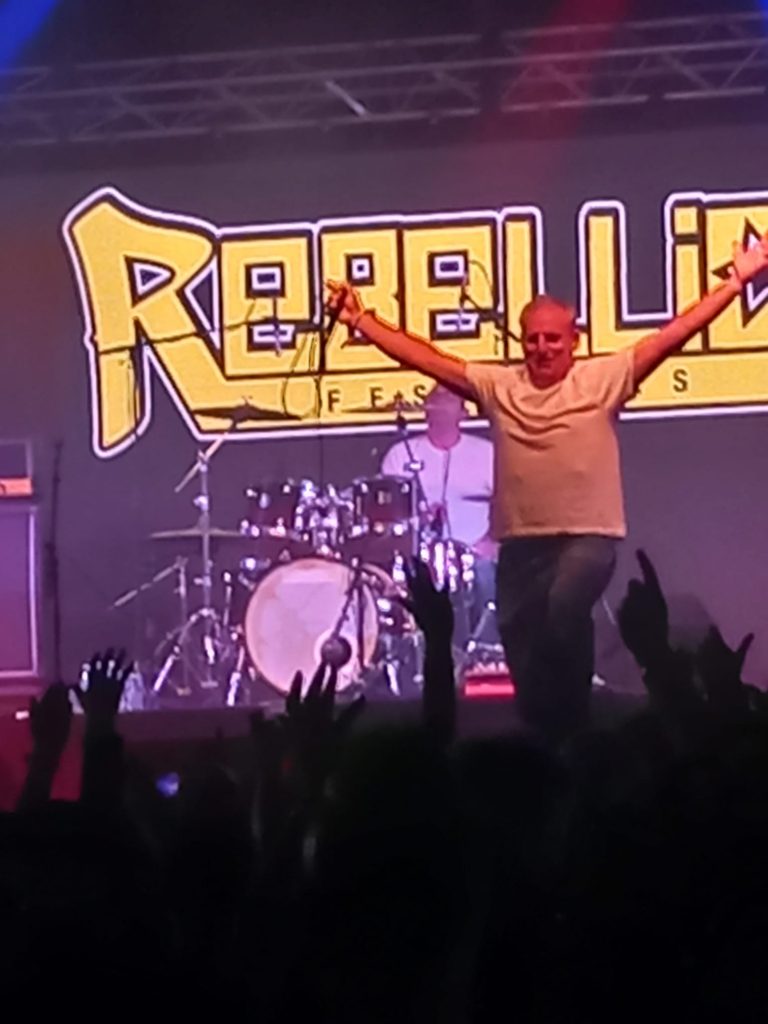 If my ear drums burst as a result of this weekend's shenanigans then I reckon I could trace back to the set from Mexican hardcore outfit Flores Y Fuego. Spiky, raw and LOUD, this band from Guadalajara have a frontwoman who gave her absolute all in a set of heavy, pounding tracks that left no time to catch your breath. Definitely another band to try and catch live if you can, they have a in yer face powerhouse set that harkens back to the heyday of hardcore and intensely physical shows and a barrage of sound.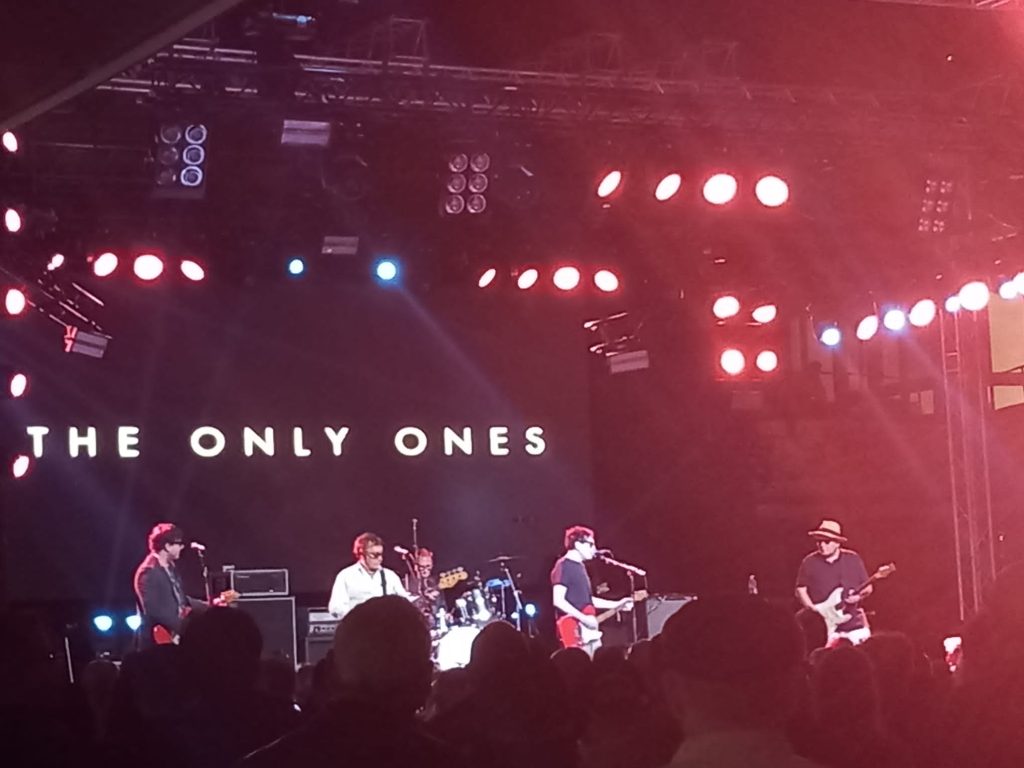 A bit of a change of pace than in the Empress Ballroom with punk/ New Wave legends The Only Ones. Their opener 'Miles From Home' sounded like it took a while for them to settle in, but as the set went on, the sound became tighter, and the crowd grew ever larger. There was virtually no stage patter, it was all business, the business largely being some really sumptuous guitar sounds that were pretty much perfect from where I was standing.
A musically very nuanced band, it was an almost gentle set for an awe-struck audience (or perhaps just a generally 'stuck' audience as the floors in the ballroom were crazy sticky), and of course, when they played their most well-known hit 'Another Girl, Another Planet' every fan in the place was united in joy.
REBELLION DAY THREE - Ruth Rae's Report
The weather turned a bit British on Saturday, but the cooler air was welcome on my walk to the Winter Gardens. The new air conditioning is keeping the venue considerably more pleasant than last year, when the atmosphere was as thick as soup by this time!
I caught a bit of the Rumkicks set with Molly, very good indeed, then headed upstairs to see Colin (Cock Sparrer) and Tom (Bar Stool Preachers) McFaull being interviewed by Guy Shankland. Father and son are both highly entertaining speakers, although the interview did turn into a bit of a point-scoring verbal sparring match at times!
Amusing stories of Tom's misspent youth 'borrowing' Colin's car at the age of 15, growing up in the mosh pit, and invading the stage to sing, plus the more serious time of Colin's diagnosis and recovery from cancer 10 years ago, and the love and pride these men have for each other was obvious. They both agreed that Mum is the family superstar!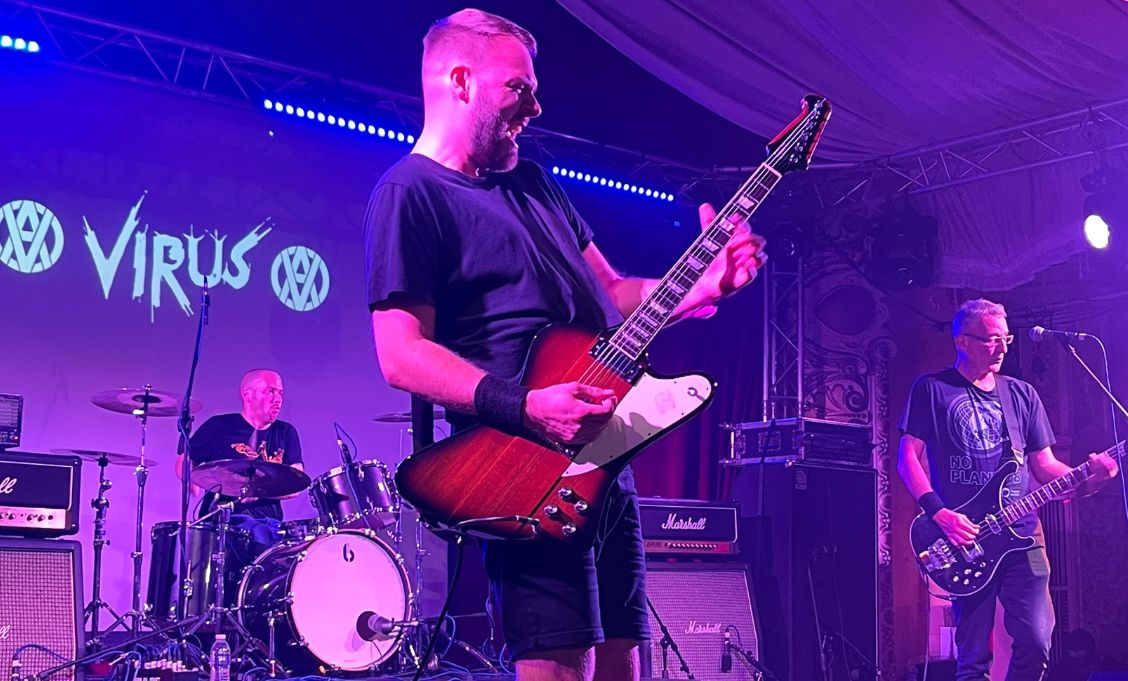 Onwards for some more music – Virus, an Anarcho Punk band from Dorset, on the Pavillion stage. The guitarist played barefoot, a brave move, and ripped out some excellent riffs while doing so! Original member and bass player Jaz has been around since 1983, and the band are still producing solid sounds with spot-on political lyrics.
Up to the acoustic stage for the one and only Charlie Harper (the REAL King Charles as he's known in the Punk community!) playing several UK Subs songs solo. He's recently been given a cigar box guitar, upon which he played and sang a cracking 'I Live In A Car', slide-style. The harmonica came out for 'Little Black Crow', then his lockdown penned song 'I'm Just Waiting For My Best Friend To Kill Me' were both heartily appreciated by the large crowd. Charlie was in isolation for almost a year due to his age, and he's as happy to be out amongst friends as we are to see him!
TV Smith and Friends (he has a lot!) played the larger Opera House stage this year, which was a very good move, as they packed out the acoustic stage last year. Tim was joined by some of his Bored Teenagers band mates, Stefan on keys instead of drums, Leigh Heggarty (Ruts DC) – does that man ever put his guitar down? – Jennie and Mandy on backing vocals, and Attila the Stockbroker on his brand new electric violin, which sounds magnificent. A wonderful, rousing set from these musicians who get together at this annual event, it's always huge fun for everyone!
Off to the Introducing stage for my discovery of the day, Leeds based band The Platitudes. A very impressive eight-piece Ska Punk band (they just about all fitted on the stage!) who really enjoyed seeing so many people dancing to their music.
"We're used to people standing with their arms folded" quipped guitarist Andy. If you like Ska Punk, you'll LOVE this band, who have an EP out called 'It Could Be Worse!'
One of only two bands playing their acoustic set in the Opera House this weekend, Bar Stool Preachers unsurprisingly filled two floors to capacity. As Alex walked out to his keyboards across the darkened stage, followed by TJ, and the first notes of 'Lighthouse Keeper' rang out, a shiver went down my spine in anticipation of this beautiful song.
Joined afterwards by the rest of the band plus Jamie Oliver guesting on drums, the pace went up, and up, and up – the band's infectious energy and brilliant songs soon had the entire crowd jumping, clapping and singing along! Wherever they go this band win new fans, who they consider family, and they have a great year ahead of them with many tour dates across the world.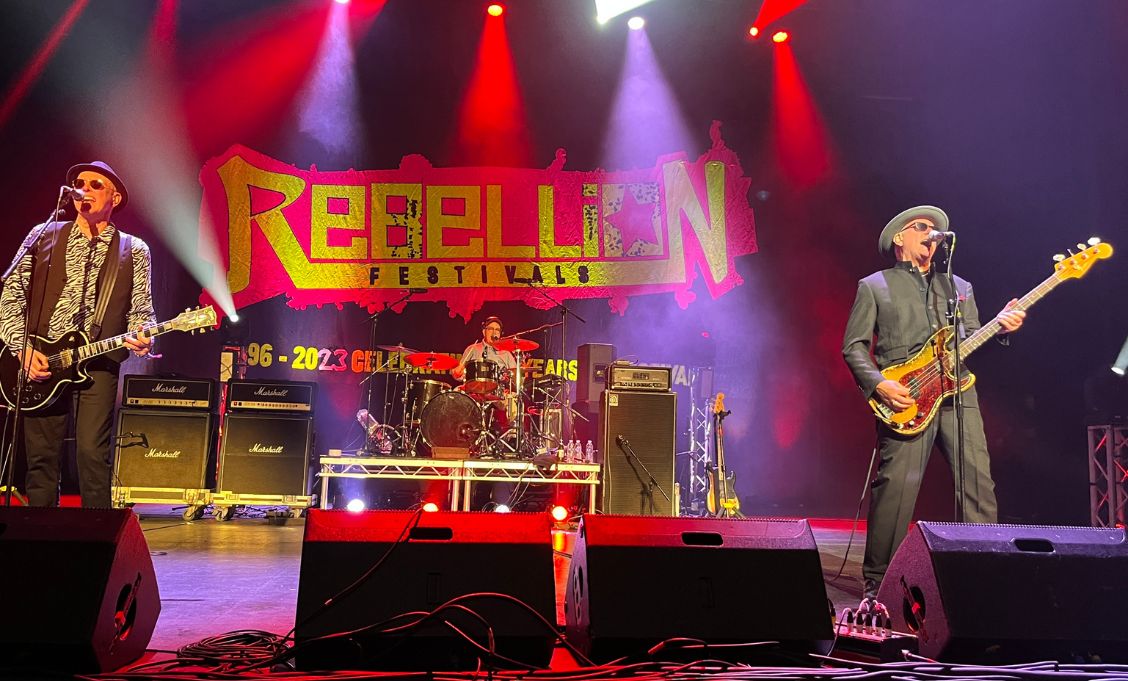 The Opera House remained full for Ruts DC's electric set, comprising of songs from each of their albums. Segs and Leigh swapped instruments for a cracking 'Despondency' from 'Animal Now'; this track also appears on their new release 'ElectrAcoustiC Volume Two'. Fitting in as much as possible, 'Music Must Destroy' appeared in the middle of 'In A Rut', and the audience loved every second of it! Dave Ruffy on drums was really driving things along, he's looking amazing and his playing has gone up several notches, since going on a weight loss and health kick at the start of the year – big respect.
A quick dash to catch a bit of Attila the Stockbroker's dub poetry – always great to hear what this lyrical genius has come up with next – then back down to see the amazing Mille Manders and the Shutup. This band are getting better and better known, with their unique blend of Punk / Ska / Rap combined with powerful singing. Their new album is due out at the end of this year, and the huge crowd loved new track 'Shut Your Mouth'.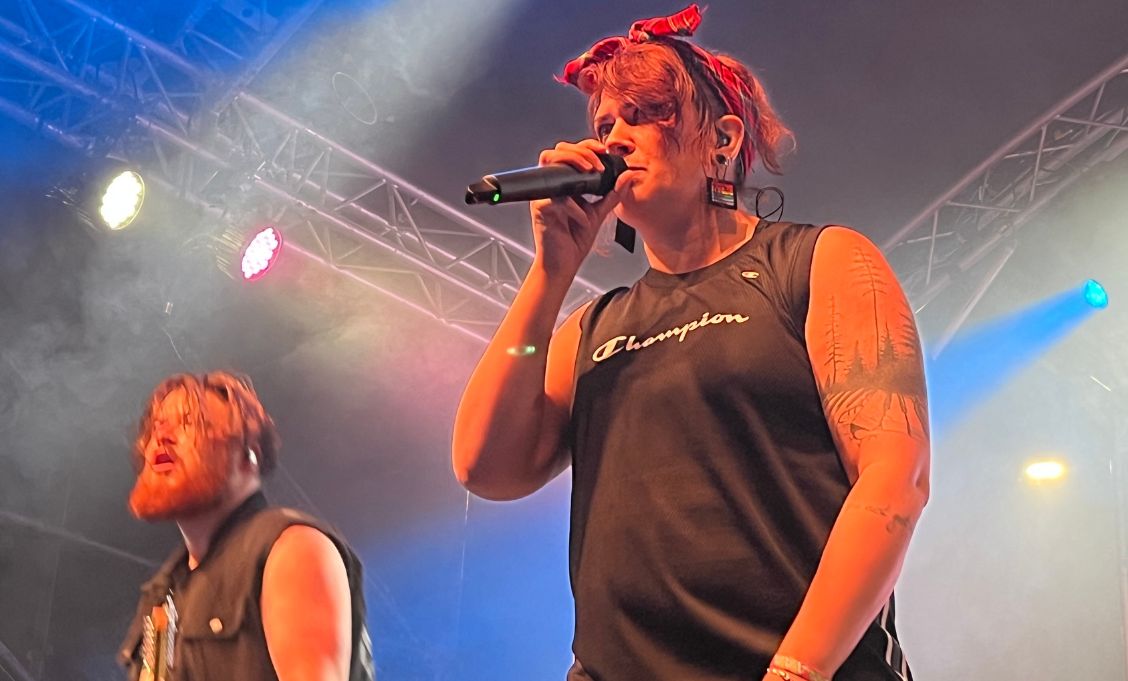 Fortunately I still had enough energy to see Dakka Skanks on the After Dark stage, although not enough to be skanking along! Several folk did and we thoroughly enjoyed their set of sensational Ska tunes. Singer Clara Byrne has a stunning voice (she's much in demand as a guest with other bands) and this band are an absolute must-see, if you haven't already, in which case you'll be sure to see them again!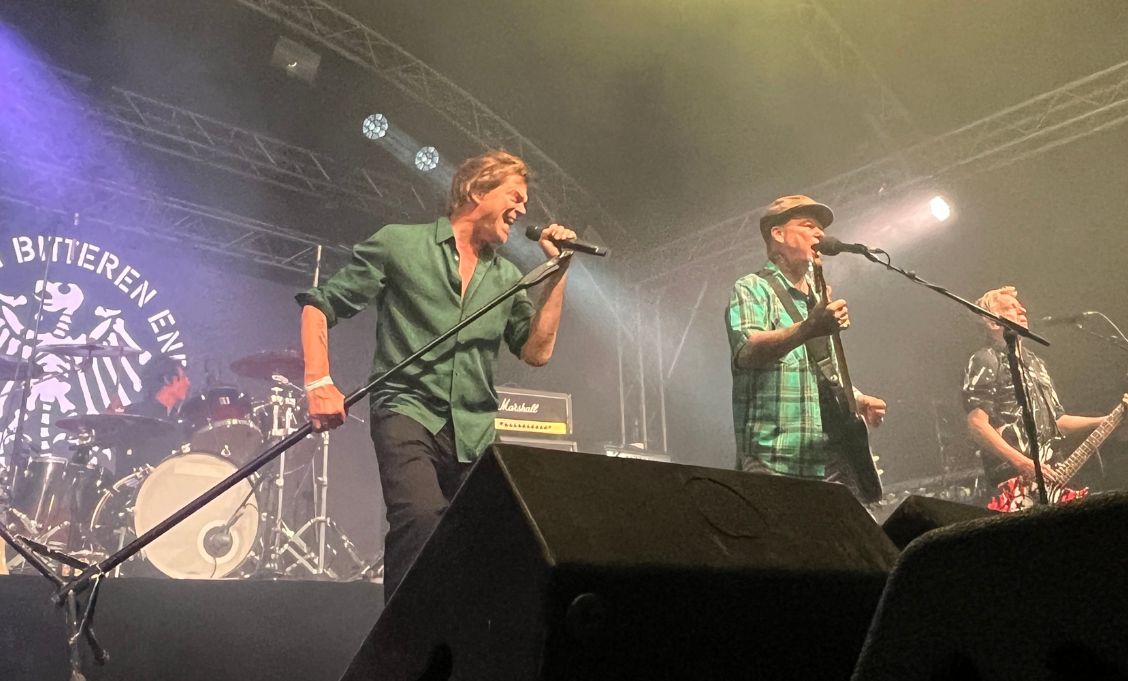 Dusseldorf was out in force in the Casbah, as German superstar punks Die Toten Hosen headlined the stage. Security was tight – we photographers had to have our names on a list to get into the pit, and the band had brought their own minders along, who lined the stage front alongside the venue staff.
The T-shirts (having long ago sold out on their merch stall), were now seen on many people's backs, and the massive crowd went crazy almost immediately!
A lot of covers were chosen for the set, including a very punked-up 'Cocaine in my Brain', very different to Dillinger's original reggae version. Spizz came out to sing 'Where's Captain Kirk?', TV Smith joined them for 'Gary Gilmore's Eyes' and Duncan Reid for The Boys' 'First Time'. It was late, many were tired, but the energy was incredible and I can finally say I've seen Die Toten Hosen – YEAH!!
Need more Punk In Your Life?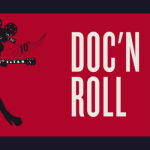 Punk News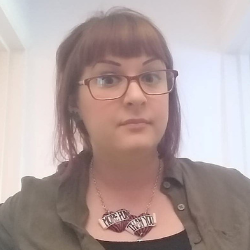 In it's 10th year, the Doc'N Roll Film Festival is celebrating a decade of inspiring, entertaining and vital films about the musicians we love.
Read More »