After a fun-filled day one of Rebellion Punk Music Festival, Punktuation's Molly Tie and Ruth Rae are back in the thick of the action on day two.
In the heart of a sunny Blackpool, the air crackles with energy as punk enthusiasts from all corners of the UK and beyond gather for the ultimate punk pilgrimage. It's day two of the Rebellion Punk Music Festival, and the vibe is awesome.
This four-day extravaganza boasts an impressive lineup of over 300 punk and alternative groups performing across six electrifying stages. And in the midst of this punk paradise, Punktuation's very own Molly Tie and Ruth Rae have taken it upon themselves to capture the essence of Rebellion Festival 2023. Armed with their passion for music and with their pens in hand, they are on a mission to bring you all the highlights of this annual punk extravaganza.
Join Molly and Ruth as they dive back into the electric atmosphere of day two at Rebellion Festival 2023.
Day two - Molly Tie's Report
The punk gods gave us another beautiful day in Blackpool for day two of Rebellion, and a steady stream of new weekenders (possibly those poor souls who couldn't get Thursday off?) arrived by the minute.
In the Pavilion, Indonesian hardcore punks
Turtles Jr
put their heart into creating enough manic noise to get a pretty decent pit going, not bad for a late afternoon slot. It was hard and heavy, with more than enough police bashing to keep a group of unruly punks happy (to give you an idea, they played their subtly titled
'Police Fuck Off'
to an appreciative and rowdy audience.
Over in Club Casbah, ska/dub/punk band Popes of Chillitown put on a fun and fast brass-infused set to a growing and enthused audience (maybe the toots of a trombone have a 'come hither' effect). Vocalist Matt Conner can spurt words at breakneck speed and it was the perfect afternoon pick me up to get in the mood for the evening shenanigans. A great band to get you moving and skanking, their performance of the title track from most recent album 'Take A Picture' should have everyone running to a record shop to pick up a copy.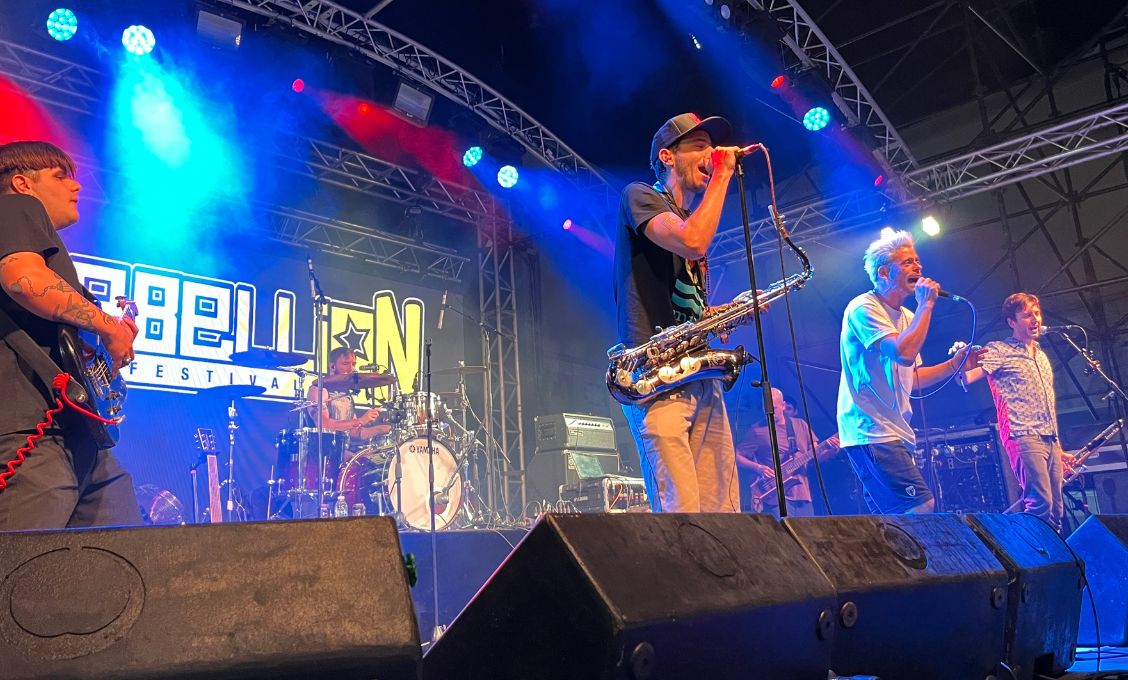 The RIS in Arena is a great place to catch those rising stars of punk rock and a surefire way of passively finding your new favourite bands- just stand in front of the stage and imbibe a cohort of bands who are fresh, energetic and out to pick up new fans.
Maybe it was the sound levels in the room, but China's own Dummy Toys– an all-female band of hardcore punks- sounded immense. It was all encompassing and immersive and the crowd certainly went with it- the front of the stage was packed. The band seemed bouyed by the reaction of the crowd and played their hearts out. Definitely left me intrigued enough to want to check out their latest album 'War is Nightmare'.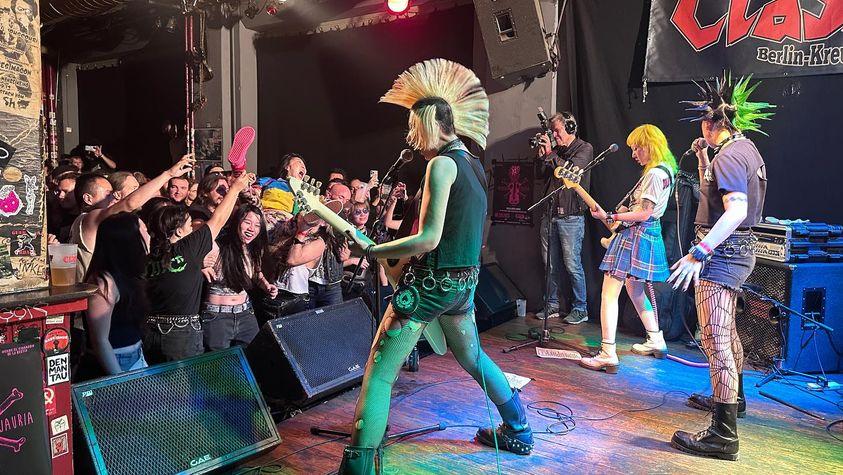 Then if you stuck around long enough after Dummy Toys cleared out you would have seen another band whose star is rising-
Jo Jo and the Teeth
. If possible, frontwoman Jo Jo's voice sounds even more powerful and soulful than it does on record and the mix of glam, blues and rock and roll was a nice contrast to some of the crushingly heavy sounds elsewhere. It was nice to hear some dirty riffs and impeccable vocals from a band oozing fun and charisma.
In the Opera House, we were packed in like sardines as
Spizzenergi
absolutely rammed the place. As security fretted about keeping fire exits clear, the crowd had no such concerns as more and more people packed into what is already a sizeable room, word possibly spreading that this was a band to make sure you catch even if it means being pressed into the armpit of the Die Toten Hosen tshirt of the bloke in front of you (just me that happened to then?).
And one of the main draws of the festival (amongst many) was surely the appearance of punk legend, iconic frontman and all-round multi-talented orator Henry Rollins in the Opera House. Now, we know he doesn't perform musically anymore, so that 2 and a half hour slot is just his spoken word, and if you are wondering, 'can any person really talk nonstop for 2.5 hours and keep an audience enthralled?' then the answer is yes. Rollins can.
He made it clear from the outset that he considers Rebellion to be a special kind of gig, and therefore, he was not going to recreate the same show he has been performing for the last 200 shows- this was going to be a unique set full of new material. He spoke about his great friendship with Minor Threat frontman Ian MacKaye, auditioning for his favourite band Black Flag, meeting Bad Brains, hanging out with Johnny Ramone and various other anecdotes that prove this man has led a more interesting life in two weeks of his early twenties than I have in 37 years. The moral of his stories was about the power of music, the significance of it and how to spot and harness punk rock power in the youth of today.  
I can't wait for Saturday!
Day two - Ruth Rae's Report
After a slightly later-than-anticipated start (I'm blaming Hung Like Hanratty's 1 am set on Thursday for that!), another bright sunny Blackpool day began. There seemed to be a lot of people heading to see Girls Like Us on the Introducing stage, so I decided to check them out too. A good choice – they don't like the Tories, or bras, and they can't afford shirts, plus their music is gloriously chaotic Punk. Songs such as 'My Boyfriend was a Tory so I Broke up with him' graced their set, while the crowd cheered. As regards their choice of attire, I say good for them – if guys can go bare-chested on stage, why can't girls?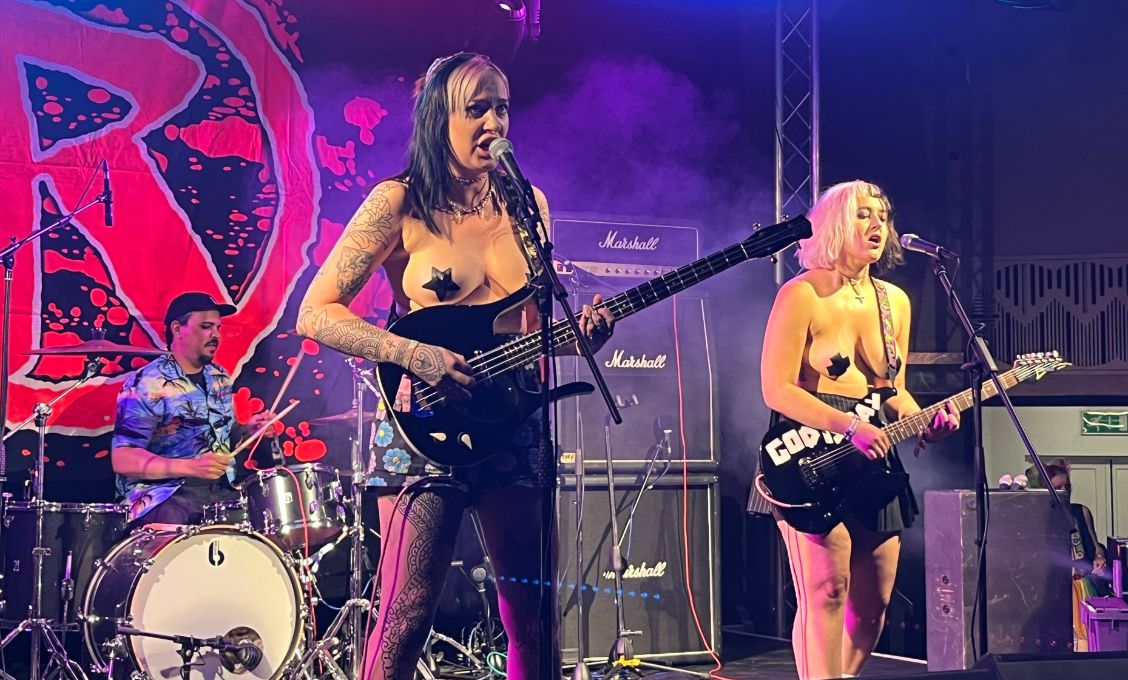 Next up, The Zips in the Opera House – excellent anti-racist and politically charged Punk from Glasgow's original 1977 Punks. The audience was filled with people from all over the world, such is this great band's well-deserved reputation. I loved their song 'You Don't Own Me', which they dedicated to all those of us who've suffered having a bad boss!
Off to the Empress for the first time that day for Darlington band  In Evil Hour, a great in yer face, guitar and bass driven band, who got the mosh pit going quickly! They still pack a punch after 20 years of playing with their fast, melodic music – a fabulous set from them.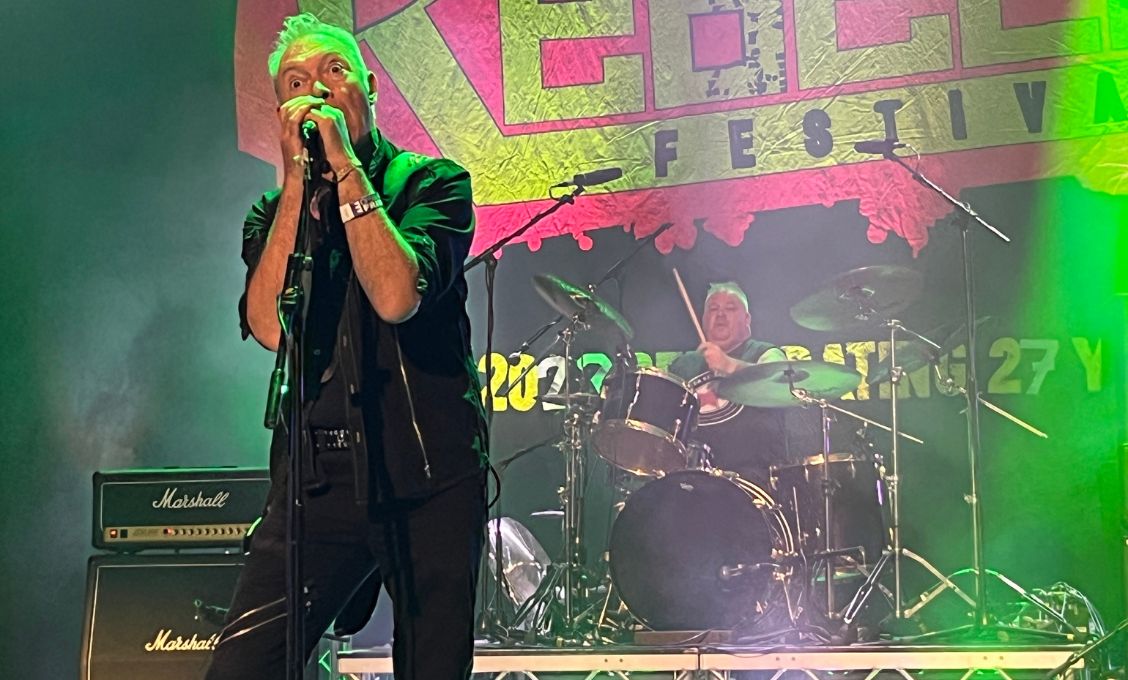 Back to the Opera House (which definitely has the best sound at the festival) for I, Doris, a four-piece band of mature ladies who sing about the amusing side of life! Introducing each member as Doris(!), the lead vocalist/bass player encouraged the audience to pledge their allegiance to the Doris 'code of conduct' before dazzling us with their variety of musical styles and comical lyrics.
I haven't seen a keytar on a stage for a long time! A great song about internet dating included the painfully accurate "Does your girlfriend / boyfriend / wife know you're here?"
Returning to the Ballroom for 'Mackem' (Sunderland) Punks Red London, who were feeling honoured to be playing the biggest stage for the first time – they thanked Rebellion organiser Darren sincerely for it. The band certainly made enough noise to fill the room!
They dedicated their set to the late Steve 'Cast Iron' Smith from Red Alert, brother of Red London's singer Patty Smith, and played a Red Alert song for him too. It was a wonderful tribute and very much appreciated by the audience.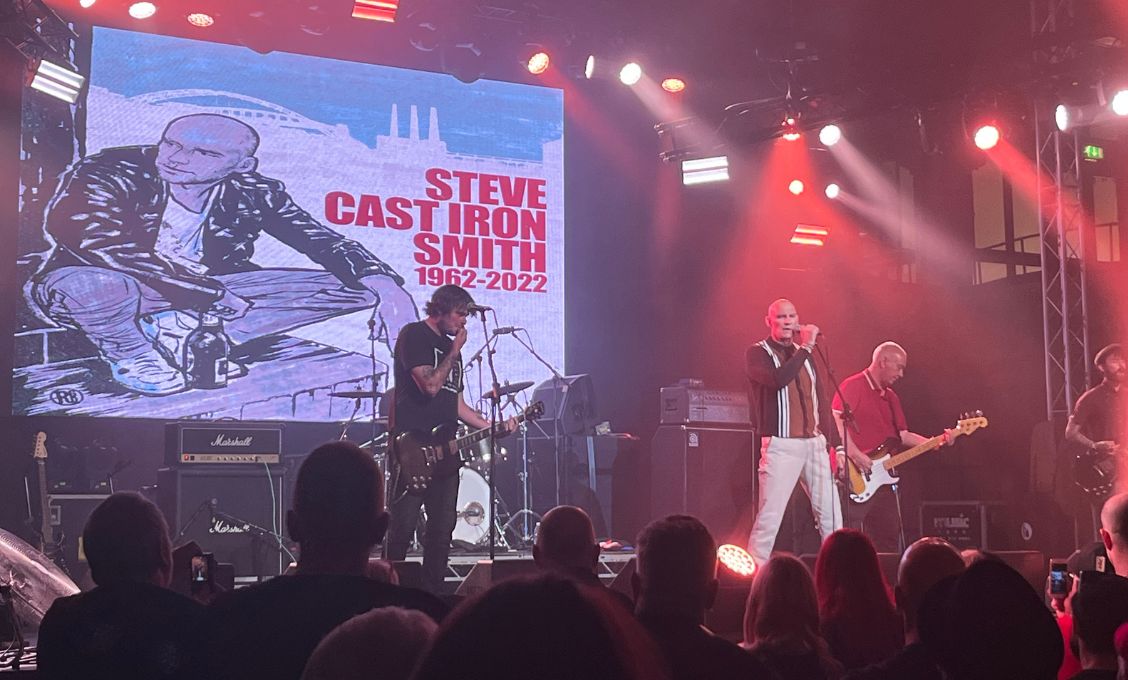 Remaining in situ, I totally enjoyed The Drowns, who got the party going with their American upbeat Punk. Drawing a huge crowd, the band also thanked the Rebellion organisers for first putting them on 5 years ago, when they'd only been going 1 year. Plenty of folk said afterwards how awesome they were!
The Outcasts are a band I had promised to see after missing them last year – top class Belfast Punks who just about took the roof off the Opera House – and it's a very high ceiling! They played a selection of favourites to a very enthusiastic crowd, and included some covers which went down equally well.
Taking a breather at the Literary stage, Pete 'Manic Esso' Haynes from The Lurkers gave a fascinating interview. As a band they were always more interested in the people on the margins of life, hence songs such as 'Ain't Got A Clue'. This was echoed in Pete's book about the band 'God's Lonely Men', where compassion for the outsider is a central theme. Sadly, too much alcohol consumption wrecked the original Lurkers, yet the stories of the time remain legendary, such as guitarist Pete Stride telling the sceptical studio during their first recording session "It's better than it sounds!".
My Rebellion favourites Bar Stool Preachers were playing next on the main Empress stage for the first time, and very deservedly so. An excited crowd had the floor bouncing what felt like a foot high as soon as the lads kicked into their first number, and it didn't stop! As a special treat, Colin McFaull (Cock Sparrer) came on stage with them for the first time, to sing 'When This World Ends', a proud moment for Preachers vocalist T.J, who is of course Colin's son.
The mosh pit went wild, and the band finished with 'Bar Stool Preacher' accompanied by a little lad hoisted up by the audience – BSP stand for family, friendship and fairness, and they 100% practice what they preach.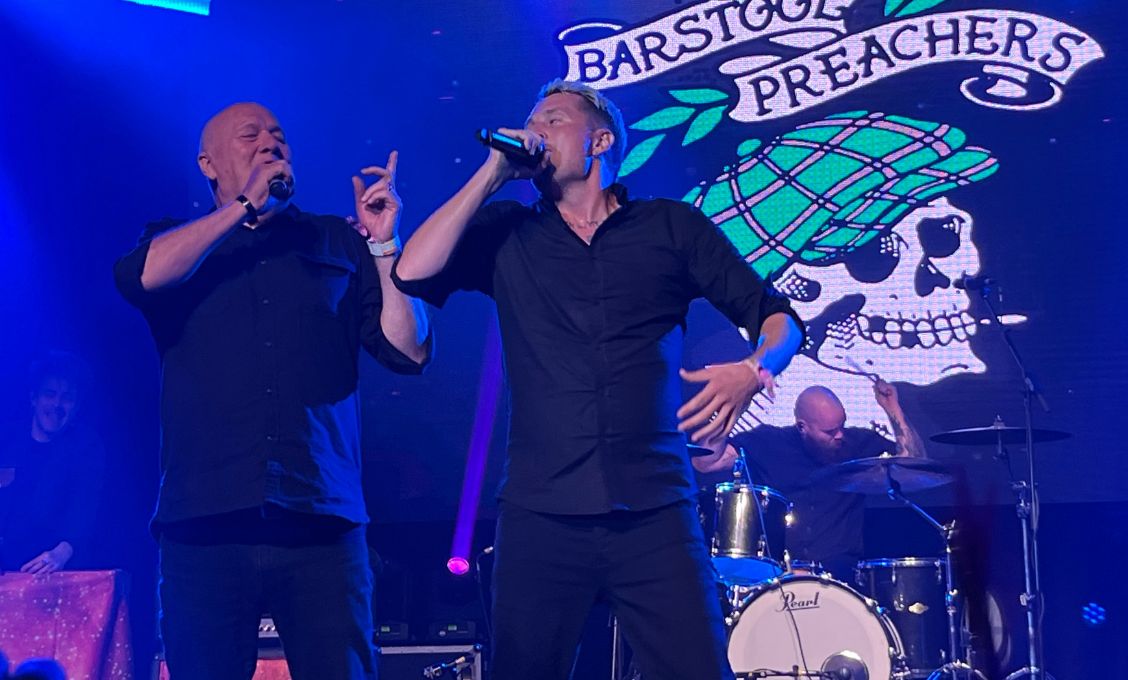 New band Noah and the Loners played their first Rebellion festival on the Pavillion stage, testament to how mind-blowingly brilliant these four young musicians are. Discovery of the weekend for myself and all who heard them, they are going to make it very big very soon! They'll be touring with The Meffs, so go and see them, you'll be stunned! Noah was treated badly by one of the security staff earlier for being a transgender man, and that's not on at all – the Punk family don't put up with one of our own being hassled like that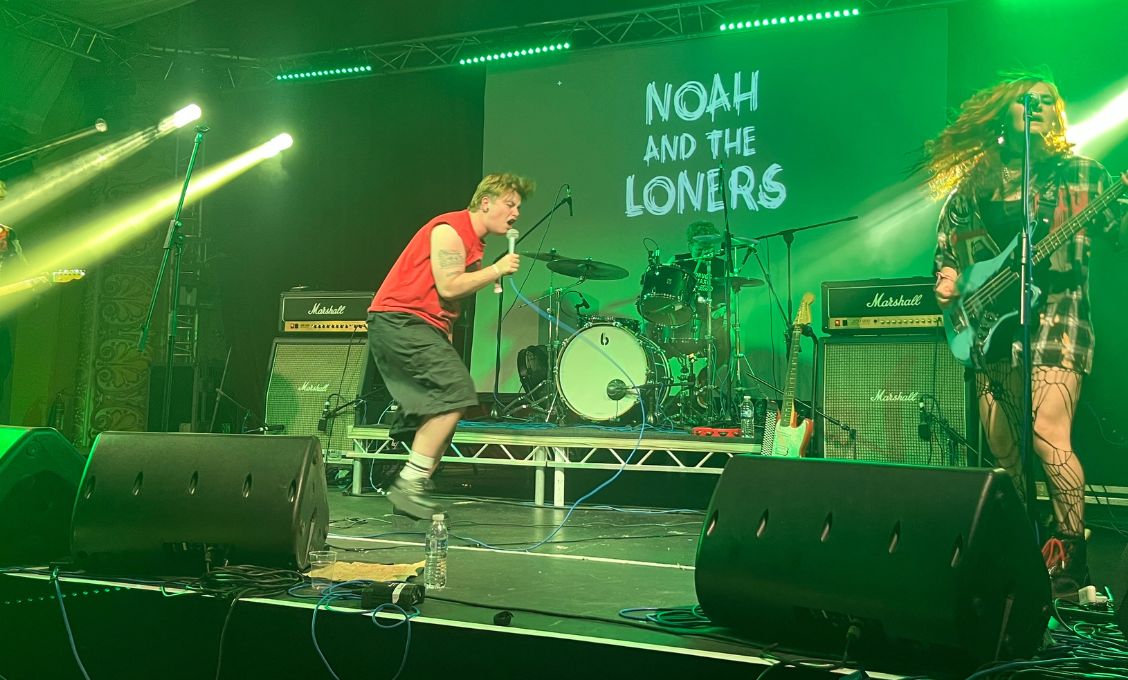 TV Smith is always one of the hardest working musicians at the festival, and this year is no exception – his band Paranoid Visions played a set of Tim's 90s band Cheap covers on the Pavillion stage, something I'd been looking forward to a lot since I heard him play some of them acoustically earlier in the year. The room was full, Tim was in fine form as were the band, and despite the late hour everyone enjoyed their set immensely! Afterwards I dashed out to help on their merch stall, as I knew they'd be swamped with customers, and Tim and his wife are both lovely people and friends.
Last band of the evening for me were Desperate Measures, New Zealander Eugene Butcher's four-piece going from strength to strength with excellent new material coming out, and going down just as well with the crowd as the older songs. Gaff on guitar is immense, he makes the complex look easy, and his backing vocals add to Eugene's lead to great effect. We were treated to the public debut of "Seven Sisters", a song about London, which was excellent, followed by their oldest song "1984" showcasing skilful drumming of a complex piece by James Sherry – bravo!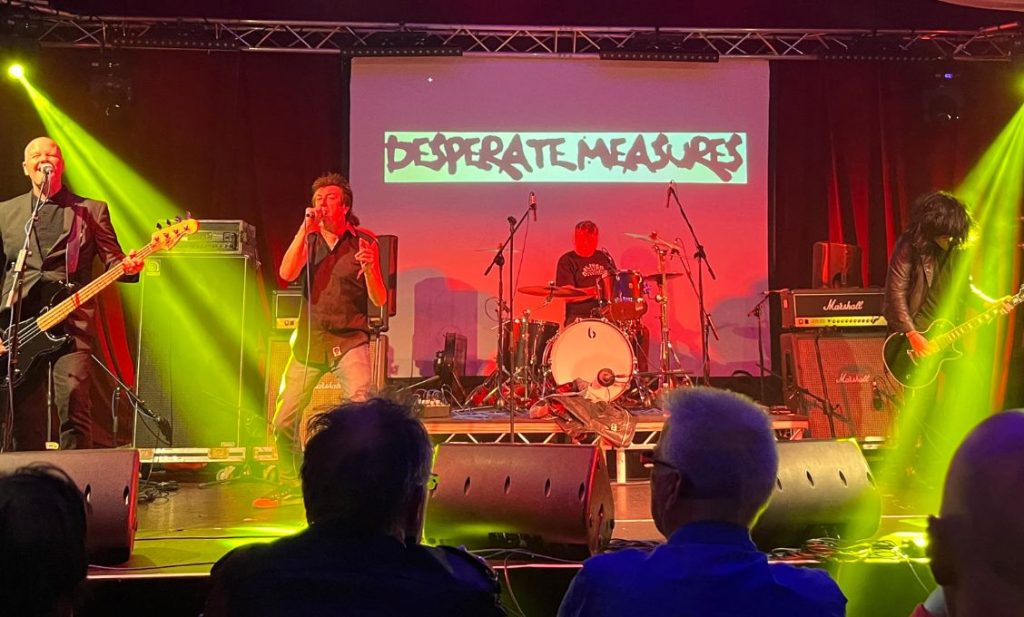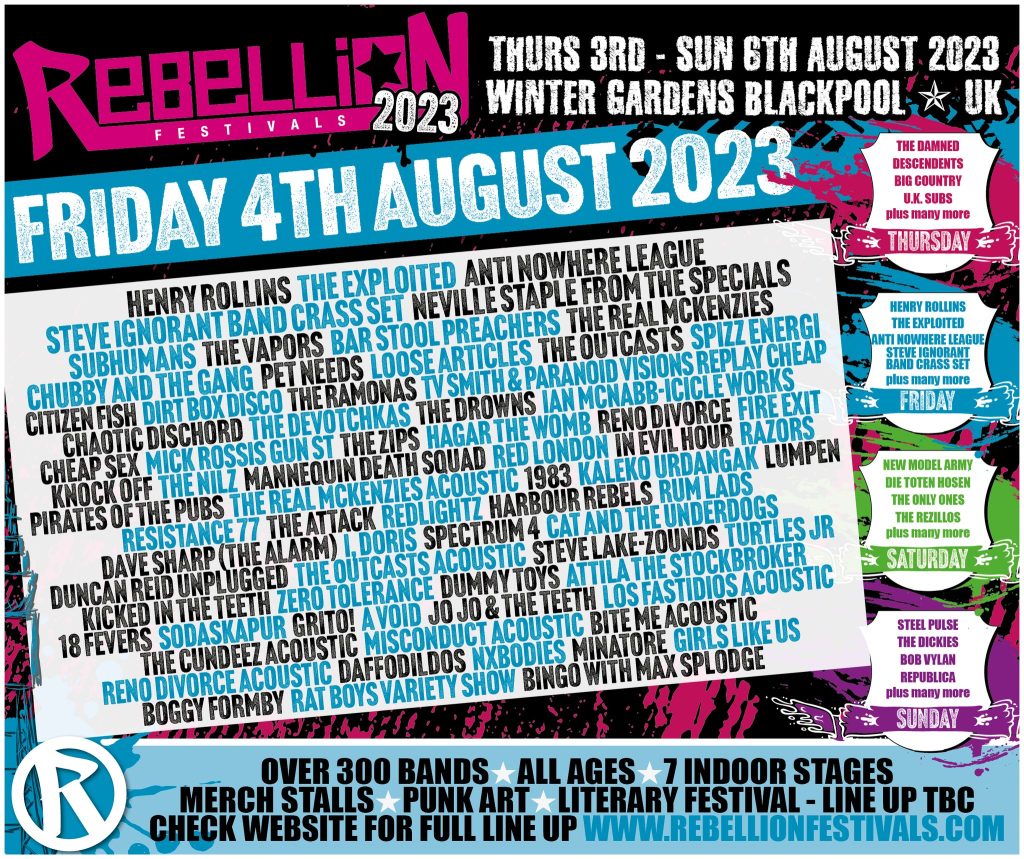 Need more Punk In Your Life?
New Releases
Grammy-nominated pop punk legends Sum 41 make a boisterous return with 'Landmines', their newest single and first release on Rise Records.
Read More »