The Long Ryders release their follow-up to 2019's acclaimed Psychedelic Country Soul LP next month.
Produced by Ramones man Ed Stasium, written and recorded – mostly – since Tom Stevens died at just 64 years old, 'September November' sees guitarist Steven McCarthy taking on bass duties with Murry Hammond of Americana stalwarts the Old 97s helping out. D. J. Bonebrake from Los Angeles' punk legends X also guests as does Coal Porters'/Royal Academy of Music violinist Kerenza Peacock.
The roots of the Long Ryders can be traced back to garage rock revivalists the Unclaimed, who formed in Los Angeles in 1979. The Long Ryders' early work was heavily influenced by both punk (largely attributable to devoted record collector Sid Griffin) and old-school country (loved by Steven McCarthy).
Since 1983, or thereabouts, drummer Greg Sowders has sat behind three multi-instrumentalists /singers /songwriters in the shape of McCarthy, stage right, Tom Stevens, stage left, and Griffin, in the middle. That virtuosity, those three voices, means Long Ryders' records have never had to tow any sort of a line. In fact, they paint their own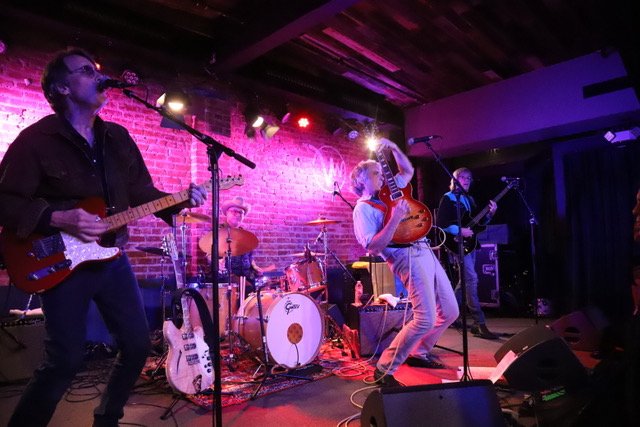 The band's fifth LP proper, and second since their substantial sojourn – between 1987 and 2004 – 'September November' is, Griffin says, "two-thirds the distilled alt-country genre we helped found back in the 1980s and one-third Paisley Underground adventurism with a dash of our own crazed soulfulness thrown in."
The album might be largely shorn of Tom Stevens' creativity but it's rife with his influence, which culminates in 'Flying Out Of London', the song he left behind:
The airport's like a ghost
Got a big wing in the sky
Time to walk away from travelling
Can't feel the years go by
Tom sings it and plays guitar on top of his own big, typically telling bassline, backing vocals courtesy of daughter, Sarah Stevens.
I remember Sid Griffin saying Stevens' 'Bells of August' was his favourite song on 'Psychedelic Country Soul' and the bass-man's similarly emotive closer here is right up with the best of this one too. Can a shadow be brilliant? The one 'Flying Out Of London' casts over 'September November' makes me think so. Certainly 'flight', in some shape or form, is a feature in three other songs while McCarthy's 'Hand Of Fate' and Griffin's 'Until God Takes Me Away' are letters of love they're leaving for their partners, come the time.
Last year's single 'Tom Tom' is in the mix too. The thick of that brilliant cloud it namechecks 'Flying Out Of London', which lends the song sequence a semblance of chronology, along with another bass-led Stevens' classic, 'A Stitch in Time', off 1987's 'Two-Fisted Tales'.
'So if your heart is slowly breaking
Feel the pulse this song is making'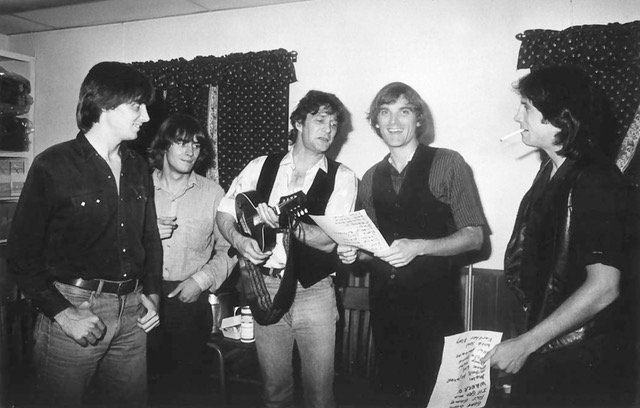 And that's the overriding message of September November's 'Tom tunes'. Just as he would want it, you'd like to think.
There are pictures in the package that hark back to the Native Sons era somehow, but perhaps that's just the steps and the country setting. What 'September November' has in common with every Long Ryders release is its want for repeated listens. That's not about being 'old school', that's just being way better than the 'immediacy' of the streaming psyche.
Kicking in with the rocking almost title track, 'September November Sometime', 'point man' Sid Griffin at the mic, the record hits Long Ryders touchpoints – jumping trains cross country in the best Kerouac tradition, family, friends, state of the union/state of the world.    
'Elmer Gantry Is Alive And Well', a McCarthy/Griffin song, is a fabulously eloquent 'WTAF' to the assault on the Capital/on democracy and the Trump noise, 'The only people that seen you won, Are hucksters grifters and charlatans'.
Sid's instrumental 'Song For Ukraine', violin to the fore, actually seems to ache for the situation there, while 'To The Manor Born' and 'Country Blues (Kitchen)' are other highlights ahead of that 'Flying Out of London' finale.
Much more than a tribute to a politically savvy, brilliant musician, words attributable to Long Ryders all, incidentally, 'September November' is a wonderful LP – the playing, the lyrics and the singing, those harmonies. It deserves its place under the band's umbrella alongside the giants: 'Native Sons,' 'State Of Our Union', 'Two-Fisted Tales' and 'Psychedelic Country Soul'.
In Johnny Black parlance, this is the perfectly right record at the perfectly right time.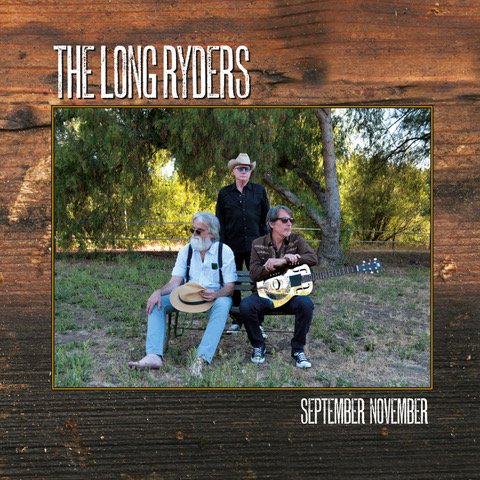 Photo Credits: Studio' colour shots by Ed Stasium. Live pic by Henry Diltz. Black and white by Gary Nichamin.
SEPTEMBER NOVEMBER SOMETIME
SEASONS CHANGE
FLYING DOWN
ELMER GANTRY IS ALIVE AND WELL
HAND OF FATE
SONG FOR UKRAINE
TO THE MANOR BORN
THAT'S WHAT THEY SAY ABOUT LOVE
COUNTRY BLUES (KITCHEN)
TOM TOM
UNTIL GOD TAKES ME AWAY
FLYING OUT OF LONDON
Follow the Long Ryders on Their Socials
Need more Punk In Your Life?
Punk News
"We were a punk band with Beatles melodies. We had no effects, barely any equipment, just loads of attitude, 12 cans of Red Stripe and
Read More »