Band Unveils Title Track as Final Single Ahead of Album Release, Accompanied by Self-Made Music Video
London-based trio Dream Wife – vocalist Rakel Mjöll, guitarist Alice Go, bassist Bella Podpadec – will release their electrifying third album, 'Social Lubrication', this Friday, June 9th via Lucky Number. 
Today, the band unveil the final single ahead of their album release, the disco-leaning title track. "Social Lubrication" serves as a rally against the patriarchy as they call out unsolicited advice and gendered violence.

"Exhausted. Done with being polite, done with sugar coating, placating, and pandering to patriarchal bullshit. Wanting to just exist, in this body without being pigeon-holed or judged for the bodies we exist in. Do the job well. Show up. Not play other people games. You can't fix something rotten to the core – we need revolution not reform," note the band on the track.
The single is out alongside a self-made music video from the band with influences spanning from their album art to the Yellow Jackets opening sequence. To celebrate the release of 'Social Lubrication', Dream Wife have announced an album launch party where they are set to perform the album in full to an intimate crowd at The George Tavern on Thursday 8th June.
The band have previously shared four tracks from the album, 'Who Do You Wanna Be?' about their takes on capitalism and faux-activism, the dance-rock 'Orbit,' the cheeky 'Hot (Don't Date A Musician)' and their rock-heavy lead single 'Leech.' 'Social Lubrication' showcases a band in electrifying form. Self-produced by Alice Go (of Dream Wife) alongside Matthew Peel and mixed by the heavyweight duo of Alan Moulder(Nine Inch Nails, Yeah Yeah Yeahs, The Killers, Depeche Mode) and Caesar Edmunds (Wet Leg, Beach House), the incendiary and riotous record finds the band once again tackling big subjects in their trademark unapologetic manner where, with the band being adept at merging the political with the playful, vital statements are hidden within hot and heavy anthems about making out, having fun and staying curious. '
Social Lubrication', in the band's words, is "Hyper lusty rock and roll with a political punch, exploring the alchemy of attraction, the lust for life, embracing community and calling out the patriarchy. With a healthy dose of playfulness and fun thrown in."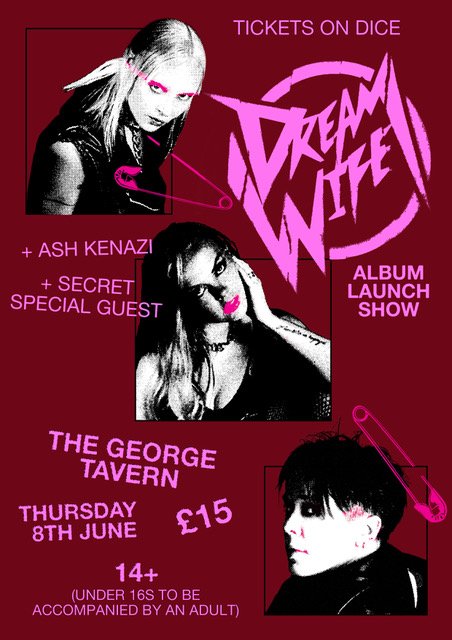 Thursday 8 June – London, UK @ The George Tavern
Monday 12 June – Kingston, UK @ Banquet
Tuesday 13 June – Brighton, UK @ Resident
Wednesday 14 June – London, UK @ Rough Trade East
Sunday 9 July – Glasgow, UK @ TRNSMT Festival
Friday 21 July – Huntingdon, UK @ Secret Garden Party
Sunday 23 July – Ireland, UK @ Forest Fest Music & Arts Festival
Friday 28 July – Thirsk, UK @ Deer Shed Festival
Thursday 5 October – Manchester, UK @ New Century Hall
Friday 6 October – Birmingham, UK @ Castle & Falcon
Saturday 7 October – Bristol, UK @ Strange Brew
Sunday 8 October – Leeds, UK @ Brudenell Social Club
Tuesday 10 October – Dublin, Ireland @ The Grand Social
Wednesday 11 October – Limerick, Ireland @ Dolans
Thursday 12 October – Galway, Ireland @ Roisin Dubh
Thursday 19 October – London, UK @ Electric Brixton
Follow Dream Wife on Their Socials
Need more Punk In Your Life?
New Releases
Grammy-nominated pop punk legends Sum 41 make a boisterous return with 'Landmines', their newest single and first release on Rise Records.
Read More »
Punktuation Magazine For All Your Daily Punk News, Features, Interviews, Lifestyle and more!