Dave Wakeling and Annabella Lwin joined forces to bring their respective bands on a massive UK tour this month - Punktuation caught the action at G-Live.
Gigantic tour bus? Check! Two bands who got us all dancing and singing in the late 70's / early 80's? Check! The Beat, fronted by original singer / gultarist Dave Wakeling, and Bow Wow Wow, fronted by original singer Annabella Lwin, delighted us with their fusion of Ska, Reggae, Pop, Soul, Latin, and Punk on a 26 date tour all around the UK in June 2023.
Last year, The Beat played in the compact 275 capacity Boileroom in Guildford – this year they chose to play the 1,700 capacity G-Live – could they draw a considerably larger crowd? Ruth Rae went along to find out..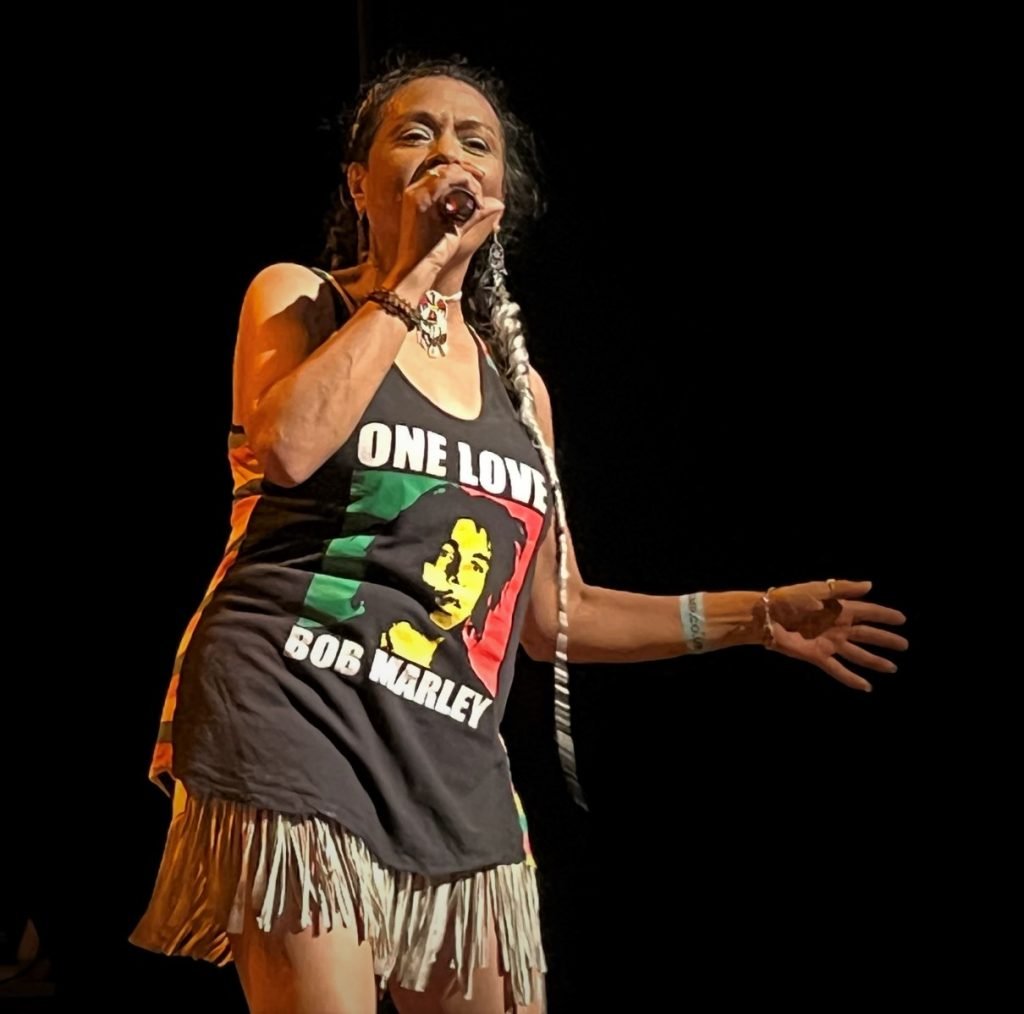 The hall became gratifyingly filled with people around 10 minutes before Annabella and her bandmates (drummer John Montgomery and guitarist Bill 'Lightnin' Woodcock) bounced onstage. Playing a great mix of Reggae, Rumba and Caribbean inspired music, their cheerful energy rapidly encouraged the crowd into dancing and singing along! 
The engaging Annabella twirled her way around the stage, giving us snippets of information about the songs, including an excellent cover of Bob Marley's 'Cheer Up' which she recorded for 'One Heart: A Tribute to Bob Marley & the Wailers', a benefit for teens and young adults with cancer or who are living in difficult circumstances.
Hit songs 'Go Wild In the Country' and 'I Want Candy' appeared midway, and to close the set respectively, while ace guitarist Lightnin' stripped off multiple layers of clothing as the venue warmed up. Flamboyant drummer John was exciting to watch, although he may need to practice catching his high stick throws, as one went astray and nearly hit Annabella! John's last second goal-saving dive prevented a sore head for the singer.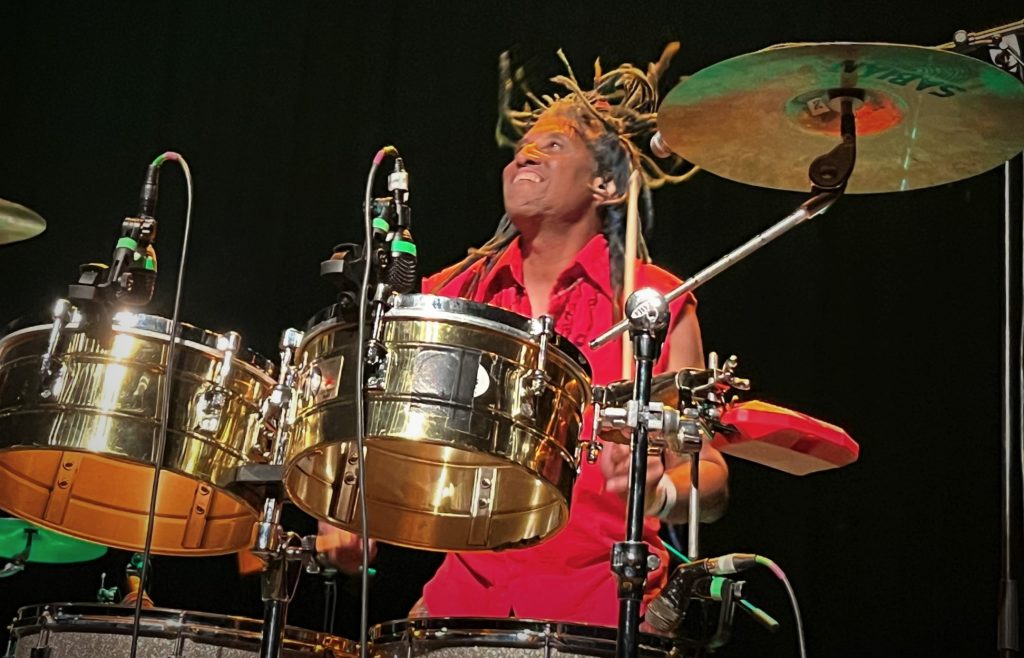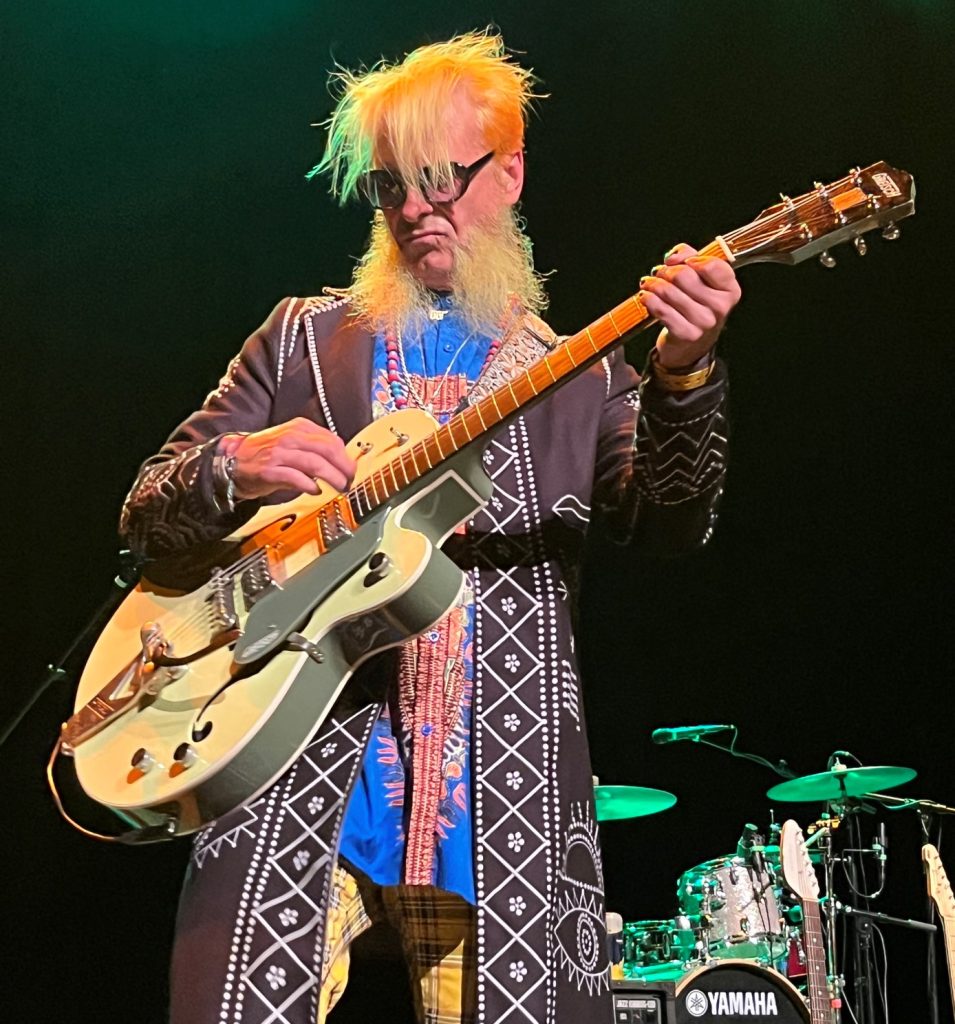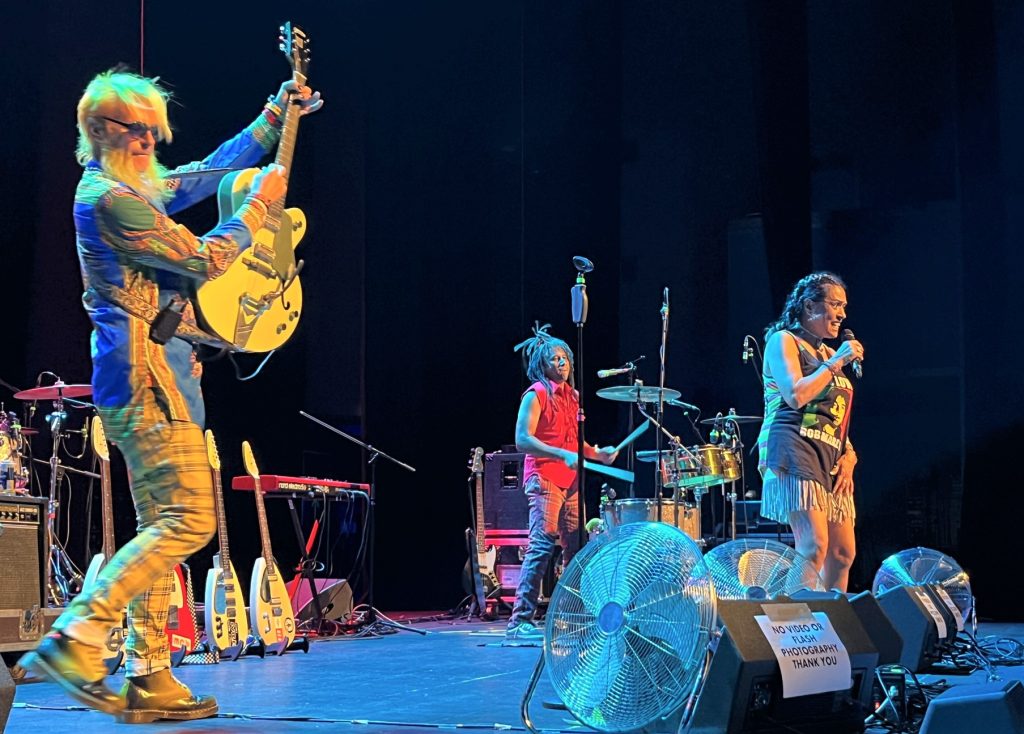 Embarking upon 26 shows in 35 days (including festivals) is a heavy schedule by anyone's standards! Saxophone player Sean Williams told me: "It's gone brilliantly so far! Considering we've been living on top of each other for all this time, we've all got on well. It's been fantastic to play at bigger venues such as The Roundhouse in London and Barrowlands in Glasgow, and everywhere we've played it's been amazing to see so many people coming to see us!"
Guildford was no exception, with a large audience filling the standing area and most of the upstairs seating. A relaxed and smiling Dave Wakeling led the band through classic hit after classic hit, including his cover of 'Tears Of a Clown' – "I told Smokey Robinson that I thought he had the voice of an angel, and if I could sing like him, I'd be an angel too!" recounted Dave, of his meeting with the legend several years ago.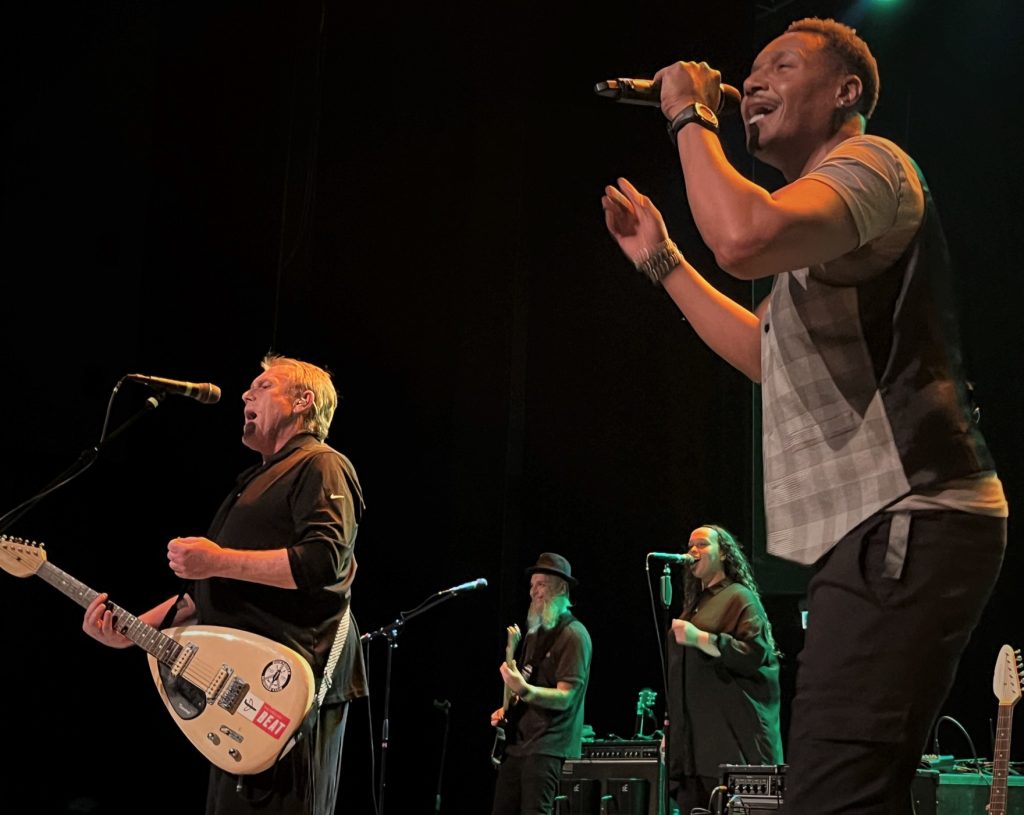 The front row of Sean Williams (saxophone), Dave Wakeling (vocals & guitar) and Antonee First Class (toasting) drove the show. Antonee's freestyling is spot-on, he's a natural, and he always looks to be enjoying himself 100% on a stage! Sean is a really great saxophonist, his playing totally bringing that unique 'Beat' sound to all of the songs – and he loves to dance!
Dave of course needs no introduction – bringing both his musicality and wit to the stage, he's not afraid to get political and speak his mind, raising loud cheers from the crowd. Dave also spoke sincerely and fondly of his late colleagues; Ranking Roger, Saxa and Everett Morton, and encouraged us to dance and have fun for them.
Sean Williams, Dave Wakeling and Antonee First Class – The Beat, June 2023
(Photos by Ruth Rae)
At the back of the stage, guitarist Lightnin' was doing double duty, having already played a set with Bow Wow Wow, yet you'd never have known as his playing was as fresh and energetic as it had been at the start of the evening! Dave's daughter Chloe Wakeling provided backing vocals, blending harmoniously with her father and obviously enjoying herself too.
Drummer Fritz Zar kept everyone together nicely, having plenty of interaction with keyboardist Esteban Flores "They KNOW reggae in the UK, so play reggae!" encouraged Antonee – Esteban certainly can! – and bassist Luis Casimiro. Luis can play reggae too, he was a joy to watch and listen to throughout the set, nailing those chugging bass lines in 'Mirror In The Bathroom' and 'Can't Get Used to Losing You'.
Lightnin' Woodcock and Chloe Wakeling, Fritz Zar, Esteban Flores and Luis Casimiro – The Beat, June 2023 (Photos by Ruth Rae)
It's 40 years to the month since The Beat and Bow Wow Wow first toured together (California, 1983), making this tour a special one for both bands. Their cameraderie and sense of fun spilled over to the audience, all of whom left smiling and bouyed up from the show. The range of ages in the crowd was wonderful to see – it certainly wasn't only the older nostalgic audience in attendence, but many younger folk too – all appreciating and enjoying the music. An uplifting and inspiring evening!
The Beat set list, Guildford, 28th June 2023: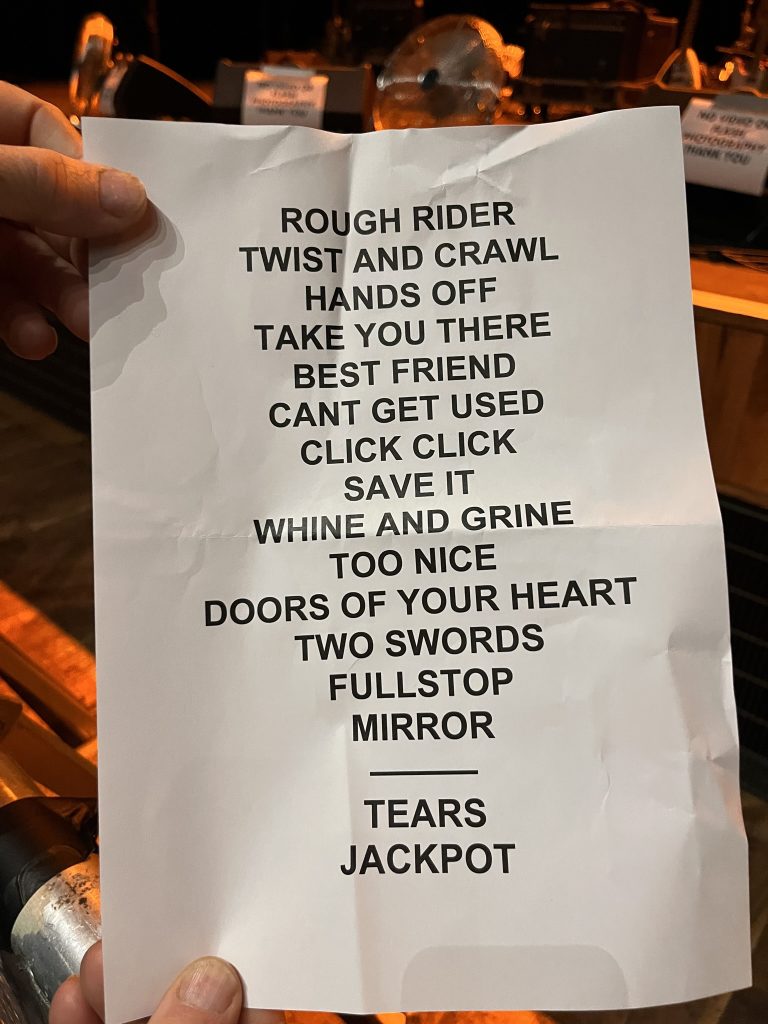 Main Photo Credit / All photos: RUTH RAE
For those of you who are The Beat enthusiasts, you may know that after the break up of the band in 1983, Dave Wakeling and Ranking Roger joined keyboardist Mickey Billingham and drummer Stoker (Dexy's Midnight Runners)and bassist Horace Panther (The Specials) to form General Public. They have announced that they will be re-issuing their albums 'All The Rage' and 'Hand To Mouth' on vinyl for the first time since the 1980.s They'll be available on 4th August and you can pre-order HERE. 
Follow The Beat on Their Socials
Need more Punk In Your Life?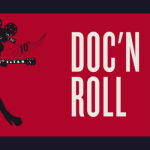 Punk News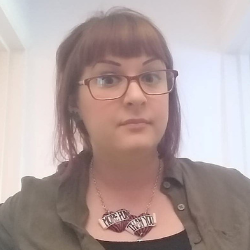 In it's 10th year, the Doc'N Roll Film Festival is celebrating a decade of inspiring, entertaining and vital films about the musicians we love.
Read More »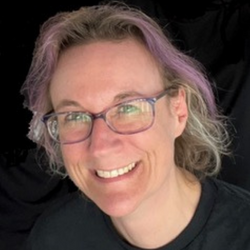 'Usually found jumping around down the front at gigs, I also relish taking photos and videos, singing, speaking with fellow music fans, and asking musicians the questions nobody else does  Writing about my favourite bands and connecting with people who love music too keeps me more-or-less sane  I've worked for over 25 years at a video production company, mainly filming live music events, therefore I have an additional backstage perspective!'