Japanese Punk Pop pioneers Shonen Knife rocked the Boileroom in Guildford on the first of their UK tour dates, with excellent support from The Kut
Guildford's bijou venue certainly lived up to its name on a rainy Wednesday in April – a wonderfully diverse range of fans squeezed into the compact space which got hotter and hotter – and both main and support bands were also very much on fire!
Shonen Knife, fronted by founding members and sisters Naoko and Atsuko Yamano, celebrated their 40th Anniversary in 2021 with plans for an extensive world tour. Events conspired against them, yet undeterred, they embarked upon their delayed series of European shows in spring 2023.
Naoko wrote in 2021 "We started Shonen Knife on 29th December 1981 when we did the first rehearsal in Osaka. This year is the 40th anniversary of the band. Thanks to our fans, all members of the band and staff, I could continue the band. But actually I can't believe that so many year have passed. My motto of the band is "Let's have fun" and I've never look back and never having long time future plan. I just move forward. I would like to continue to make people and ourselves happy through our music. See you at our 40th Anniversary UK tour!"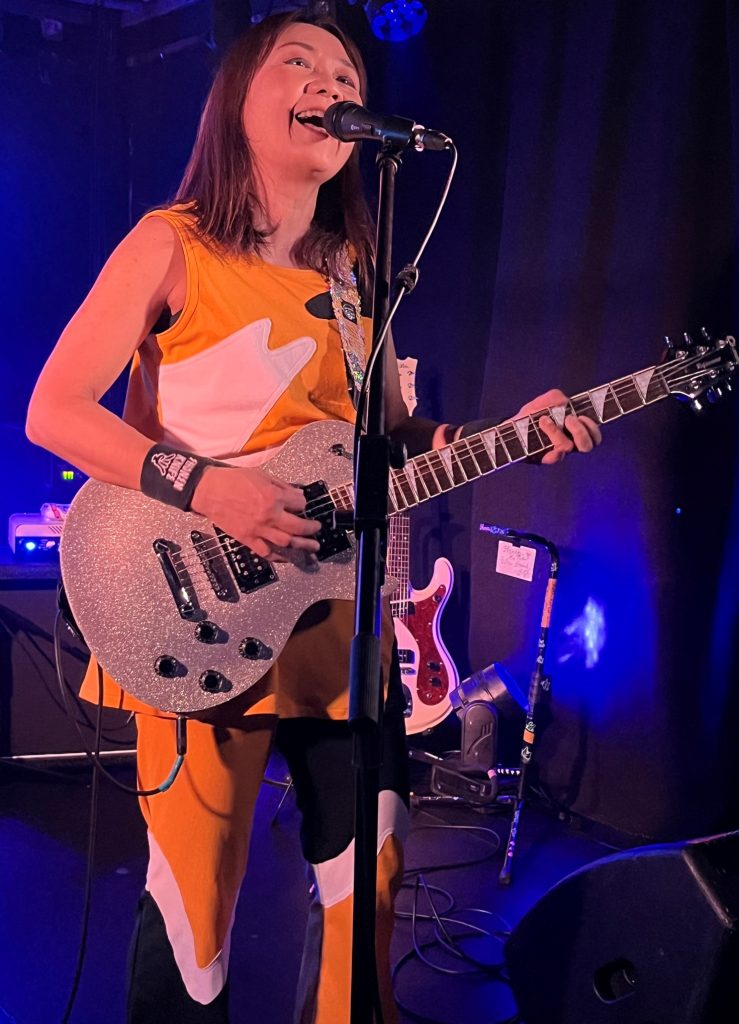 Guests for the evening were The Kut, formed by Maha (lead vocals, guitar) and featuring a variety of touring members – tonight we had Daisy on bass and  Violet on drums. These ladies certainly know how to get the room jumping – their music is Grunge Rock / Punk, think L7 meets Lunachicks!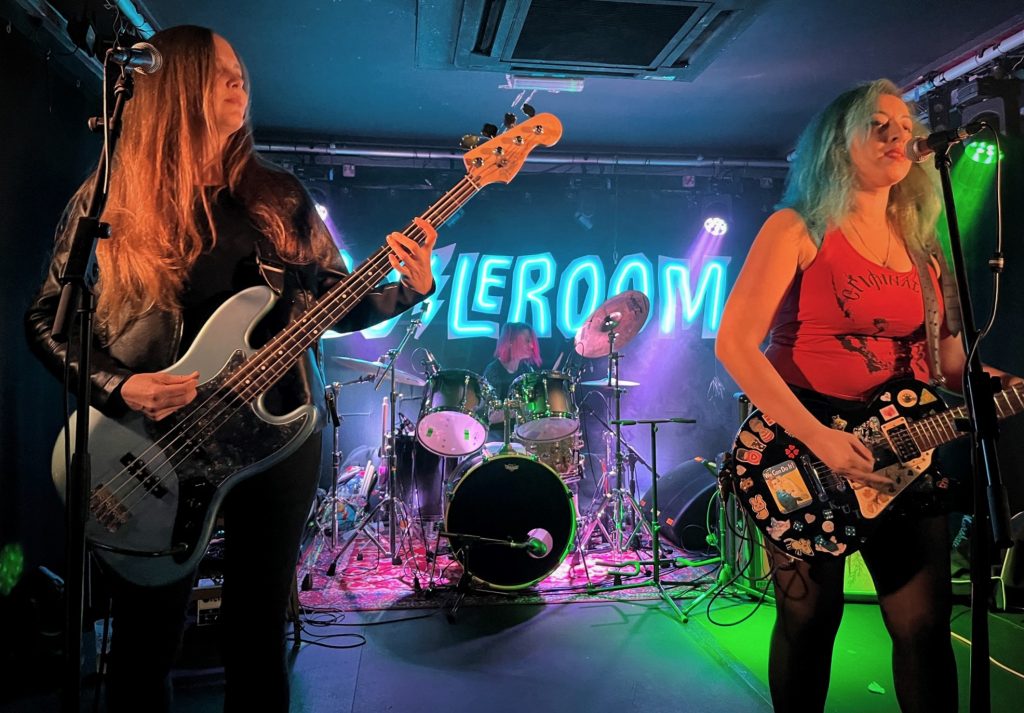 Dedicated to all of the women present (including the sound engineer), ANIMO is a song about courage – and this is something that female bands, musicians, technicians and audience members all must have in a secene which isn't as accepting as it should be. Recent discussions with several of my male friends highlighted that they often aren't aware of the difficulties we have, as they don't apply to men!
Shonen Knife (Naoko なおこ; vocals, guitar, Atsuko あつこ; bass, vocals, and Risa りさ; drums, vocals) received a warm welcome as they took to the stage. Atsuko designed their colourful costumes, and the T-shirts available on merch, which perfectly suit their bright and bold sound.
40 years of playing and recording has not dulled these ladies shine in the least – they play and sing with sheer joy and energy. The crowd loved every song in their set, covering their entire career, and were soon jumping along with the band!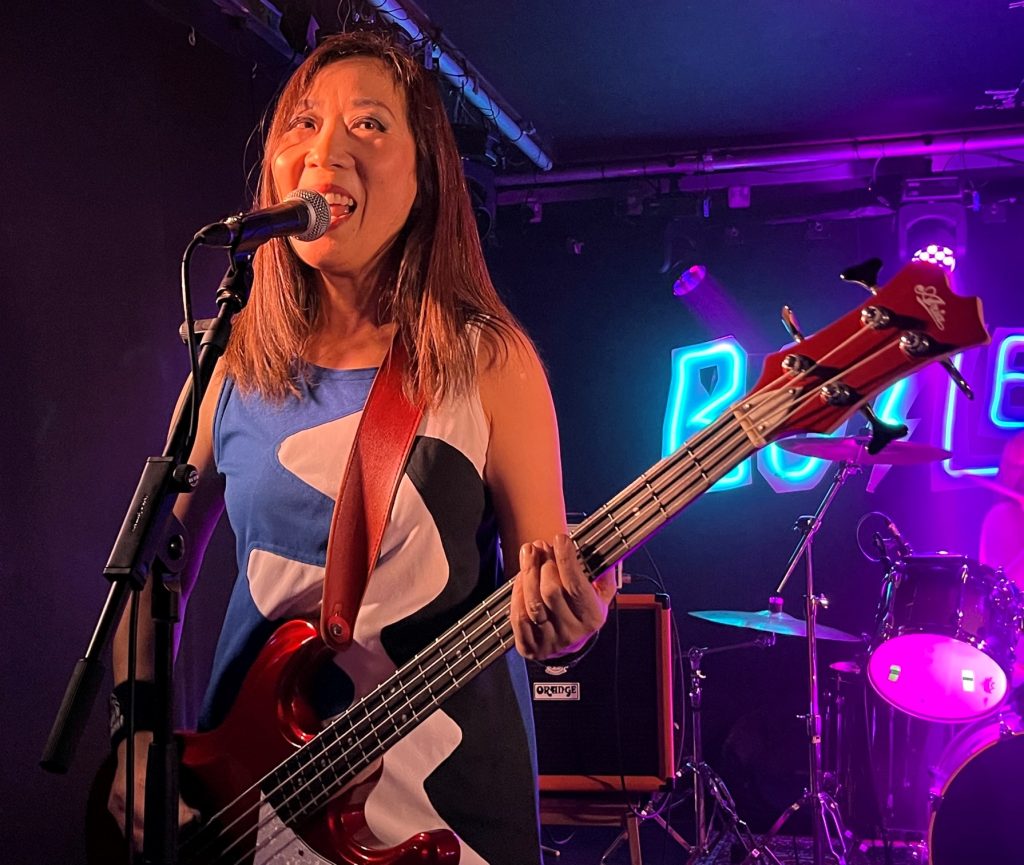 All three musicians sing as well as play, taking turns on lead vocals and harmonising consummantely. A lot of their songs seem to be about food – and yes, I like green tea ice-cream too! – yet their musicianship is so good that each was wonderful to hear. Their influences (Ramones, 70s Rock) were apparent, and I was very much reminded of The Who with their diversity of sounds and song titles.
Shonen Knife are credited for being a big influence on later band Nirvana, with fan Kurt Cobain inviting them to open for their 1991 European tour. Their influence and popularity amongst a huge range of fans and bands testifies to Shonen Knife's abilities and appeal.
Releasing their 23rd studio album Our Best Place in February this year, the band have no intention to slow down, and judging by the queue at merch after the show, their popularity remains strong. Album information HERE
Catch this Ultra Eccentric Super Cult Punk Pop Band (as it says on the T-shirt!) at one of their remaining dates – they truly are punktastic! fun!
Main Photo Credit / All Photos: RUTH RAE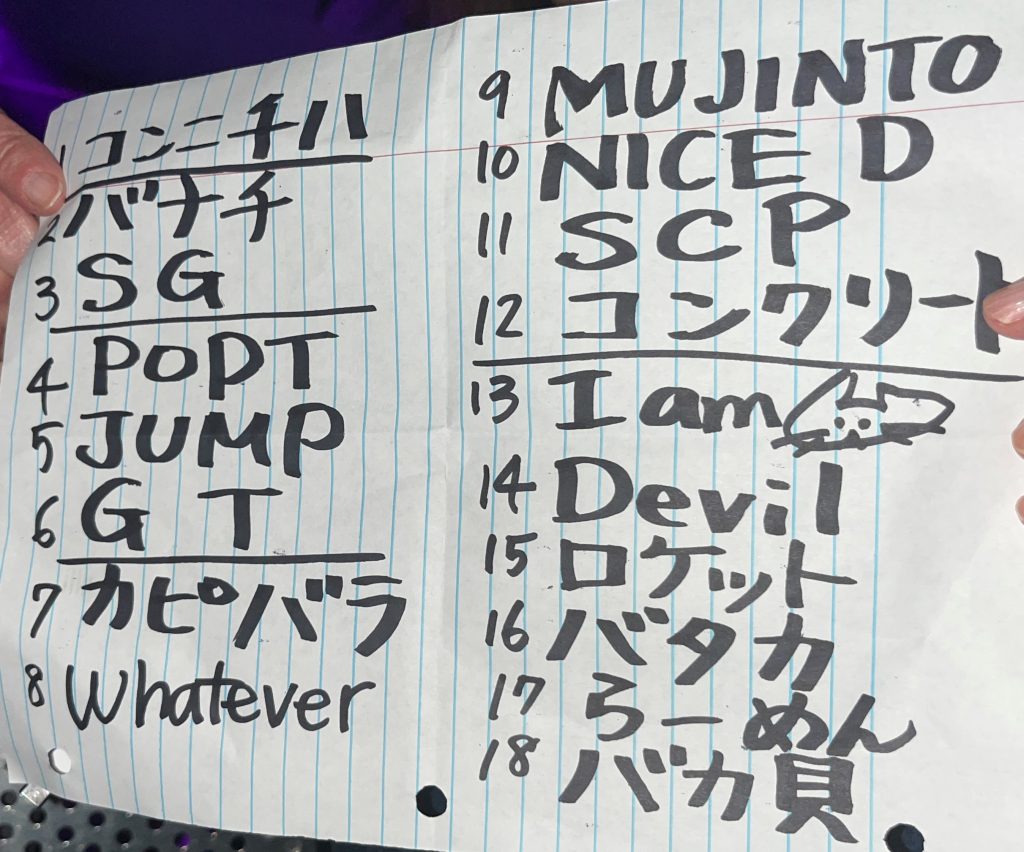 Follow Shonen Knife on Their Socials
Need more Punk In Your Life?
New Releases
Grammy-nominated pop punk legends Sum 41 make a boisterous return with 'Landmines', their newest single and first release on Rise Records.
Read More »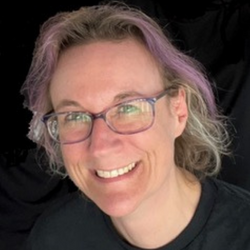 'Usually found jumping around down the front at gigs, I also relish taking photos and videos, singing, speaking with fellow music fans, and asking musicians the questions nobody else does  Writing about my favourite bands and connecting with people who love music too keeps me more-or-less sane  I've worked for over 25 years at a video production company, mainly filming live music events, therefore I have an additional backstage perspective!'