Their reputation as one of the tightest live bands is in no danger of being tarnished if their sell out Bristol show is anything to go by.
"Hi, we're Screaming Females and we're from New Jersey". So repeated lead vocalist and guitarist Marissa Paternoster several times during the band's show at Rough Trade in the centre of Bristol on a oppressively hot Tuesday night.
But the packed crowd didn't need reminding who they were there to see, such was the level of anticipation and appreciation in the room.
Paternoster and bandmates Jarrett  Dougherty and Mike Abbate are on a European tour, fresh off the back of their most recent album release- 'Desire Pathway'- released back in February. 
Bristol is the second date in the UK for this tour and everyone I had spoken to in the lead up to this gig took great pains to emphasise what a good live band they are and what a treat I was in for.
But it wasn't only fans that raised expectations. The support for the evening- the rather surreal yet enigmatic Sniffany and the Nits– also told the crowd that we were in for something special when the headliners took the stage.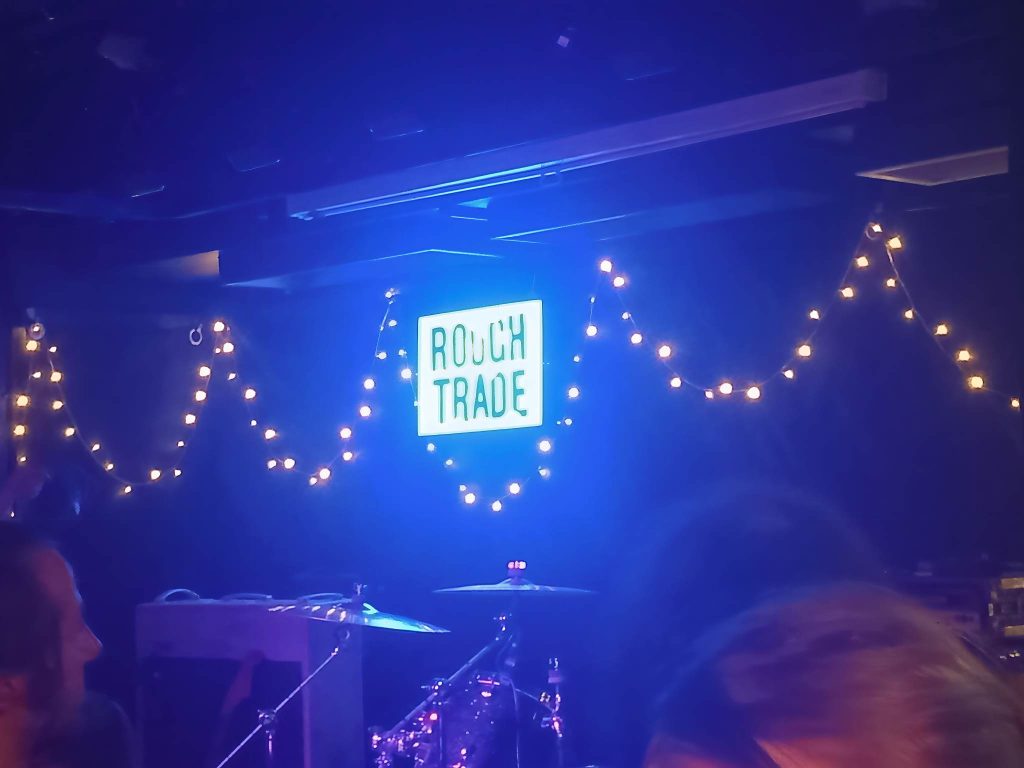 Which is not to say the aforementioned Sniffany and co. did not put on a good show themselves because they did. A playfully charismatic frontwoman, Sniffany threw shapes and struck dramatic poses whilst singing at breakneck speed, all wild eyed and brimming with frantic energy. 
Their set is full of songs like 'Clam Chowder' that seem like a stream of consciousness reeled off in the sing-song tone of a troubling fairytale as the rest of the band keep the pace with a racing rattle. 
A sizeable crowd turned out for them, perhaps lured from the bar by the sheer spectacle. And a lot of love was shown afterwards. If you want to hear for yourself, their album 'The Unscratchable Itch' is out now.
By the time Screaming Females made their way onto the stage in a rather modest, unassuming fashion, the room (a compact space at the back of the Rough Trade store) was packed and ready.
The set was a selection of their finest and somewhat heaviest (or at least heavi-er) moments, the more riff-heavy, imposing tracks making the cut here. Legend has it, the band never play the same setlist twice (when I say legend has it, I mean a fellow gig goer told me this and I have adopted it as truth) and therefore each gig is a specifically unique cultivation.
Opener 'Glass House' was a pretty flawless start and as it gave way to the slightly softer, bouncier 'Mourning Dove', the band really could not have been tighter with Paternoster's formidable vocal in full swing.
But it was third song 'Brass Bell'- the first track on 'Desire Pathway'- that the crowd really started to demonstrate their appreciation. There was clearly a lot of love for 'Desire Pathway' which was just as well as there were several picks from the album throughout the set including 'Let You Go', 'Ornament' and 'Beyond the Void', the latter a particularly poignant track nestled in the set.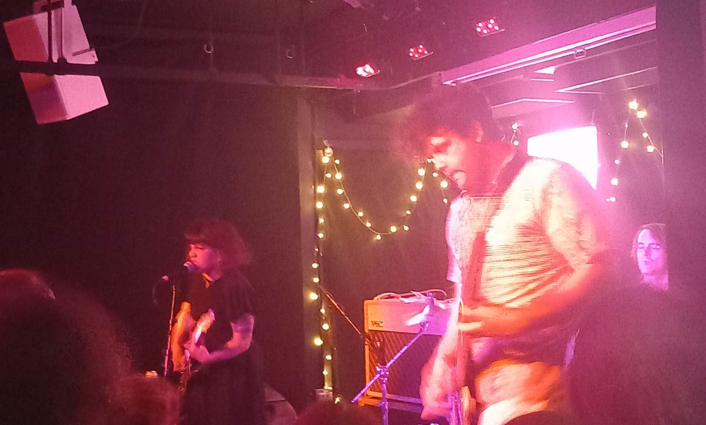 Whether playing the heavier dirge of tracks like 'Pretty Okay' and 'Black Moon', or the more poppy bounce of favourites like 'Wishing Well' or 'I'll Make You Sorry', the band are as tight and confident as ever. Dougherty's drumming oscillates between nuanced fluidity and crashing power, and with Abbate's energetic bass complimenting Paternoster's incredible guitar prowess, there's not a lacklustre moment. 
There was very minimal stage patter and what was conveyed could barely be heard such is the almost timid nature of Paternoster's spoken voice which is in complete contrast to the absolute power, clarity and sometimes ferocity of her singing. To behold her screaming in rage or anguish on such an intimate stage surrounded by a bunch of strangers, is an experience I will not forget in a hurry.
There was also a surprise at the end of the set with the appearance of Gang of Four's Jon King who joined the band onstage to perform vocal duties for a cover of his band's classic 'Damaged Goods'. It felt slightly random at first but there's no denying it was a crowd-pleasing, high energy end to a triumphant set. 
Screaming Females are a band that have emerged with their new material as complex and mature as ever, no mean feat considering the band have been going for 17 years.
And with a considerable amount of critical acclaim must come a considerable amount of pressure to keep bringing the goods. But with live sets like this, and a back catalogue this strong, the band are still very much at the top of their game. And I will now join the throngs of people that can attest that this is a band that really are fantastic live. 
'Desire Pathway' – the band's eighth studio album- is out now via Don Giovanni Records. Find it HERE. 
-Glass House
-Mourning Dove
-Brass Bell
-Criminal Image
-Let You Go
-Tell Me No
-Wishing Well
-Ornament
-I'll Make You Sorry
-End of My Bloodline
-Pretty Okay
-Beyond the Void
-Black Moon
-Damaged Goods (with Jon King)
Follow Screaming Females on Their Socials
Need more Punk In Your Life?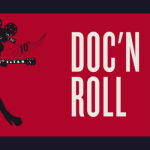 Punk News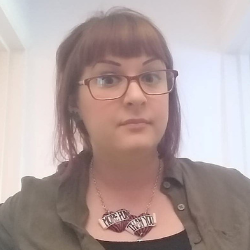 In it's 10th year, the Doc'N Roll Film Festival is celebrating a decade of inspiring, entertaining and vital films about the musicians we love.
Read More »