An eagerly anticipated tour by the well-known musicians of Wingmen (they tell me they dislike the term 'punk supergroup') touched down near Milton Keynes for their second full show last Friday – Ruth Rae was at the gate to meet them..
It was always going to be a good show, given the musical pedigrees of Paul Gray (The Damned), Baz Warne (The Stranglers), Marty Love (Johnny Moped), Leigh Heggarty (Ruts DC) and Rob Coombes (Supergrass), but seeing these guys play together as Wingmen was a brilliant experience – they are so much more than you may expect!
The Craufurd Arms accurately describes itself as "A Victorian pub building with a small stage for intimate live gigs in front of an up for it crowd", and that was very much the experience. Warming up the audience wonderfully, JC Carroll (The Members) played a solo semi-acoustic set of his own songs, cover songs and of course a few Members classics. JC is also an excellent storyteller, and it was a delight to be treated to his words and music. The 'up for it' crowd were more than happy to participate in singing along to Tom Jones' 'Delilah' "They wouldn't play a new song about murdering your ex on the radio nowadays would they?" quipped JC, plus The Members' 'Solitary Confinement' and a rousing 'Sound of the Suburbs'. A superb cover of David Bowie's 'Lady Stardust' graced the set, along with a folk version of the Sex Pistols' 'Anarchy in the UK' (you had to be there!) and a reworked 'Non, Je Ne Regrette Rien' by Edith Piaf – yes, it was punk as fuck!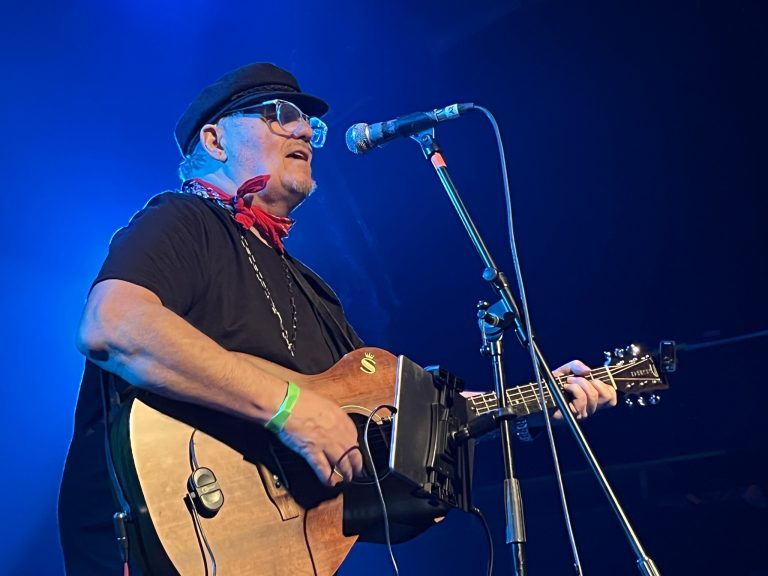 Heralded by '633 Squadron' the Wingmen assembled upon the stage and kicked straight into gear with 'Starting Blocks', the lively instrumental first track from their album "Wingmen". Looking every inch the part, a leather jacketed and flat capped Baz Warne then stepped up to the mic for 'Last Cigarette', as the band worked their way through each song on the album in sequence.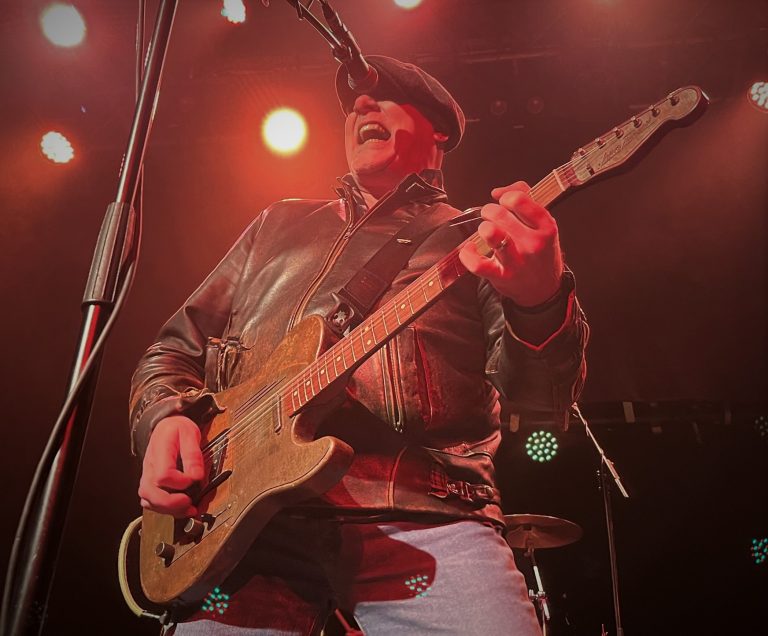 Flanked by the epitome of cool Paul Gray's mighty bass sound, and the lively Leigh Heggarty's skilful slide guitar, the three at the front of the formation gave an exemplary performance on guitars and vocals. Paul especially was enjoying himself, swinging the headstock of his bass out into the front row of the audience!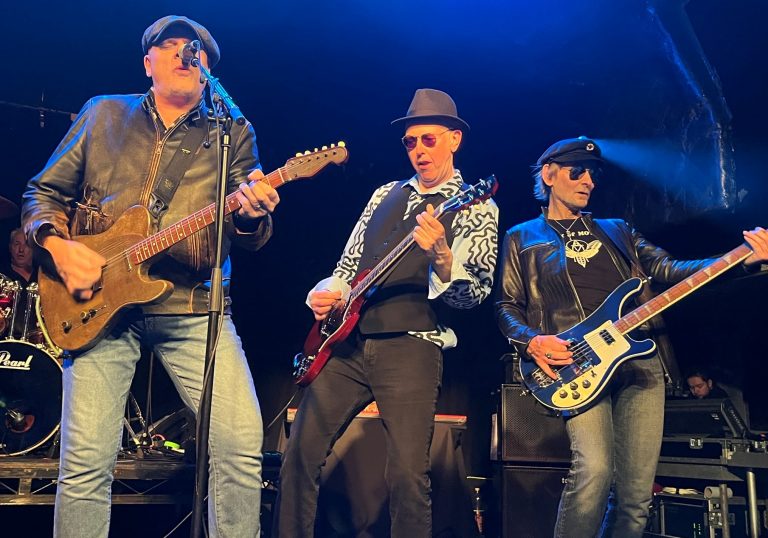 Driving the momentum from the back, Marty Love once again showed us what an exceptional drummer he is – the broad variety of music in the set showcased his ability to (literally) turn his hand to any style. The addition of Rob Coombes on keys brought an extra dimension to the live performance (they keyboard parts on the album were recorded by Paul and Baz), and he fits into this band so well you'd think he'd been there from the start!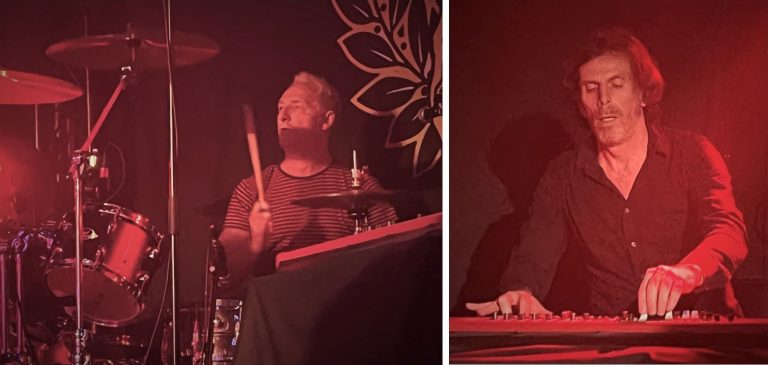 Baz was his usual self, up for a bit of banter with the crowd, although when somebody called out for a Stranglers song, he showed his annoyance in his response; "Fook off! That's not what this is about!". He also explained why Wingmen track 'Backstage At The Opera' was so named – it appeared in the dialogue in an episode of The Sweeney – "It's all mi mi mi (me me me) backstage at the opera!"
The lighting wasn't ideal at this venue, so here's my video of 'I Would If I Could' from the following night in Islington.
One unreleased Wingmen track, 'Don't Look Back' – a Marty Love / Richard Coppen co-write, appeared in the set, and very good it is too – If they have more material like that, a second album is imperative! A Stranglers song was played as one of several covers, 'Long Black Veil' from 2004 album 'Norfolk Coast', which Baz dedicated to his late bandmate Dave Greenfield's widow Pam, who was in attendance.
The band couldn't have chosen a better variety of cover songs – we had Bowie's 'Hang On To Yourself', a fabulously adapted 'The Model' by Kraftwerk, and a punk banger in the form of The Stooges' 'I Got A Right'. Two encores; 'Do Anything You Wanna Do' (Eddie and the Hotrods) which had us all singing along and a rocked up version of T-Rex's 'Solid Gold Easy Action' (which sounded better than the original!) segueing into the chorus from 'Pumping On Your Stereo' by Supergrass (a complete surprise to Rob, who didn't know they were going to do it!) finished the evening on a high.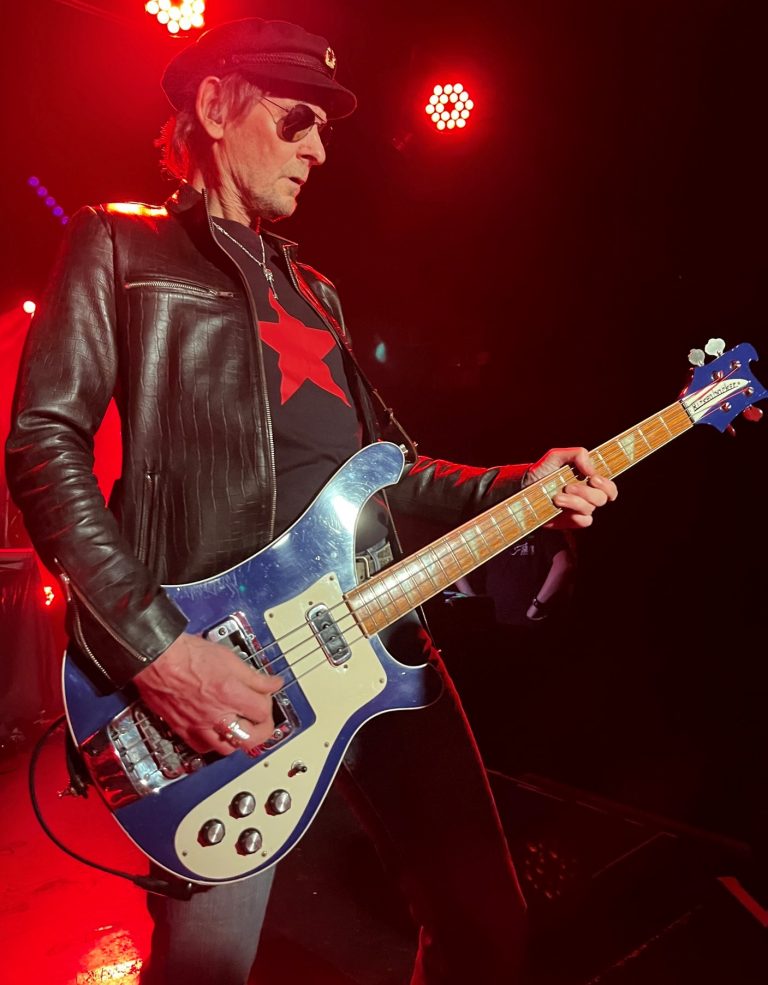 Afterwards, all of the band members graciously came out to speak with the fans, sign merch and pose for selfies – they are genuinely ecstatic at the positive reception the album has had, and the public enthusiasm for this tour.
For those of us who'd been listening to the album, it was an absolute treat to hear the songs live – if anything they sound even better! Each band member gave a joyful, energetic performance, and it was great to see them musically letting themselves loose. Leigh's virtuosity on guitar is of particular note – his hands are almost mesmerising to watch.
Wingmen are exponentially greater than the sum of their parts – five excellent musicians living and loving what they do, and delighting audiences with how well they do it. Get to a show if you possibly can – this band is unmissable!
If you can't get to see them in person, Wingmen will be live streaming their Brighton show on Sunday 29th – find out how to view the action HERE
Remaining tour dates:
24th January – The Cluny, Newcastle
25th January – Old Woollen Mill, Leeds
26th January – O2 Academy 2, Liverpool
28th January – O2 Institute 3, Birmingham
29th January – Concorde 2, Brighton
Main Photo Credit: RUTH RAE
Starting Blocks
Last Cigarette
Louie Smoked The Bible
Brits
Hang On To Yourself – David Bowie
I Would If I Could
Down In The Hole
Long Black Veil – The Stranglers
Mary Go Round
The Model – Kraftwerk
Don't Look Back
Oh! What A Carry On
Backstage At The Opera
Raining Over England
I Got A Right – The Stooges
Do Anything You Wanna Do – Eddie and the Hotrods
Solid Gold Easy Action – T-Rex
Pumping On Your Stereo (chorus) – Supergrass
Keep up with Wingmen on Their Socials
Need more Punk In Your Life?
New Releases
Grammy-nominated pop punk legends Sum 41 make a boisterous return with 'Landmines', their newest single and first release on Rise Records.
Read More »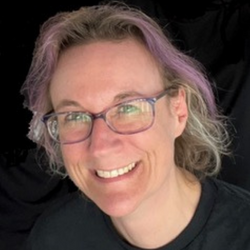 'Usually found jumping around down the front at gigs, I also relish taking photos and videos, singing, speaking with fellow music fans, and asking musicians the questions nobody else does  Writing about my favourite bands and connecting with people who love music too keeps me more-or-less sane  I've worked for over 25 years at a video production company, mainly filming live music events, therefore I have an additional backstage perspective!'