"If you haven't seen The Hangmen live, you should kick yourself in the ass!" - Mike Ness (Social Distortion)
As musical trends come and go, The Hangmen have remained uncompromising since their formation in 1986. From big money major label deals to debilitating drug addiction, lead singer Bryan Small has continued to charge forward with the headlong momentum of a runaway train.
Keith Morris (Circle Jerks, Black Flag, OFF!) says  The Hangmen are: "…dirty, sloppy, scuzz drenched, spilled beer, piss stained, rawk… They channel the Ramones, Gun Club, Cramps and the Rolling Stones and turn it all into a wild musical slop that gets stuck between your ears!"
The band's latest offering, 'Stories To Tell' smashes together Small's lurid love songs with unsparing, unsentimental blasts that shine a penetrating light into the dark and seedy corners of life.
From the melodic 'Midnight Riders' to the haunting 'On The Outside' Small delivers an album with a simplicity and depth of songwriting reminiscent of Neil Young and Tom Petty.
"Midnight Riders is a rite of passage song. It's the way my friends and I lived in our early days, navigating life, being in bands and coping with everything as kids in Hollywood. We didn't have boundaries. We didn't have mentors. We were notoriously fucked up geniuses in our eyes. I'm not surprised by the path we took for ourselves – some made it, some moved home and some died."
Stories To Tell will be released September 8, 2023 on Acetate Records. A month-long European tour commences September 13 in Paris.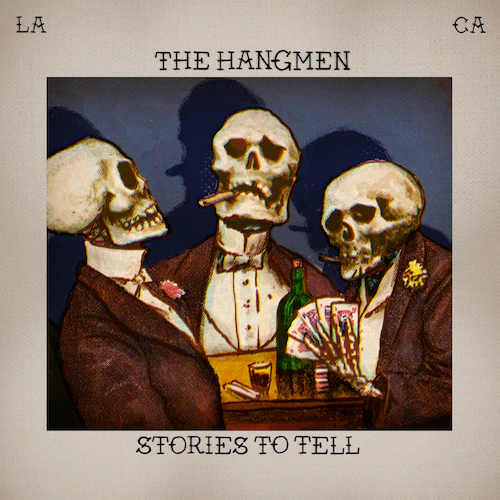 13/09 WED PARIS, FR @ LA DAME DE CANTON
14/09 THU RENNES, FR @ LE NOKTAMBÜL
15/09 FRI St. GUILLES CROIX VIE FRI, FR @ ROCK THE SEA
16/09 SAT PERIGUEUX, FR @ LE MOULIN DU ROUSSEAU
17/09 SUN ZARAGOZA, SP @ SALA Z
19/09 TUE LIERGANES, SP @ LOS PICOS
20/09 WED A CORUÑA, SP @ MARDI GRAS
21/09 THU MADRID, SP @ CLAMORES
22/09 FRI BURGOS, SP @ AMB
23/09 SAT BILBAO, SP @ KAFE ANTZOKIA
24/09 SUN TOLEDO, SP @ PÍCARO
26/09 TUE GRANADA, SP @ LEMON ROCK
27/09 WED BENIDORM, SP @ ROCKSTAR
28/09 THU VALENCIA, SP @ LOCO CLUB
29/09 FRI BARCELONA, SP @ SIDECAR
30/09 SAT MONTPELLIER FR @ SECRET PLACE
01/10 SUN COMO, IT @ JOSHUA BLUES CLUB
03/10 TUE ZAGRED, HR @ HARD PLACE
04/10 WED BELGRADE, RS @ KC GRAD
05/10 THU PRAGUE, CZ @ VAGON
06/10 FRI BERLIN, DE @ WILD AT HEART
11/10 WED HAMBURGH, DE @ APOLLO CLUB
12/10 THU KOLN, DE @ SONIC BALLROOM
14/10 SAT MESSANCY, BE @ BACK TO THE PIPELINE
Follow The Hangmen on Their Socials
Need more Punk In Your Life?
New Releases
Grammy-nominated pop punk legends Sum 41 make a boisterous return with 'Landmines', their newest single and first release on Rise Records.
Read More »
Punktuation Magazine For All Your Daily Punk News, Features, Interviews, Lifestyle and more!