Aussie punks go from strength to strength with an overseas tour planned for mid-2023.
Queensland, Australia's melodic punk band, Kathleen Turner Overdrive, is pleased to announce that they have joined the line-up for the annual 'Pirates and Punks Festival & Tour', commencing with a show on August 8th in Kingston, Canada.
Embarking on a tour in venues across three countries, KTO will at least stay hydrated on their journey. "Jet lag will be put on hold with a cold glass of the official tour beer, 'Bare Bones Pirate Swill' brewed by Spearhead Brewery," explains KTO's front-person, Lizzie 'Lizzard Queen'. "Bare Bones Records have thought of everything when putting this tour together, and we can't wait!"
Canadian punk rockers, 'Master Nate and the Reprobates' are leading the 2023 charge across the
high seas, which includes shows in Canada, Costa Rica, and the east coast of Australia.
Partnering with KTO for the entire tour, other bands on the bill include Madame Whiskey,
Altercados, Los Perros, Bajo Custodia, Generacion Perdida and Sentidocomun (Costa Rica), Days of
Thieves (Canada) and Forklift Assassins (Melbourne, Australia).
Punktuation asked lead vocalist Lizzard some hard-hitting questions about the band and upcoming tour.
What has changed for the band since joining the Bare Bones team?
KTO's horizons have definitely broadened since joining the Bare Bones team. Participating in the 2023 Pirates and Punks Festival and Tour is a good example of how. Whilst on tour, we will be doing some out-of-the-box things, such as performing at the Tyendinega Reservation Festival in Canada and recording a new single. Joining Bare Bones has also provided us with the opportunity to form friendships with musicians outside our normal sphere, and that is gold! Costa Ricans love their punk!
When are you releasing your new tracks, will there be an upcoming music video?
Our next EP is soooo close. All that's left to do is backing tracks on one song, final mixing and then mastering. Steve James, our music producer on this project, was great to work with and regaled us with tales of recording with our heroes, such as The Sex Pistols and Toya Wilcox. But back to your question, we are hoping to drop the first single in March…but don't hold us to it. There are plans for a music video, but it might not be for the first single. It will definitely be something a little different, so watch out for it.
There is an activism element to KTO, can you elaborate on this?
Identifying as punk doesn't mean that you have to have a mohawk or wear a particular style of clothing…it means that you see what's happening around you and don't baulk at challenging or calling it. As Joe Strummer said, punk is about telling the truth.
Describe the Brisbane punk/music scene from your perspective
The Brisbane punk scene is on fire at the moment. Accepting, anti-ageist, active. We bloody love it!! Community radio 4ZZZ keeps the embers alive by supporting the scene by organising shows and playing independent artists without prejudice. Love ya, Brisbane!
Keep your eyes peeled for the black flag being raised in the coming months as more bands and show
dates are announced! Remember…"Every generation welcomes the pirates from the last." – Lawrence Lessing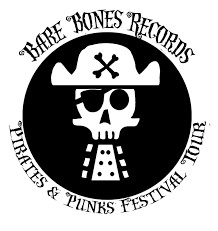 ---
Follow Kathleen Turner Overdrive on their socials
---
Need more punk in your life?