Punktuation's Ruth Rae sat down with Ruts DC's John 'Segs' Jennings and David Ruffy for a deep dive into the creative process behind 'Counterculture?', their health, touring and future plans..
The hard-working Ruts DC bassist and drummer seldom take a break, and this has been another busy year for them. The success of lastest album 'Counterculture?' has buoyed them up – read all about it!
Q: Are you happy with way your new album 'Counterculture?' has been received, and do you feel that people are getting what it's about?
Ruffy: Totally! We're very happy with the way it's been received – we've had great reviews for it. It's doing what we wanted.
Segs: We had to decide whether to do the same old format (which we've never done!) or just 'go with the flow'.. Some tracks we've never played live, such as 'Sleep'. Should they have gone on the album? Well, it just came out like that! The obvious tracks such as 'Counterculture' and 'X-Ray Joy' are the key ones, and I'm very pleased with how it's gone down!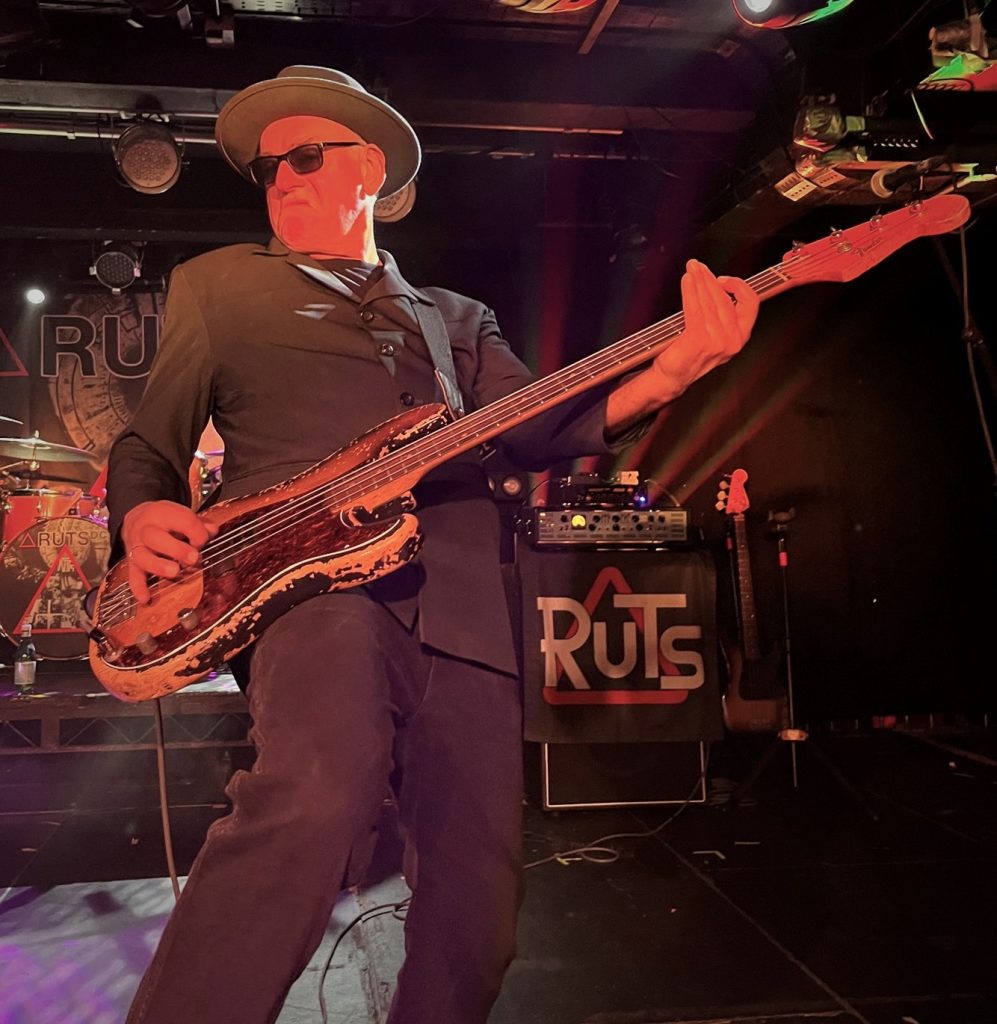 Ruffy: We weren't sure if we were going to make another album, and we had to find a concept – we decided that we'd do some art. I've always shied away from daring to call myself an artist, yet I think I can say that now, having dedicated my life to music! I've worked with great artists, and it's all about connecting with people and trying to make a difference. Graham Erickson, who is now a good friend, who did all the sleeve notes for the album is an artist and writer.
In the end we decided to make the album we wanted to make – you can't worry about what people expect of you! All you can do is to make the very best record that you can, for yourself, if you're being honest. People have welcomed it! There's stuff on there that would never be classified as Punk Rock – but we've never really been particularly Punk Rock anyway!
Segs: 'Pretty Lunatics' being a case in point – we wondered if we were really going to put it on the album – but now it's become the first encore, don't quite know how that happened (laughs). We can't just stand there shouting, we do enough of that, you've also got to provide some answers. The way that's developed, saying 'look after each other', and admitting how old some of our audiences are. I think they want some sort of answer?
Ruffy: Looking after each other is really positive! I read an interview with Nina Simone, where she said you have to sing about the underdog, and the battles that we all have. That's what keeps it Roots music, as is Country Music, Blues, Rockabilly, Ska.. but you can still sing positive songs. Nina Simone will sing a cover of 'Here Comes The Sun' (The Beatles) – I heard that driving back from Cornwall at 3 o' clock in the morning as the sun was coming up, and it made me cry, it was so great!
We're very lucky to have a fan base who have come with us on the journey, so we can celebrate together the things we're doing. It's really a privilege to be able to do that.
Q: Segs – you've said you've had a lot of lyrics come to you over the last few years – what has inspired these?
Segs: I write a lot of words down just because they come. Some of them pertain to Ruts and Ruts DC, as there is a legacy that has to be adhered to. But some don't – 'Pretty Lunatics' came about because Ruffy played a beat which isn't punk at all, I played the bass over it, then went home that evening and wrote all the lyrics, and thought 'This is great!' It was as simple as that!
I read a lot, and obviously keep up with the times, but I hate nearly all politicians, except for Tony Benn, I hate corporations. We were never really a political band – we don't think politics is the answer. We think autonomy and self rule are the answers. The lyrics for 'Music Must Destroy' came in a dream – the original lyrics were a stream of consciousness – and we turned it into a song over a jam we'd got.
The inspiration for 'Counterculture?' just came, and a lot of it from the acceptance of our last album 'Music Must Destroy' (2016). It was a difficult album; it was our first rock album since 'Animal Now' (1981), but having that accepted we thought 'Fuck, we can do anything we want!'. I get some lyrics from Ruffy in a conversation, I just write it down, I don't tell him I've written it down!
Ruffy: I'll want more royalties if he's not careful!
Segs: Without getting too deep, it's a reflection of our consciousness.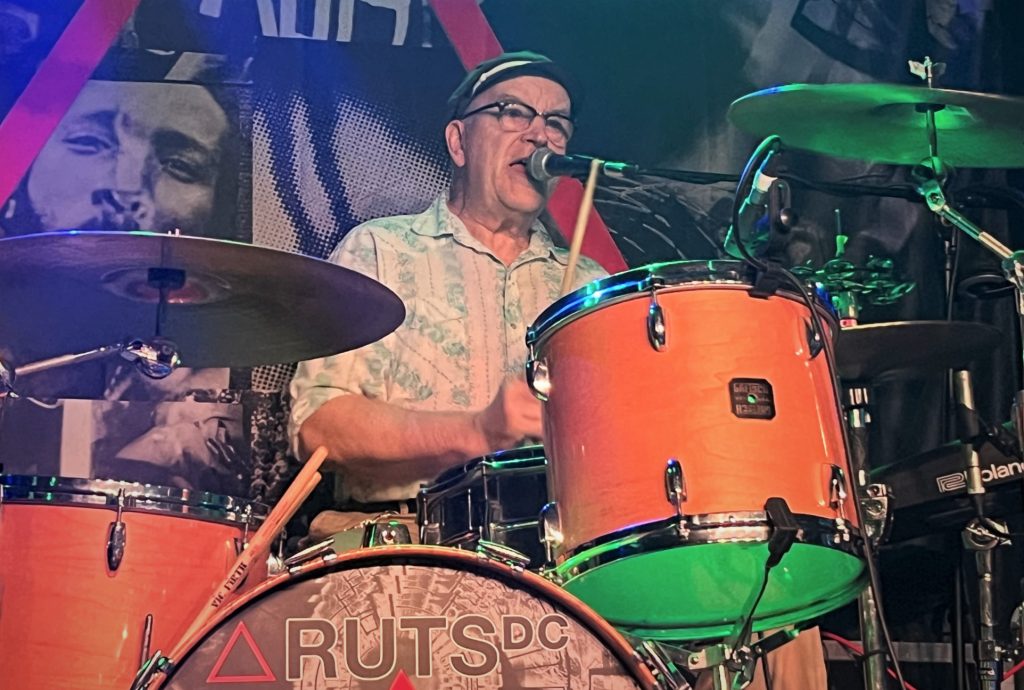 Q: Ruffy – you consistently amaze me with your lively drumming – how do you maintain this after 45 years behind the kit?
Ruffy: That's a question I ask myself quite regularly! I do wonder.. I think a lot of it is muscle memory, because I'm an old boy – I'm in my 70s. This year I've taken a bit of a lifestyle change and I've lost quite a bit of weight. (He's certainly looking good! – R) My knees are quite worn out, I've had a hip replacement, but have my new diet regime where I eat less, eat more sensibly and drink less. I've got a really good natural healthcare person – thank you Julie! – she's brilliant. I've lost two and a half stones this year which is fantastic and I'm feeling really good about that, but even at my heaviest I was still able to drum. My legs aren't very good for walking, but somehow, because it's not weight bearing, my legs work behind the kit – and I LOVE what I do!
I'm self taught, I never had any lessons, but in lockdown I did listen a lot. The original Ruts only lasted three years, but John and I became very good friends and worked on other things. I've been very fortunate to work with loads of people since then, and they've all helped me to get to where I'm at now. I've worked with some great songwriters and singers, and that's helped me to play what's necessary – I've never been a showy drummer!
Segs: I'd say that the people you've worked with have really helped me as well – meeting people like Edwyn Collins, Roddy Frame, Kirsty MacColl, Mike Scott, and Sinead O'Connor is quite amazing! I don't put myself at their level at all.
Ruffy: Segs really doesn't rate himself as a bassist, it's really strange thing..!
Segs: Having Roddy Frame saying 'Great songs!' to me really gave me confidence.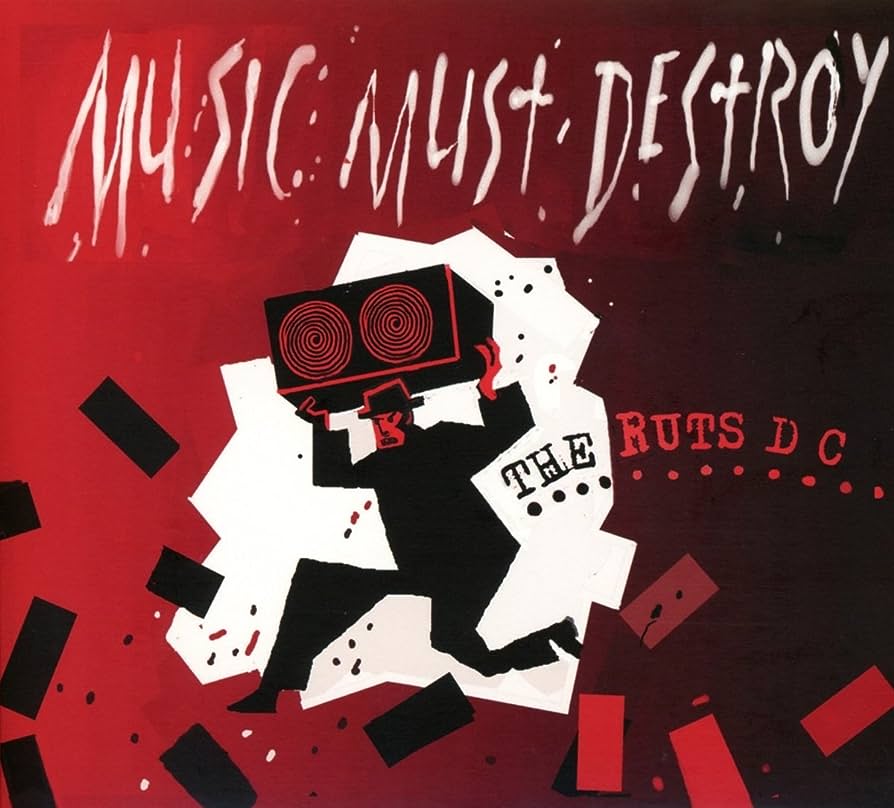 Ruffy: Roddy loved 'Music Must Destroy' – he was really enthralled with the album. He's a proper songwriter, great singer and wonderful guitarist, so that gave me personal credibility. What Segs and I have achieved over the years, with the dub stuff, such as 'Rhythm Collision Vol 2' which is what started the Ruts DC regeneration, is that we'll get together and jam, and go 'Where the hell did that come from?'.
Segs: (laughing) Yeah, maybe 10 years later I'll go 'Wow, what you played on that was ace!'. We don't always remember playing things!
Ruffy: It's that stream of consciousness! The Rhythm Collision records we made aren't mainstream, but a lot of people dig 'em – the groovy hipster people like DJ Harvey and Mike Cleveland. They love the funky little Reggae tracks we play, they really spoke to them. The little things we've said "Wow! Listen to this" about, they've said the same. It's not songwriting per se, it's stuff that comes out of nowhere. We'd like to do a Rhythm Collision Vol. 3!
Segs: The channels are open – Prince Fatty (Mike Pelanconi, recording engineer) has asked us to come down to record.
Ruffy: We will! We're very influenced by Black music, we're not black musicians, but we shoehorn our version of Reggae and Funk into what we do.
Q: 'Counterculture?' has had two release dates and two tours (so far!) – how did this transpire?
Ruffy: The first release was just for our fan base, but I wanted it to have a proper release so it could get out to a wider market as well. We're not very good at doing big business, we're not very corporate at all!
Segs: Our fans give us so much support that it's good to give them that before anyone else. Doing the record ourselves (it's released on their own Sosumi label) enables us to keep the money and put it into making the next record. We've already made 'Electracoustic Vol. 2' with the money that came from that!
Ruffy: We invest that money in our development. We've got another video in the can (X-Ray Joy) and another one we want to make.. I'm knocking on, so we just want to do as much as I can. This is why I wanted to get healthier, to do it in a better way.
Segs: We both realise that it's not going to be a case of 'Finally – one's gone off' and we're getting £100, 000 pounds each, we've come to the conclusion that's not ever going to happen! So it's not the main earner – I get more money washing cars!
Ruffy: It's really hard to make a living, but I can just about get by. I write quite a bit of library music, production music, and that's half my income.
Segs: We make an album, we go on tour – Liam (tour manager) is great, and it's happy days! We can eat for nothing, get taken to the venue to do the show, and we get to hang out. We don't see each other much otherwise as we live farther apart now.
Ruffy: I really wanted to do a second tour following the official release, and there were a lot of places we couldn't take it to the first time, so we managed to make it work around that.
Segs: It was really one tour of two halves! Because of the situation in 2020-21, everything had been cancelled and moved, and we couldn't get all the dates we wanted. Liam's done a great job – we've never played Huddersfield as far as I can remember, we went back to Stockton which we hadn't played for 10 years, back to Dunfermline.. smaller places that sold out! And with people that really care, and that's great.
We'd all like to fill an Academy out, but when we more or less sold out Shepherd's Bush Empire on the '40 Years of The Crack' tour, we earned less than we do selling out a smaller venue because there's so many overheads. The bigger venues take so much of the money from the merch, so we're not doing that anymore! It's reality time.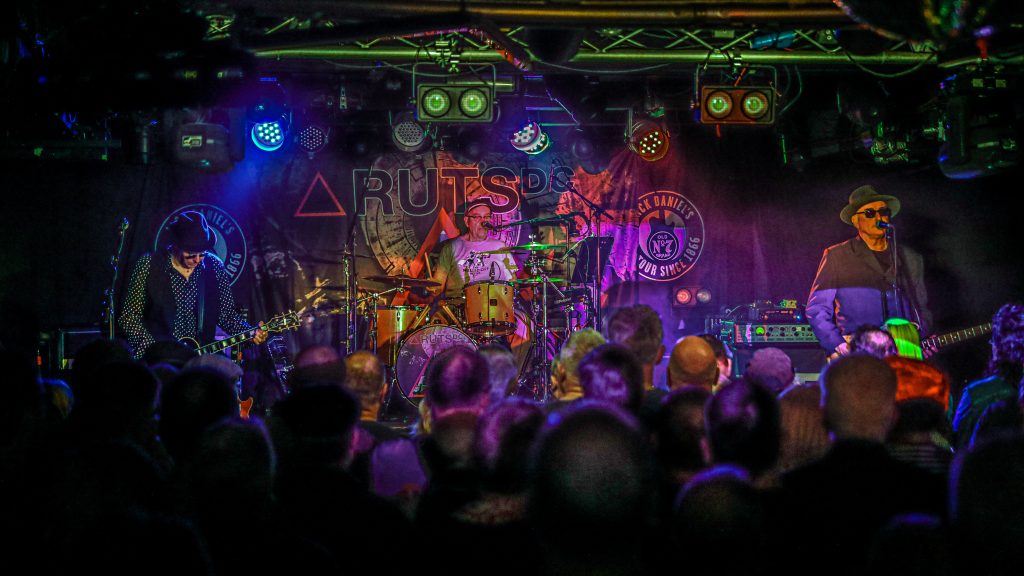 Q: What's coming up during the rest of 2023 for Ruts DC?
Segs: We've got a few festivals coming up – you don't really tour in the summer. We've got some new European dates coming in October hopefully too. 'Electracoustic Vol 2' should be out in August, in time for Rebellion. Liam's very good at planning ahead – I wouldn't call him a taskmaster, but he knows that you have to make things 6 months in advance! It's good – arguably better than the last one (indeed it is very good – having heard it at a preview evening – R).
We'll be doing an acoustic and an electric set at Rebellion. Perhaps we'll do an acoustic tour in the autumn, followed by a major UK tour in December (see dates below). It all sounds very busy! We're also looking at a Dead Men Walking tour next January.. and then it all starts again.. It can be exhausting, but you get great energy from the people , and more seem to be coming and enjoying it – it's great!
Main Photo Credit: RUTH RAE
Follow Ruts DC on Their Socials:
Need more Punk In Your Life?
New Releases
Grammy-nominated pop punk legends Sum 41 make a boisterous return with 'Landmines', their newest single and first release on Rise Records.
Read More »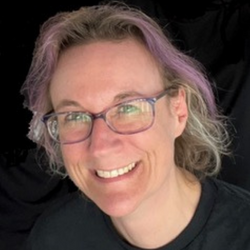 'Usually found jumping around down the front at gigs, I also relish taking photos and videos, singing, speaking with fellow music fans, and asking musicians the questions nobody else does  Writing about my favourite bands and connecting with people who love music too keeps me more-or-less sane  I've worked for over 25 years at a video production company, mainly filming live music events, therefore I have an additional backstage perspective!'