Punk rockers Heart Attack Man head off on tour with Arm's Length, Super American and Photocopy.
Cleveland Punks Heart Attack Man have announced the Freak of Na-Tour, their upcoming North American headline run. The month and a half long tour features special guests Arm's Length, Super American, and Photocopy. Fans can catch the tour starting on May 25th in Detroit, New York, Baltimore, Los Angeles, Denver, and more, before closing out with the band's largest hometown show to date at Cleveland's Mahalls. Tickets go on sale this Friday, March 24th.
Front man Eric Egan shares: "We're so excited to embark on the Freak Of Na-Tour! With how busy and incredible last year was, we're eager to get back out on the road and make this year even crazier with our upcoming album. These shows are gonna be next level, so don't miss it!"
Heart Attack Man will be releasing their new album
Freak Of Nature
on May 26th. Last week they released the album's lead single and
title track.
Heart Attack Man write the soundtrack to "figuring it out." Rife with intricate riffs, gleefully catchy choruses, robust rhythms, and a whole lot of outcast charm, the Cleveland band—Eric Egan [vocals, guitar], Adam Paduch [drums], and Ty Sickels [guitar]—turn all the awkwardness of growing up into undeniable and unpredictable anthems, teetering on an axis of punk, rock, and pop.
After racking up tens of millions of streams and earning acclaim from Brooklyn Vegan, FLOOD, UPROXX, Alternative Press, and more, the group tell a different kind of coming-of-age story on their 2023 third full-length, Freak Of Nature.
"The overarching theme is growing up," says Eric. "I spent my entire twenties just feeling completely out of place. It was like I hadn't found my people yet. In early adulthood, I went through a lot of shit mentally. With Freak Of Nature, I'm embracing the fact I don't know what the hell I'm doing, but it's okay."
Co-written with Nick Wheeler of All-American Rejects, the track hinges on an upbeat riff, giving way to a hypnotic bridge and infectiously irreverent refrain, "I'm a freak of nature."
"The record started to become its own thing after we wrote this one," he recalls. "There's an overarching method to all of the madness. Musically, we're leveling up. We allowed ourselves to grow."
Whether or not you've figured your life out, Heart Attack Man will ultimately be with you, holding your hand every step of the way.
"I've grappled with complex feelings of isolation, loneliness, and freakiness, and it's an up-and-down rollercoaster," he leaves off. "In the end, you need to hold on and trust the process. If I was talking to myself ten years ago, I was in a completely different place. It's better now. Things do work out. For us, this is a new start, and I'm happy about it.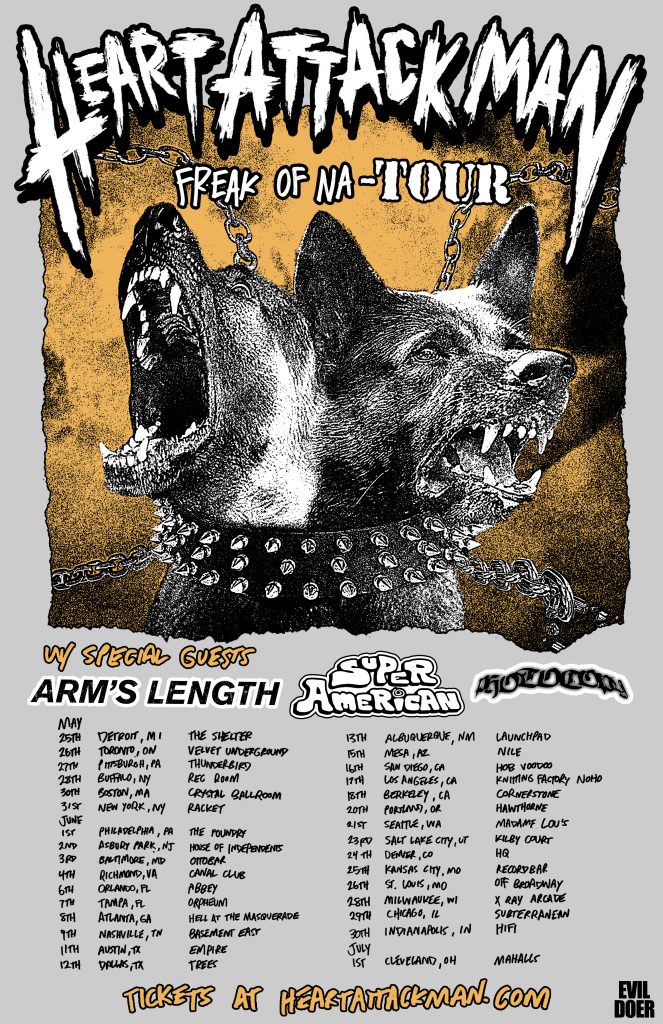 Main Photo Credit: RYAN JOHNS
5/25 – Detroit, MI @ The Shelter
5/26 – Toronto, ON @ The Velvet Underground
5/27 – Pittsburgh, PA @ Thunderbird Music Hall
5/28 – Buffalo, NY @ Rec Room
5/30 – Somerville, MA @ Crystal Ballroom at Somerville Theatre
5/31 – New York, NY @ The Racket
6/1 – Philadelphia, PA @ The Foundry
6/2 – Asbury Park, NJ @ House of Independents
6/3 – Baltimore, MD @ Ottobar
6/4 – Richmond, VA @ Canal Club
6/6 – Orlando, FL @ The Abbey
6/7 – Atlanta, GA @ The Masquerade (Hell)
6/9 – Nashville, TN @ The Basement East
6/11 – Dallas, TX @ Trees
6/12 – Austin, TX @ Empire Control Room & Garage
6/13 – Albuquerque, NM @ Launchpad
6/15 – Phoenix, AZ @ Nile Theater
6/16 – Anaheim, CA @ Chain Reaction
6/17 – Los Angeles, CA @ Knitting Factory NoHo
6/18 – Berkeley, CA @ Cornerstone Berkeley
6/20 – Portland, OR @ Hawthorne Theatre
6/21 – Seattle, WA @ The Crocodile's Madame Lou's
6/23 – Salt Lake City, UT @ Kilby Court
6/24 – Denver, CO @ HQ Denver
6/25 – Kansas City, MO @ recordBar
6/28 – Cudahy, WI @ X-Ray Arcade
6/29 – Chicago, IL @ Subterranean
6/30 – Indianapolis, IN @ The Hi-Fi
7/1 – Cleveland, OH @ Mahalls
Follow Heart Attack Man on Their Socials
Need more Punk In Your Life?
New Releases
Problem Patterns drop empowering single 'Letter of Resignation' via new label home Alcopop! Records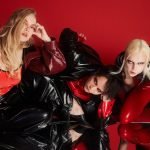 New Releases
Band Unveils Title Track as Final Single Ahead of Album Release, Accompanied by Self-Made Music Video
Punk News
Frenzal Rhomb Takes Over Iconic Aussie TV Music Show 'Rage' For What Promises To Be a Punk-Rock Extravaganza!
<div class='heateor_sss_sharing_title' style="font-weight:bold"
Read More »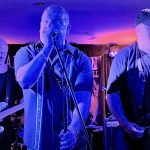 Punk Features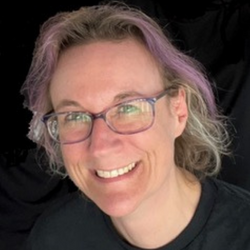 New punks on the London block Denizens played their 2nd ever gig in West London on Saturday, showcasing their debut EP 'Mind Control'. Punktuation's Ruth
Read More »
New Releases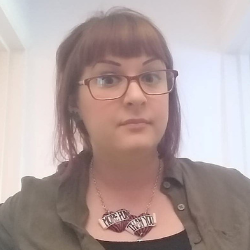 UK ska punk stalwarts Random Hand are back with the announcement of a new album later this year and a new single- 'Lifejackets'- out now!
<div
Read More »
Punk Festivals
As Punktuation continues its coverage of some great punk festivals, we were there for Punk On the Peninsula, in the beautiful Scottish countryside!
<div
Read More »
Punktuation Magazine For All Your Daily Punk News, Features, Interviews, Lifestyle and more!