Pop Punk Duo GRLwood Dives into the 80s New Wave Era with 'Love Is Fire'
Following their 2022 releases, "Kid Bruises" and "Keep It Average," pop punk duo GRLwood are kicking off the summer in a new direction with their latest release "Love Is Fire.' With its pulsing drum beat and rousing guitar riffs, 'Love Is Fire,' is a play on the pop punk 80s new wave era. Reminiscent of the sounds crafted by female pioneers such as Blondie and Joan Jett, 'Love Is Fire' sees GRLwood take a lighter approach to their sound. Band member Rej Forester wanted to create something that felt like you could be singing at the top of your lungs in a crowd:
"Some of my songs are so dark and heavy lyrically, it feels nice to decompress with a really poppy song about love. I wrote this song to sound like an 80's ballad with girls singing and a lead shirtless dude type of vibe with long curly hair. There's girls screaming in the crowd because AH YOUR LOVE IS FIRE." – Rej Forester of GRLwood.
Singer/songwriter/multi-instrumentalist Rej Forester created GRLwood in 2016 as a solo project. GRLwood has since gone on to perform as a duo, consisting of Forester and drummer, Mia Morris. GRLwood has performed nonstop and has formed a strong following in their hometown of Louisville, Kentucky. They have been praised for the community they've cultivated, their explosive live performances, and most of all for their fearless and tireless gusto when it comes to dismantling the patriarchy and other toxic heteronormative ideologies through their music. They have been featured by the likes of Billboard, NPR, AV Club, BTRtoday, Pandora Blog, Wussy Mag, and many more.
Follow GRLWood on Their Socials
Need more Punk In Your Life?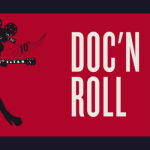 Punk News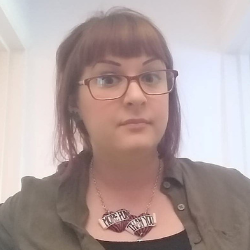 In it's 10th year, the Doc'N Roll Film Festival is celebrating a decade of inspiring, entertaining and vital films about the musicians we love.
Read More »
Punktuation Magazine For All Your Daily Punk News, Features, Interviews, Lifestyle and more!