Continuing our look back at iconic album anniversaries, Josh Watts revisits this classic ska punk EP.
Between 1997's 'Our Newest Album Ever!' and 1999's 'Proof That the Youth are Revolting', Colorado Christian ska punkers Five Iron Frenzy released an EP entitled 'Quantity is Job 1′. It's now 25 years old – and a joy to revisit.
Five Iron's music is fun and the opener, 'My Evil Plan to Save the World', makes that immediately apparent. As someone without an inclination toward the religious, I mind neither the religious references, nor singing along to them, because it's catchy rather than preachy. They've got three horns – trombone (Dennis Culp); saxophone (Leanor 'Jeff the Girl' Ortega); trumpet (Nathanael 'Brad' Dunham) – and they're a fantastic trio. The song comes blasting out with full force.
There's even a neat bridge with the sax riffing on a nursery rhyme. The titular plan is "prophetic" – "not pathetic" – and vocalist Reese Roper – who has a brilliant voice, by the way – is "sure that [he] can fix it when [he] figure[s] out the physics".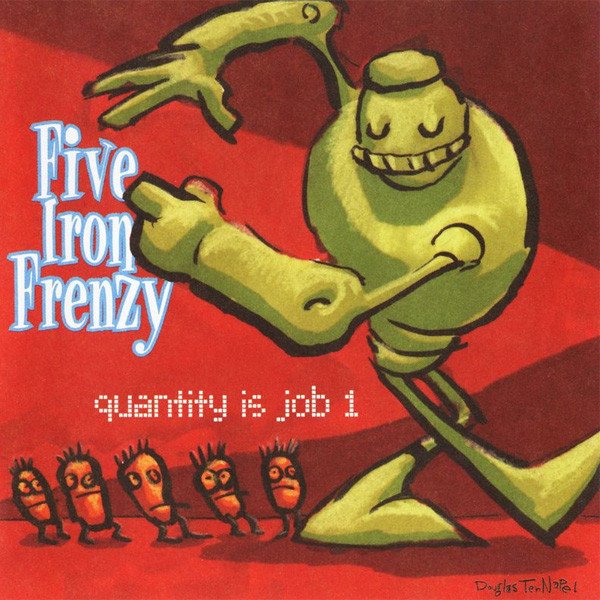 'All That is Good' questions the necessity of being perfect in the eyes of God:
"Where does the misunderstanding come from
Demanding that we be outstanding and then some?"
Adding:  "A closed mind will leave you empty / Use your mind to use your soul".
And the second verse opens with a brilliant line and rhyme: "Alert the press – their dogmas are a mess". The choruses are a bit of a mouthful in the sense that they're neither short nor snappy and nor do they roll off the tongue. But Roper's delivery imbues them with a catchiness to cajole even the most listless listener.
'Dandelions' is a favourite. It's a mid-tempo ska song with bucolic imagery and a beautiful message: "She sees love where anyone else would see weeds".
Roper's enunciation is crisp and there is a tenderness to his delivery which fits the tenderness of the song itself.
'One Girl Army' is just great: hooky horn lines which, along with the drums, get you revved up and thankful for such superb ska punk entering your ears. The fifth track is a delightful cover of ELO's 'Sweet Talkin' Woman'. It's a delicate, heartfelt rendition and one can well believe that Roper has "all [their] albums" as he calls out to the Electric Light Orchestra at song's end.
'When I Go Out' is an eleven-second-assault which makes for a bemusing interlude.
'Get Your Riot Gear' is a ska-swing-punk number. It's a response to the Superbowl riots of January 1998. The liner notes explain that it was "[not] intended to be a 'cop-bashing' [song]", though it does feature couplets such as:
"Rabid dogs without a leash
Is this how you keep the peace?
The song tells a serious story and the accompanying music creates a sense of something simmering, "stirring in the air" as if – onomatopoeically-speaking –  a "timebomb" is indeed "ticking to explode".
In the verses, for, example, the combination of ride cymbal, bassline and minimalist guitar, evoke a feeling of furtive, surreptitious tension. The swing/jazz instrumentation brings to (my) mind spy-themed ska – yes, that's its own thing – such as Save Ferris' 'Superspy', Let's Go Bowling's 'Spy Market' and (adjacently) New York Ska Jazz Ensemble's 'Prime Suspect'. The choruses, meanwhile, are heavy, speaking of how "We'll be dancing on the cinders / As the town is burning down". There's a swinging bridge in which each of the brass instruments takes a solo, cued to centre stage by the drums.
Once upon a time, trumpet player Brad was not available for a show, prompting Reese to joke that Brad was dead. This sent rumours across the internet and so we have 'The Untimely Death of Brad':
"I might stretch the truth/Maybe be a little lie/There was a boy named Brad/He played trumpet and he died"
The more attention one pays to the lyrics, the funnier the song becomes:
"What will we tell his mother now?
"If you see him anywhere / Remember to console him"
It's a great track to end on, as it highlights their humour in a self-referential and generally hilarious way.
But the EP does not in fact end there because there follows an unlisted 'rock opera' entitled 'These Are Not My Pants'.
Comprised of eight parts performed in the following styles (as described on Discogs): Salsa; Meat Loaf; Country; Heavy Metal; R&B; Reggae; Cha Cha and Hip Hop; it's as bizarre as it sounds. And there's also a secret track which I'll say no more about.
Five Iron Frenzy's music is fun and 'Quantity is Job 1′ is emblematic of their early output
. From its artwork by Doug TenNapel (creator of Earthworm Jim) to its bright, bouncy ska punk, 'Quantity is Job 1′ is an entertaining experience well worth looking up.
'Quantity is Job 1' was released in November 1998 on 5 Minute Walk Records.
Their most recent album is 2021's 'Until This Shakes Apart'.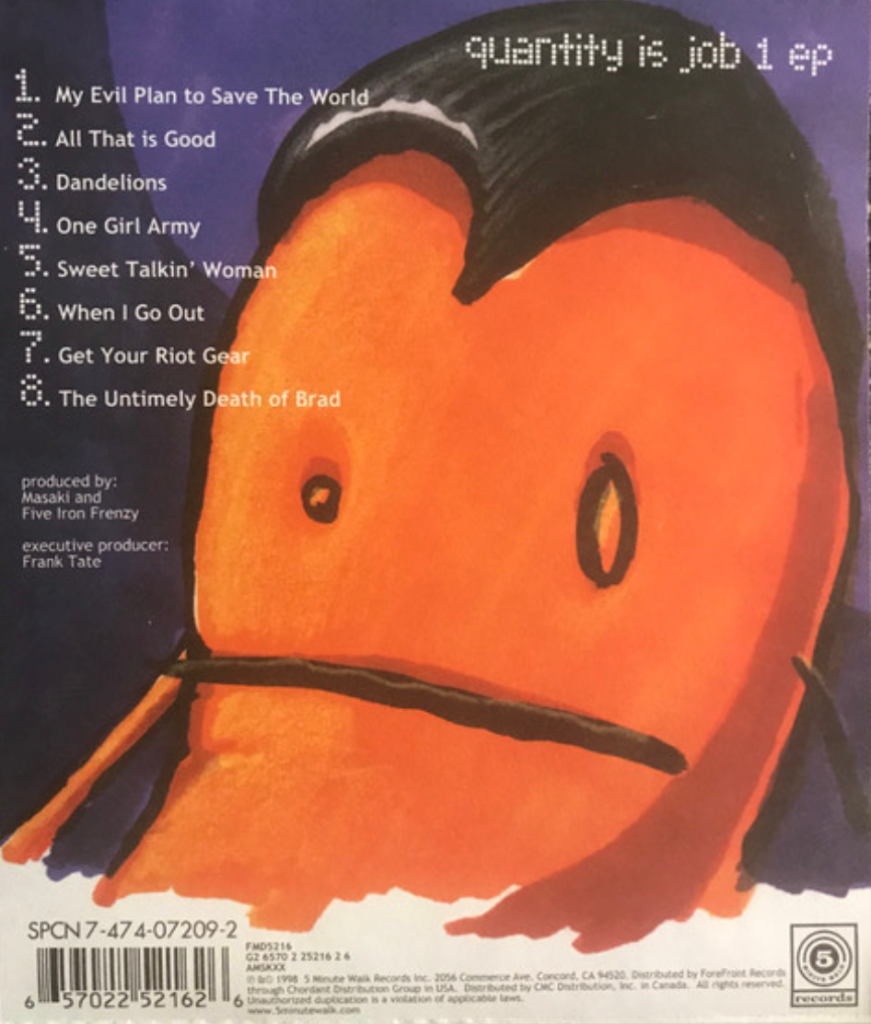 My Evil Plan to Save the World
All That is Good
Dandelions
One Girl Army
Sweet Talkin' Woman
When I Go Out
Get Your Riot Gear
The Untimely Death of Brad
Follow Five Iron Frenzy on Their Socials
Need more Punk In Your Life?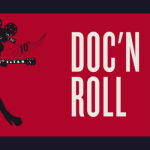 Punk News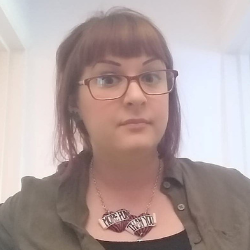 In it's 10th year, the Doc'N Roll Film Festival is celebrating a decade of inspiring, entertaining and vital films about the musicians we love.
Read More »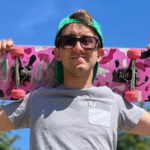 Now comfortably in my 30s, there are a couple passions which I've never left behind: writing and music. If I had to sum up my musical tastes in a single sentence, said sentence would probably say: Punk fan in love with ska, jazz and ska jazz. I love writing about the things I love and do so with happy enthusiasm. I'll pick up any instrument I set my eyes on and will go on endlessly about my favourite bands.