For Siouxsie's only US performance, writer and fashion designer Alisha Amnesia braved all the elements to see the icon perform
Cruel World put together a stellar lineup of mostly British first-wave punk and post-punk artists, which is exactly what I love. Non-British acts like the king of punk, Iggy Pop; Belarusian sensations Molchat Dolma; and a few recent cool US artists like Boy Harsher and Twin Tribes (who fit in perfectly with the sound of the festival) were bonuses.
When Cruel World released the lineup, post-punk fans of the Generation X era let out a collective gasp, but those of us on the gothier side of the lifestyle were slightly overwhelmed by the thought of braving the hot LA sun and struggled with the decision of whether this lineup was important enough to leave our crypts for. I prefer a climate-controlled show, so this was a very tough one for me… But SIOUXSIE.
As an American obsessed with first-wave UK punk, who's never seen Siouxsie perform, I realised this might be my only chance. I have no regrets in life, but I am truly angry at myself for missing her last US tour in 2008 because I thought my three bartending jobs were more important than taking a night off. That was a mistake, so I guess my one regret in life was missing Siouxie in 2008!
I'm also a fan of Love and Rockets, who haven't performed since then as well, and I'd never seen them perform either. So as much as I know I dislike the hot sun and outdoor festivals, I made a deal with myself to make the best of this because it had to be done.
Festival goers traveled from near and far, braved the weather and entire day of bands, only to have it abruptly shut down due to what was labeled as "extreme weather" halfway through Iggy Pop's performance, before the queen herself could perform. (The Human League was performing simultaneously on the other side of the festival and was also shut down at that time.) No one there could believe the announcement because nothing "extreme" was happening. Some of us saw a flash of lightning a few times about a mile away, off in the distant mountains. There was no rain, and when they shut the festival down, none of us saw another flash of light for the next two hours while everyone was trying to evacuate.
People stood defiantly in disbelief and refused to move. And it didn't help that whoever got on the microphone to make the announcement didn't sound clear, assertive, provide real information, or an apology. For fans to accept this, we needed more detail and an apology. The right way to handle it would have been to turn the mic volume very loud and announce, "We are extremely sorry for this, but the 'Local authority'- (whoever made the call) has informed us we are required by the Fire Department to shut down due to the threat of an electrical storm," or something like that. If they had worded it that way, people would have been more receptive.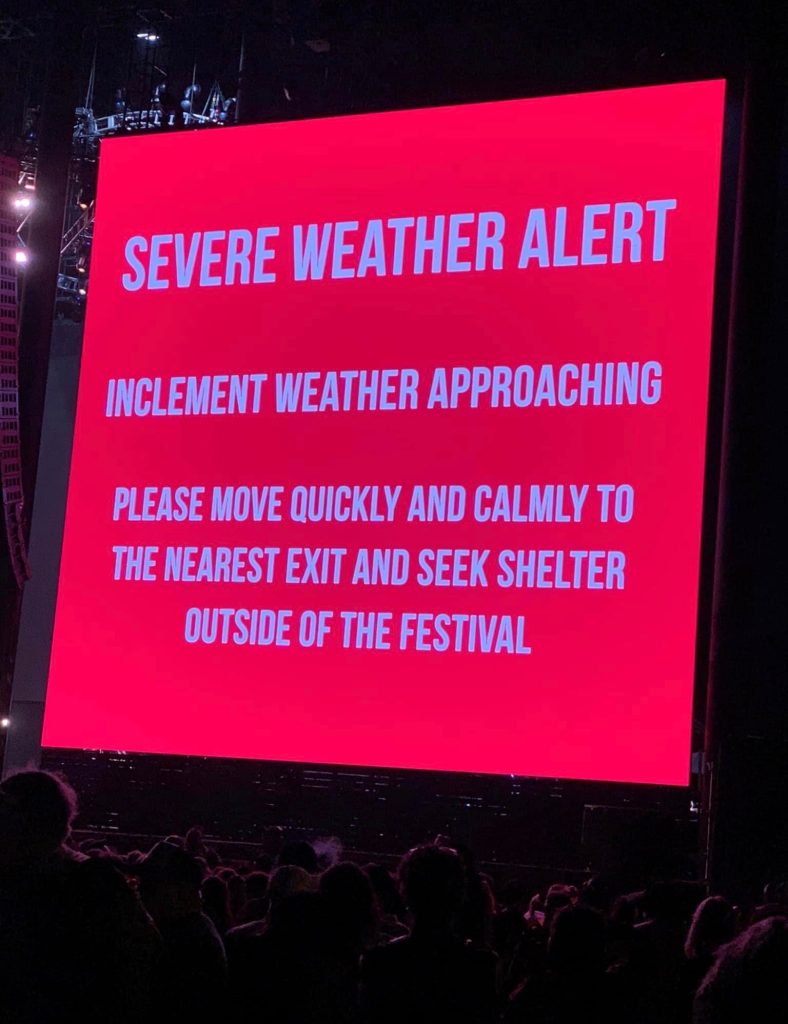 The weather seemed fine, and after the evacuation, there still was no bad weather that came later that night. Streets were blocked off, and all cars were routed a certain way that took everyone hours to exit and be on their way. Everyone was in shock, angry, and in disbelief. I didn't personally react or accept this was reality.
That's how Saturday night ended, and you've probably heard by now that the festival had a do-over on Sunday for Iggy and Siouxsie but let me backtrack to what the day was like on Saturday before that Cruel Ending!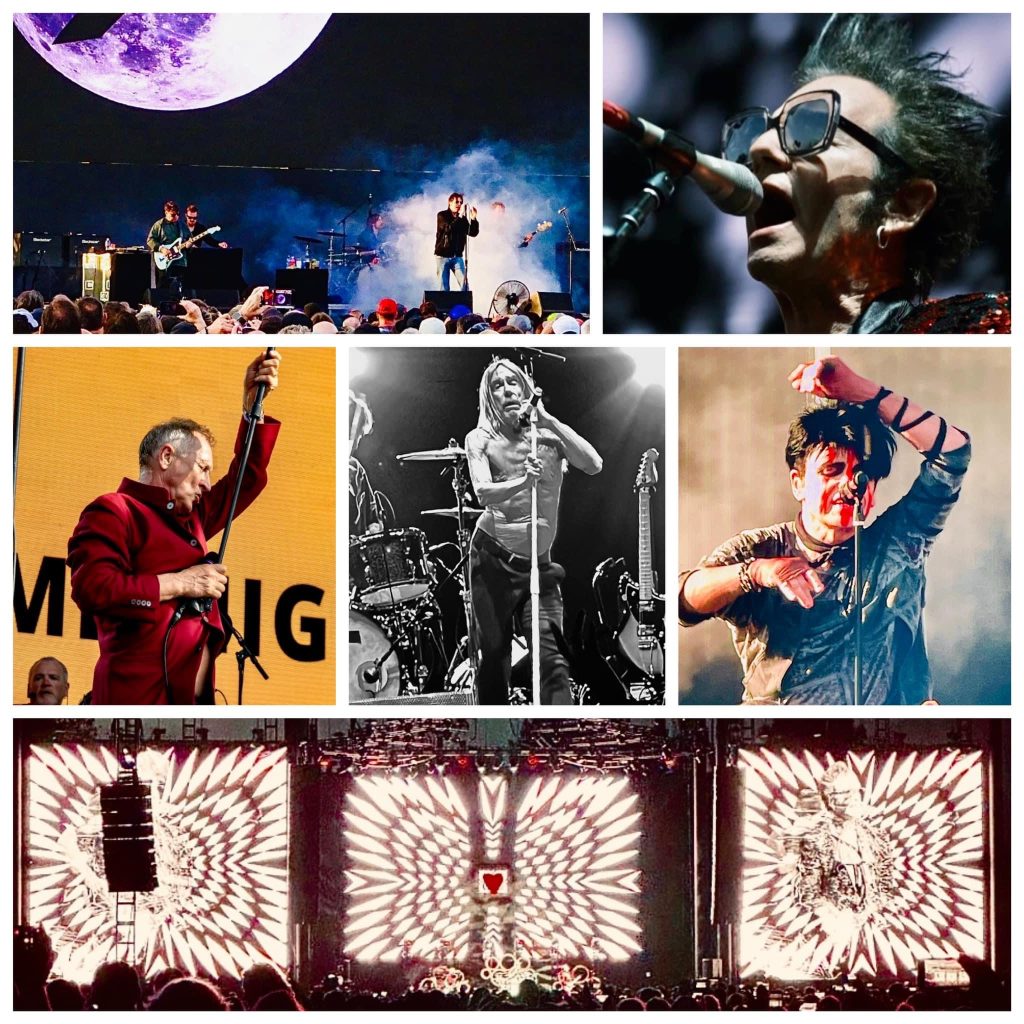 The festival was located at "Brookside at the Rose Bowl," which is a huge golf course. I was prepared for tons of walking and am in amazing physical shape, but it was still too much for me in my most comfortable Dr Martens when you include all the walking before you even enter. The weather was slightly cooler than the year before, and people were happy about that.
The best part of my Saturday was Love and Rockets. Singer/ Guitarist/ Songwriter and Style Icon Daniel Ash is a powerhouse of talent, and so is the rest of the band (but he steals the show, in my opinion). Their performance was designed especially perfect for a festival, with their compelling motion graphics providing visually exciting performance backdrops on screens that could be seen from far away and provided the look of music videos. Their presentation was the best I had seen all weekend. Their sound was on point, and with the visuals, they were a definite highlight of the Saturday. They did all their best hits– So Alive, Ball of Confusion, Mirror People, and left no one wanting more. It was perfect. 
Echo and the Bunnymen sounded beautiful, but as usual, (which I know from seeing them several times), they are set on hiding! There was a red logo on a black background that crowds could see on the screens. No professional photos were allowed, and no performance videos were shown on the big screens; fans just had to listen and see nothing unless they were able to jam their way to the front somehow. They sounded amazing and played all their hits, but we can listen at home! Please do more for your fans at your live performances, guys! They sounded perfect and high quality like their recordings.
Iggy Pop played half of an amazing set before Saturday got shut down, and there were some technical sound issues, but it is always so exciting to see Iggy perform. He was born for this. Everyone left wanting more, and luckily, we all got it on Sunday! I love that he allows his performance projected on the big screens, regardless of age and wrinkles. We all love Iggy and are thrilled to see him perform! Now I've seen three Iggy shows in a month!
Adam Ant canceled for unknown reasons, and although I've seen him three or four times, I was disappointed by that. He was replaced last minute by Squeeze, which I didn't care about. I would've liked to see Billy Idol, but after seeing him at least 10 or 15 times over the last three decades, I couldn't risk missing any Love and Rockets or Iggy.
I wanted to see Boy Harsher but didn't want to miss Echo and the Bunnymen. I'd have liked to see ABC, but not by missing Gary Numan. Molchat Dolma and Gang of Four played at the same time in two different parts of the festival.
I caught the beginning few songs of Gang of Four, and the last few songs of Molchat Dolma. Both were great, but running across a golf course to see two short bits of two great bands simultaneously was challenging and slightly dissatisfying.
Due to the sheer amount of distance and walking in the warm sun, it seemed wisest to spend most of my time near the main stage so I wouldn't miss the top-tier headliners.
Sunday, everyone woke to the news that Cruel World would have Siouxsie & Iggy back, and doors would open at 5 pm. (That is preferable to someone like me! However, all the parts of the festival that I hated, I'd have to endure again!
Long lines, $30 drinks, tons of walking, the class divide between General Admission ($150), VIP ($420), and Clubhouse (which cost over $600 per ticket)! I did it for Siouxsie.
Since for some reason, he played again, I ended up seeing Gary Numan twice, and I'm not even a big fan. He was great though, and everyone loved it. Iggy was too.
Then it was dark. It was time. Sioux FINALLY took the stage.
I cried no less than four times. That voice… That beautiful, ethereal, no-one-else-sounds-anything-like-it voice. She is the closest thing to a "hero" that I've ever had. The performance wasn't perfect, but we didn't expect it to be. She did it for us, and we felt we were in the presence of something extraordinary. No one can touch what she's done with her groundbreaking style, voice, and body of work.

In the midst of the audience, witnessing Siouxsie's performance, someone spotted none other than Gary Numan himself. How great is that?
The festival had its issues. I'd like to be able to tell you the number of ticketholders and compare it with other festivals, but I was told their company policy wouldn't allow it.
The positives: the site was large enough to contain it, it wasn't as hot as expected, they provided compensation for people who couldn't return Sunday, and they had a part two after the "weather" fiasco. The most significant negative for me was having great bands play simultaneously so I couldn't see them all.
In all, I'm glad I braved it for her, but I'm still not an outdoor festival person! I did get my photo taken with Billy Idol's son, Willem Wolfe Broad though!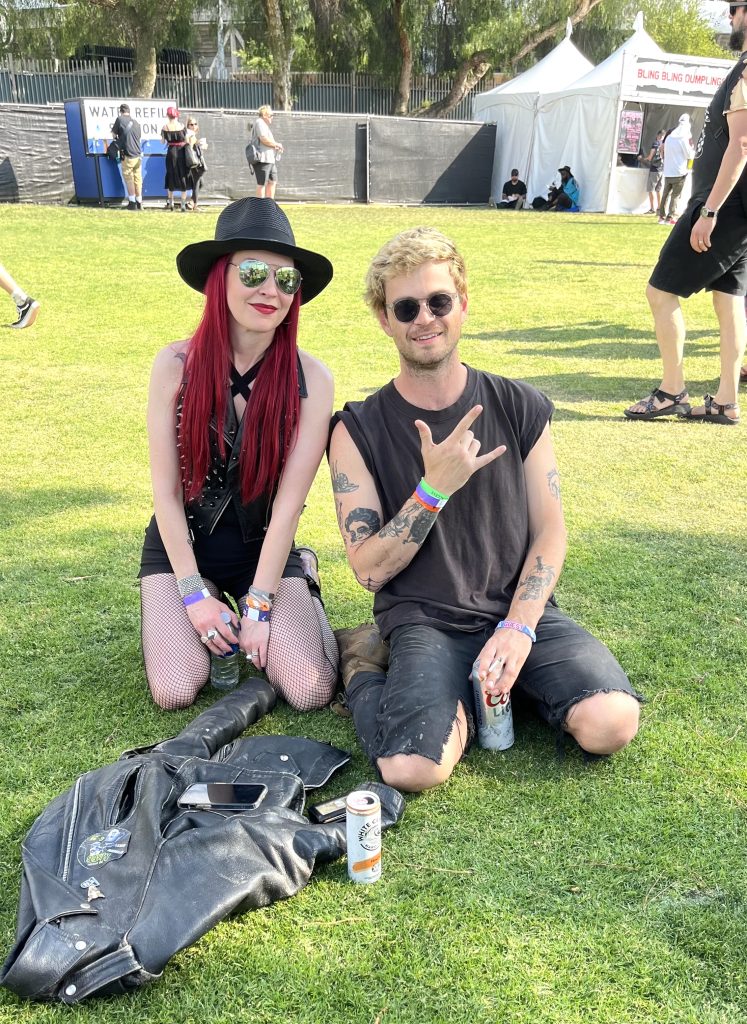 Need more Punk In Your Life?
New Releases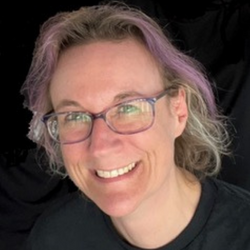 Those loveable Punk funsters The Sensible Gray Cells return with a suitably seasonal single, complete with a crazy video shot at the beach last summer.. <br
Read More »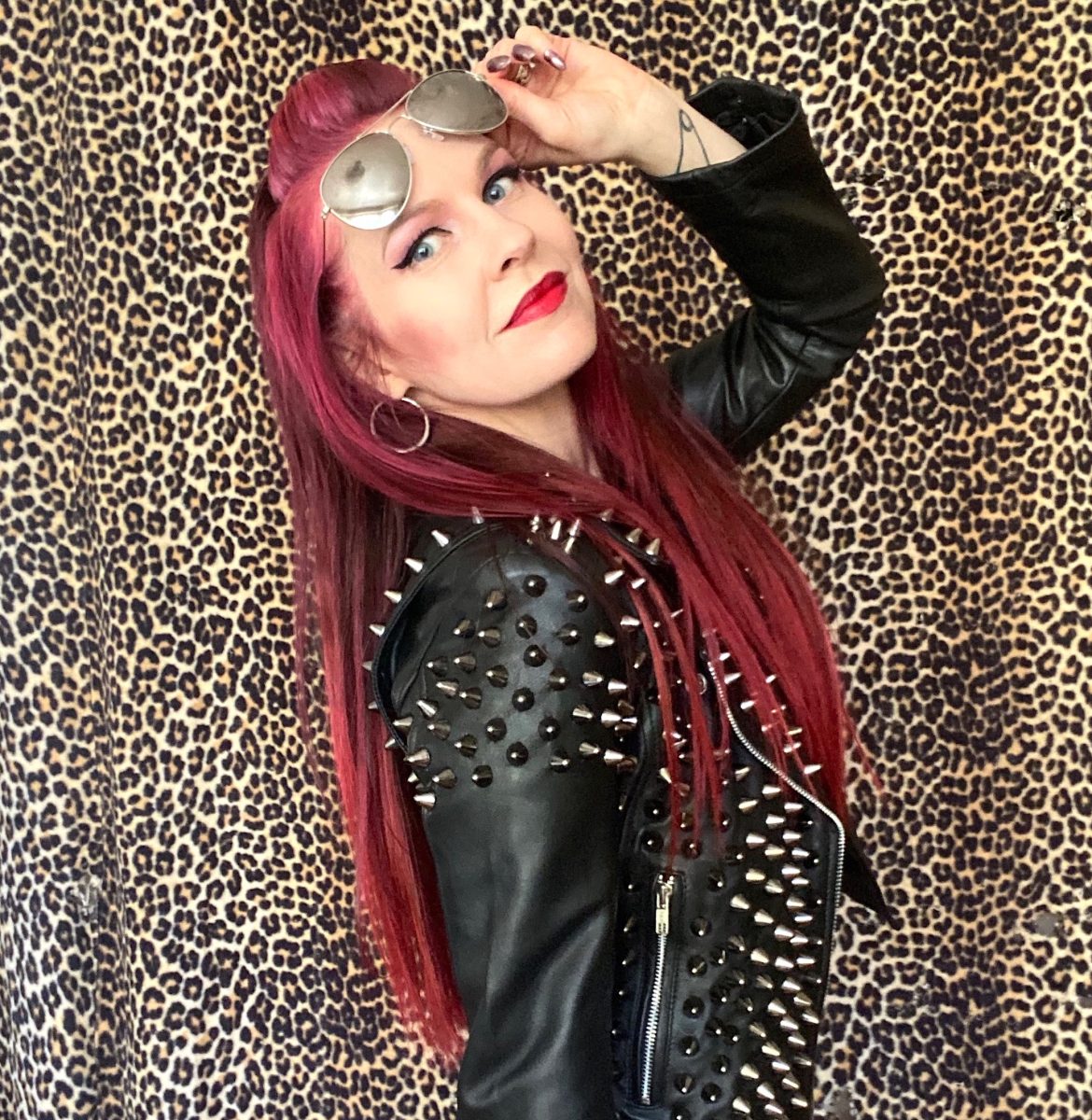 Alisha Amnesia is a writer, artist, and designer who does PR & Publicity for bands, brands, and the Viva Las Vegas Rockabilly Weekend festival. She wrote for Coolgrrrls.com for 11 years covering music, events, and festivals, is obsessed with early UK punk, post-punk, synth, dark wave, 70s, 80s, & 90s NYC punk and hip-hop music, street art, streetwear, and fashion. She resides in San Francisco, CA, and is a featured artist in the punk artist collective, Destroy Arts Inc. and featured in Fallout SF Gallery.