"We formed to make awesome music but also to create a continuum for black punks by presenting a strong, powerful vision of black womanhood and telling black kids about black punks who came before us."

Black feminist sistah punks
---
The Location: London, UK
The Lineup: Stephanie Phillips (guitar and vocals), Estella Adeyeri (bass guitar and vocals), and Chardine Taylor-Stone (drums and vocals
The Sound: Punk/Rock
The Comparison: X-Ray Spex, Bikini Kill, riot grrrl
---
Big Joanie first formed as part of the First Timers project in which new bands form, write and perform over a weekend – its aim to boost diversity within the London DIY punk scene. As per the requirements, all three members of the band were new to playing their instruments and performing in a band for the first time. Chardine picked up the drums, Kiera (who has since been replaced by Estella) played bass while Steph sang and played lead as well writing most of their original songs.
The band has always been active members of the DIY community, participating in live shows for festivals and fundraisers that focus on feminist issues and social justice movements close to their hearts. They are proudly black and proudly feminist punks.
The name of the band is partly a tribute to Stephanie's mother, Joan, and partly based on a Caribbean figure of speech. 'When we say a child is "acting big", they're acting bigger than themselves. I just thought that would be a great phrase for a strong, confident woman," Stephanie explains.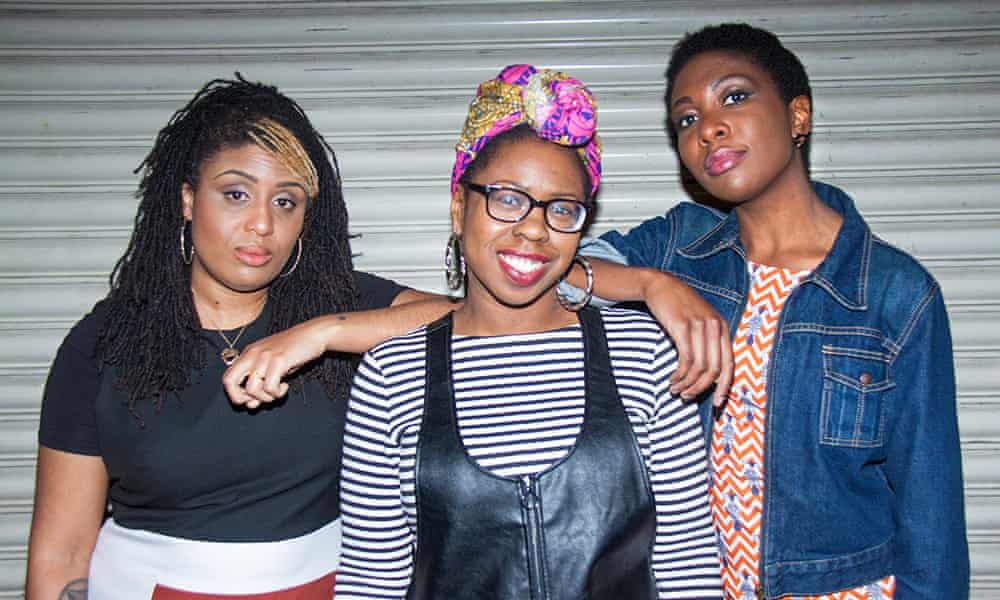 "We're like The Ronettes filtered through 80s DIY and riot grrrl with a sprinkling of dashikis," the band says on their Facebook page. "Big Joanie formed to make awesome music but also to create a continuum for black punks by presenting a strong, powerful vision of black womanhood and telling black kids about black punks who came before us. By making black punks more visible we believe we can inspire more young black people to get involved in punk music."
Being black, female and queer is intrinsically political in itself and they tackle this in their music and personal politics. They feel they are a stepping stone into what was once a white-male dominant movement.
"The punk scene was so, so white in London, it was actually shocking. I remember, also, how political it was and not really realising there was this big elephant in the room of being able to deal with race… I think we've made a lot of progress since then," Stephanie told the Quietus.
Having put out an album, Sistahs, on Thurston Moore's label Daydream Library in 2018, and supported Parquet Courts, Sleater-Kinney and riot grrrl figureheads Bikini Kill, they have just released a radical reworking of Solange's 2016 track Cranes in the Sky on Jack White's Third Man label.
"We wanted to cover it because it was such an important song for Black women," Stephanie says. "At first we were playing and singing similarly to Solange but it was way too high for me, so we left out most of the jazzy basslines and made it more of a 4/4 stoner rock vibe."
Their Covid-delayed second album is now due to be released in 2021.
---
More Big Joanie
Punktuation Magazine For All Your Daily Punk News, Features, Interviews, Lifestyle and more!