New York-based Bad Mary are set to release new EP 'Trash And Glamour' this spring.
Bad Mary will be celebrating the 10th Anniversary of their first album 'Better Days' with the release of re-recorded and remixed versions of their songs on the EP Better(er) Days, later this year.
Fans are set to clamour to witness Bad Mary's new EP with their unique brand of Indie/ punk, complete with unapologetic guitar riffs, punchy bass tones, pounding drums, powerful female vocals clearly delineated by melodic lyrics that manage to communicate a sense of fun, insight and social consciousness.
Bad Mary is lead vocalist Amanda Mac, with her husband Mike Staub on bass, her dad Bill Mac on drums, and her Hofstra University professor David Henderson on guitar.
When asked about the plans for 2023, bassist Staub says: "We're so pumped for 2023. After 2022 being one of the best years for us ever, we're super excited to see what this year has in store for us. We'll be releasing our next EP "Trash and Glamour" in the Spring and following that up with some local live shows!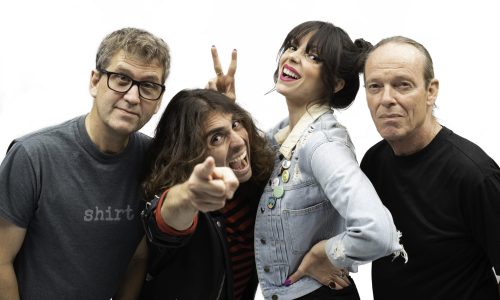 "We may even announce a tour soon, so we hope people keep their eyes and ears glued to our socials. We're also planning to celebrate the 10th Anniversary of our first album, Better Days! We've talked about re-recording some of our favourites from our original album and after ten more years of experience, now feels like the right time. We'll be releasing an EP Better(er) Days in the fall."
Bad Mary's songs have been a staple in rotation on SiriusXM's Underground Garage, in 2022 they garnered the New Music Spotlight on The Dollyrots Kelly Ogden's show Sunrise Surprise, as well as being Kelly's pick for Coolest Song In The World for their single "It's All Trash."
Drawing on influences from the likes of Blondie and The Ramones, Green Day and The Dollyrots, this tight-knit family unit uses humour and the power of music to push back on all the crap going on in the world. 
Bad Mary holds up a warped mirror to the current culture and reminds us that having fun is the best way to give yourself an escape from the craziness.
Main Photo Credit: Eric Sandstrom Photography.
Need more Punk In Your Life?
New Releases
Grammy-nominated pop punk legends Sum 41 make a boisterous return with 'Landmines', their newest single and first release on Rise Records.
Read More »