The third album from this diversely-influenced band takes us on an adroit journey through the emotional ups and downs of life, love and loneliness, with vocal and musical harmonies and edgy guitars - a must listen for 2023!
Frontman Rich Ragany (the Calgary, Canada-born and now UK-based former Role Models leader) has spent the last few years building up quite a reputation with his band of rock n' roll trailblazers, The Digressions. Personnel include: Gaff on lead guitar (Glitterati, Dedwardians, Desperate Measures,) Kit Swing on guitar/vocals (Mallory Knox, Seven Days And Doesn't Die), Ricky McGuire on bass (UK SUBS, The Men They Couldn't Hang), and Simon Maxwell on drums (Role Models, Yo Yos) with celebrated producer Andy Brook on additional keyboards/vocals/guitar (SHUSH). The band's 2021 critically-acclaimed album 'Beyond Nostalgia & Heartache' gained considerable airplay on BBC Introducing and rave reviews.
Brand new album 'What We Do (To Not Let Go)' is out on 3rd March 2023, on their recently signed-to label Barrel And Squidger (who have released music by CJ Wildheart, Massive Wagons, members of Status Quo and Sex Pistols). This album is crammed full of soaring melodies and the kind of rock n' roll that can take on many different moods, sounds and styles, as the band went for a different approach to its predecessor.
"As 'Nostalgia..' had that wide-screen depth and cinematic feel," explains Rich. "I decided to lay down a new approach. Gone were layering guitars and keys, in with punchy one takes… everyone getting one shot… everybody gets one job (Gaff is lead guitar, Kit rhythm, for example, no layers… just the parts), solos are solid takes and not pieced together. This, to me, would ensure that everyone's personality would shine right through while making the songs far more immediate and vital. If it's one thing I've learned while being incredibly lucky to work with the Digressions, it's that they have a ton of personality. What you get is a muscular yet melodic, anthemic rock n roll album. A new way of telling our story. One I can say I am so proud to be part of."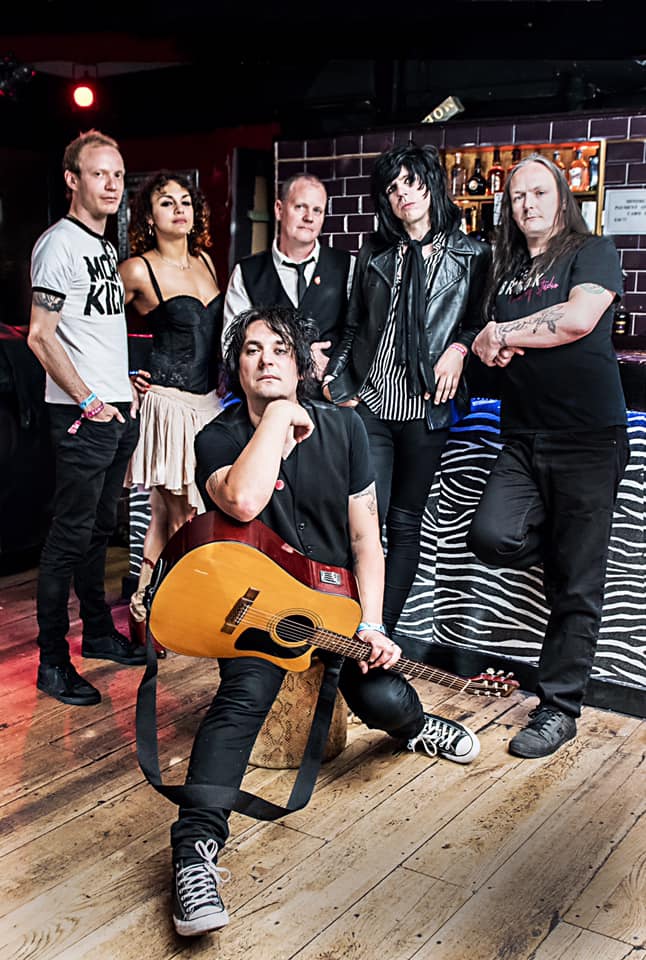 The title track and opener 'What We Do (To Not Let Go)' thunders into a vibrant and powerful listen, setting the tone for an album about loss and hope. The lighter sound of 'You're My Way Back Home' is sweeter, followed by the punchier 'How Much Of Me Is You' – a song about heading 'straight to the wrong one' – with edgy guitars punctuating the forthright lyrics.
The slower ballad 'One More For The Train' drifts into country rock territory, a beautiful song with the drumming just keeping it on the rockier side!
'Til I'm On My Feet Again' is a rousing song about friendship, while 'The End Of All Things' is a haunting, more acoustic number. 'Highgate Sun' is questioning and folky, with beautiful vocal harmonies from Kit.
The album's first single 'One Last Thing To Prove' was released three weeks ago: "One night out in Camden, I ran into an old friend, Pete," explains Rich on the origins of the song. "We go way back to Canada. He's a sound tech for some pretty amazing acts. Anyways, I see him, and his arm is in a sling. I ask him what he's doing after. He says he can't be out late as he leaves in the morning to hit the road. "With a broken arm, man??" He replied, "We all got one last thing to prove…"
'Pretty Breeze' is my favourite track on the album, a powerful anthemic song with driving bass and guitars. 'Shade Of Shameless' returns to ballad country, but it's a huge song with clever lyrics and composition – Deacon Blue with bigger balls! 'Forever Ghosts' sees Gaff cut loose with some super guitar riffs accompanied by Simon's drums ticking along like a clock, while 'Gravity' challenges us to defy all that's holding us back. 'Waiting' is a bluesy power ballad showcasing all of the band's talents, before the shorter 'Outro' bids us a gentle goodbye, sandwiched by birdsong and street sounds.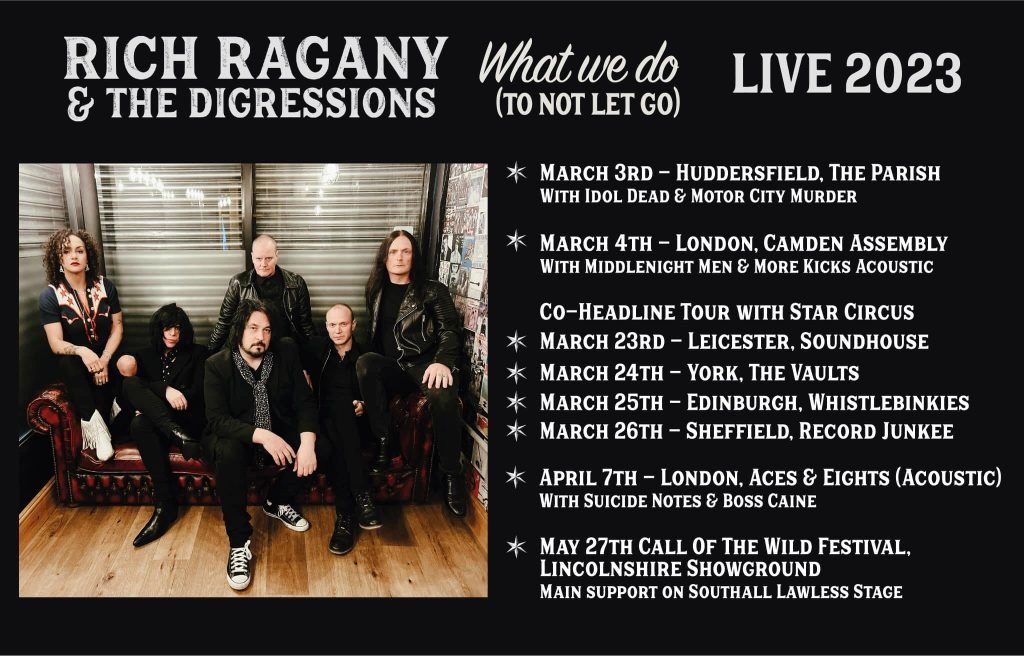 An emotive album filled with intelligent, heartfelt songs, Rich and the band have come up with a dexterous collection of multifaceted music, underpinned with robust lyrics. His new approach in making this album has paid off – it's a beauty!
"What We Do (To Not Let Go)"is released via Barrel And Squidger Records on 03/03/2023 – Get your copy HERE
What We Do (To Not Let Go)
You're My Way Back Home
How Much Of Me Is You
One More For the Train
Til I'm On My Feet Again
The End Of All Things
Highgate Sun
One Last Thing To Prove
Pretty Breeze
Shade Of Shameless
Forever Ghosts
Gravity
Waiting
Outro
Follow Rich Ragany and the Digressions on Their Socials
Need more Punk In Your Life?
Punk News
"We were a punk band with Beatles melodies. We had no effects, barely any equipment, just loads of attitude, 12 cans of Red Stripe and
Read More »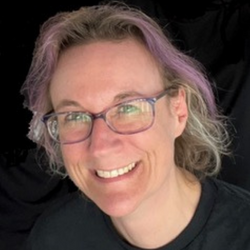 'Usually found jumping around down the front at gigs, I also relish taking photos and videos, singing, speaking with fellow music fans, and asking musicians the questions nobody else does  Writing about my favourite bands and connecting with people who love music too keeps me more-or-less sane  I've worked for over 25 years at a video production company, mainly filming live music events, therefore I have an additional backstage perspective!'