Ruts DC prove yet again that acoustically they are Punk to the core!
It has been another great year for Ruts DC – not one but TWO full UK tours, international  and festival performances galore, plus not one but TWO albums released! The second of these is the wonderful 'ElectrAcoustiC Volume Two' (Sosumi, 2023) another stunning collection of their best music, re-worked acoustically in the way they do so well.
This latest offering from Segs Jennings, David Ruffy and Leigh Heggarty features songs from their most recent album 'Counterculture?'; previous studio album 2016's 'Music Must Destroy'; their first album as Ruts DC, 1981's 'Animal Now'; to original The Ruts albums 1980's 'Grin and Bear It' and 1979's 'The Crack'; the mixture of older and newer material blends perfectly.
The strength of Ruts DC's last studio album shows, in that 6 of the songs on 'ElectrAcoustiC Volume Two' were taken from 'Counterculture?'.  Among them are my favourite 'X Ray Joy', which retains all of its raw emotion and power, enhanced by sensitive drumming from Dave Ruffy; live fan favourite 'Born Innocent' with driving acousitic bass every bit as good as the electric version; and outlier 'Cyclone' with the clarity and tone of the guitars on this acoustic version lending the song an additional dimension.
Also included are one of the band's favourites to play, 'Poison Games'; plus 'Faces In The Sky' which has a weighty enough lead guitar part to carry it through; and 'Caught In The Killzone', which I don't feel works quite so well in this format.  Personally, I would have incorporated 'Too Much' in preference, a song Ruts DC played on the acoustic stage at Rebellion Festival this year, which sounded perfect!
The poignant 'Second Hand Child' from 'Music Must Destroy' was a must for this second acoustic album, Segs and Ruffy's voices in concordant harmony. Having already recorded five of the tracks from the album on their first ElectrAcoustiC album, it's wonderful to have this one included now.
Despite the shock of losing original vocalist Malcolm Owen to a heroin overdose, the musical strength of the remaining band members Ruffy, Segs and original gultartist Paul Fox produced the excellent but underrated album 'Animal Now', from which 3 tracks were drawn for this album.
'Mirror Smashed' is a fabulous song – Segs' killer bass lines and more nature vocals in consummate unison. "Different View' also benefits from the acoustic treatment – the production on 'Animal Now' dates the album slightly, but these regenerated tracks sound as though they could have been written today.
The song I've had on repeat is 'Despondency' – it's my favourite on the album, and a favourite of Mr Segs too! Although Mr Heggarty is best known as a lead guitarist, he can also turn his skilled hand to the bass – the original 'Despondency' saw Segs and Paul Fox swap instruments, and the tradition continues here.
Sole representative from The Ruts debut album 'The Crack' is 'Backbiter' – Leigh Heggarty gets to show off his guitar skills here, playing both electric and acoustic correspondingly well. Again, Dave Ruffy's exceptional drumming and vocal harmonies make the track stand out.
A much adored song in the live Ruts DC set, 'Love in Vain' (see video above), was another which HAD to make it onto this album. Including delightfully haunting harmonica from the late Mitt Gamon, this track is just beautiful. Final song on the album, and also taken from 'Grin and Bear It' (released 1980), is another live favourite – 'Staring at the Rude Boys'. Not the easiest to play, all three musicians have turned this classic Punk anthem into an absolute triumph!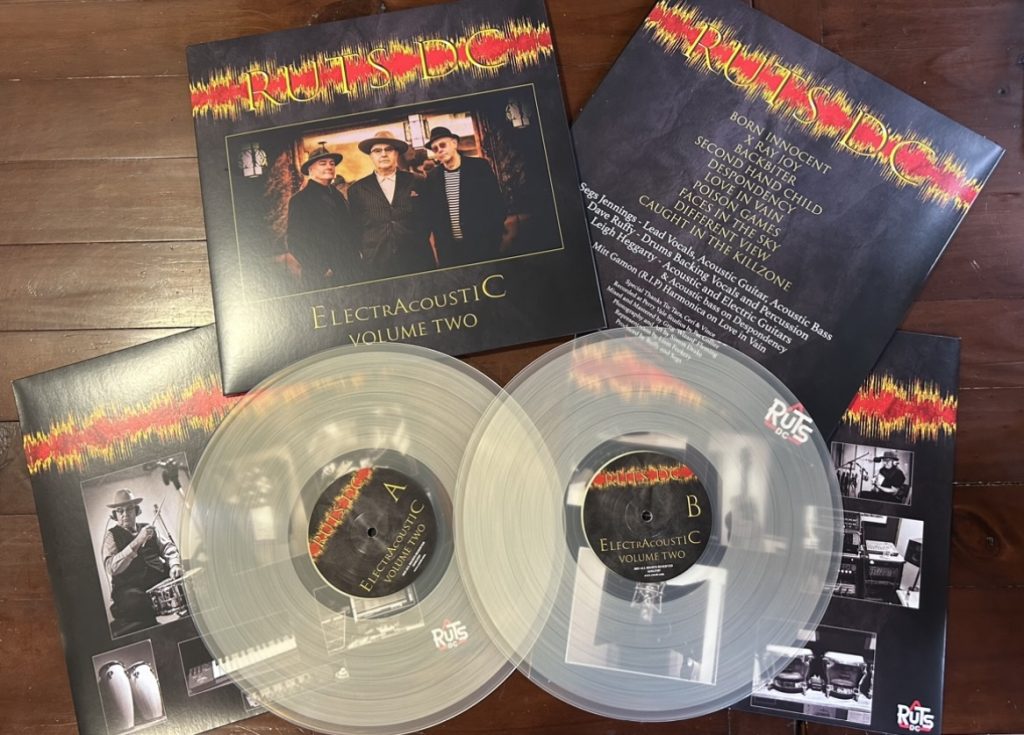 Overall, this admirable follow-up to 2021's ElectrAcoustiC Volume One (there was always going to be another album, given The Ruts / Ruts DC's rich back catalogue!) is an absolutely essential addition to any music collection. Your ears will thank you!
Order your copy on CD, Vinyl or download from HERE or be quick and get one from their merch stand on Ruts DC's upcoming tours (info below)
Ruts DC are touring in Europe in November and across the UK in December – dates and locations below. If you've yet to see them, you're in for a treat – the band are excellent live and always give their utmost at every performance. Grab your tickets soon!
Main Photo Credit: SIMON DRAKE
1. Born Innocent
2. X Ray Joy
3. Backbiter
4. Second Hand Child
5. Despondency
6. Love In Vain
7. Poison Games
8. Faces In The Sky
9. Different View
10. Caught In The Killzone
11. Cyclone
12. Mirror Smashed
13. Staring At The Rudeboys
See the Latest from Ruts DC on Their Socials:
Need more Punk In Your Life?
New Releases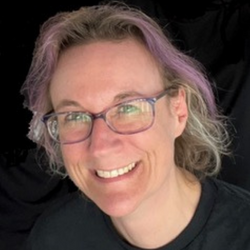 Those loveable Punk funsters The Sensible Gray Cells return with a suitably seasonal single, complete with a crazy video shot at the beach last summer.. <br
Read More »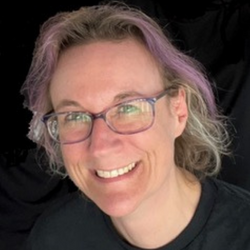 'Usually found jumping around down the front at gigs, I also relish taking photos and videos, singing, speaking with fellow music fans, and asking musicians the questions nobody else does  Writing about my favourite bands and connecting with people who love music too keeps me more-or-less sane  I've worked for over 25 years at a video production company, mainly filming live music events, therefore I have an additional backstage perspective!'