Californian skate punks present their new music video for 'Inheritance'
Frantic melodic group Urethane, featuring legendary Hall of Fame professional skateboarder and guitarist Steve Caballero, has unveiled their new music video that features Jim Lindberg, frontman of distinguished punk outfit Pennywise.
Caballero points out that "The premise of 'Inheritance' is rooted in the idea that all of our flaws, negative character traits, addictions, unhealthy behaviours, bad ethics/morals are passed down to us either genetically or through learned behaviour from our parents"
The song features on the band's debut album 'Chasing Horizons' which was produced, engineered and mixed by Cameron Webb who has also worked with Motorhead, Authority Zero, NOFX, Pennywise and Alkaline Trio. The album was released on El Hefe's (NOFX) record label Cyber Tracks and also features a guest vocal appearance by Toby Morse of H20 on track 'Avalanches'.
Released toward the end of 2021, Chasing Horizons is jam-packed with catchy choruses and melodic hooks that range from mid-tempo sing-a-longs to aggressive fist-pumping screamers. As bassist Chad Ruiz explains.
RELATED STORIES:
Pennywise Announces Two Amazing Weekends of Intimate Shows
Interview: Pennywise's Jim Lindberg Bares His Soul On His New Solo Album

"During the short life of this band we have been chasing horizons non-stop. It's that kind of fun feeling you get when you're just out on the road going for it. We are very blessed to be chasing horizons."
Urethane formed during the infectious period of 2020 and consists of Tim Fennelly (War Fever) – Lead Vocals/Guitar, Steve Caballero (The Faction, Odd Man Out, Soda)- Guitar/Backing Vocals, Chad Ruiz (Skipjack) – Bass, Dylan Wade (The Bombpops) – Drums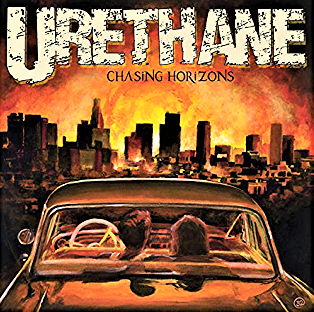 Urethane Chasing Horizons tracklist

Wyoming
Hold A Place In Time
Gravity
Inheritence
Carousel
Cut The Rope
What You Get
Love Letter Bombs
Avalanches
High Sign
Deadline
What Becomes Of Us
---
Follow Urethane on their socials
---
Need more punk in your life?