Photographer Steve Rapport talks to Punktuation about his amazing find.
Newly uncovered photos have captured the moment that the Clash's Joe Strummer competed in the 1983 London Marathon. The rediscovered shots were taken by ex-rock photographer Steve Rapport, who found them as he dug through four battered boxes of old photo transparencies.
"The boxes were from a photo agency that I had asked to return my archives. When I opened the first box and saw all these photos of Joe I actually think I burst into tears," the huge Clash fan admits.
"I didn't even know I'd taken colour photos of Joe that day, but when I delved into the boxes there they were."
Steve was commissioned by Rolling Stone magazine to snap photos of Joe running the 26 mile race through London.
"It was horribly wet day and I got a few photos of Joe at the start and during the race, then I when to Tower Bridge to wait for him to go past. I was there for hours. It was wet and miserable and there was no sign of Joe. I thought I must have missed him. I started packing up – then there he was, so I got him as he finished. I'm a huge Clash fan so finding these are incredibly exciting."
"I compose songs a lot when I'm training. It gives me time to think without being bothered." Joe StrummerTweet
Joe Strummer joked with Steve before the marathon, saying that the biggest temptation for him will be "to run into a pub along the route."
Jokes aside Strummer told Steve that for the London Marathon he took his training very seriously and was actually off the booze.
"I love the madness of getting up and running all those miles on a Sunday morning when normally I would be fast asleep in bed," Strummer admitted.
"I compose songs a lot when I'm training. It gives me time to think without being bothered."
Strummer covered the 26 miles in four hours and 13 minutes and in the process raised £800 for the Leukaemia Research Foundation.
Steve's career as a rock photographer was as brilliant as it was short! It only spanned the years '81 to '95, but during that time this list of stars he's snapped is a who's who of that period.
So it may come as no surprise that Steve says there were other gems in the boxes too, including a photo of Annabel Lwin from Bow Wow Wow with Joe Strummer and photos of Paul Weller from The Jam.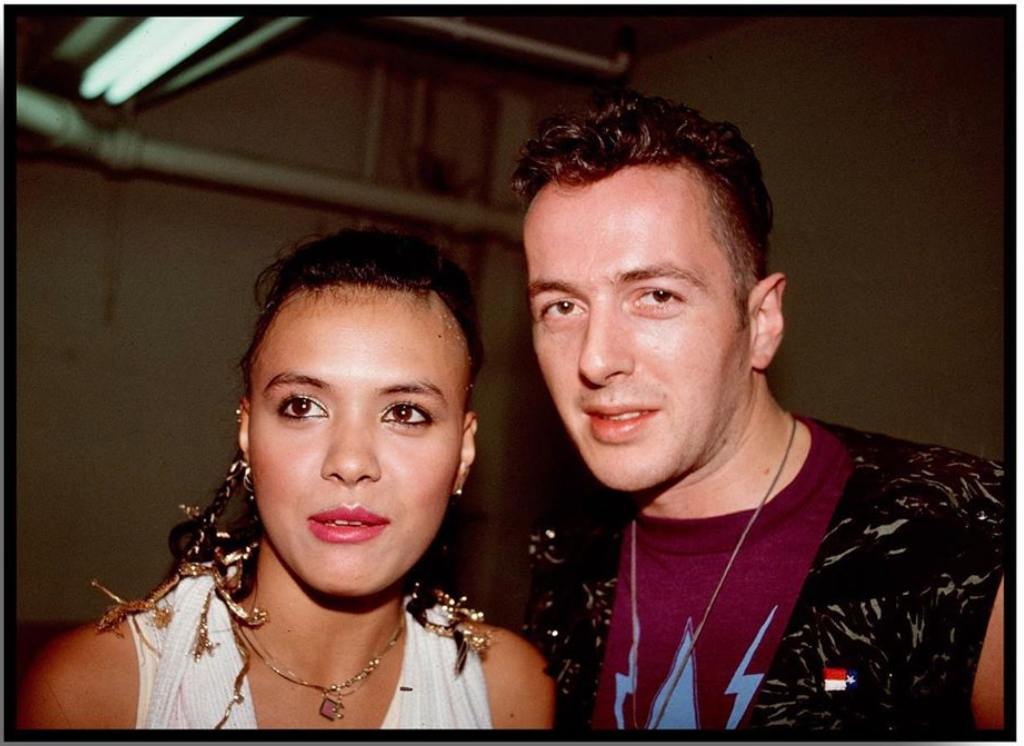 "I've also found some really early Dead Kennedy photos, The Damned playing at Rock Around The Dock, in Liverpool with a full symphony orchestra, Charlie Harper and some really early Black Flag when Henry Rollins didn't have any tattoos," Steve says.
As Steve finds more photos, re-scans and cleans them up, he is putting them up on his Instagram page.
"And yes," Steve says, "the photos are available to buy if you want one for your wall."
---
Contact Steve
---
If you like this you will enjoy…
I'm a London born and bred music journalist, a mediocre bass player and the occasional strummer of the guitar. In the '80s I worked in recording studios and made a few records you'd probably recognise. I have written a couple of books and made the odd media appearance as a music commentator. I now call Brisbane home.