GBH have announced dates for a 2023 US tour this spring, marking the legendary UK punk band's first stateside outing in five years.
It's been a while but the UK punk legends GBH tour kicks off a tour of the United States on May 6th in Amityville, New York, and is scheduled through a June 12th show in Charleston, South Carolina. A Live Nation pre-sale begins Wednesday (March 1st) at 10 a.m. local time using the code OPENER via Ticketmaster, with general ticket sales starting Friday (March 3rd). Fans can also pick up tickets via StubHub if shows sell out.
GBH formed in 1978, and still feature three of their classic members — singer Colin Abrahall, guitarist Colin "Jock" Blyth, and bassist Ross Lomas — along with longtime drummer Scott Preece. The band has influenced not only countless punk groups, but also a number of metal acts, including Metallica, Slayer, Bathory, and others.
The band has released 12 studio albums, the most recent being 2017's Momentum via Tim Armstrong's Hellcat Records.
According to various venue sites, it appears that the punk bands MDC and Niis will be providing support for most of GBH's US outing. See the tour dates below, and pick up tickets via Ticketmaster or StubHub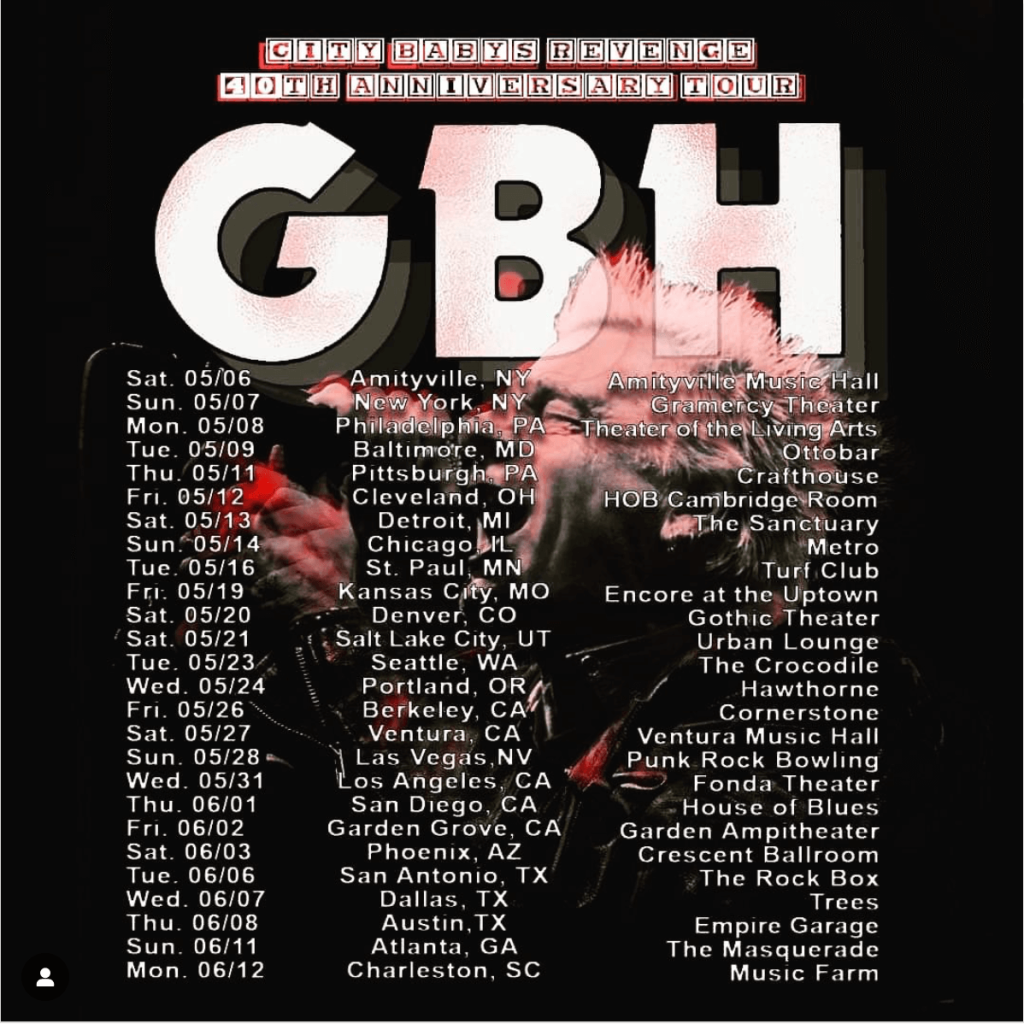 05/06 – Amityville, NY @ Amityville Music Hall
05/07 – New York, NY @ Gramercy Theatre
05/08 – Philadelphia, PA @ Theatre of Living Arts
05/12 – Cleveland, OH @ House of Blues Cleveland
05/13 – Hamtramck, MI @ The Sanctuary Detroit
05/16 – St. Paul, MN @ Turf Club
05/19 – Kansas City, MO @ Encore at Uptown Theater
05/20 – Englewood, CO @ Gothic Theatre
05/23 – Seattle, WA @ The Crocodile
05/26 – Berkeley, CA @ The Cornerstone
05/31 – Los Angeles, CA @ Fonda Theatre
06/01 – San Diego, CA @ House of Blues San Diego
06/02 – Garden Grove, CA @ Garden Amphitheatre
06/03 – Phoenix, AZ @ Crescent Ballroom
06/07 – Dallas, TX @ Trees
06/08 – Austin, TX @ Empire Control Room & Garage
06/11 – Atlanta, GA @ The Masquerade
06/12 – Charleston, SC @ Music Farm
Follow GBH on Their Socials
Need more Punk In Your Life?
Punk News
"We were a punk band with Beatles melodies. We had no effects, barely any equipment, just loads of attitude, 12 cans of Red Stripe and
Read More »
Punktuation Magazine For All Your Daily Punk News, Features, Interviews, Lifestyle and more!