A social worker from the U.S. has broken the Guinness World Record for the highest mohawk! It measures in at 107.97 cm (41 inches) and takes him over an hour to prepare with help from his wife!
Joseph Grisamore, a social worker from Park Rapids, Minnesota in the United States, has broken the Guinness World Record for the tallest mohawk measuring a 'punktastic' 107.95cm (3.45 foot). Grisamore's first attempt to break the record was in 2007 and then again in the year 2013 – making his win last week all the sweeter! "I feel like a champion!" Grisamore enthuses in the Guinness World Record video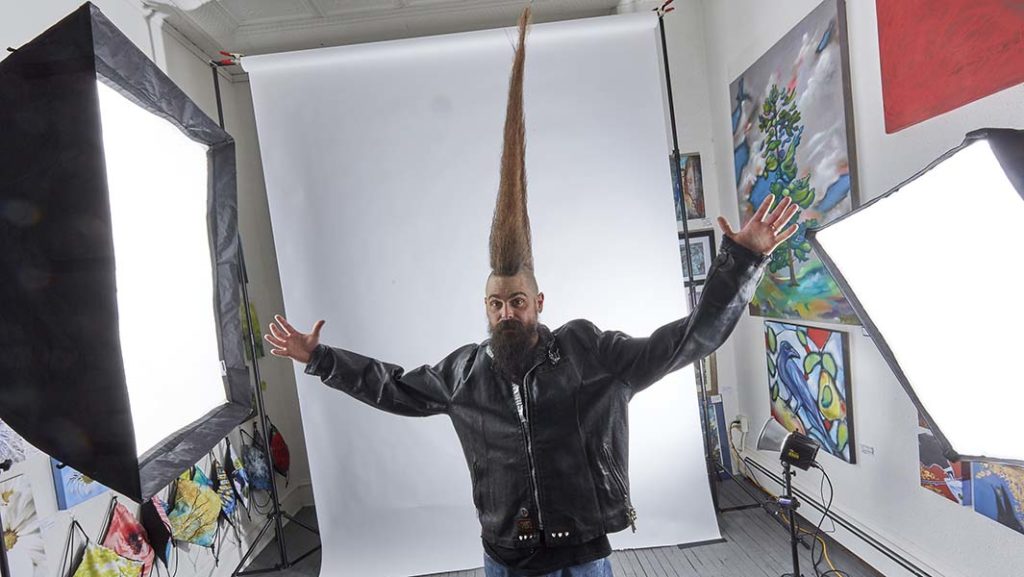 Talking about his record-breaking mohawk, Grisamore says, "My favourite thing about the mohawk is just the rarity of it. I'll admit that peoples' reactions are pretty priceless too. I'm 6'1 tall, and my mohawk is pushing 4 feet now".
Grisamore tried to break the record in the year 2007, but he was too scared to fulfil the requirement for any "full Mohican" mohawk as it requires shaving the sides of the head. He was then reportedly given the title of 'tallest spike mohawk'.
Grisamore says, "Doors aren't over 7′ tall, ceilings 9′, and cars are impossible to get into – so I'm limited to where and how I move around when I'm all done up, but the crowd usually comes to me".
One of the most surprising elements to his hair is that it actually does not require much maintenance. In fact, he doesn't even use that much hairspray to keep it up in its full Mohawk position!
"When wearing a mohawk, my hairdresser is a pro at teasing the base of the hair enough to hold the weight of a full fan. Got2b glued blasting freeze spray is the key ingredient, while assistants hold my hair upright until dry."
When he's not wearing it in a record-breaking style Grisamore keeps his hair braided and in two knots as to avoid sitting on it.
Grisamore obtained the record with the help of his stylist Kay Jettman who spent hours working on his hair with wife Laura and mother Kay. Talking about the record, Grisamore said, "I'm honoured to be added to a list of one-of-a-kind record holders. My wife wants me to stay humble, but instead, I'm considering becoming the 'Mohawk King', and attempting the tallest mohawk spike title!"
---
Punktuation Magazine For All Your Daily Punk News, Features, Interviews, Lifestyle and more!