Kyaw Kyaw, the frontman of Myanmar punks, The Rebel Riot Band, appears as a guest vocalist on UK hardcore punk band Throwing Stuff's new single A.C.I.Y.H.A.B. which is raising money for Black Lives Matter, UK and Food Not Bombs, Myanmar.
The Rebel Riot Band, a punk band from Yangon, in Myanmar (formally Burma) are amongst a growing number of musicians rallying for human rights and democracy in the country. They band say they use their music to combat oppression and speak out against hate and violence against Myanmar's mostly Muslim Rohingya minority.
"We founded Rebel Riot in 2007 because of the Saffron Revolution … one of the biggest protests in Myanmar against the military government," Kyaw Kyaw told Aljazeera News "One day, the military army came and shot lots of people on the streets. They were killing lots of people in front of me. I felt so scared because I never saw people killing each other in front of me. I felt so sad and angry at the same time."
Kyaw Kyaw's personal philosophy is simple but effective: "I can't change the world. I can't even change my country. But I can change two things: myself and (what's) around me."
And his philosophy has seen The Rebel Riot Band create a lot of different social projects – all focusing on humanity, sharing love, kindness and support of each other.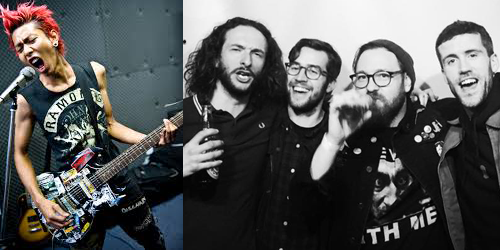 One such project, Food Not Bombs, sees the band and a team of volunteers working to donate food to homeless people and people affected by the economic fallout of COVID-19 – a cause so close to their hearts they are donating their share of the earnings from a collaborative single lead singer Kyaw Kyaw has recorded with UK punk band Throwing Stuff – helping raise much-needed money for their work.
The single was recorded across Manchester, UK, and Yangon, Myanmar, where Throwing Stuff vocalist Ben now lives. Ben enlisted his friend, Kyaw Kyaw to provide guest vocals on the incendiary track that brings together the British and Myanmar punk scenes across continents.
Ben explains that ACIYHAB stands for "All Coppers Inside Your Head Are Bastards" and it's about how police forces serve to both consciously and unconsciously control those considered a "threat" to the status quo.
The "pay what you want" song is up now and all the money raised will go directly to the artist.
Throwing Stuff will be donating ALL proceeds from the song half-and-half between Black Lives Matter UK and Food Not Bombs Myanmar with the band themselves matching the donations.
---
More about Throwing Stuff
More about The Rebel Riot Band
I'm a London born and bred music journalist, a mediocre bass player and the occasional strummer of the guitar. In the '80s I worked in recording studios and made a few records you'd probably recognise. I have written a couple of books and made the odd media appearance as a music commentator. I now call Brisbane home.