Butch Dante's band drop a new Youth produced single to celebrate the announcement of new Imbeciles album.
The Anglo-American Imbeciles are enigmatic writer/guitarist Butch Dante's creation, with a history of being vividly reborn. In chrysalis form, they were a conventional punk band, Wartoad, till a Californian tour finished at an ex-biker roadhouse, whose former denizens were still inclined to dig up guns and bury bodies in the surrounding desert. Improvising with extreme freedom at what felt like the end of the world, The Imbeciles were born here.
2019's The Imbeciles debut album was taped in eight deranged days in a haunted studio on the Texan-Mexican frontier, a record of abrupt razor-edits and spectral moods. An unhinged gig followed this at London's Heavenly Social, where the band crashed and burned, with Dante pulling only singer John Kent from the wreckage with him.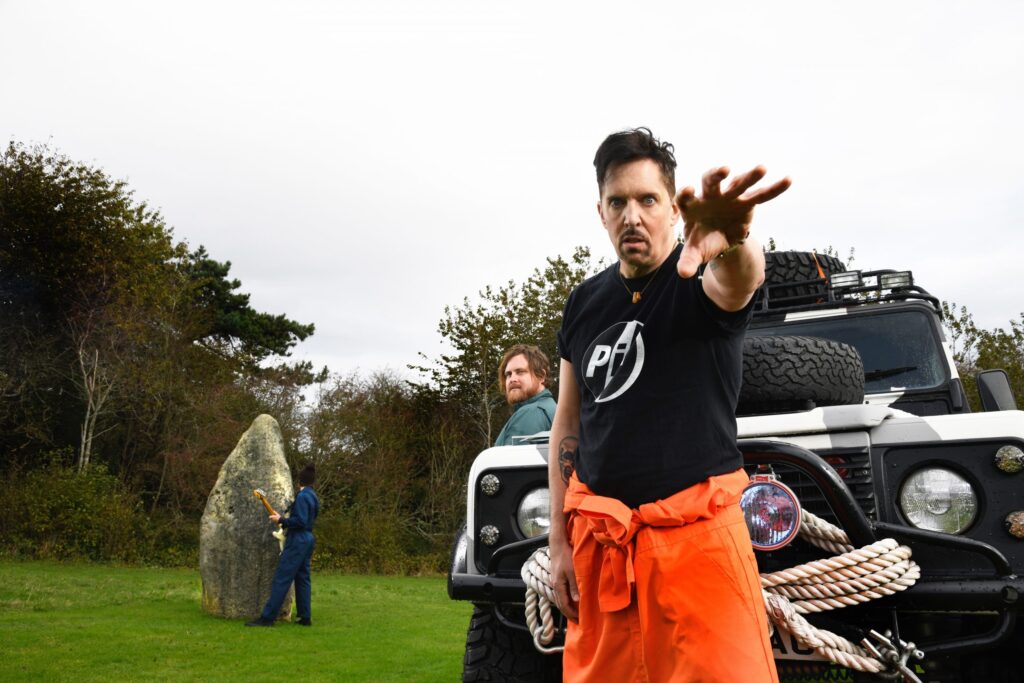 As lockdown hit in 2020, the Dissolution Sessions EP was the first sign of renewed life, with a rebuilt lineup and sound.
"I said, 'I want to do pub-rock,'" Dante says, "and it went over really well." It outsold the original album, with Crystal Palace fan Dante's art-punk football anthem "Sunday Leaguer" being played on Match Of The Day. Youth (aka Martin Glover) loved it and invited them to his Andalusian studio to properly begin Phase 2.
The first fruits of the sessions for new album 'Imbecilica' can be heard today in new single 'Tiny Blue People', a high-energy attack that explodes with vitality and melody. The Tiny Blue People in the video live an invisible existence at the bottom of swimming pools in the suburbs United States, cunningly camouflaged by their blue skin. They emerge to cause mischief and mayhem at night – and, sometimes, gory murder – before retreating to their chlorinated and aquatic world.
"The song is about the duality of American middle-class society," reveals Butch Dante. "At one level, everything looks perfect, idyllic – but in reality, those perfect lawns and crystal blue pools conceal the vilest perfidy, a world ruled by egotism and base cruelty."
The Imbeciles have meanwhile completed rehearsals at their UK base – secreted away from prying eyes in Sussex downland near where Virginia Woolf lived and drowned, with a machine gun facing the road and a stone circle in its garden. They will soon meet Youth again when they support Killing Youth on their UK tour, climaxing at the Hammersmith Apollo. It's quite an upgrade from the first Imbeciles' implosion. Butch Dante's not surprised. His mysterious changing band are on their second resurrection and feeling immortal.
The Imbeciles are: Butch Dante (guitar and backing vocals), Ben Rice (guitars, lap steel, backing vocals), John Kent (lead vocals, backing vocals, drums, percussion), Joshua Lattanzi (guitars and backing vocals), Youth (bass guitar)
'Imbecilica' will be released May 20th via Cadiz Music. Pre-order the album HERE:
Catch The Imbeciles live on tour with Killing Joke in March/April on the following dates:

March

Mon 28th Cardiff Tramshed

Tue 29th Nottingham Rock City

Thur 31st Bristol 02 Academy

April

Fri 1st Liverpool 02 Academy

Sat 2nd Birmingham 02 Institute

Mon 4th Manchester Albert Hall

Tue 5th Newcastle Boiler Shop

Wed 6th Glasgow Barrowland

Fri 8th Leeds 02 Academy

Sat 9th London Eventim Apollo
---
Find The Imbeciles Online
---
Need some more punk in your life?
Punktuation Magazine For All Your Daily Punk News, Features, Interviews, Lifestyle and more!