BBC and Soho Radio DJ. Punk pioneer. Champion of great music. Gary Crowley chats about his influences and how he bagged an interview with the Clash when he was still at school!
Gary Crowley, once a schoolboy punk fan and fanzine editor, now a British radio DJ 'legend', sips on his early morning tea as he has a chat to Punktuation and enthuses about his new favourite band…
"They're The Spitfires and they have that energy of punk. They're on their fourth album – (Life Worth Living) – and how many bands these days get to four? And it's by far their best."
The 'new John Peel' (GC would cringe at that term, but so many of his listeners would nod their assent) continues to discover and champion new groups.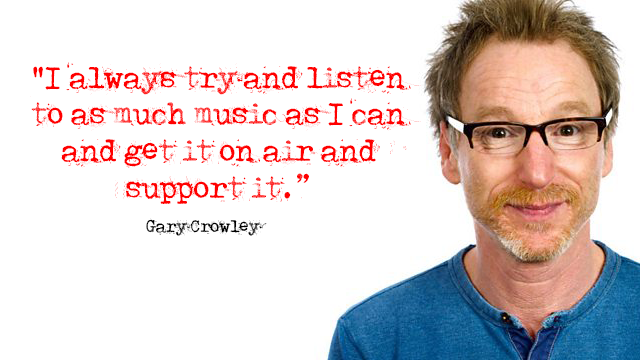 "I've usually two hours to play the music I really love – and I can get quite stressed," he says. "I get overloaded with people left, right and centre wanting to share their music. They send me stuff and it's increased during Lockdown for some reason."
As a kid Gary says that he always listened to John Peel, Mike Read and Janice Long on BBC Radio One.
'They were DJs who cared about the music and were knowledgeable. Some of the DJs were there just to self-promote and open supermarkets. But these DJs championed music and I suppose I'm still doing a bit of that.
"I always try and listen to as much music as I can and get it on air and support it." Gary says, referring to his 'Punk and New Wave Show' on Soho Radio show with sidekick Jim Lahat, (which is currently on pause, hopefully back when this crazy virus subsides.)
GC's Punk & New Wave Show is a 'radio celebration of the great punk, new wave, post-punk, 2-Tone, Mod Revival and all stops in between' – classics that continue to influence music makers across the world and thrill young fans right up to the present day.
The show has also spawned a brilliant three-cd compilation (and Record Store Day vinyl release) of off-the-beaten tracks from punk's underground. If you can find one, buy it! It's called Gary Crowley's Punk and New Wave.
No Clash, Sex Pistols, Stranglers or Damned, but hidden gems like When The Tanks Roll Over Poland Again by Automatics, The Kids Just Wanna Dance by Fast Cars and Howard Hughes by the Tights. You don't get any of these on those HMV mainstream Universal Records comps!
But on Saturday's in the UK, on BBC Radio London (94.9), the 58-year-old plays an eclectic mix of punk, pop, classic and cool tracks, to provide a heady early evening mix. He can slip in a personal favourite or two, too.
---
"The Clash and The Jam. They're the ones that started it off for me,"

Gary Crowley
---
Tonight, it's July 4. Super Saturday in England (the pubs are open again after Lockdown – what could possibly go wrong?), but to mark Independence Day he's playing songs with a connection to 'the good old US of A." but strangely there's no place for The Clash's I'm So Bored With the USA. (So we'll play a live version of it here)
---
"This was it. This was my thing. Punk was the music that I was waiting for."

Gary Crowley
---
"They're one of my favourite bands. The Clash and The Jam. They're the ones that started it off for me," Gary recalls.
"I loved music, I was a Mod and a big fan of The Beatles. But one evening I listened to Peelie and he played In The City by The Jam and that lyric – 'In the city there's a thousand things I want to say to you' – hit the spot. That was it. Me my brother and sister were brought up by our dad in central west London and there wasn't a great deal of money about…but I found the cash to buy the album.
"This was it. This was my thing. Punk was the music that I was waiting for."
So many people his age – he was 15 when his world was turned upside down by punk – would go on to form bands and embrace the DIY ethic. 'Here's a chord, here's another…' etc. However, Gary was a little more reluctant, "I was probably too lazy to form a band," he laughs.
So, on a bus ride home from seeing the Jam at Battersea Town Hall, he decided to start a fanzine called The Modern World, after the band's second, much under-valued album.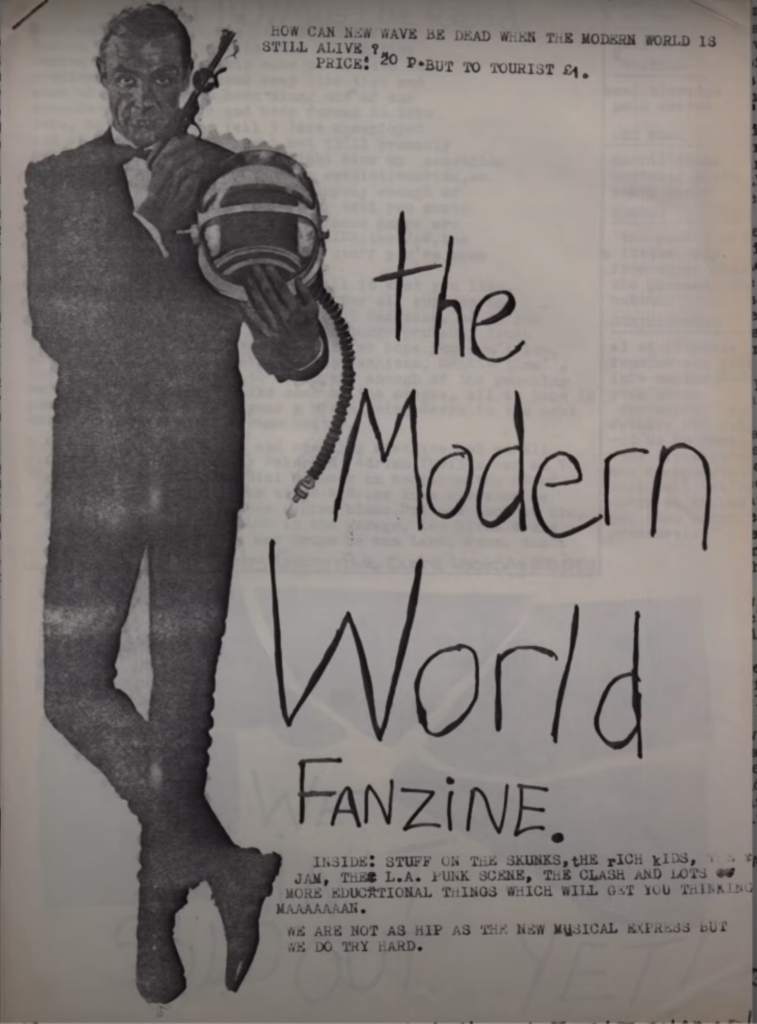 You would think that getting big bands to talk to a fanzine would be difficult – not for Gary.
"I was living in London and punk was all around me. After school I went to Mickey's chippy for my tea, still in my uniform, and I had to rub my eyes. It was Joe Strummer at the nearby Metropolitan Café. I now know it was quite a famous haunt for the Clash in Edgware Road.
"Having the nerve as a kid, I went up to him, started chatting to him about the fanzine and asked if I could I interview him. He was so impressed he invited me along to rehearsals at Camden, 'but only bring a couple of mates.' Six of us went!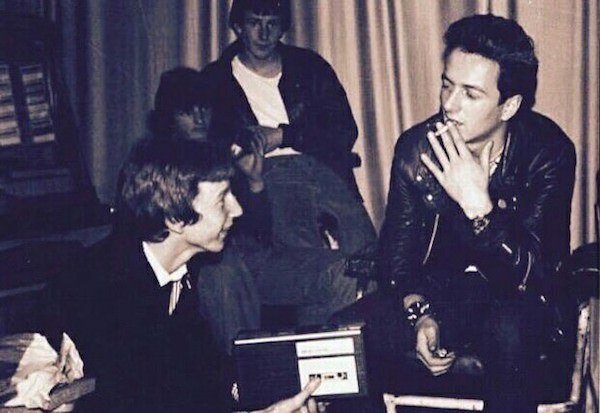 "Then I saw a listing in Melody Maker for John Weller – Paul Weller's dad, who managed the band. It had his phone number. So I rang and Paul's mum picked up the phone. She said, 'Paul's here why don't you speak to him?' And that was another interview in the bag!
---
So I rang and Paul's mum picked up the phone. She said, 'Paul's here why don't you speak to him?'
---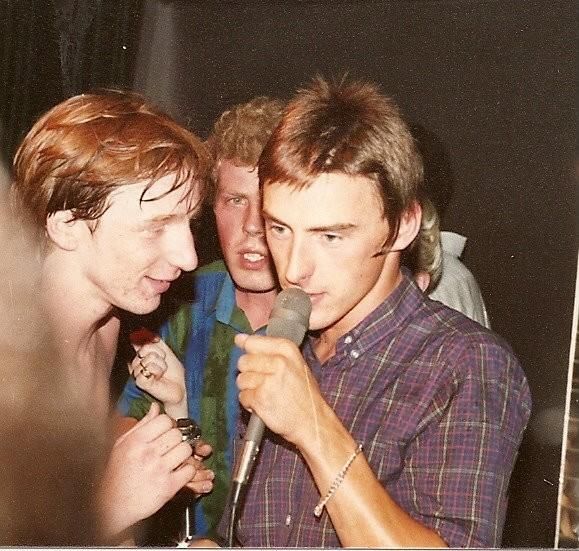 "Then one day heading home from school, I'd take the usual route past a flat which I knew Steve Jones and Paul Cook from the Sex Pistols had bought. On this day a stretch limo drove past me and out fell – literally – Steve, Paul, Johnny Rotten and Sid Vicious. It was after the stunt they pulled at signing their A&M record deal outside Buckingham Palace. Crazy times."
From the humble beginnings of writing a fanzine, albeit getting amazing access, he landed DJ jobs and got a gig at Capital Radio – just as John Peel had asked him to be his sidekick.
"I wonder which way my life had gone if I'd taken him up on his offer but I had to turn him down because I'd just got my own show on Capital," he recalls, wistfully.
"He offered me a job of escorting him to his gigs, so I would have been carrying his records and hanging out, but who knows what would have come of it if I'd taken that job.
"I always kept in touch with him and he liked a curry so I've had an Indian or two with him. There was nothing showbiz about him and he normally had his tongue firmly in cheek."
Gary Soho Radio Punk & New Wave show may be taking a small break you can still listen to Gary's Radio London show every Saturday at 18:00 hrs GMT – https://www.bbc.co.uk/programmes/p001d7z2
---
More Gary Crowley
---
I'm Roger Kasper, 55. A punk since October 77 when the Stranglers rocked Top of the Pops with No More Heroes. Journalist since 1983 with stints on national newspapers and magazines and editor of local papers. I'm Gravesend born and dragged up I keep poultry, garden, run and generally make a nuisance of myself!