Fifty years since the performance, a live album capturing the Stooges will be released on Jack White's esteemed Third Man Records label. This previously-unheard, high-quality professional recording of the original Stooges lineup's final performance will be available on vinyl, CD and digital on August 7, 2020.
Ben Blackwell, the drummer with Detroit band Dirtbombs, works at Third Man and is the lucky person who received the email about the 'lost tapes' being unearthed at the house of Josh Rogers – the sound engineer on the day at Goose Lake in 1970.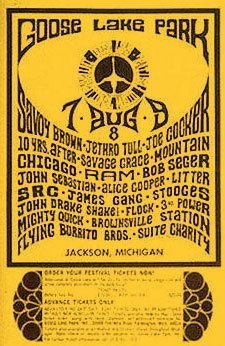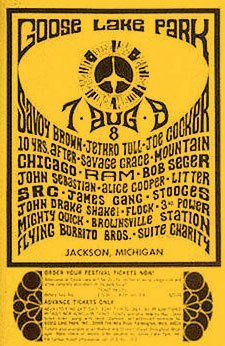 "When Josh found the tapes, he didn't even know if there was music on them, but there was! " Ben says.
Now the audio has been restored by Producer/Engineer Vance Powell (The White Stripes, Chris Stapleton) you can hear how raw the band were.
Ben says: "You hear an even more savage element to the band that's not been documented before because there's not been a proper live recording."
The infamous Stooges performance at the Goose Lake festival has seen a range of apocryphal stories being told over the years including one that said bass player, Dave Alexander, didn't play a single note on stage – due to one too many 'sherries'! He was fired by Iggy Pop immediately following the gig and here starts the beginning of the end of the Stooges.
Not only is this recording the last ever performance of the original Stooges line-up, it is also the only known professional recording too. And, would you believe it… Alexander actually did play bass on this occasion. Alexander, was still sacked immediately after the show, as he was "too stoned to remember a song," as Pop suggested in 2006.
Released to coincide with the 50th anniversary of the performance, Live at Goose Lake: August 8th, 1970, is the rare release that literally rewrites the history of these Rock and Roll Hall of Fame inductees.
LIVE AT GOOSE LAKE: AUGUST 8TH, 1970 TRACK LIST
I'm a London born and bred music journalist, a mediocre bass player and the occasional strummer of the guitar. In the '80s I worked in recording studios and made a few records you'd probably recognise. I have written a couple of books and made the odd media appearance as a music commentator. I now call Brisbane home.