The Welsh punk rockers are storming in with a full throttle release balancing anger and political commentary with having a good old time.
A great mixture of fun, anger and humour, The Red Bastards debut album is a journey across numerous topics that swing between the seriously political and the light-heartedly entertaining.
Hailing from South Wales, the band are comprised of Niff (vocalist), Cynrig (guitar), Matt (bass) and Harold (drums) with all four veterans of punk bands including 3 Minute Warning, Mugwampjism (trying saying that when you're drunk) and NYC Ska band The Toasters (for which Matt is current UK touring drummer). Formed in the midst of the pandemic, they are a no-nonsense punk band whose influences span hardcore legends Black Flag and horror punk icons like Misfits. Taking their name from an infamous bunch of highwaymen who used to terrorise mid-Wales, this is their first full length album.
'The Red Bastards' is filled with frantic riffs, thundering drums, and chanting choruses across 12 tracks which are great fun as well as being delivered with power.
The opening track 'Give Me No Shit' sets the scene, extolling the virtues of non-conformity with the refrain "life is yours, get a cause, fuck the system!" And tracks such as 'Fatima's Nightmare' lament the feeling that society as we know it is declining (you'll remember that Ballerina Fatima has been resigned to a future in cyber as part of a UK government campaign to get people to give up on their dreams and re-train).
The second half of the album becomes more playful with tracks such as Misfits/The Cramps-esque 'Eternal Hole' which has one of the best opening lines I've heard for a while "the moon is full and so are my balls"  which gives you some idea of what the story in the song is going to be about (spoiler alert- they end up empty by the end).
There's a sense of camaraderie in songs such as 'And The Band Played On' (unless you're the subject of the song in which case, ouch) and 'Never Give Up'- a feeling that the band can tackle inter-personal experiences and everyday life and memories as well as they can the bigger political issues.
'The Red Bastards' is out now. You can listen here.
Follow them on their socials for up to date info on tour dates.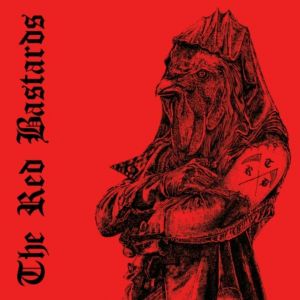 ---
Follow The Red Bastards for more…
---
Check out more of the latest in punk