Photographer and author, Ray Stevenson captured some of the most significant, enduring images of the early UK punk scene. His new book, Juju Across America 1981 Part Two –Siouxsie and The Banshees is released August 31.
His brother 'sort of co-managed the Sex Pistols', so photographer Ray Stevenson was ideally placed when punk kicked off in 1976. The infamous 100 Club punk festival was captured in all its hot and sweaty glory by Ray who had already photographed Jimi Hendrix and David Bowie in the late 60s, but he packed away his lenses for a while, disillusioned with the music scene – well, the cameras were nicked and he had no desire to replace them. 
That was until punk came a-calling, he was revitalised and snapped some legendary images.
"My brother Nils sort of co-managed the Sex Pistols. I took pictures first as a favour, then as a pleasure – they had become a great live band – and finally as an undercover publicist," he has said. 
From 1976 to 1979 he saw anarchy develop and implode through the lens.
Then in 1980 Ray was bed ridden with a back injury – but thankfully a skilful osteopath got him back on his feet to join Nils' band Siouxsie and the Banshees on tour in America in 1981, promoting the Juju album.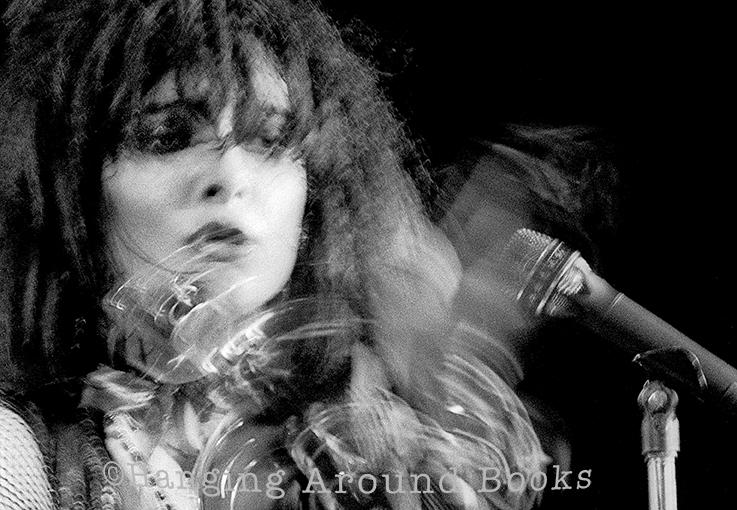 Many of the photos from that tour are now available in a book published by Hanging Around Books.
Publisher Ronnie Gurr writes in the book foreword: "Ray Stevenson is rightly known and lauded for his iconic images of the Sex Pistols and the emerging London Punk scene of 1976-1977. His images of that band offer the definitive documentary of one of the most vital periods in music history. It was therefore an honour to meet at his South London home and spend time being walked through his amazing archive. 
Ray's earliest images evocatively capture the atmosphere of 1960's English folk clubs. "There are thrilling images of Hendrix and The Who at The Marquee in 1967, Bowie back in his Beckenham Arts Lab days of 1969, and of course the aforementioned historical collection of punk in its infancy.  
"The latter has been widely seen, so, at Ray's suggestion he pulled out over 30 contact sheets of the images of the band his late brother Nils Stevenson guided to international success – Siouxsie and The Banshees. These documented a month in the life of the band's 1981 U.S. Juju tour. 
"For both myself and Hanging Around Books' editor/designer David Lloyd it's been a delight to work with such a historical treasure trove.
"We released "Juju Across America 1981" in 2019. We both agreed there was so much great material that it could more than justify revisiting for a second collection. Here then, is "Juju Across America Part II".  
"It's a thing of beauty that continues to document the story of an amazing band touring the United States for the first time.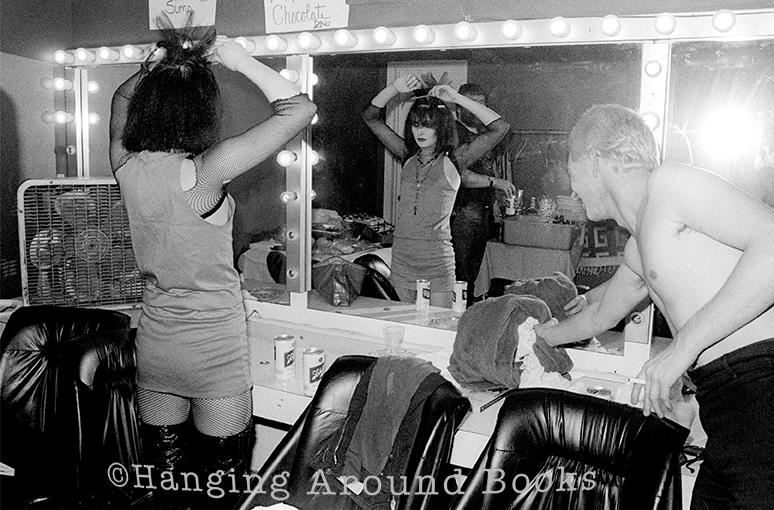 "Ray's the man; he was there. Whether at the gigs, on the tour bus, backstage or on the band's days off, Ray lived it, saw it and captured it."
And Ray adds: "The Hanging Around Books 36 page format just didn't allow Ronnie and David the opportunity to accommodate all the images we wanted to use in the first Banshees book "Juju Across America," so here, as previously planned, is part 2. Or as Hollywood would say Part II.
"The photo of Steven (Severin) and the young kid is not strictly on the Juju Tour. It was taken during a day off when we took a trip into Juarez, a city that seems to have become a seriously dangerous place these days.
"The photo of John McGeoch with his Nikon makes me wonder what has become of his negatives. Is there a book to be created from those?
"The Juju Tour was 40 years ago but when I look at the photos it feels like 40 weeks.
"In that 40 years Sioux and Budgie got married moved to France then divorced, John McGeoch died, Nils died, tour manager Mick Murphy got banged up in prison and Sioux fell out with Steven, then reconciled and began collaborating with him on a Banshee book that seems to have stalled for some reason."
Juju Across America 1981 Part Two – Siouxsie and The Banshees is published on August 31, 2020. 
I'm Roger Kasper, 55. A punk since October 77 when the Stranglers rocked Top of the Pops with No More Heroes. Journalist since 1983 with stints on national newspapers and magazines and editor of local papers. I'm Gravesend born and dragged up I keep poultry, garden, run and generally make a nuisance of myself!