Legendary Aussie punks first tour with New Singer Tim Rogers follows the groups first ever top 5 album.
The Hard-Ons kicked off their I'm Sorry Sir, That Riff's Been Taken tour – their first tour with new singer Tim Rogers – with three sold-out shows on the weekend, only to hit a hurdle yesterday. The group issued the following statement this morning:

"We regret to advise that the band has unfortunately been struck with Covid, with one of us testing positive earlier today, so under current Public Health Orders, the band are required to self-isolate. As a result, we've had to reschedule this week's shows. These performances will, however, proceed on the following dates. Existing ticket holders do not need to do anything as tickets will automatically apply for the new date."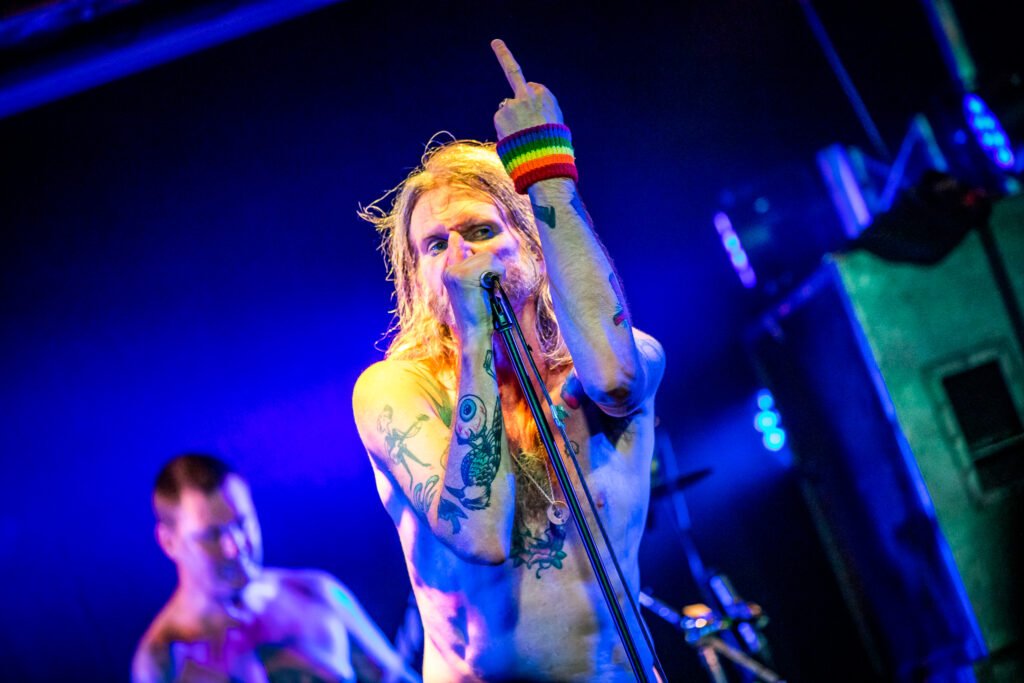 The tour will resume on March 31 in Canberra and continue as planned. The band will head to Adelaide, Geelong, and Melbourne, then return for the postponed shows. Sydney, Avalon, Newcastle, and Wollongong shows are moving to June.
Rescheduled dates are as follows;
THE HARD-ONS I'm Sorry Sir, That Riff's Been Taken Australian Tour 2022

MARCH
Thu 31 – Canberra, The Basement – with guests GLITORIS and CHARLOTTE & THE HARLOTS – tickets here

APRIL
Sat 2 – Adelaide, Enigma Bar – with guests CULL – tickets here

Thu 7 – Geelong, Barwon Club – with guests DEAD and EYEROLL – tickets here
Fri 8 – St Kilda, Gershwin Room @ The Espy – with very special guests THE MEANIES and RIVER OF SNAKES – tickets here
Sat 9 – Melbourne, Corner Hotel – with special guests C.O.F.F.I.N and CHEEKY GEEZERS – tickets here

JUNE
Wed June 1 – Wollongong, La La La's – tickets here
Thu June 2 – Sydney, Factory Theatre (for Great Southern Nights) (with guests Flowers For Jayne) – tickets here
Fri June 3 – Newcastle, Cambridge Hotel – tickets here
Sat June 4 – Avalon, Avalon RSL (with guests Raising Ravens) – tickets here
The Hard-Ons' tour follows the unprecedented chart success and fantastic response to their new I'm Sorry Sir, That Riff's Been Taken album –  their first with new singer Tim Rogers. The new album reveals the new line-up to be working a treat with a couple of surprise shows – including the line-up's first, playing under the name Clandestine Sausage at the Link & Pin Cafe in Woy Woy back in December. The new shows have shown the band to be in magical form. The magic comes in part from the fact that Tim Rogers has proven himself the perfect new addition to the band, partly because he has long been one of the band's biggest fans.  
As Rogers recently told Blunt: "I'm a fan first and foremost. [They were] the first band I loved that I could see, the first band I got my nose broken too, [and the first band] I lost my hearing to. There are so many firsts. And then to be in the rehearsal room… I looked over at Blackie's amp and went, 'Oh, that's the amp.' And I saw the SG, and I was like, 'That's the SG.' I've been watching him play with those since 1986."
---
Follow Hard-Ons On Their Socials
---
Need more punk in your life?
Punktuation Magazine For All Your Daily Punk News, Features, Interviews, Lifestyle and more!