Following their first-ever Australian top-five album, the Aussie icons kick off their first tour with new frontman Tim Rogers.
The Hard-Ons kick off their 'I'm Sorry Sir, That Riff's Been Taken' tour – their first tour with their new line-up, which features new singer Tim Rogers – tonight at Vinnie's Dive Bar on the Gold Coast. The tour comes on the back of the band's first-ever ARIA Top 5 album and takes in all Australian East Coast capitals and key regional hubs.
The list of supports includes strong locals and a couple of bands with a shared history on the Alternative Charts in the '90s – Smudge in Sydney and The Meanies in Melbourne. Sydney's C.O.F.F.I.N is the primary support for tour closer at the Corner in Melbourne. 
The tour will be unmissable; the new album reveals the new line-up to be working a treat and a couple of surprise shows – including the line-up's first, playing under the name Clandestine Sausage at the Link & Pin Cafe in Woy Woy back in December.
Related stories
Hard-Ons Interview: "Some people couldn't see it. For us, it was like how could it not work having Tim in the band?"
Review: The Hard-Ons – 'I'm Sorry Sir, That Riff's Been Taken'
Aussie punk icons the Hard-Ons announce the first tour with new singer Tim Rogers
One of Australia's most loved and influential bands from the mid- '80s through to now, the Hard-Ons came out of the multicultural South-West Sydney suburb Punchbowl. They quickly won a large following nationally with their irreverent attitude and catchy, noisy, high-energy sound.
Appearing on the Radio Birdman-influenced Sydney scene of the early '80s and preceding the punk-pop boom of the '90s, the Hard-Ons were a musical bridge. They became a punk and alternative music sensation, blowing open doors by incorporating disparate elements.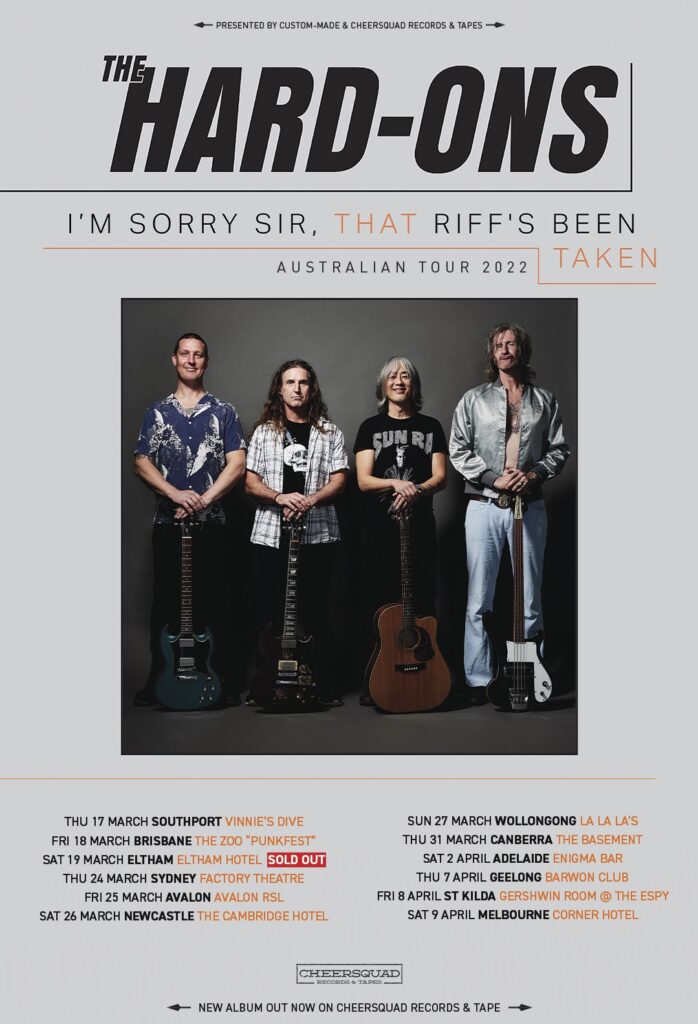 The complete run of Hard-Ons tour dates

THE HARD-ONS
I'm Sorry Sir, That Riff's Been Taken
Australian Tour 2022

MARCH
Thu 17 – Southport, Vinnie's Dive – with guests BLUSHH – tickets here
Fri 18 – Brisbane, The Zoo "Punkfest" – with guests FAT and BURNT TRASH – tickets here
Sat 19 – Eltham, Eltham Hotel – with guests MASOCHIST – tickets

Thu 24 – Sydney, Factory Theatre – with special guests SMUDGE and FLOWERS FOR JAYNE – tickets here
Fri 25 – Avalon, Avalon RSL – with guests RAISING RAVENS – tickets here
Sat 26 – Newcastle, The Cambridge Hotel – with guests BITCHCRAFT – tickets here
Sun 27 – Wollongong, La La La's – with guests LUCIFUNGUS and CHIMERS- tickets here

Thu 31 – Canberra, The Basement – with guests GLITORIS and CHARLOTTE & THE HARLOTS – tickets here

APRIL
Sat 2 – Adelaide, Enigma Bar – with guests CULL – tickets here

Thu 7 – Geelong, Barwon Club – with guests DEAD and EYEROLL – tickets here
Fri 8 – St Kilda, Gershwin Room @ The Espy – with very special guests THE MEANIES and RIVER OF SNAKES – tickets here
Sat 9 – Melbourne, Corner Hotel – with special guests C.O.F.F.I.N and CHEEKY GEEZERS – tickets here
---
Follow Hard-Ons On Their Socials
---
Get more of the latest in punk
Punktuation Magazine For All Your Daily Punk News, Features, Interviews, Lifestyle and more!