The Donnas were an essential female voice in an echo chamber of male hormones in the 1990s pop punk scene. Punktuation's Molly Tie explores the band's legacy and how they challenged gender norms in a heavily male-dominated California punk scene.
The Donnas were largely out on a limb in the California punk scene- four girls in an enclave that was overwhelmingly a sausage fest and lacking in female narratives. The band put out a steady stream of metal-riff driven pop punk that espoused the virtues of boys, drinking, partying and just generally having a good time. It wasn't political by any stretch but that doesn't negate the radical nature of their whole image and the fact it was significant to challenge the notion that girls didn't want to have as much 'no strings' fun as the boys.
The Donnas were formed in a Palo Alto California in 1993- right at the apex of the riot grrrl movement and in a decade that saw two extremes in terms of how women were represented in punk.  At the turn of the decade, riot grrrl was establishing itself as a revolutionary, provocative, politically engaged punk scene for women. Utilising zines, slogans, and encouraging self-organisation and mutual support, it was a breath of fresh air following the (often unintended but certainly present) sense of machismo that was the hardcore movement of the 1980s.
A flurry of bands such as Bikini Kill, L7, Sleater-Kinney etc defined their own wave of punk and ensured that through reinvention, recalibration and some awesome songs, punk as a genre kept going. But as riot grrrl started to slightly trail off with many of the original bands disbanding, a new punk kid was in town- pop punk.
Record labels such as Lookout and Epitaph were like a breeding ground for successful pop punk acts spawning the likes of Green Day, Rancid and Offspring, all whom had an incredible decade of success.
But pop punk was quite a departure from riot grrrl in terms of its tone, focus and topics. And, despite some exceptions, that tone tended to be hormonal white guy and his perspectives on love, friendship and partying. The biggest pop punk bands at the beginning of the craze from mid '90s through to the turn of 2000 were male. And women's role in the pop punk narrative was largely as subjects in the songs- the object of (often unrequited) affection, the psycho ex-girlfriend, the shallow bitch, the heartbreaker etc.
The Donnas were not the only women in rock music in the '90s by any stretch. As well as the aforementioned riot grrrls, we had Courtney Love, Gwen Stefani, Monique Powell, Shirley Manson, The Breeders, Bif Naked to name just a few. But The Donnas were resolutely from the same breeding ground as a particular cohort of pop punk bands, at a time when this group of Lookout graduates were very much their own 'scene' and therefore The Donnas stood out for their unapologetic 'get skintight' catchphrase and defiant girl gang aesthetic
Brett Anderon (vocals), Allison Robertson (guitar), Maya Ford (bass) and Torry Castellano (drums, later replaced by Amy Cesari when Castellano had to retire from drumming due to injury) released a run of successful albums showcasing a maturing sound and yet a stubbornly party-based outlook. They never really got too deep or veered away from their successful formula. Even as they became young women rather than teen girls (they were in 8th grade when they formed), the sound matured in terms of production and musicianship but they were still out having fun rather than conforming to the world of grown ups.
Although cited as a pop punk band, their influences were overtly classic rock and metal with bands like The Runaways, AC/DC, KISS being clear homages. That channelling of old hedonistic bands gave the Donnas an overall vibe of being party girls- espousing the joys of boys, parties, touring, dating and living the teenage dream.
The cover of their breakthrough album 'Turn 21' (released before their sign up to major leage Atlantic Records) sees the band at a bar table, empty drinks glasses sprawled in front of them, a serious expression of intent on their faces, girls out looking for, and embracing, trouble.
Even though their next album cover- 2002's 'Spend the Night' saw them in a softer environment (a 70s style bedroom, pjs on, ready for a night in) the quartet still look like they could be up to no good. 
Their songs are often regarded as sexual but I think perhaps suggestive or (forgive me for this old fashioned word) saucy might be a better descriptor. It was teenage fumbling and hormonal yearnings with a female being the instigator songs like 'Take It Off' '40 Boys in 40 Nights'  or 'Take Me To the Backseat'.
They had no patience for drunken idiots who couldn't offer them anything ( 'Are You Gonna Move It For Me' 'Don't Wait Up For Me' ) and they weren't necessarily looking to make friends with your girlfriend either ('Too Bad About Your Girl' 'Who Invited You' and 'Fall Behind Me'). They wouldn't suffer fools or losers and couldn't give a toss if they broke your heart or got off with your best friend. All the whiney boys proved no preoccupation for them at all.
It was a noticeable escapism for teenage girls who may have been previously immersed in the world of US pop punk and started out imagining being the object of songs from Blink 182 or Reel Big Fish that put you on a pedestal, or maybe the emo songs of the early 00s that pretty much set you up as a heartbreaker. When you listened to a band like The Donnas you thought fuck that- these boys can wait for my call, they can try and impress me, not the other way around. And if they fail, I'll go back to having fun with my girlfriends. It was a real 'sisters before misters' mindset.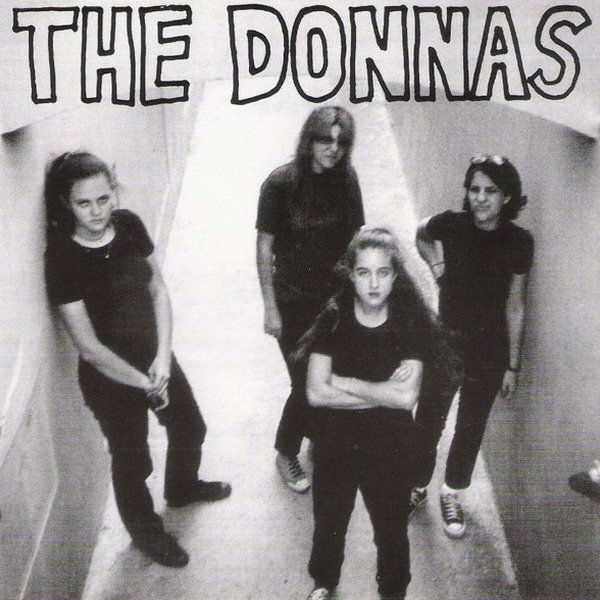 The metal edge that they always walked set them apart from the more saccharine of the pop punk melodies. They weren't grittily streetwise like a band like The Runaways or into overt feminist activism like Bikini Kill- they were ultimately suburban party girls who could handle themselves at a frat party. But they were also very accomplished, self taught musicians that despite the dismissal that they were a manufactured girl group, proved they were anything but.
Unfortunately, things started to fizzle out in 2006 as The Donnas parted ways with Atlantic Records and their last studio album 'Bitchin'' was released in 2007. They soldiered on touring (including a stint on the road with Blondie and Pat Benatar) and releasing a greatest hits album but with drummer Castellano out of action due to tendonitis of the shoulder, the writing was perhaps on the wall.
In 2017, singer Brett Anderson confirmed the band were no more and beyond any anniversary re-releases, there was not going to be a band reunion.
Seven studio albums, numerous soundtrack and compilation inclusions and over 20 years as a band, The Donnas have earned a rightful place in women's punk rock legacy. Their playful confidence, assertive sexuality and good time attitudes are still fun to listen to, 20 years on.
Follow The Donnas on Their Socials
Need more Punk In Your Life?
New Releases
Grammy-nominated pop punk legends Sum 41 make a boisterous return with 'Landmines', their newest single and first release on Rise Records.
Read More »