Aussie scoundrels re-enforce their position as punk saviors with their latest album – and it packs a solid punch!
Recorded in just 6 days, The Chats sophomore effort with the eloquent title of Get Fucked is a triumphant showpiece of no-frills modern punk. All the ingredients are there. Including stripped-down pub rock mixed with old-school street punk and dispensed in short, sharp bursts of catchy and uncomplicated musicianship.
The album opens with 6LTR GTR, an ode to rev-head car enthusiasts and played with pedal-to-the-metal angst. If I closed my eyes, I could almost smell the aroma of stale beer and body sweat at one of their live shows. Next is Struck By Lightning which keeps the energy at a maximum level, there are even some "Do Whop, Do Whop" backing vocals sung with 'electric' intensity.
The band may be well travelled but they still like to acknowledge their home, often mentioning places and themes around being from Queensland's southeast. Boggo Breakout is about an old gaol in Brisbane. Driving down "the Bruce" refers to the highway between the Sunshine Coast and the city. And I've Been Drunk In Every Pub In Brisbane is pretty straightforward in its message. The latter song seems to be The Chats' version of The Cosmic Psychos track Pub.
The hits keep coming, sometimes literally like on Panic Attack with its "Tack Tack Tack Tack' vocal hook combined with the solid snare drum crack. Ticket Inspector is a relatable tale about fare evasion on public transport. Out On The Street, another highlight shows how they have matured lyrically, tackling a heavier topic.
Vocally, singer/bassist Eamon Sandwith hardly lets up with his harsh delivery of words. His loud, angry shouts about whatever it is that's bothering him culminate into a cathartic release. It's only in slower track, The Price Of Smokes, where he more calmly states, "The price of smokes are going up again", like he's having a conversation down the pub. This soon shifts as he regains that intensity for the ending and yells bitterly; "Those bastards in parliament outta be hung by their necks!"
There are some great lead guitar flourishes from newest member Josh Hardy who fittingly adds some surf punk riffs to songs like Emperor Of The Beach, while drummer Matt Boggis plays with an unabated vibrancy that keeps the energy at fierce levels.
The LP ends with an unlisted track, Piss Rash, showing that the band are not ready to let go of their tongue-in-cheek identity just yet.
Overall this album is an improvement on their previous release, High-Risk Behavior. More consistent, more focused, and it's obvious that their busy touring schedule has allowed them to develop their sound and songwriting abilities. The band is simply going from strength to strength.
Punktuation rating 4.5 Stars
'Get Fucked' is available now through Bargain Bin Records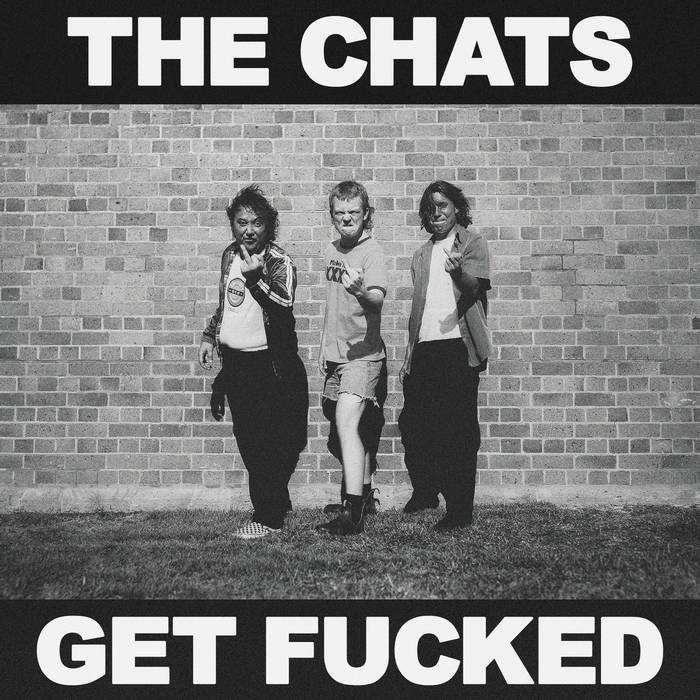 ---
Follow The Chats on their socials
---
Check out more of the latest in punk